Netflix has achieved global domination country-by-country. But like any plan to take over the world, they needed a strategy. Each Netflix territory has its own subscription price and growing library of titles (shows and movies), so viewers pay more or less per title depending upon where they live.
To find out who is getting the best value, we compared the cost of a basic Netflix package in each country to the national average salary and the number of titles available to watch.
We used World Bank figures to identify average incomes and the crowdsourced Global Netflix Price database to find the cost of Netflix in every country.
Key Findings
Netflix is most affordable in Turkey, where a basic plan starts at 17.99 Turkish Lira (roughly $2.78) per month.
The most expensive place to get Netflix is Switzerland, with a basic plan at 11.90 Swiss Francs ($12.40) per month.
You get the most bang for your buck in Colombia, where a low basic plan of 16,900 pesos ($4.14) gets you access to 4,282 titles (the highest number in South America), giving a cost-per-title of less than 1¢ (0.1 of a U.S. cent).
Angola has the worst deal for Netflix subscribers, with just 391 titles for the equivalent of $7.99, or 2.4¢ per title.
Where in the world do you get more Netflix for your salary?
The World Bank has an average annual salary figure for every country on Earth. We divided each of these figures by 12 to give us a monthly wage for each Netflix territory. Then we calculated the percentage of the monthly earnings you would need to spend to get a basic package depending on where you live.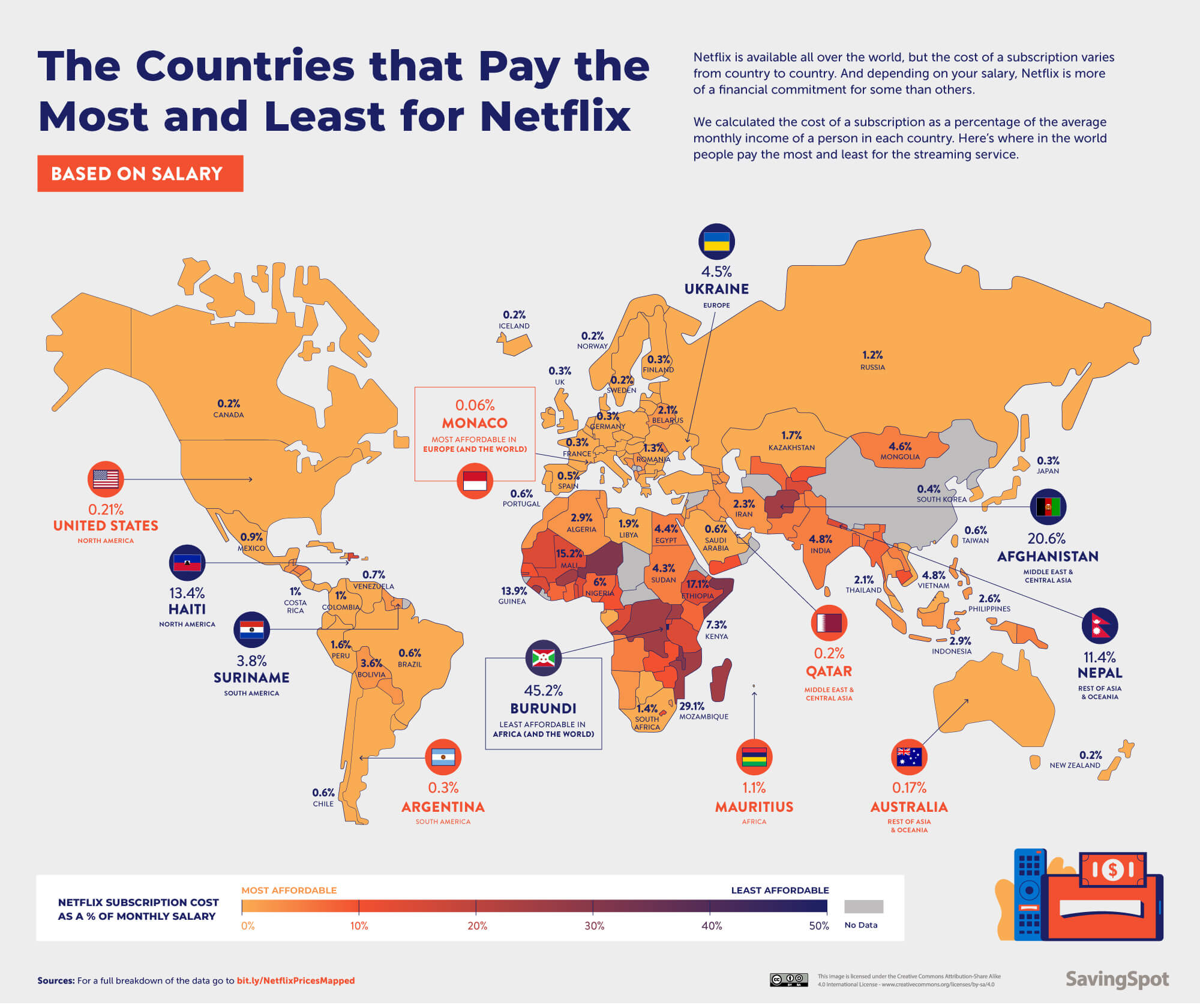 Monaco is one of just five countries with an average monthly salary of over $5k. This is more than double the average wage of 87% of the countries we studied. Yet Monegasque Netflix costs within a dollar of the majority of countries: $8.69. That equals 0.06% of a Monacan monthly paycheck.
The most expensive places for Netflix compared to local wages are mostly in Africa. In Burundi, the costliest country, the basic package is a real extravagance. Although the price is the same as in Norway, it would account for 45.2% of the average Burundian's wage.
Who Pays The Most (And Least) Per Netflix Title Around The World?
The movies and series available in each country differ according to local tastes and the deals cut by their producers. While there are nearly 6,000 titles available on U.S. Netflix, the majority of places have fewer than 4,000. Angola has just 391! We divided each country's Netflix price by the number of titles available to give us a price-per-title for every territory.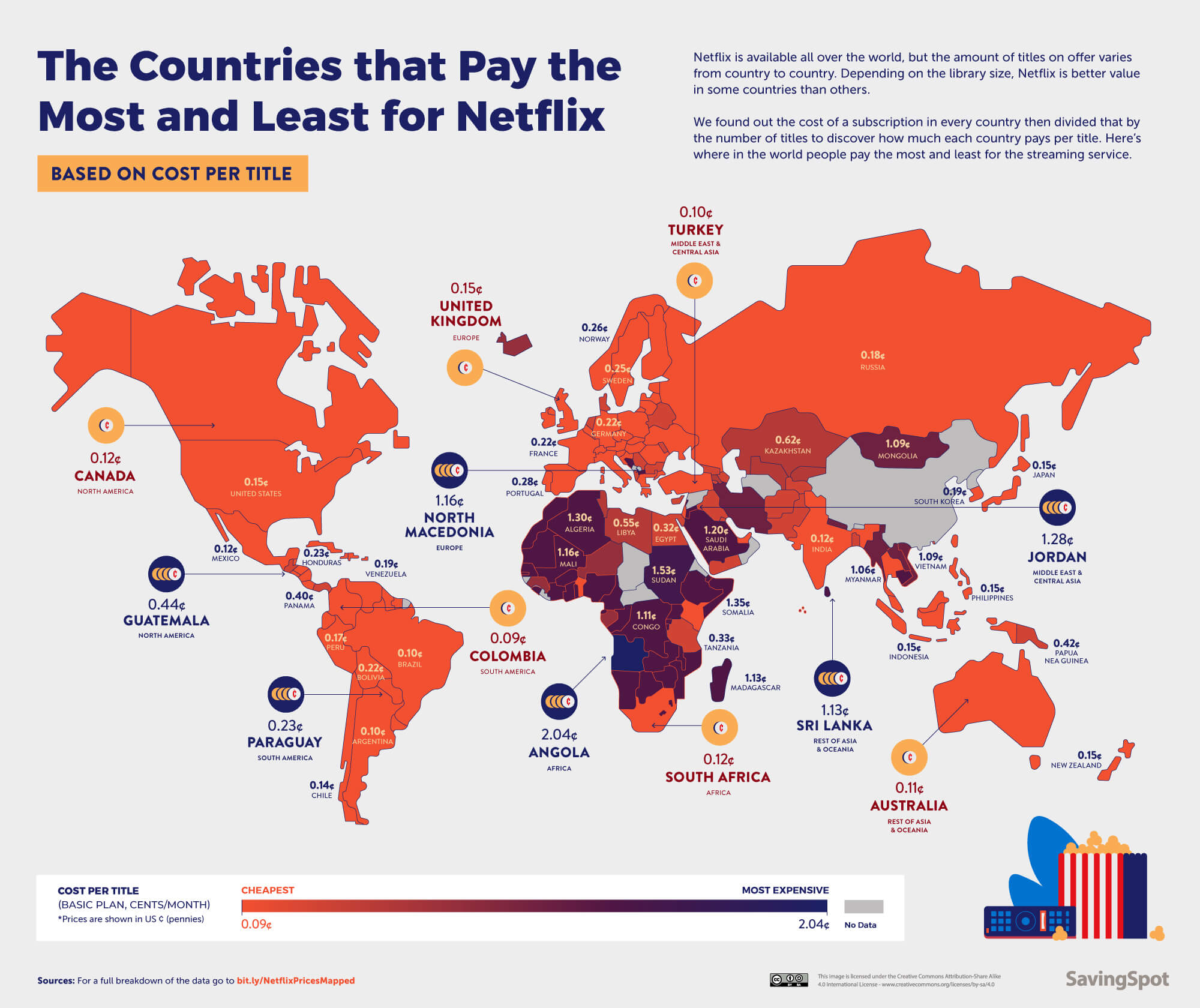 Colombia has the best value Netflix in the world, hitting a sweet point between low cost ($4.14/month) and a decent-sized library (4282 titles). Turkish Netflix titles are just a fraction more expensive (0.099¢ each), thanks to the super-cheap price of a subscription. Once more, African countries get the worst deal. Places such as Somalia, Sudan, and Angola have a standard $7.99 fee but fewer than 600 titles – a cost of 1.3¢ or more per title.
The Cost-per-title of Netflix in North America
Canada has the best Netflix deal in North America, boosted by a generous library of 5,730 titles. That makes $0.12¢ per title. Guatemalan Netflix is the worst value due to a paltry library of just 1,800 titles. These titles cost 0.44¢ each.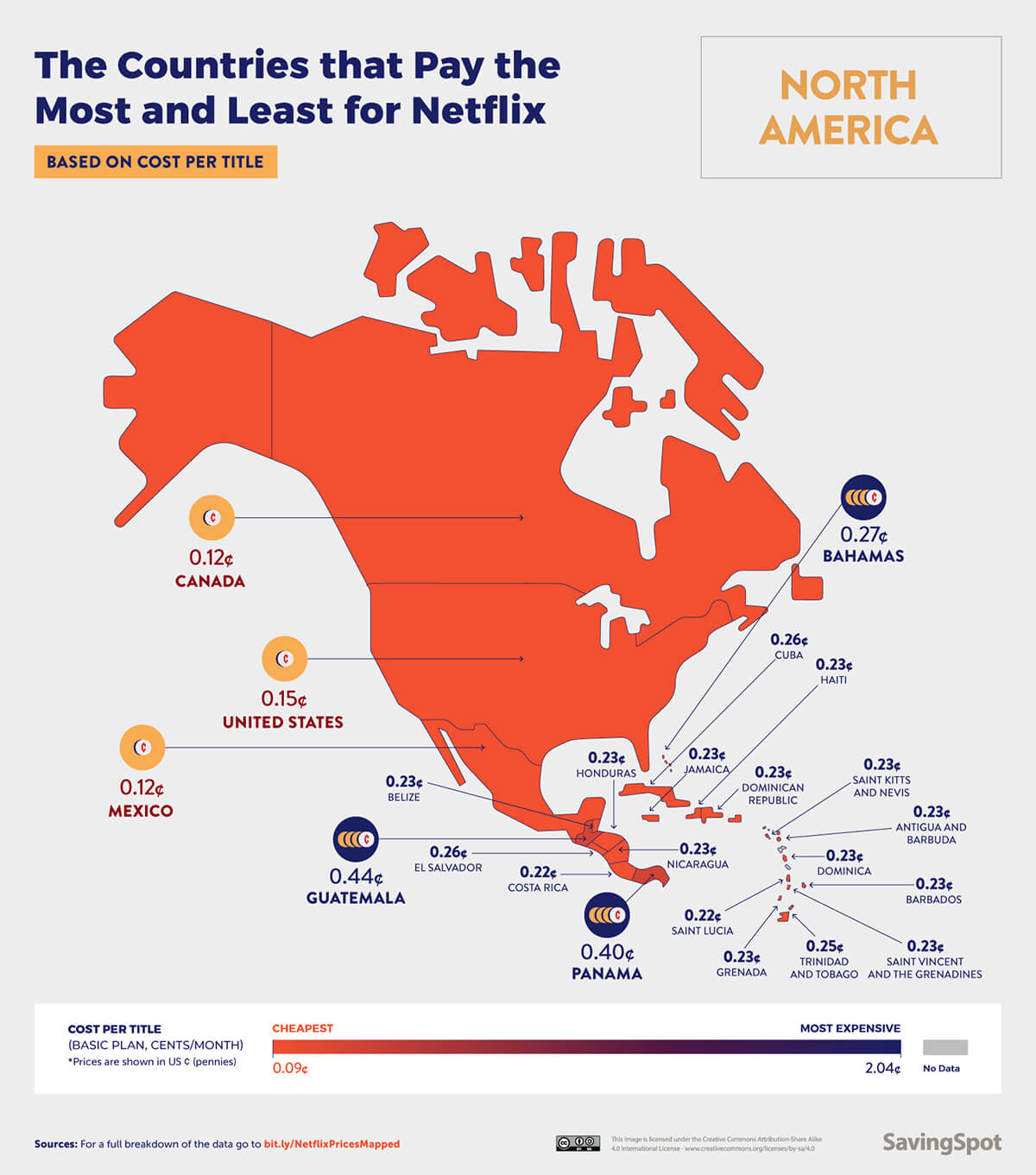 The Cost-per-title of Netflix in Europe 
Our map of Europe shows that Netflix's value is fairly consistent across the continent. The U.K. has the best rate per title, at 0.15¢ each. The Balkans get a rough ride: North Macedonia is the worst value (1.16¢/title), and Bosnia is second-worst (1.14¢). With libraries of fewer than 800 titles each, a true cinephile would complete Netflix in just a few months in these countries.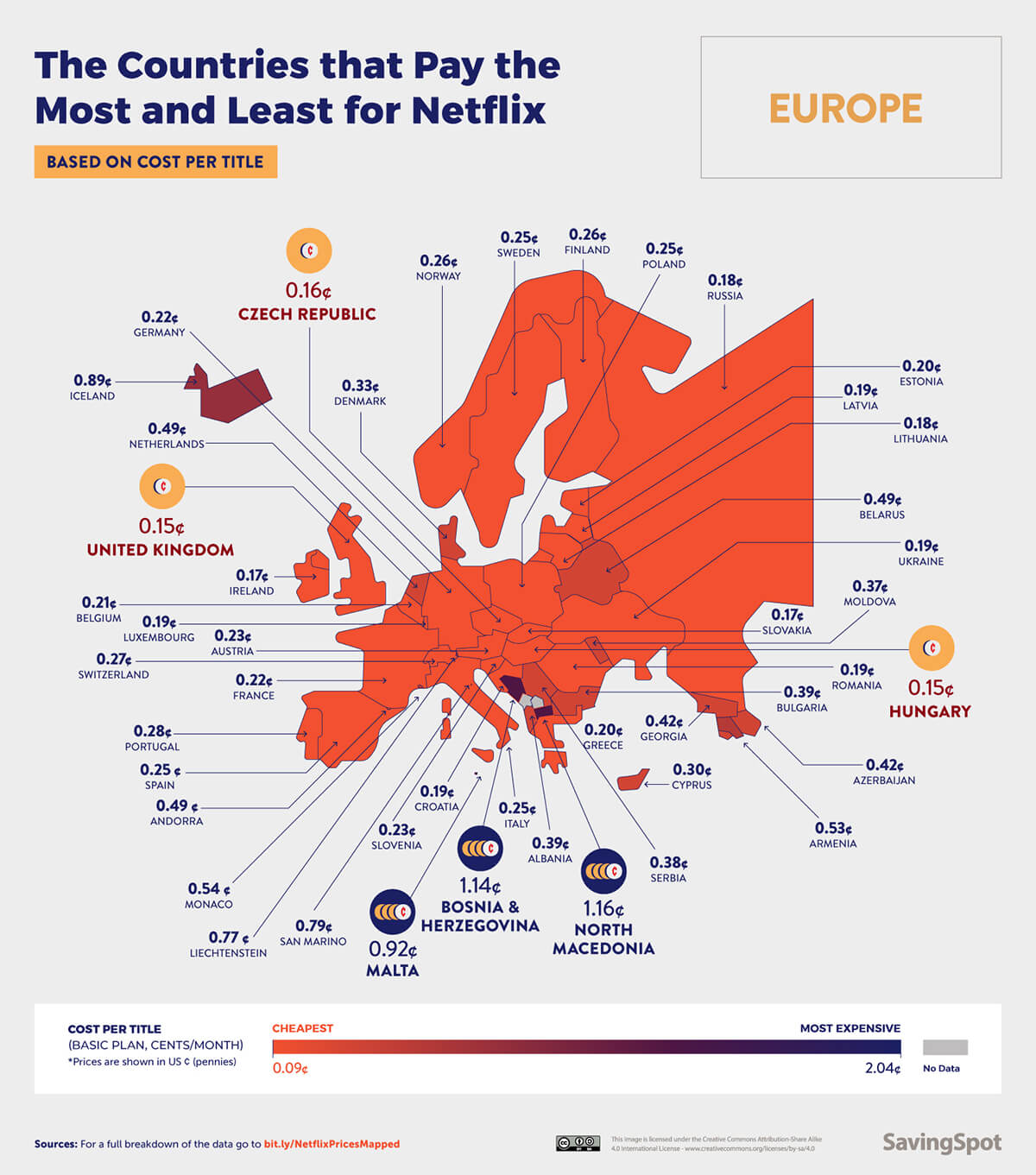 The Cost-per-title of Netflix in South America
We've already seen how Colombia has the best value Netflix in the world (0.097¢ per title). Brazil and Argentina likewise enjoy low subscription costs, paying 0.007¢ more than Colombia per title. There's no truly poor-value Netflix in South America. Paraguay pays the most, at 0.23¢ per title with a reasonable library of 3,466 pictures.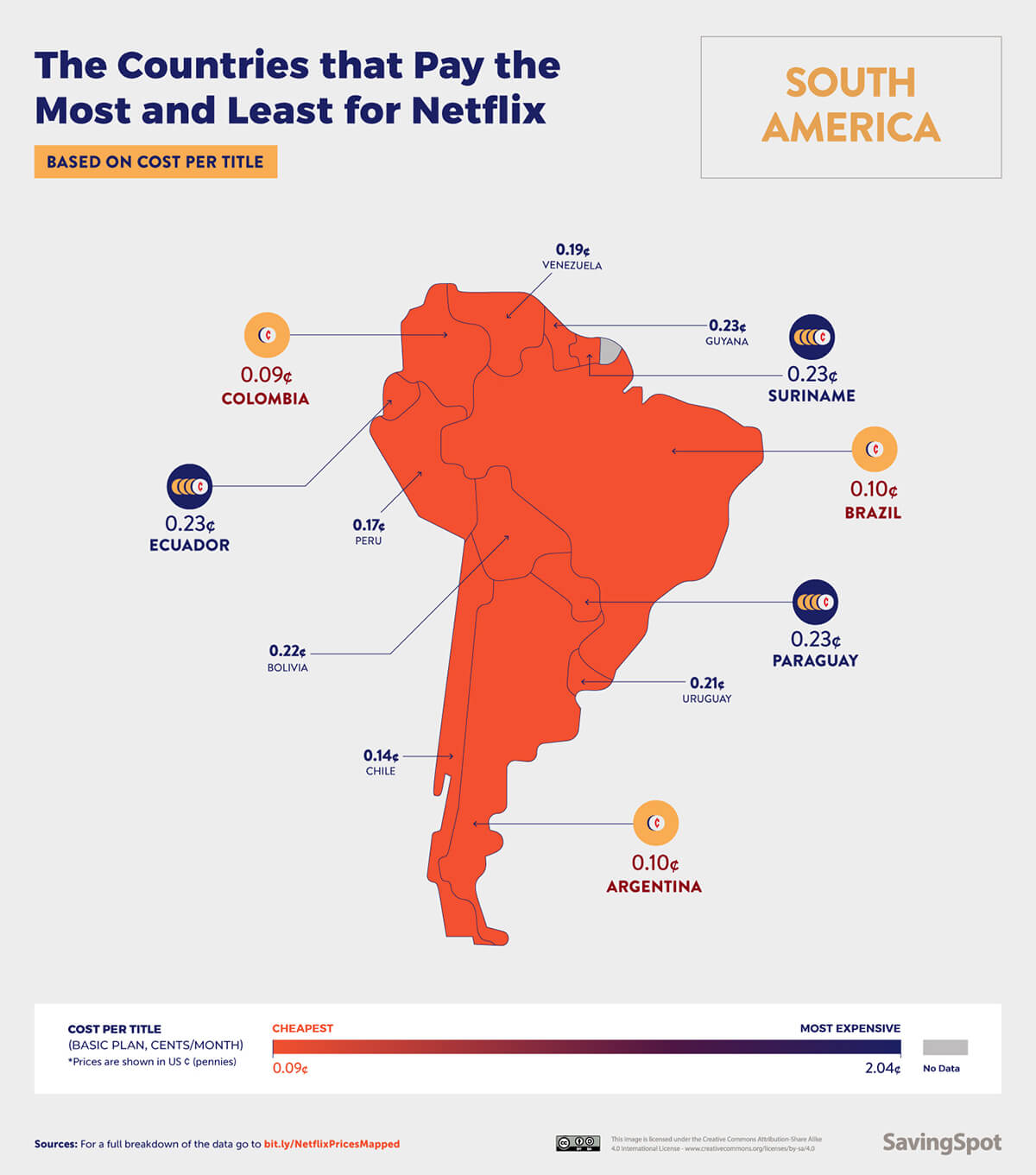 The Cost-per-title of Netflix in Middle East & Central Asia
The cost of a Netflix subscription is much the same wherever you are in the Middle East and Central Asia. Turkey – the homeland of MUBI founder Efe Çakarel – is the exception, thanks to its super-cheap $2.78 tariff (0.10¢/title). The size of libraries in this region varies greatly.  Iran, Saudi Arabia, Qatar, Lebanon, and Jordan each have fewer than 1,000 titles, and Jordan has the worst value at a whopping 1.28¢ per picture.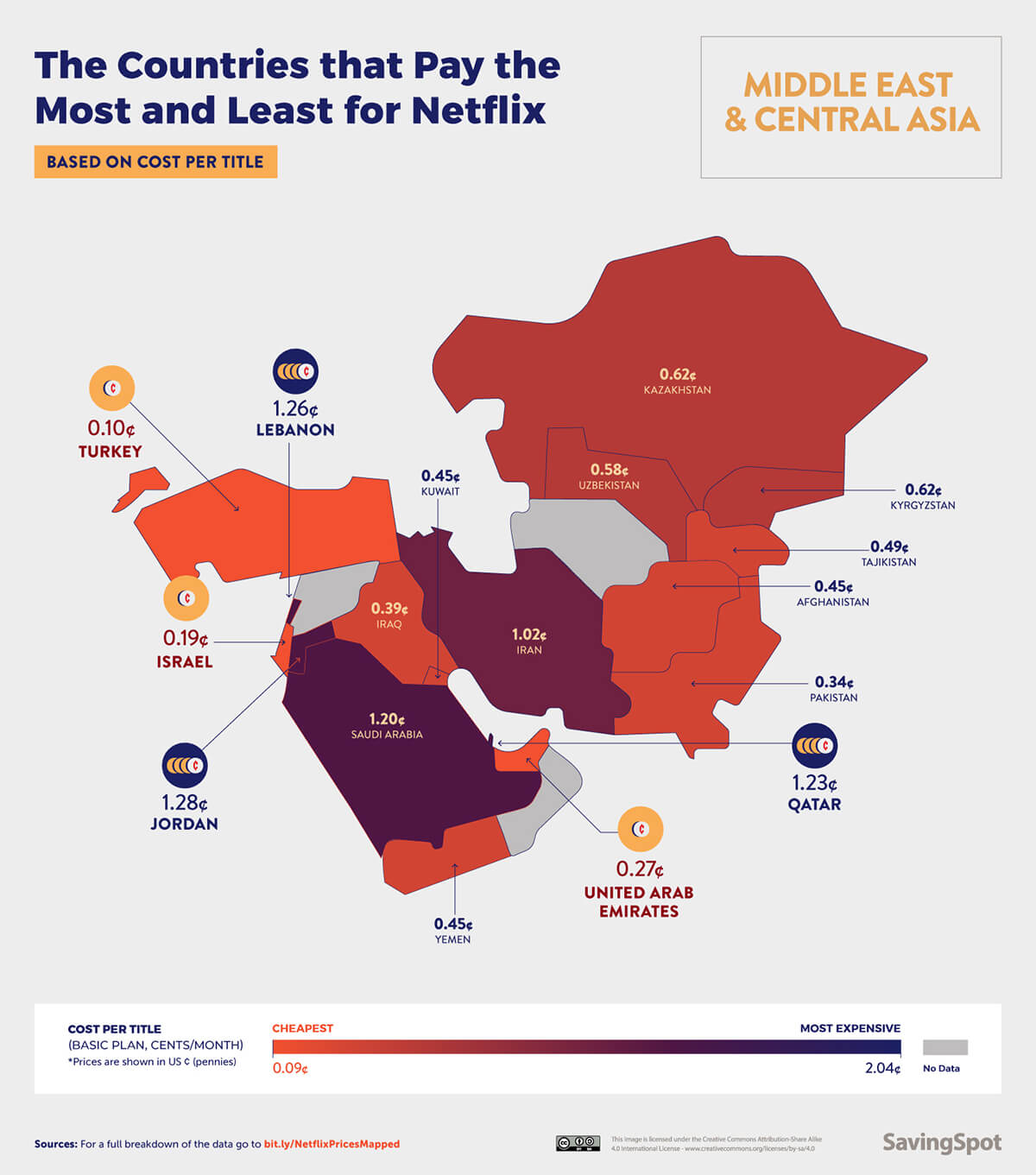 The Cost-per-title of Netflix in Rest of Asia & Oceania
Australia has the best value Netflix for this region (0.01¢/title). Most of Oceania gets pretty good value, while Asia is mixed: India pays just 0.12¢ for each of its 5,591 titles, while Sri Lanka pays 1.13¢ with 709 titles from which to choose. The big divide in Asia is due to library size rather than the subscription price.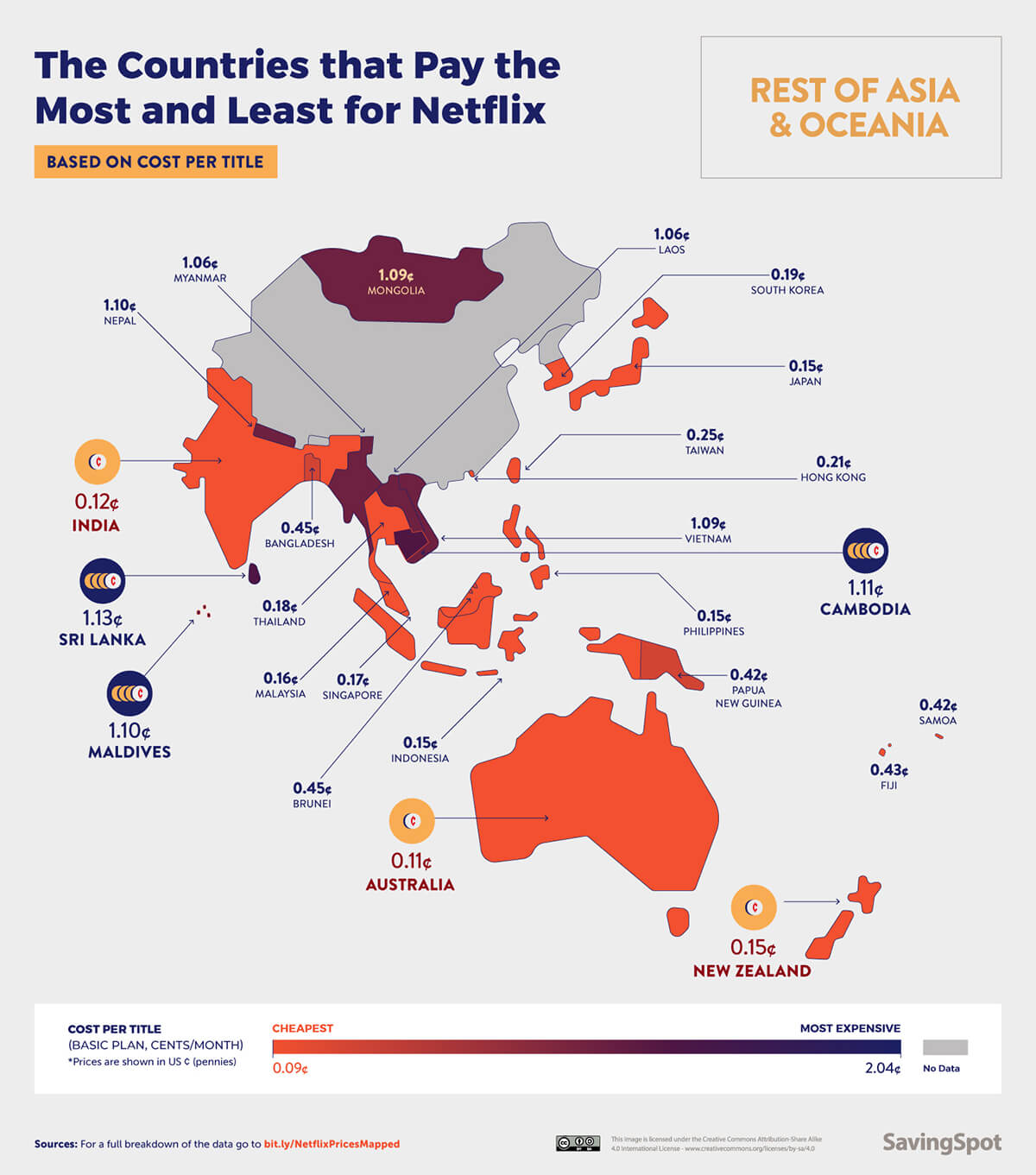 The Cost-per-title of Netflix in Africa
Africa has the biggest disparity in affordability (cost vs. salary). Netflix swallows 45% of your pay in Burundi and just 1.1% in Mauritius. The value per title also varies dramatically. South Africa has it best: 4,987 titles for only $5.86/month gives 0.12¢ per title. Angola pays the most common international fee ($7.99) for the worst library (391 titles), meaning 2.04¢ per title – the worst value in the world!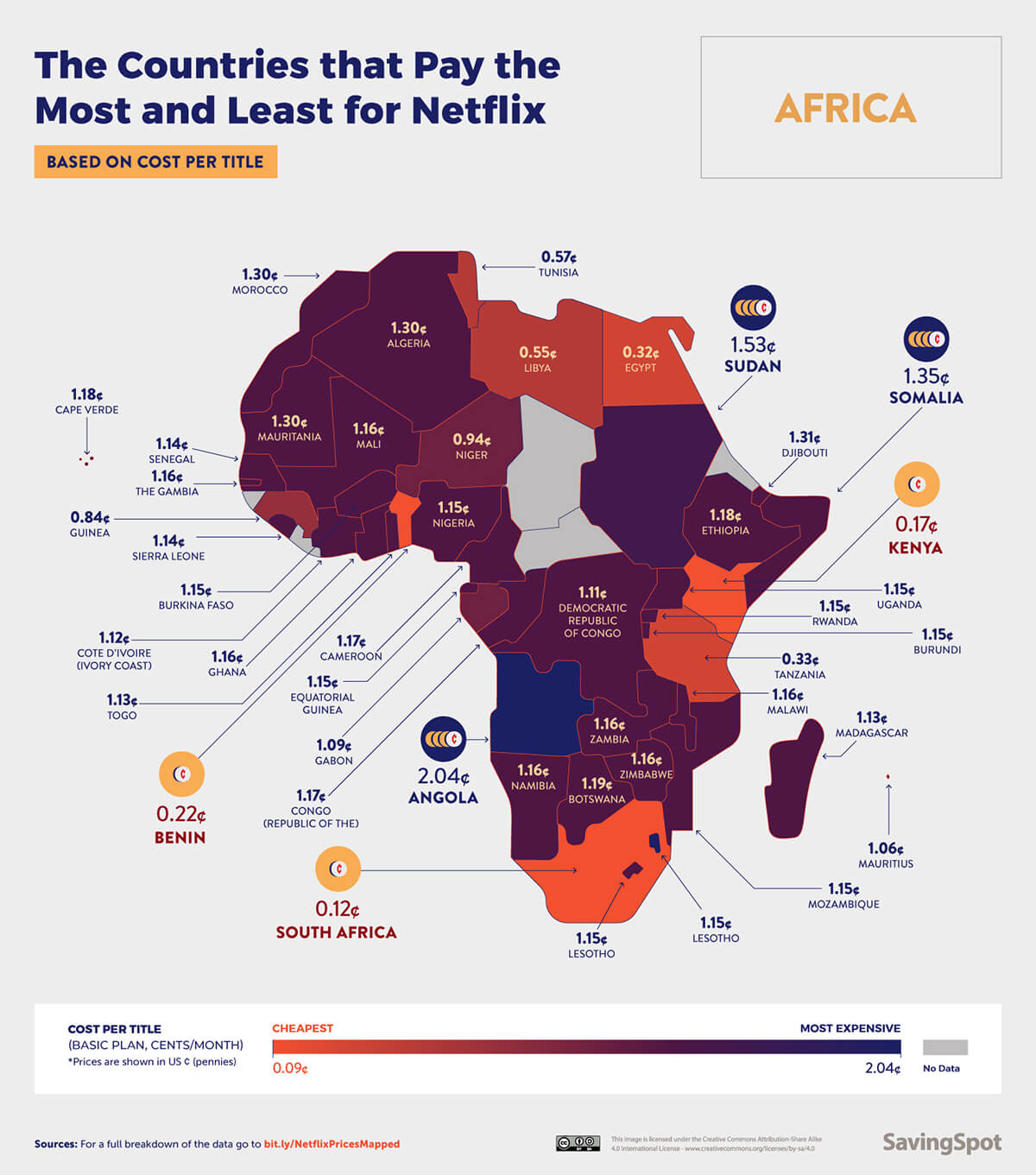 How Does Your Country Compare to the Rest of the World?
Looking for more details on how your country's Netflix deal shapes up next to the ones we've mentioned? Here's one for the data nerds: a table containing all the stats we used to draw our conclusions.
Like Google and eBay, the Netflix name has come to be a shorthand for any business that provides the same service. But when choosing a movie streaming service, it's smart to figure out the value you're getting, rather than defaulting to the industry leader. MUBI and HBO Now offer quality over quantity, while regional services such as Showmax in Africa is an excellent way to find culturally relevant content and support local talent.
Of course, you might be lucky enough to live in a good value Netflix area – in which case, you can spend your savings on extra popcorn!
Methodology & Sources
To make these visualizations, we used the World Bank's "Adjusted net national income per capita" data series, which indicates the typical average income of a person resident in a given country. We divided these figures by 12 to estimate average monthly income.
Next, we used the crowdsourced database "Global Netflix Price" (regularly updated and maintained by the Netflix fan community on Reddit) to find out the cost of a Netflix subscription in each country. We then calculated the cost of a Netflix standard subscription as a percentage of each country's monthly wage. We also calculated the cost of a subscription per title by dividing monthly subscription cost by the number of titles in each library.
Data was gathered in April 2020. For a full breakdown of the data, go to: bit.ly/NetflixPricesMapped