The fitness sector is getting back in shape – but it's a different kind of shape.
Gym workouts have been off limits since the pandemic struck, but that's due to change as vaccination roll-out hits its stride. In the UK, membership of The Gym Group soared by 33%, from 547,000 to 729,000 in the first months of 2021. And consulting firm McKinsey predicts 5-10% annual growth in the wellness market just because we've become more aware of the fragility of our health.
But the new fitness craze is very much shaped by our lockdown experiences. Gym 2.0 will be a hybrid model of on-site training and 'workout-from-home.' Members want to care for their mental health and immune system as much as their figure.
"It's not about bikini body goals, because who knows when we're going to go on vacation again," says MindBody's CEO, Josh McCarter. "COVID-19 has pushed people to think about health more holistically."
As the wellness freaks and the well-intentioned consider which gym membership to choose, CashNetUSA identified the average monthly membership cost for each country around the world and every state in the US.
Key Findings
Austria has the most expensive gyms in the world, with an average membership costing $107.38.
Canada has the cheapest gym membership in our study, averaging (US)$15.91 per month.
The price of the average gym membership in the US is $28.58 per month.
New York is the state with America's most expensive monthly gym membership, averaging $75.32.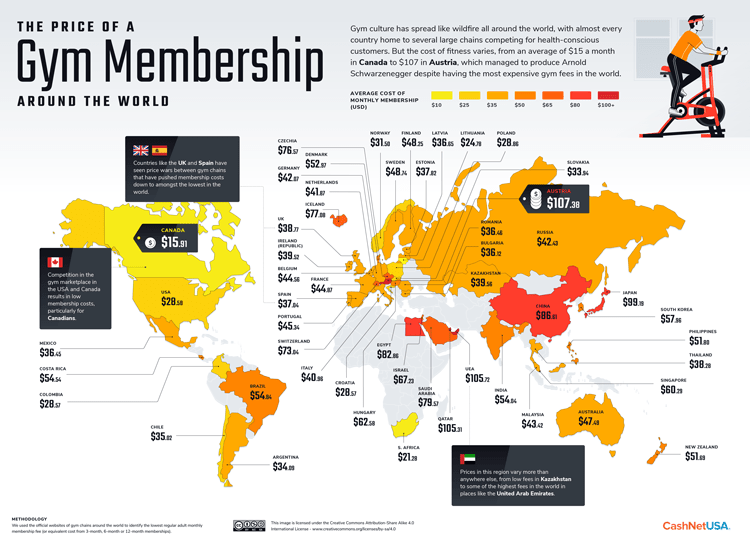 The world's most expensive gym cultures are a mix of wealthy countries and surprise entries. Austria is known for its spas and wellness lifestyle, but it is also known for wealth and high prices. The two combine in an average gym membership price that's higher than anywhere else on Earth. However, you can expect top facilities and maybe even a full-window view of baroque Viennese architecture or the Alps.
Prices are steep across Europe, where more than half the countries surveyed have an average membership on the uphill side of $40 – including, as mentioned, Austria, one of three countries in our study, to have $100+ fees. The others are the United Arab Emirates and Qatar.
China's gym prices are surprisingly high. However, we based our averages on the information found on websites – you can probably haggle for a better deal if you show up at a Chinese gym. Don't expect top facilities or even a tidy environment, however. Gym culture is fairly new to China, and while gym membership (and ownership) is something of a status symbol, the reality inside can be somewhat starker.
Keeping fit is altogether more affordable in North America. The US has one of the cheapest gym cultures in the world, with an average cost of $28.58/month to burn off all that McDonald's and mac and cheese. However, prices and COVID-19 restrictions vary from state to state and gym to gym, so read on to see if there's a nearby state with better options than yours. Meanwhile, up north in Canada, you'll find some of the cheapest gyms in the world, averaging just $15.91/month.
Which American States Have the Highest Gym Fees?
State-by-state, prices around the US are a little higher than the overall average for the whole US. That's because we used a slightly different methodology for the states map below, including local chains (which tended to be more expensive) rather than the biggest chains with the most coverage across the States.
Keeping fit in the priciest US state costs nearly twice the price of gym membership in the cheapest state.
The $75 average gym fee in New York is yanked up by a roster of high-end luxury gyms. E by Equinox on Madison Avenue costs $26k/year for membership (access not by membership card but by retinal scanning!). It's easier to get accepted to Cornell University than Performix House, a $900/month gym with 'celebrity trainers'. Looking gym-ready is not a condition for acceptance: "We're not aesthetically based, we want people who are driven to become fit," claims Performix CEO Matt Hesse.
However, with a bit of searching, it is possible to find a New York gym at your price point.
Beyond New York, gym access on the east coast tends to be cheaper than on the west. Wyoming, in the Mountain West, has America's only average membership to be shy of $40. Along with Montana, Nebraska, and the Dakotas, it forms an island of good value to which it might be worth a visit if you live in a more expensive nearby state.
How to Reduce Your Gym Costs
"Most people train for one of two reasons – they love their body or they hate their body," suggests GSquared founder Andy McGlynn.
Most of us have pretty complex feelings towards our bodies; it makes sense that gyms will witness a boom as doors re-open and masks (responsibly) come off over the next months. Whether lockdown made you fat or fit, you're probably already planning your next, carefully counted steps.
Living in an expensive gym culture like Austria's of the state of New York shouldn't deter you. It is possible to reduce gym costs by:
Or, of course, you can check our full data in the table below to find a region with more affordable gym memberships.
METHODOLOGY & SOURCES
We found gym chains in each country through Google searches and Google Maps and used official websites to identify the lowest regular adult monthly membership fee (or equivalent cost from 3-month, 6-month, or 12-month memberships) for each chain.
These costs were converted to US Dollars through Google Currency Converter and used to find the average monthly membership cost for each country.