One great way to explore a new culture is to enjoy the locals' favorite caffeinated drink (it helps beat jet lag too). Truly the world's favorite bean, coffee originated in Ethiopia and spread across the globe to become one of the planet's top agricultural commodities.
But, who is drinking all that coffee? And, most importantly, how much will a stop at the local coffee shop cost? We researched the price of a coffee around the world and used Statista to find out who's the most caffeinated.
Key Findings
In South Korea you'll pay the most for a cup of coffee – on average, $7.77 a cup.
Iran pays the least – In Tehran expect to pay $0.46 for a cup of coffee.
Luxembourg is the world's biggest coffee consumer, with a whopping 11.1 kilos consumed per capita in a year.
Nepal, India and Pakistan are the world's biggest coffee abstainers. Each country drinks less than 0.1 kilos per capita a year.
South Korea Enjoys Cats with Coffee, While Iran Enjoys a Water Pipe
At $7.77 per cup, South Koreans pay the most for their coffee. Seoul has multiple themed cafes, where coffee lovers can interact with wild animals. However, animal rights groups point out that constant interaction with humans is stressful to the animals, and that coffee shops are not their natural habitat. So you might want to consider having your coffee with human friends only. Luckily the city has the world's most Starbucks.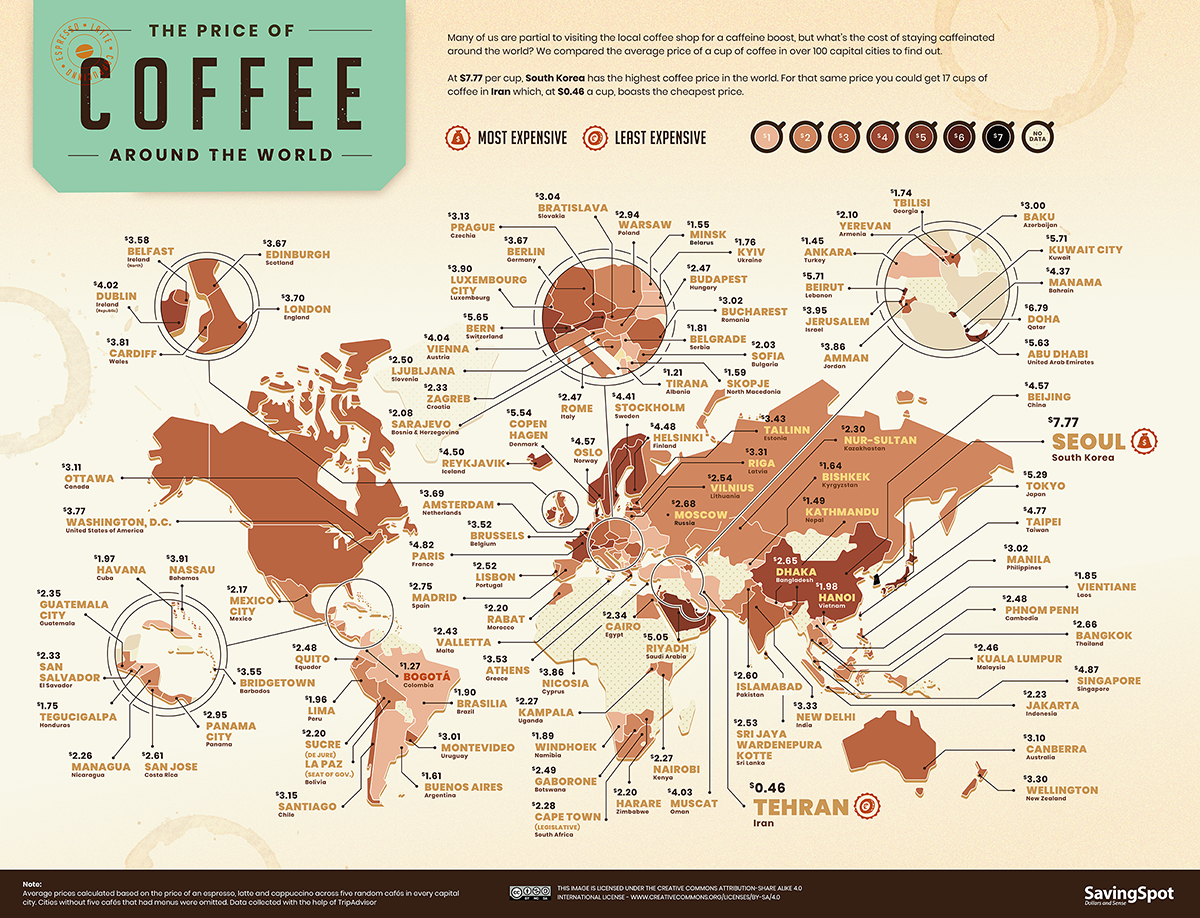 Click here to see the map in full size
Tea-loving Iran offers the world's cheapest cup of coffee at $0.46. Traditionally coffee shops served Turkish-style coffee and "gheyloon"— flavored tobacco served in a communal water pipe. Now espresso-style coffee drinks are increasing in popularity, and Tehran's burgeoning coffee shops are social and cultural centers.
Explore the World Coffee Index 2021 in Full
To better understand coffee consumption and pricing around the world, we assembled a list of world capitals then researched the average cost of a cup in each city. We also used Statista to find out the number of kilos consumed per person in a year. Explore the full results of our study in the table below.
Five Middle Eastern countries— Qatar, Kuwait, Lebanon, the UAE and Saudi Arabia — are among the world's top 10 most expensive places to drink coffee. However, their neighboring countries of Turkey and Iran are two of the world's cheapest.
Eastern Asian countries also serve some very expensive coffee. For example, a cup in Tokyo costs around $5.29. Traditionally across Asia, tea has been the staple drink. However, coffee shop culture is growing, especially in the Middle East, where an affinity for specialty coffees (and abstinence from alcohol) has skyrocketed demand across the region.
Luxembourgers Are the World's Biggest Coffee Drinkers
It's no surprise that Luxembourg, smack dab in the cultural crossroads of coffee-loving Europe, drinks the most coffee in the world. It has a wide variety of coffee experiences inspired by the city's many ex-pat cultures. Try a Scandinavian style "hygge" coffee shop for coziness, French-inspired bakeries and coffee shops, or lively Italian-inspired espresso bars.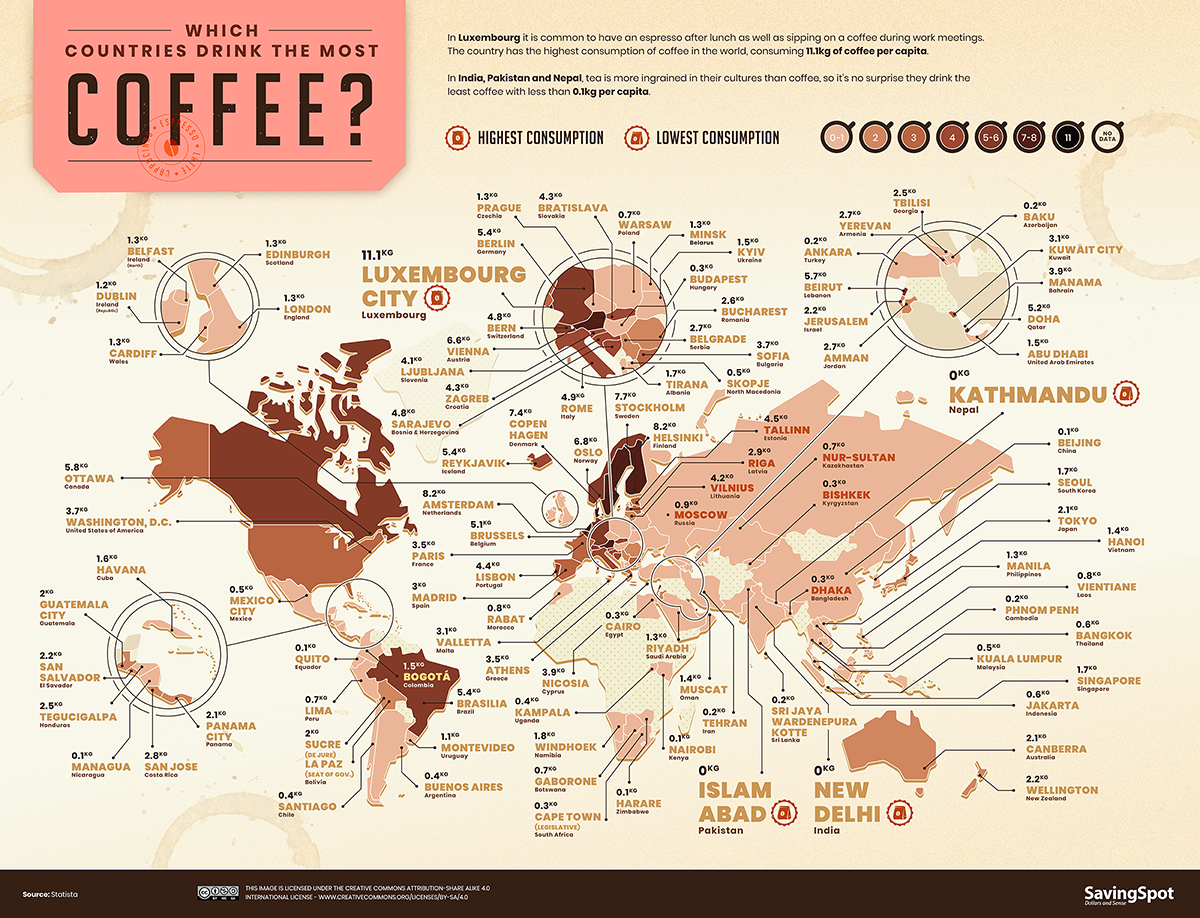 Click here to see the map in full size
Some of the world's biggest coffee-producing regions, including Central and South America and Vietnam, are also some of the cheapest places to enjoy a coffee. Brazil produces the world's most coffee beans and is also a large consumer. Ordering a cafe puro (black coffee often filtered through a sock) or cafe latte (filtered coffee with copious amounts of milk) averages only $1.89 a cup.
The Cost of Coffee in Every Country
To really understand coffee costs across the globe, we looked at each region separately to break down the average cost of a cup of Joe continent by continent.
North America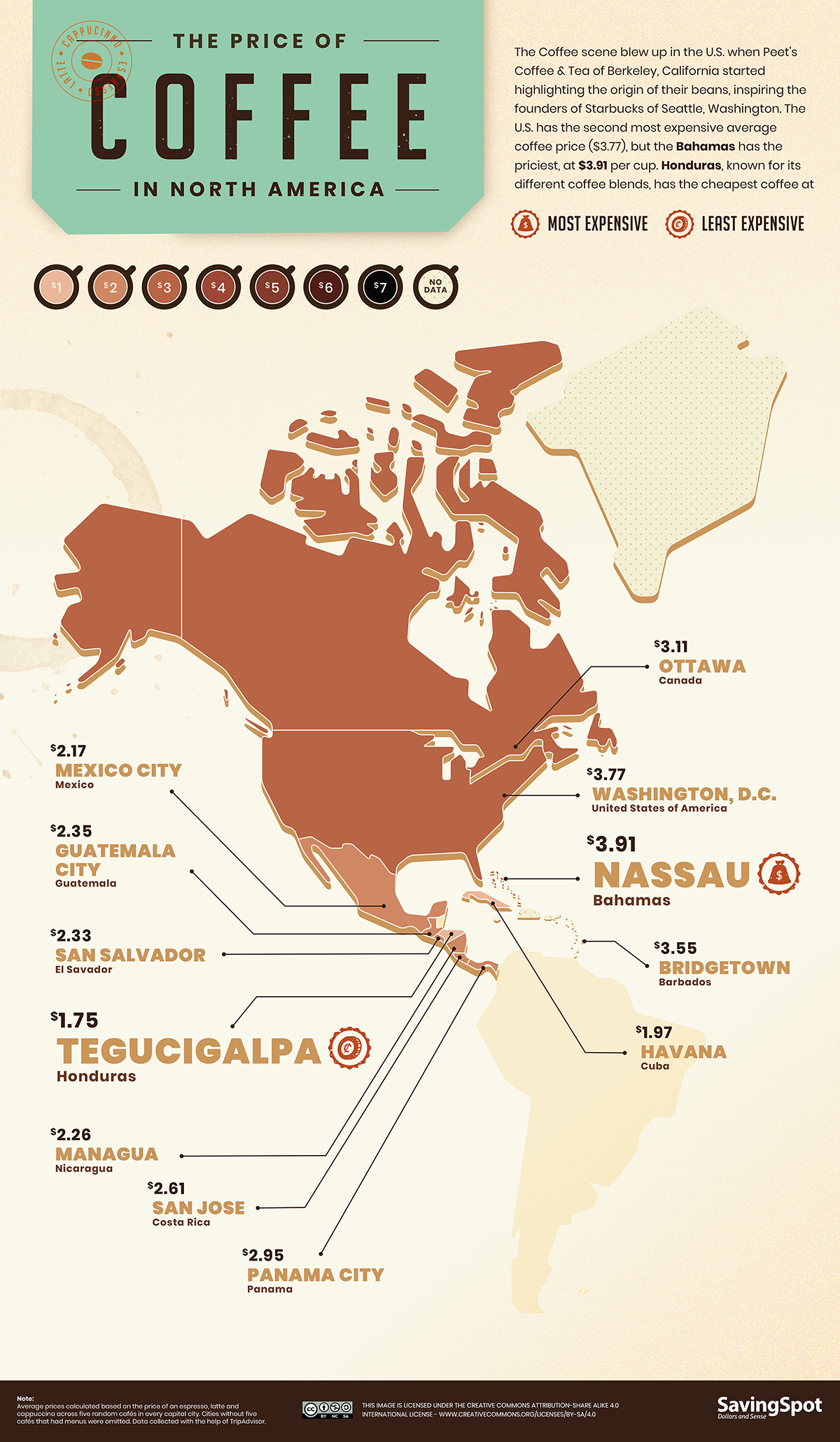 Click here to see the map in full size
Coffee is surprisingly intertwined with American history. The British first introduced it at Jamestown, and colonists adopted coffee drinking en masse after the Boston Tea Party of 1773. The U.S. is North America's second-biggest coffee consumer and pays the second-highest price per cup of $3.77. Bahamians pay the most at $3.91 a cup, while Hondurans pay the least at $1.75 per cup.
Coffee in Mexico is often filtered and served with Pan Dulce (sweet bread) and costs only $2.17 a cup. Costa Rica adopted laws to keep growing standards of Arabica beans high. That quality comes reasonably priced at $2.61 a cup, making Costa Rica a perfect destination for coffee lovers.
South America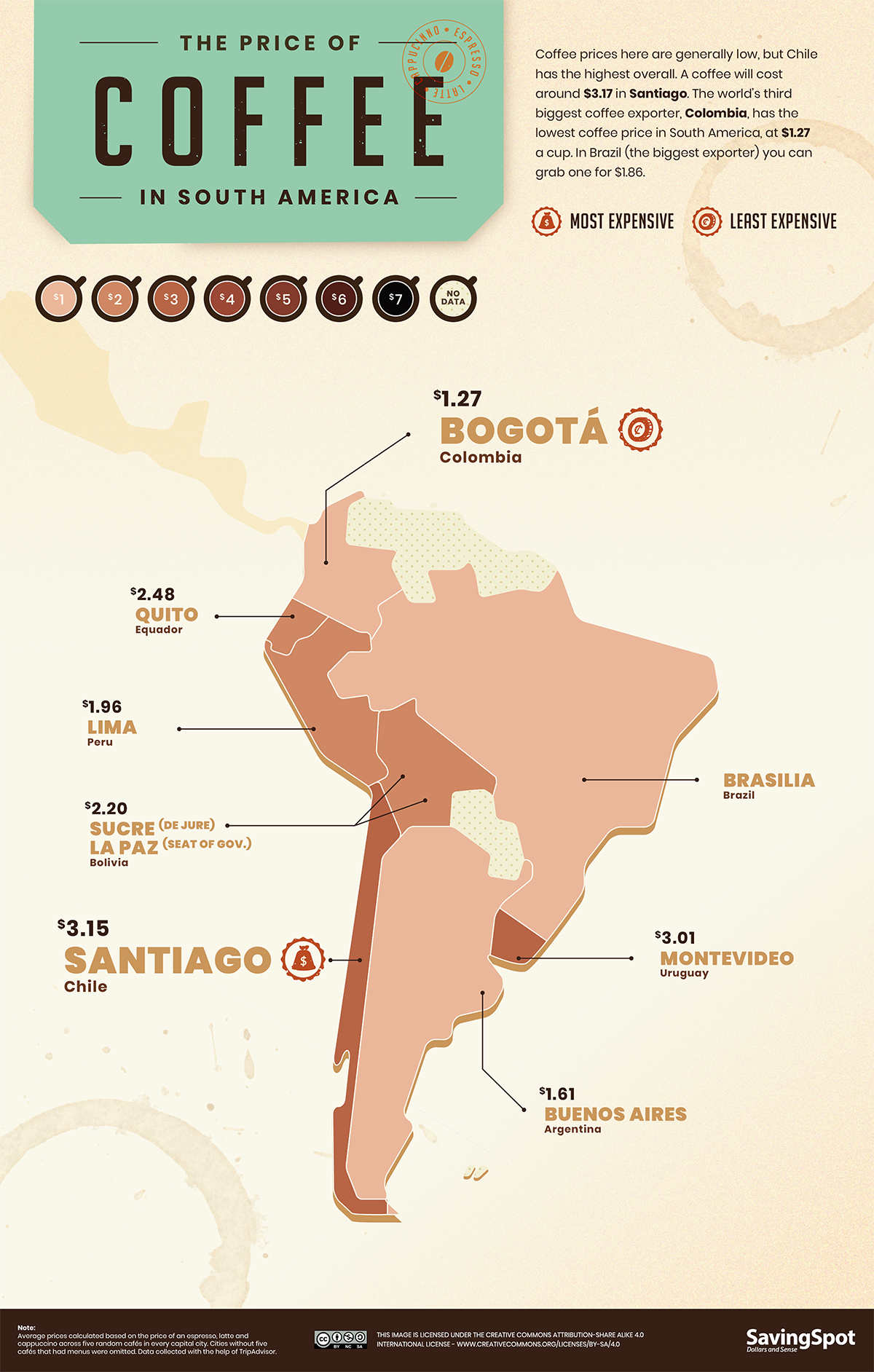 Click here to see the map in full size
South America is a great place to drink, and learn about, coffee. With two of the world's top coffee producers — Brazil and Colombia — residents and visitors can enjoy inexpensive, locally grown beans. Both countries are also coffee tourism destinations, where coffee lovers can tour regional farms to learn about growing techniques, harvesting and history.
Accordingly, coffee prices across the continent are a bargain. Santiago, Chile is the most expensive — but still only averages $3.17 a cup. Bogota, Colombia is the cheapest, charging about $1.26 for some of the world's highest quality coffee beans.
Europe
Click here to see the map in full size
Europe is flush with coffee connoisseurs and regional specialties. The Swiss pay the most for it at $5.65 a cup. The Viennese don't let high prices — just over $4.00 a cup — stop them from enjoying a booming coffee culture. An astounding variety of preparations, such as their cappuccino-like melange or the biedermeier, served with cream and apricot liqueur, elevate coffee to art.
Eastern Europe is a coffee hunter's bargain. Most cities charge around $2.00 a cup and have thriving cafe scenes. The capital of Albania, Tirana, enjoys the continent's cheapest coffee paying just $1.21 a cup. Former Ottoman rule throughout the Balkans inspired multiple Turkish-style coffee drinks. In Sarajevo try a dzezva made from beans patiently boiled multiple times to create a strong, bitter brew.
Middle East & Central Asia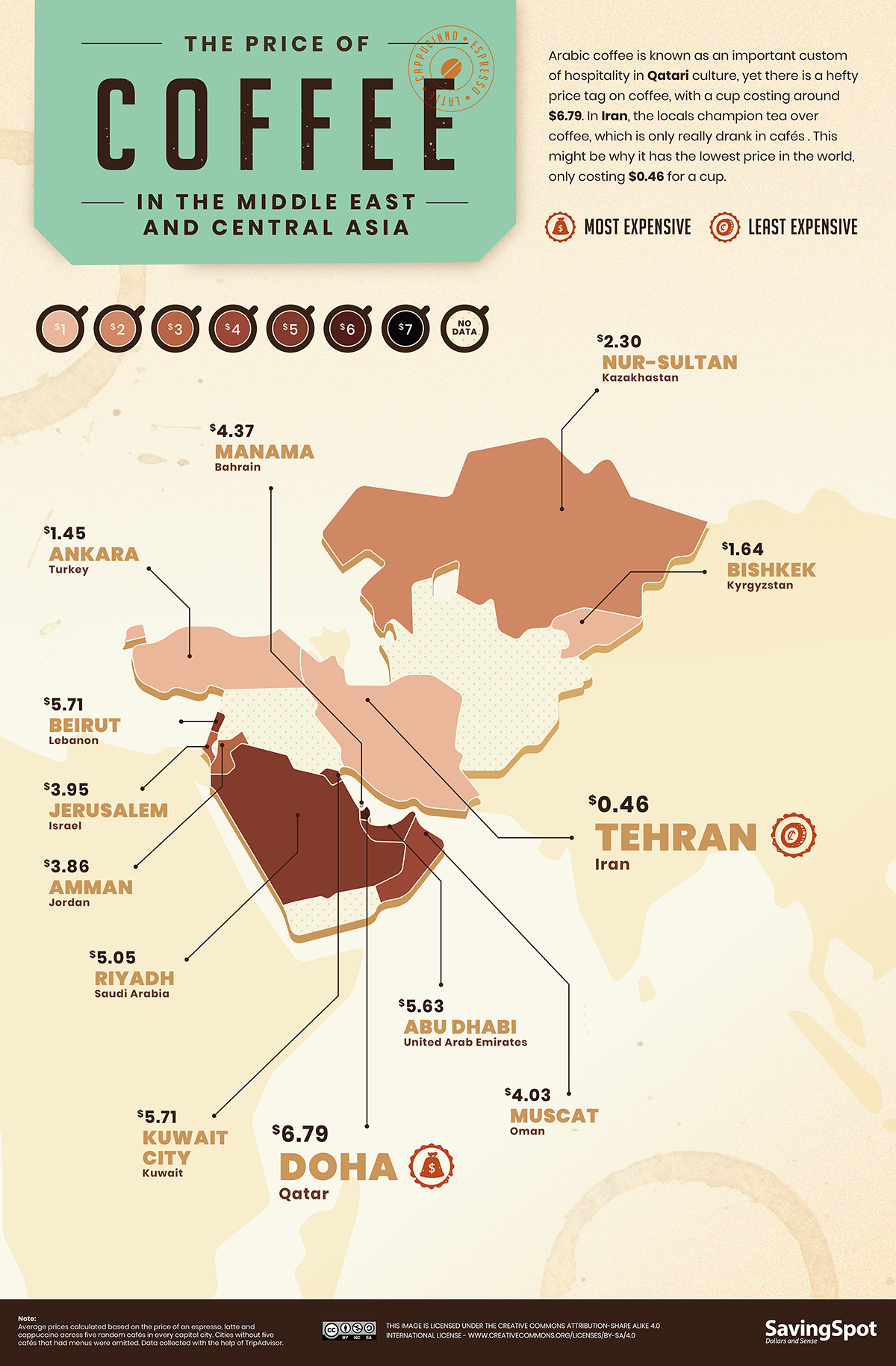 Click here to see the map in full size
The first documented coffee culture was in 15th-century Yemen, where Sufi mystics cultivated it to focus during prayers. Coffee drinking then spread through the Arabian peninsula into Western Asia. Regionally Qataris boast the most expensive coffee today.
In the capital Doha, coffee shops charge around $6.79 a cup. Iranians pay the least at $0.46 a cup. Throughout Muslim cultures, coffee is a traditional symbol of friendship and hospitality. In Saudi Arabia it's common to be offered hot coffee accompanied by sweet dates by complete strangers.  In Lebanon Turkish-style coffee is enjoyed throughout the day. The Lebanese are some of the biggest coffee drinkers in the Middle East and pay over $5.71 a cup — the third-highest price in the region.
Rest of Asia & Oceania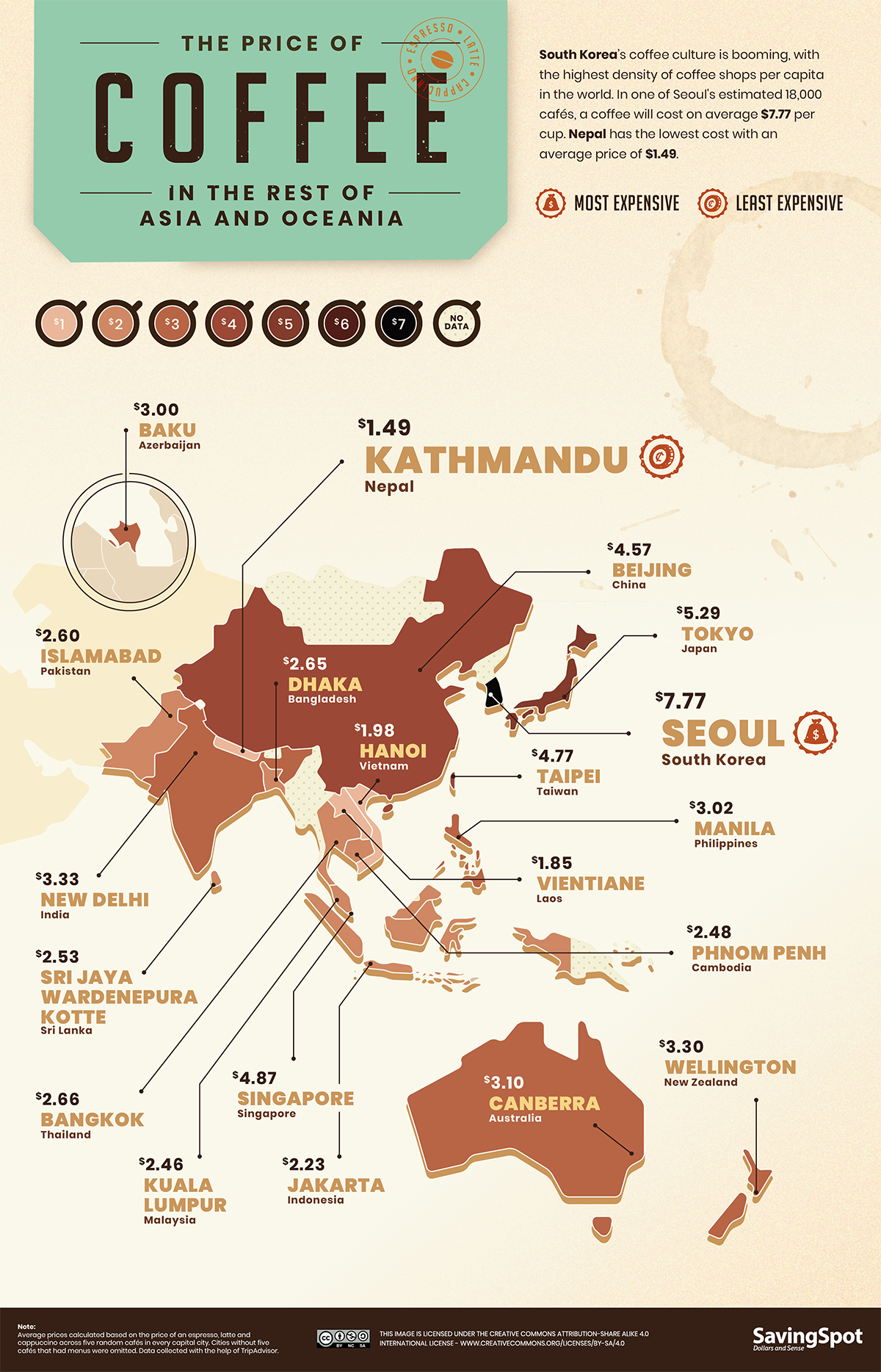 Click here to see the map in full size
Vietnam, the world's second-largest coffee exporter, is also a great place to drink coffee. At around $1.98 a cup, coffee traditionally is filtered and served with sweetened condensed milk, either hot or iced. Indonesia is home to the world's most expensive (and ironic) coffee strain, where beans first digested by Civets are harvested from their droppings (Perhaps one reason it's a nation of tea lovers).
An influx of Italian, Greek and Vietnamese immigrants turned Australia into a land of gourmet coffee, giving both Australia and New Zealand the "flat white." Seoul is the most expensive place to grab a coffee in this region (and the world) charging an average of $7.80 a cup. Nepal, where coffee only costs $1.49 a cup, is the least expensive place in Asia to drink coffee.
Africa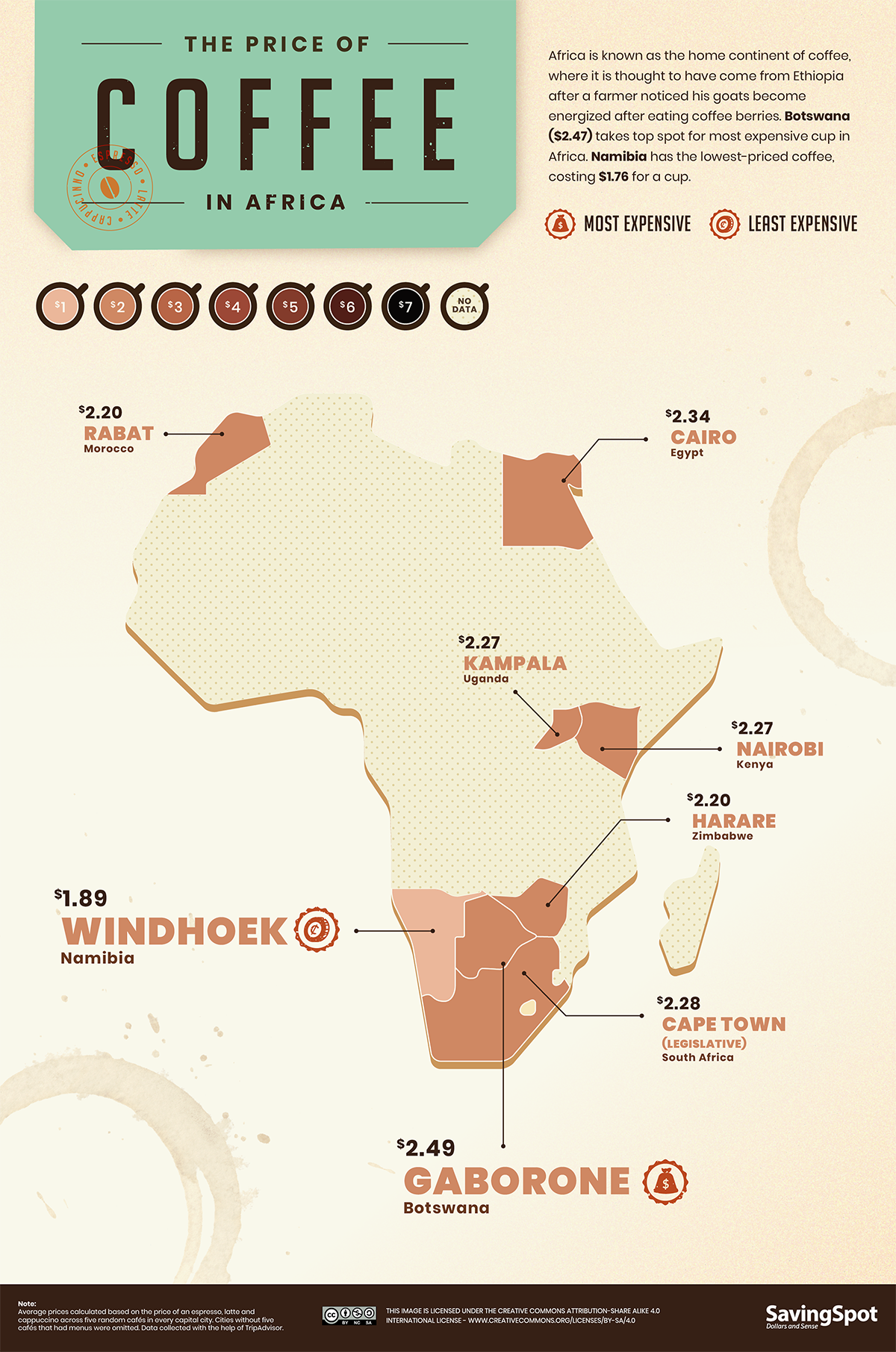 Click here for the map in full size
In Ethiopia, the birthplace of coffee, the ritual preparation and drinking of coffee is a sacred ceremony. Often up to three hours long, each ceremony involves cleaning both kitchen and beans before preparation, decorating the space with grass, then roasting beans and ritually grinding them. Coffee is then served in three rounds, and the communal drinking is an opportunity for community building as well as hospitality.
Botswana is Africa's most expensive place to drink coffee. In the capital city Gaborone expect to pay approximately $2.49 a cup. Namibia is the cheapest place in Africa to drink coffee — coffee shops in the nation's capital Windhoek charge an average of $1.89 a cup.
A World Full of Beans
Whether filtered or pressed, prepared with steamed milk, cardamom, liquor or sugar, and whether it's pronounced cafe, koffee or qahwah, coffee is loved in every part of the globe. It may be almost ubiquitous, but the cultures surrounding it are diverse. Understanding the world's coffee habits and costs provides insight into local history, spiritual practices, and values.
METHODOLOGY & SOURCES
We used Tripadvisor to find cafés in the capital city of each country. Then we searched the list of cafés until we located five menus with the price of an americano (or espresso), latte and a cappuccino. We averaged the price of coffee across all types and cafés in each city. Cities without five cafés that had menus were omitted. All prices were sourced from local menus before being converted into US dollars and are correct as of June 2021.
We found the coffee consumption per capita data from Statista, where they combine economic developments and trend scouting with statistical and mathematical forecasting techniques. For more information see here