The local grocery store is a snapshot of a nation's culture – wherever in the world you go to shop.
Rows of colorful shelves show which ingredients locals use to cook and hint at their relationship with food and drink. You'll marvel at the price differences for the same items you can buy back home. Packaging reveals the aesthetics, humor, and priorities of the local population. And, for instant insight, travel experts suggest checking what flavor chips foreign stores stock.
Like any snapshot, the results are different depending on where it's taken and who's behind the camera. So, we asked 14 photographers from around the world to make a photo report of their regular grocery store.
Click the arrows to move from photo to photo and navigate the gallery
Keep reading to get an insider's view of what makes the grocery store unique to each home country, from Bermuda to Bosnia, Singapore to South Africa.
Heading to the Supermarket in 14 Countries
The excitement in the air. The clang of shopping carts. The giant, brightly colored logo that says, "this is a grocery store." Here's an outside look at what you see on arrival at our profiled grocery stores.
Each country's grocery store has its own look despite the common themes. You have to admire Lenta's commitment to its color scheme: Russia's fourth-largest retail chain has a floor-to-roof paint job in blue and yellow, leaving space just for the doors and minimal windows. German grocers Aldi have a more clinical grey backdrop, with plenty of ad-free window space to let the daylight in. The Aldi brand operates in 17 countries, including Australia, China, and the US.
The Fruit and Veg Aisle 
The first department you'll typically find in a grocery store is the fresh produce aisle. "The sensory impact of all those scents, textures, and colors (think fat tomatoes, glossy eggplants, luscious strawberries) makes us feel both upbeat and hungry," as NatGeo's article points out.
Fruit and vegetables are the only things you won't find pre-packed in a Brazilian grocery store, according to our correspondent Thiago. George from Lebanon says that the freshness of fruit in Lebanese grocery stores is one thing that sets them apart from shops in other countries. And if Jayson from Finland had to describe his local grocer in one word, he'd say "vegan friendly."
The Drinks Aisle 
The Bingo Plus drinks section has an exquisite layout, even if it's hardly typical of a Bosnian booze aisle. Bingo's more aspirational look became more widespread when it leapfrogged the better-known Konzum brand to become the supermarket chain with the most stores in Bosnia and Herzegovina.
The Bakery Aisle 
The bakery is where grocery stores double-down on the message of the fruit n' veg aisle: we got fresh, good-smelling produce and plenty of it! The Czech supermarket photographed by Amas takes this merchandizing to its extreme, presenting mountains of rohlíky (soft breakfast rolls) and traditional rye Český Chléb (literally "Czech bread"). Amas adds that Chlebíčky (a local type of open sandwich) is a must-buy when in the Czech Republic.
Georges tells us the "huge variety of bakery products" in Lebanese grocery stores sets them apart. And the baker in Georges' picture looks like he knows what he's doing. Uruguay's bakery section is a sight for sweet teeth. Our Uruguayan photographer, Manuel, says the alfajores (shortbread cookies filled with dulce de leche) are his guilty pleasure.
The Most Popular Aisle in Each Country
We also asked our photographers to grab some snaps of an aisle they consider to be popular among locals. American cheese, Bermudan chips, and beer in Bosnia and the Czech Republic are big hitters. And Ludovica offers us some images of those tasty-sounding Thai sauces.
It's the meat section for South Africa. Our South African photographer, Louise, suggests that biltong (dried and cured beef or game) is a must-buy for visitors to get a taste of the South African kitchen.
The Aisle With the Most Iconic Products From Each Country
In Uruguay, different brands of yerba mate tea come in satisfyingly familiar packets– so iconic, they're just waiting for Andy Warhol to paint them. Other correspondents sent us photos of iconic partnerships: coffee and lokum from Bosnia, beer and bratwurst from Germany, beer and mac and cheese from the US.
Brightly packaged Thai rice features traditional logos, and Thai shops also stock modern Korean instant noodles. But you'll need something special with them: "In Thailand you can find a great selection of sauces," says photographer Ludovica.  "You can find sauces from any culture and side of the world, and of course, the Thailandese ones: fish sauce, soya sauce, tamarind sauce, oyster sauce, and many more!"
The Candy Aisle
Candy can be very culturally specific, and those places with a big prepackaged candy culture are distinguished from those with a more hand-made tradition. For example, mass-produced Bosnian candy and chocolate tend to be rather plain and dull, and locals prefer to sweeten their tooth with fresh baklava or rahat lokum (a Turkish delight-style candy eaten with coffee).
The culinary landscape in Lebanon has developed as refugees from across the wider region have arrived. As one Syrian confectioner explains: "There is a variety of consumer behavior in this business. Europeans purchase small quantities as gifts, while Arabs buy large quantities. The Lebanese buy in small quantities but often, and Syrians who are unable to go to Syria enter our shop just to feel like being in Damascus."
The Checkout Area 
The checkout: necessary evil or hub of the community? Britain's biggest grocery store, Tesco, failed to launch in the US because it misunderstood the importance of the checkout experience to Americans (among other things).
But Thiago says the long lines are the biggest drawback to the Brazilian grocery store experience, and Georges regrets the lack of self-checkout areas in Lebanese stores. In South Africa, says Louise, "people don't mind getting into your personal space. Especially when standing at the checkout."
Let's Meet Our International Mystery Shoppers
Of course, even within a culture, different people have a different take on the shopping experience. To show you through whose eyes you're seeing these stores, we asked each of our photographers to take a supermarket selfie while they were in the store. Looks like masks are 'in' all over the world this season!
Bermudan Grocery Store Prices Up to 10x Bosnian Prices
How much is a loaf of bread (gluten-free)? Grocery store basics vary widely in price around the world. And some 'basics' are far from universally available – we're looking at you, vegan cheese (absent from four countries and a whopping $23 in Lebanon).
Bermuda stands out as by far the most expensive weekly shop. "Due to our location in the middle of the Atlantic and a limited supply of locally farmed produce, we have limited amounts of fresh products and groceries generally are very expensive," explains Lana.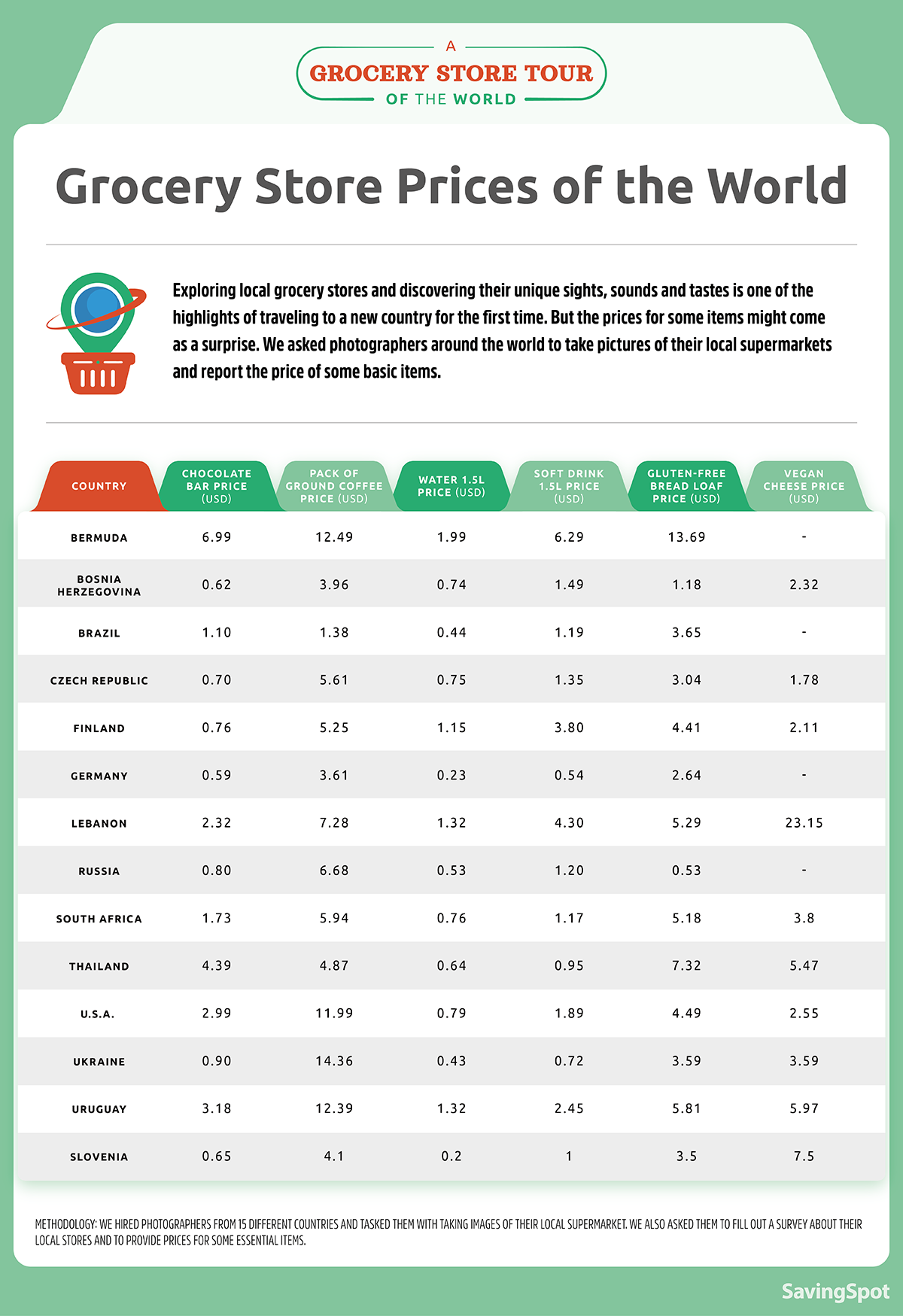 Admit it: grocery shopping is a highlight of international travel. Okay, not shopping per se, but having a nose around the local shop is an exotic treat. Packed with colors, smells, and – if you're lucky – the occasional taster, grocery stores around the world offer a slice of life with your sliced bread.
Methodology and Sources
We hired photographers from 15 different countries and tasked them with taking images of their local supermarket. We also asked them to fill out a survey about their local stores and to provide prices for some essential items.