In France, they call it le Big Mac.
The language of McDonald's is international. Sure, there are regional specials like Seaweed McShaker™ Fries and Spain's pricey Signature Huevo Benedictine Doble. But when you see those golden arches and ask for a Big Mac or Happy Meal, you know what you're going to get. (Disclaimer: nutritional value may vary!)
What you might not expect is the price. Even within the U.S., we found you could pay a dollar more for a Happy Meal from one state to another. On a global scale, the world's most expensive Happy Meal ($8.17 in Liechtenstein or Switzerland) costs 431% more than the world's cheapest ($1.54 in Pakistan).
When you're buying at McDonald's, it's all about the little differences — like how much you'll have left for a shake. So, CashNetUSA found the price of a Big Mac and a Happy Meal in every U.S. state and every country in the world. We also found the most expensive item on every country's McDonald's menu. (We didn't go into Burger King 😁)
What We Did
CashNetUSA used the McDonald's website and local delivery apps to find the price of a Big Mac and a Happy Meal in every country and U.S. state and the most expensive item in each country. Then, we converted the prices from the local currency to U.S. dollars and recorded and ranked them in this series of maps and charts.
Key Findings
The United States has the 19th most expensive Big Mac in the world ($5.35).
Liechtenstein and Switzerland share the world's most expensive Big Mac ($7.75) and Happy Meal ($8.17).
The world's most expensive McDonald's item is the Triple Cheddar & Double Beef in France ($15.70).
Hawaii is the U.S. state where McDonald's is the most expensive, and Mississippi is the cheapest.
Wealthy European Countries Have Most Expensive McDonald's
Uniontown McDonald's franchisee Jim Delligatti invented the Big Mac in 1967 to feed steelworkers left hungry by the standard cheeseburger. Over half a century later, the Big Mac has become McDonald's signature meat sandwich — but if it tastes the same in all 76 countries where it's served, prices vary considerably from capital to capital.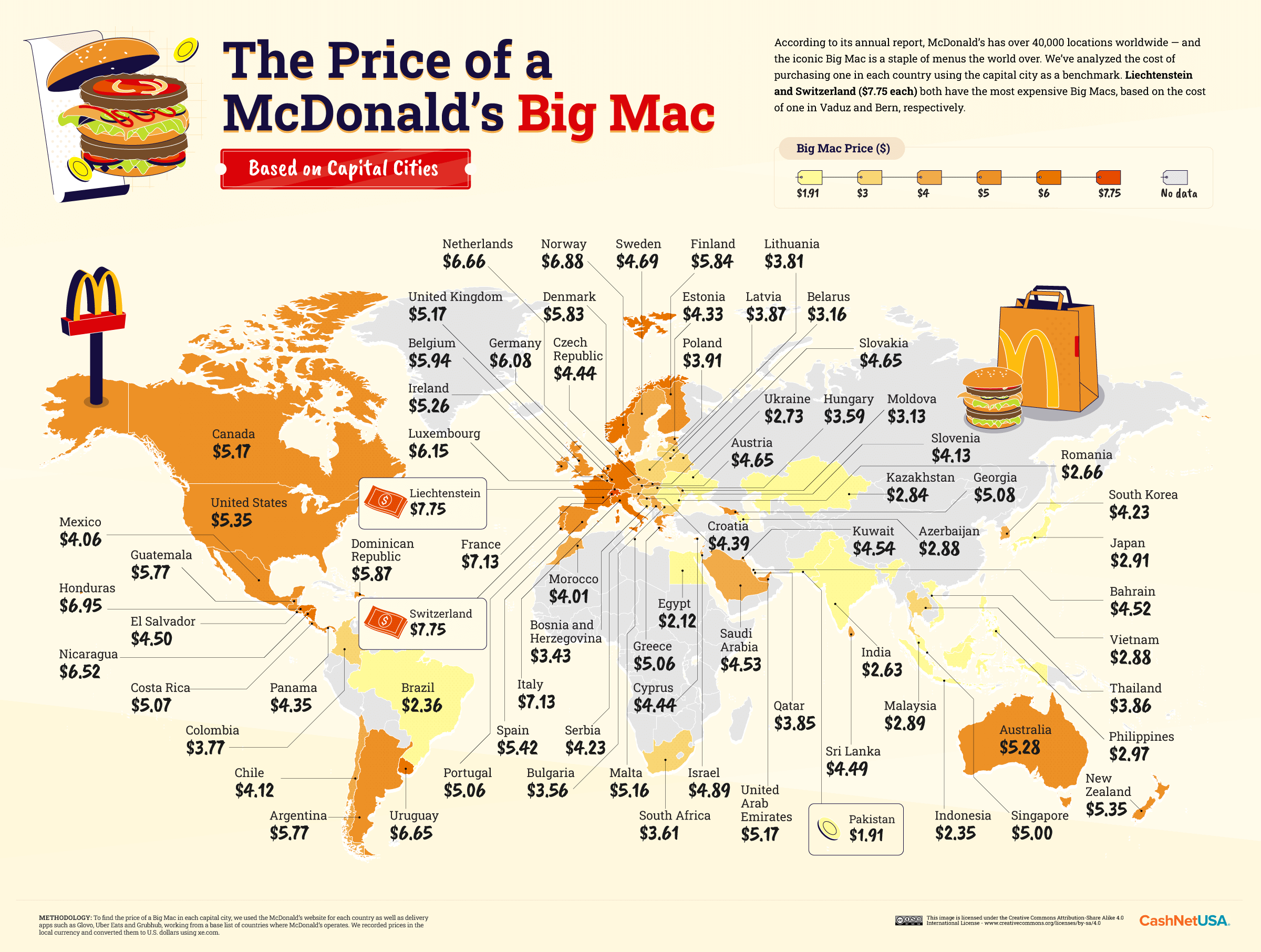 Click here to see the image in full size
There are 18 countries where the Big Mac costs more than in the U.S. Liechtenstein and Switzerland have the steepest Big Mac of all, coming in at $7.75 (some 44.9% higher than the American price). You can even pay for your Big Mac with cryptocurrency in Switzerland as of October 2022.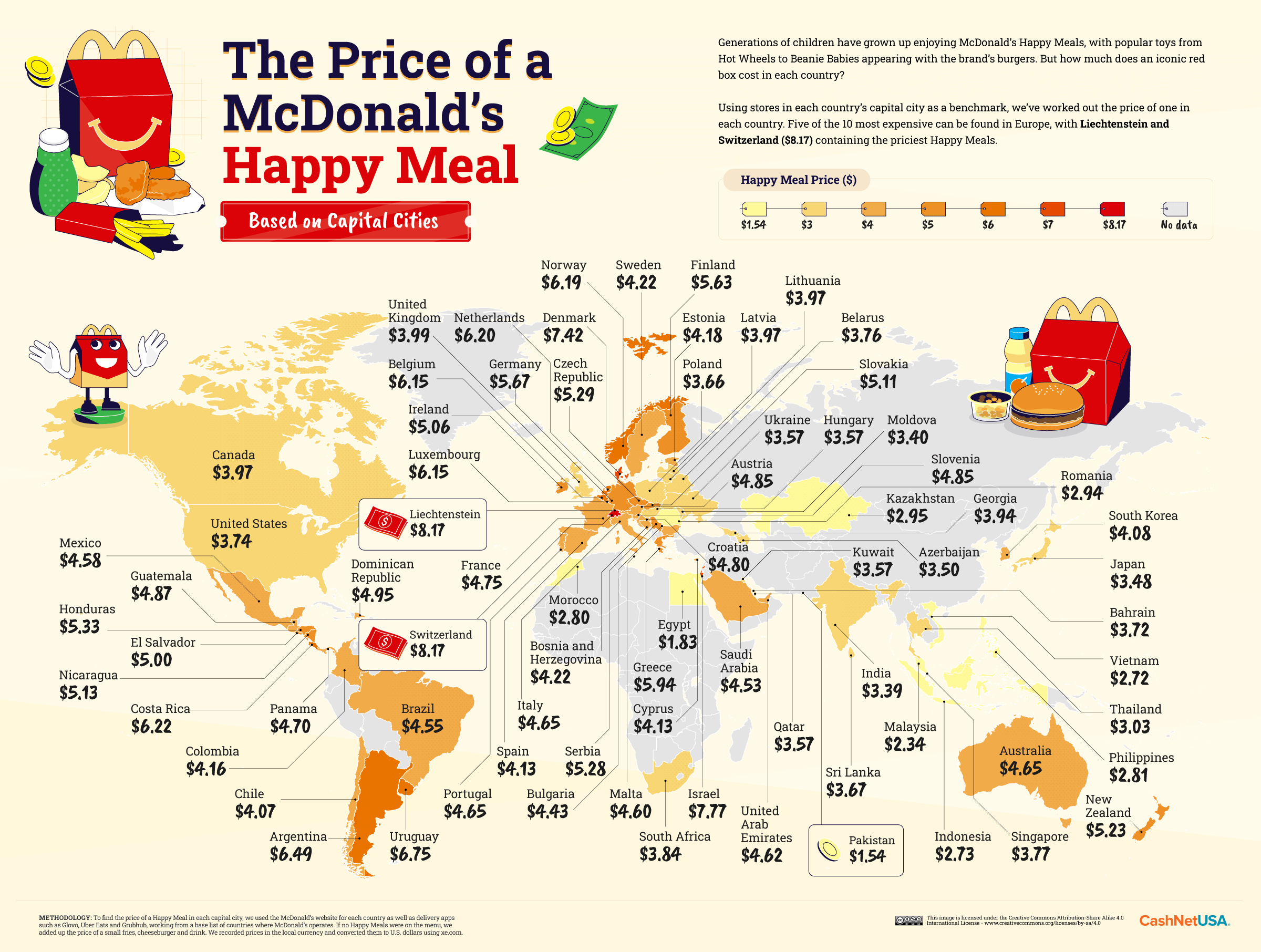 Click here to see the image in full size
The Happy Meal has international roots, having been partially conceptualized by Guatemalan McDonald's operator Yolanda Fernandez de Cofiño in 1977. Today, the Guatemalan Happy Meal costs $4.87, making it more expensive than in two-thirds of Happy Meal-serving nations. Pakistan ($1.91) and Egypt ($2.12) are the cheapest countries to get a Happy Meal, as they are for the Big Mac.
Deep South States Offer Cheapest McD's
The Big Mac cost just 45¢ when it first appeared at a single Pennsylvania franchise in 1967. The company's CEO, Ray Kroc, believed in the concept and launched the burger in every U.S. branch a year later. Today, it costs more than 10 times the original 45¢ in 20 states, most prominently in Hawaii ($5.31) and New York ($5.23).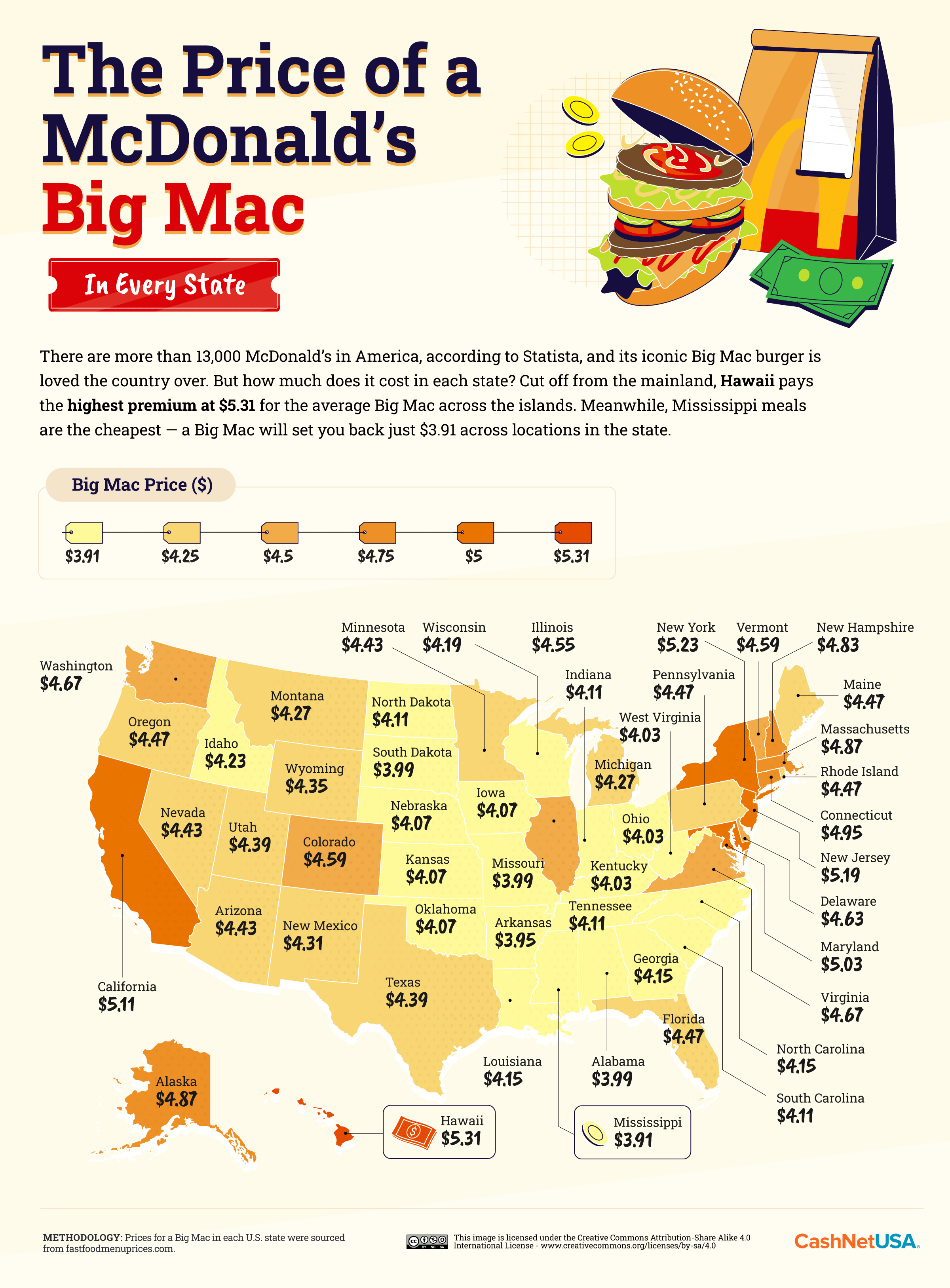 Click here to see the image in full size
It could have been called the Aristocrat or Blue Ribbon, but would the steelworkers have bought it? Plus, the new sandwich would need to battle with Burger King's Whopper, first established in Miami, Florida, over 10 years earlier. Instead, 21-year-old secretary Esther Glickstein Rose suggested "Big Mac," and a legend was born. Today, both Pennsylvania and Florida (both $4.47) offer a middling-priced Big Mac — although Florida's deep-south neighbors Mississippi ($3.91), Arkansas ($3.95) and Alabama ($3.99) are among the nation's cheapest.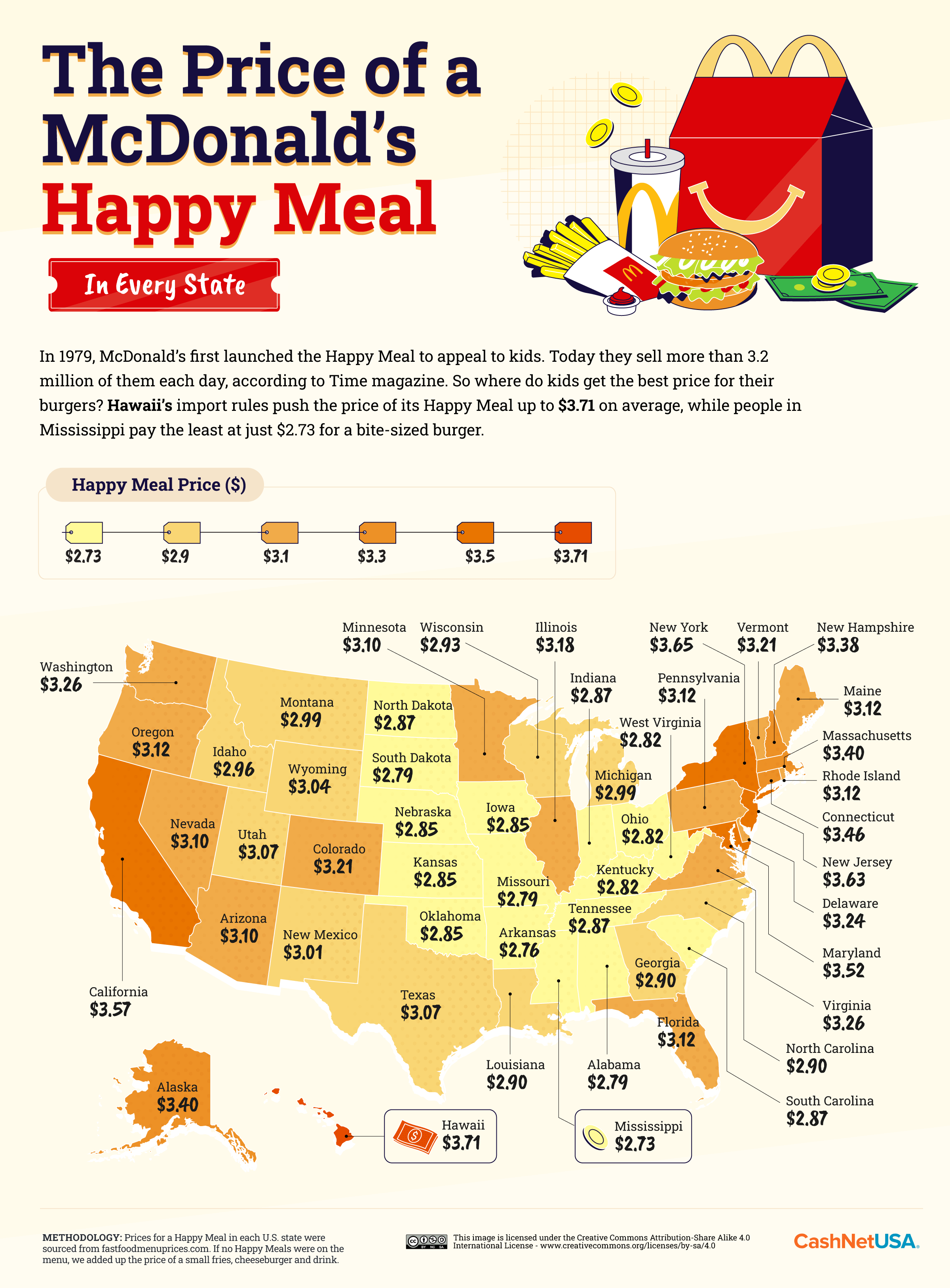 Click here to see the image in full size
The run-down of Happy Meal prices follows the Big Mac's pattern, with McDonald's notably cheaper in and around the Great Plains. It was in his Kansas City home that ads guy Bob Bernstein claims to have come up with the idea: "I came up with the Happy Meal, in 1975, as I watched my son at the breakfast table reading his cereal box. He did it every morning. I thought, we make a box for McDonald's that holds a meal and gives kids things to do."
The Most Expensive McDonald's Menu Items From Each Country Ranked
There are over 38,000 McDonald's across more than 100 countries. And while there are many standard items across their menus, local restaurants also cater to local tastes and customs — as well as adjusting prices depending on local markets. CashNetUSA found the most expensive item in every country, and here are the top 10. Scroll on for the most expensive across more specific regions.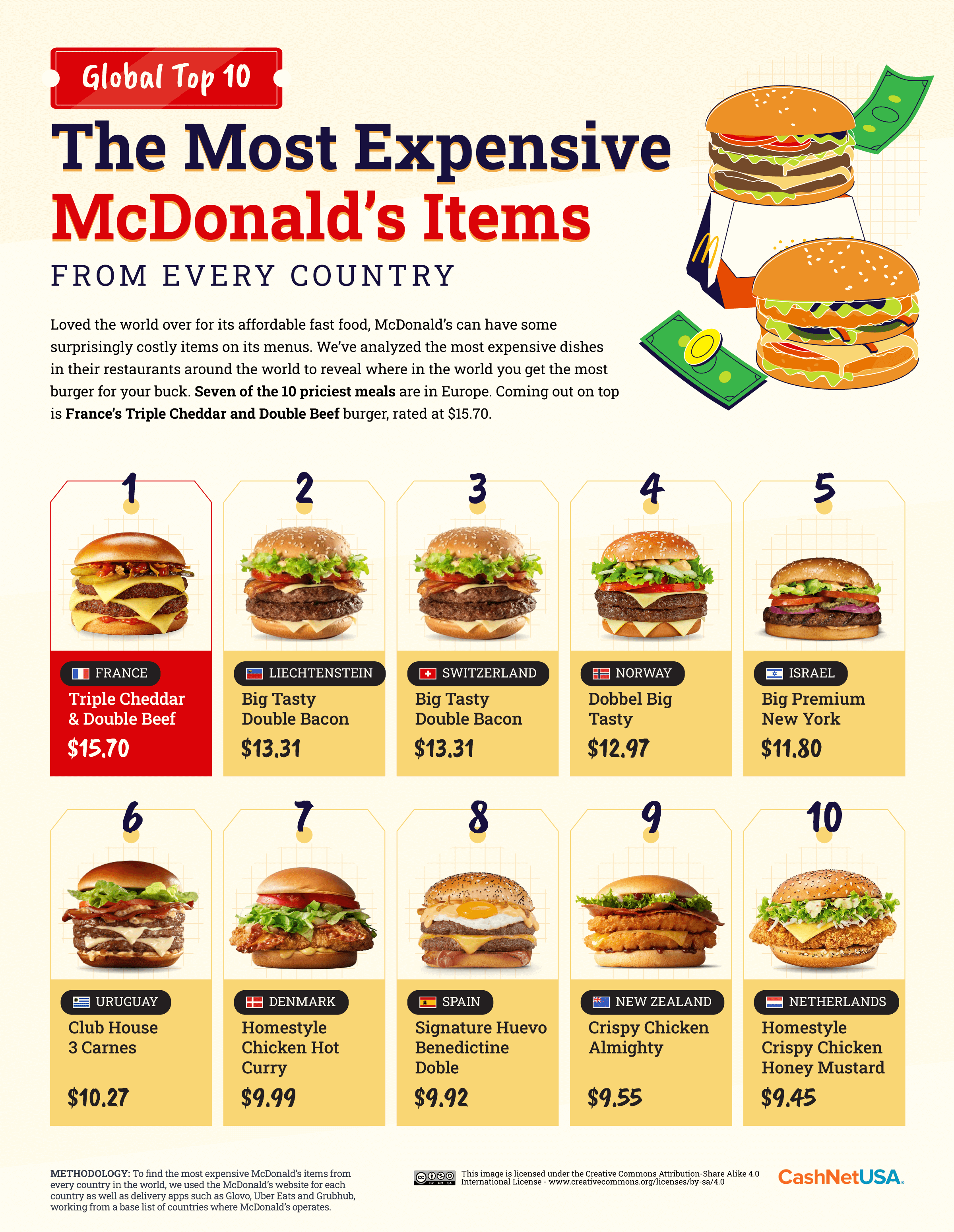 Click here to see the image in full size
Seven of the 10 countries with the most expensive items are in Europe. France has a cheaper Big Mac and Happy Meal than Liechtenstein and Switzerland but leapfrogs them for the most expensive item with its $15.70 Triple Cheddar and Double Beef. The French call McDonald's "McDo," but there's nothing delicate about this cheesy giant that carries a 1336-calorie payload.
Honduran Double Beef McNifca is North America's Most Expensive McBurger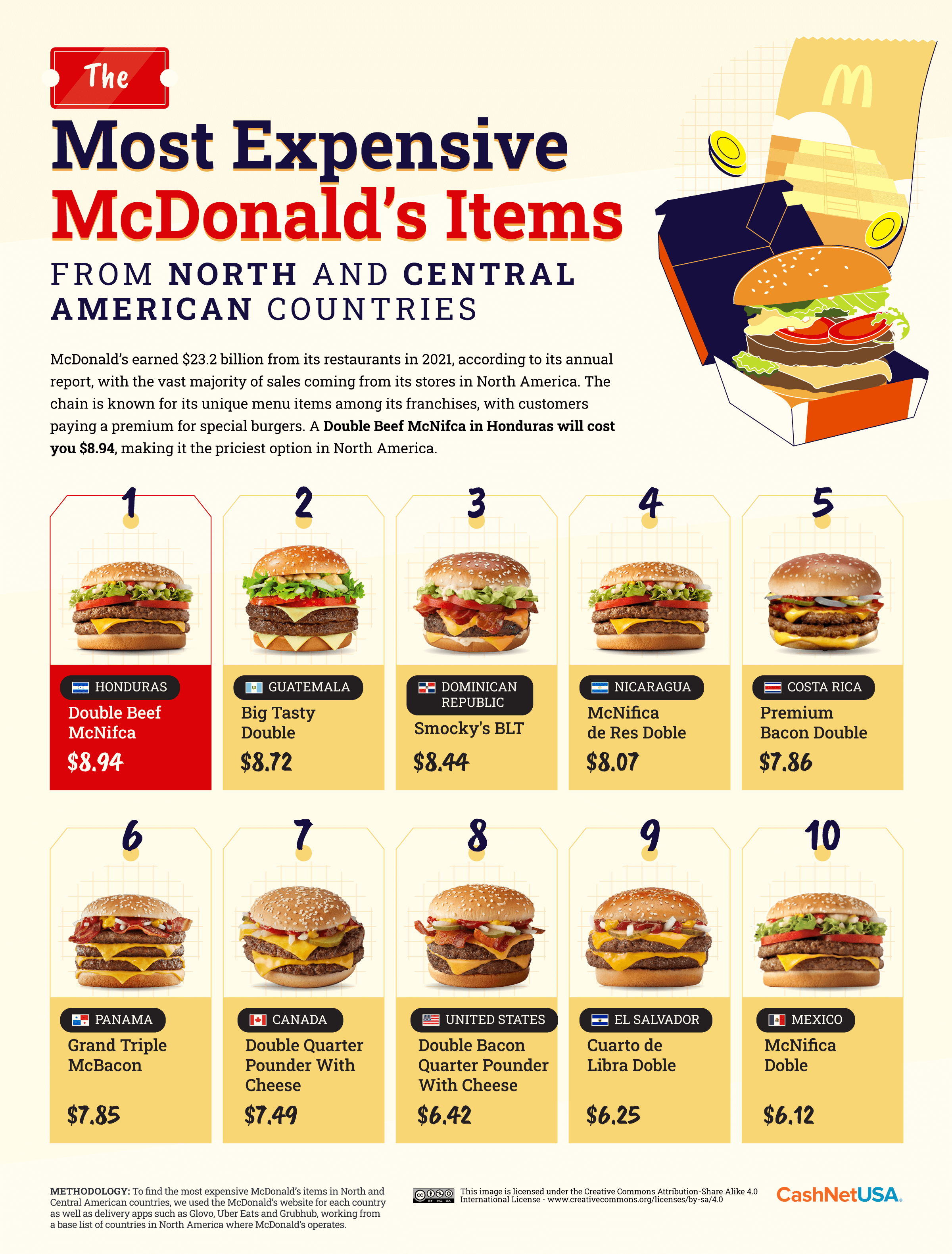 Click here to see the image in full size
You'll always get change from a $10 buying a single McDonald's item in North America, but Honduras is pushing it with its Double Beef McNifca ($8.94). There's nothing particularly glamorous about the McNifica, but with two quarter-pound patties and all the standard toppers, it's a big boy.
France's Triple Cheddar and Double Beef Burger is Priciest Item in Europe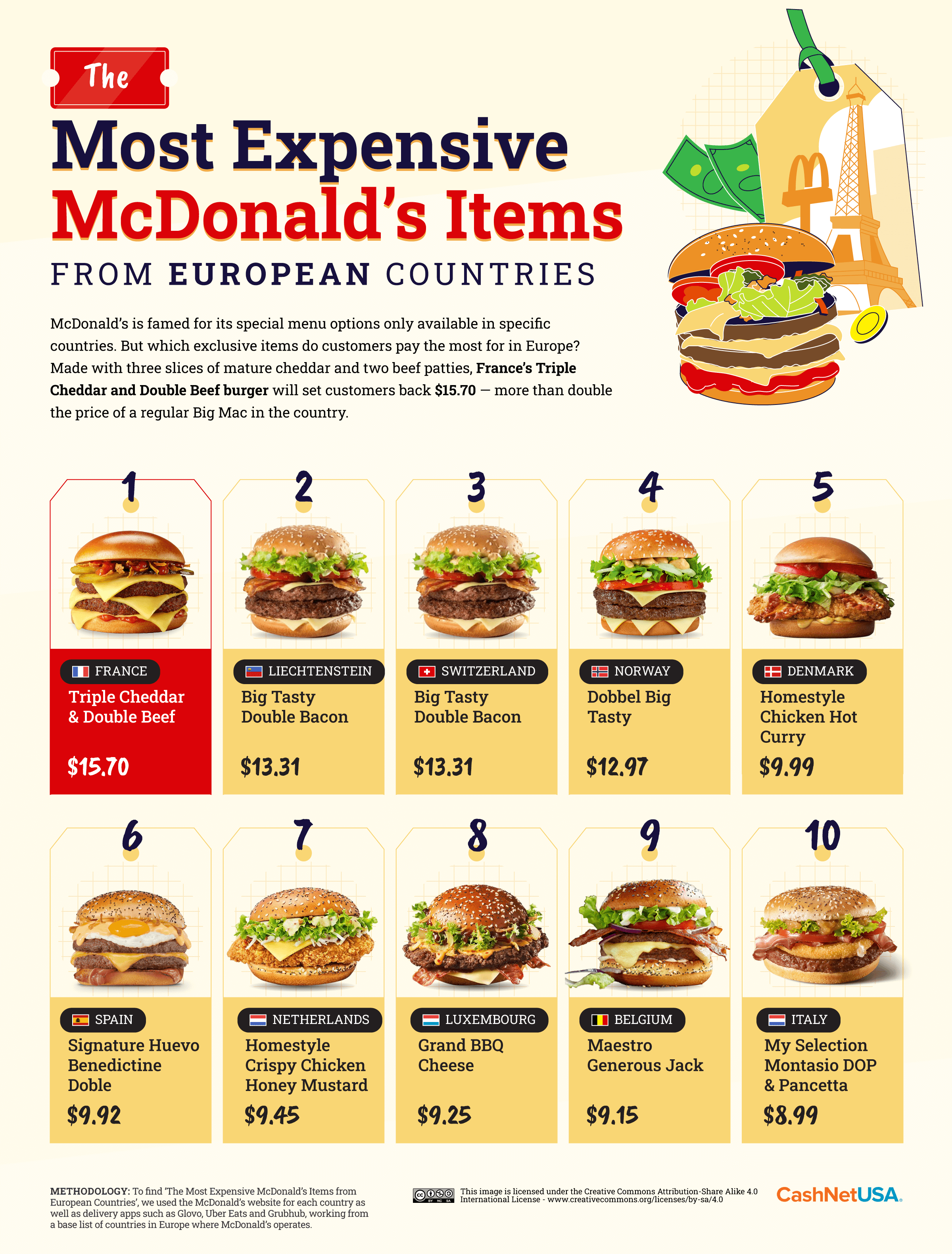 Click here to see the image in full size
Europe is the priciest region for McDonald's, but alongside pricey international hits from the Tasty range, you'll also find some local culinary delights. Spain's Signature Huevo Benedictine Doble features Spanish beef and Dutch Gouda cheese in its take on the classic New Yorker dish, eggs Benedict.
Uruguayan Club House 3 Carnes Costs the Most in South America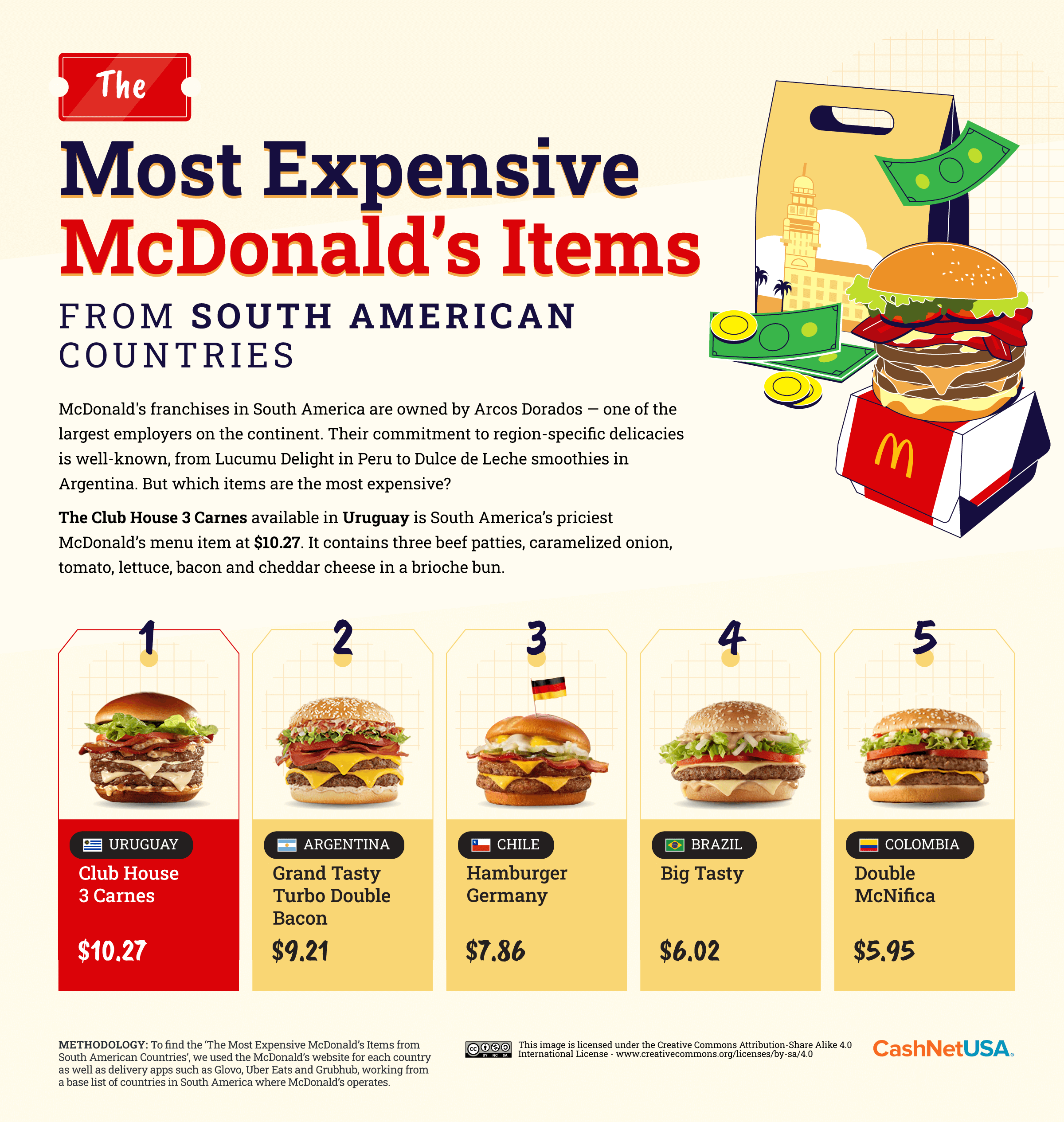 Click here to see the image in full size
The Uruguayan triple-decker Club House 3 Carnes ($10.27) is South America's most expensive menu item — atop three beefy floors, you'll find a bacon penthouse with a premium barbecue sauce pool. Argentina's top-priced Grand Tasty Turbo Double Bacon ($9.21) is based on McDonald's mysterious Tasty sauce and features both sliced and chopped bacon. As for the "Turbo" element, we'll put that down to the marketing wordsmiths since nobody's racing anywhere after eating this one.
Israel's Big Premium New York is Most Expensive McDonald's Item in Asia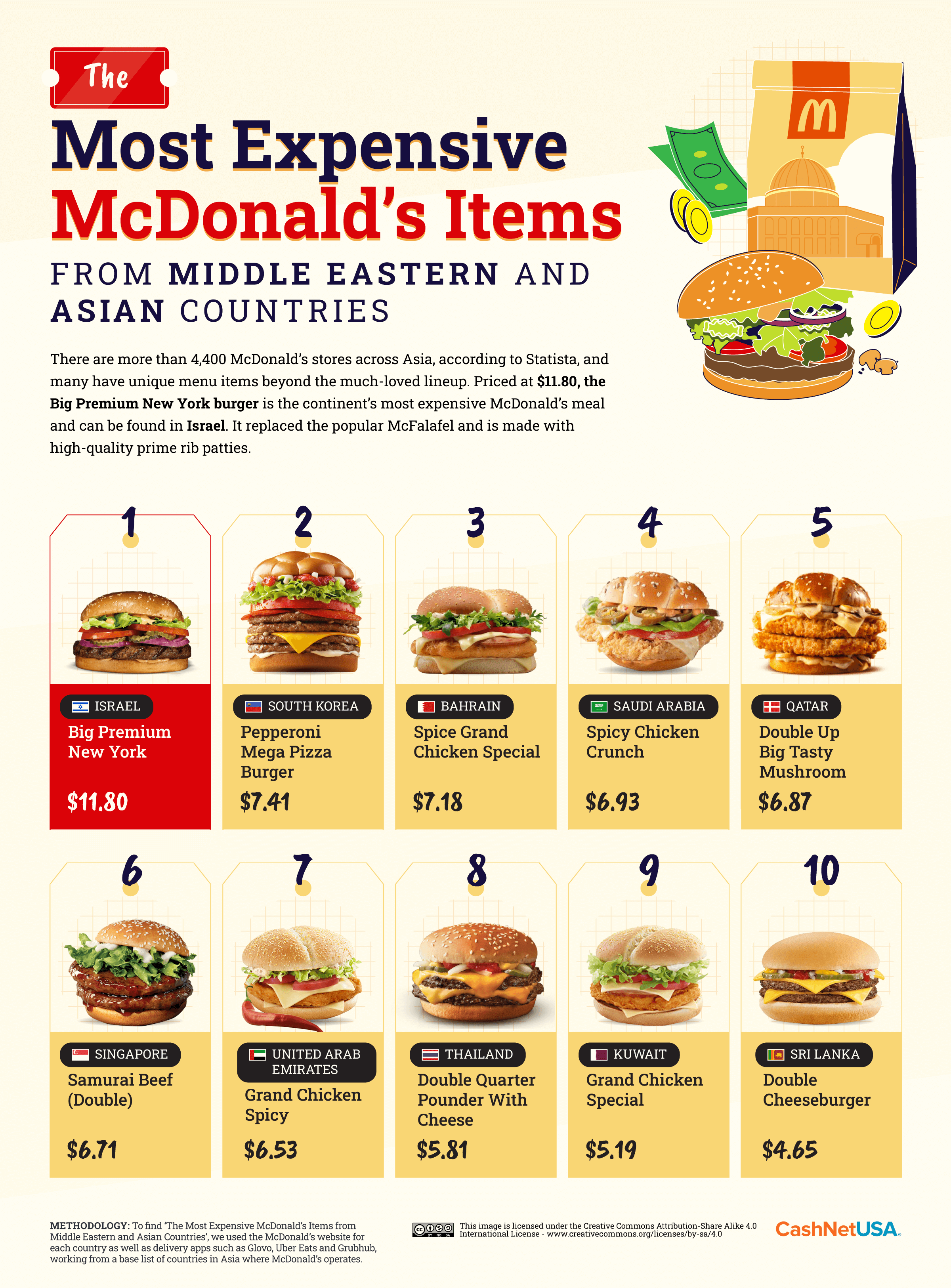 Click here to see the image in full size
There are some distinctly American-leaning flavors among Asia's most expensive McDonald's dishes, but also some of the spice and dazzle you'd expect. Singapore has adopted Japanese samurai imagery for its priciest item, Samurai Beef (the Japanese Samurai Mac appears to be a whole different thing). Samurai Beef comes drenched in Teriyaki sauce, and umami-coated Seaweed McShaker™ Fries are the recommended side.
Eyebrow-Raising Prices
As their latest campaign suggests, a capital M means McDonald's anywhere that people have eyebrows to raise (i.e., everywhere). But it can require considerably more money depending on the local menu. But with this price resource in your pocket, you won't have to risk a shock when hoping to taste the little differences at a McDonald's in Europe, Asia or just across state lines.
METHODOLOGY & SOURCES
To find the price of McDonald's around the world, we compiled a list of countries where it operates. Using McDonald's website for each country as well as fastfoodmenuprices.com and delivery apps such as Glovo, Uber Eats and Grubhub, we found the price of Big Macs and Happy Meals in the capital city of each country, as well as all 50 U.S. states. We also recorded the most expensive item on the menu. If no Happy Meals were on the menu, we added up the price of a small fries, cheeseburger and drink. We recorded prices in the local currency and converted them to U.S. dollars using xe.com.
Note: the "most expensive items" ranks the items that finished top in each country and isolates the countries with the most expensive items, which is different from if it was purely the 10 most expensive items in Europe (which could include 10 from one country if they all happened to be from Finland, for example).
The data for this campaign was collected in November 2022.