The US Capitol is the heart of American political life in Washington. This "symbol of the American people and their government" was originally completed in 1800. The building was chosen through a competition to design a meeting place for the United States Congress – and, as the losing entries show, the Capitol could have looked very different.
In fact, George Washington was disappointed with the first entries the competition received. "If none more elegant than these should appear," said Washington, "the exhibition of architecture will be a very dull one indeed."
But then, after the deadline, a physician-turned-wannabe-architect named William Thornton was allowed to submit a late design. It wasn't perfect, but it had the grandeur the commissioners were looking for. Thornton's design was chosen and – with some modifications – forms the basis of the Capitol building you see today.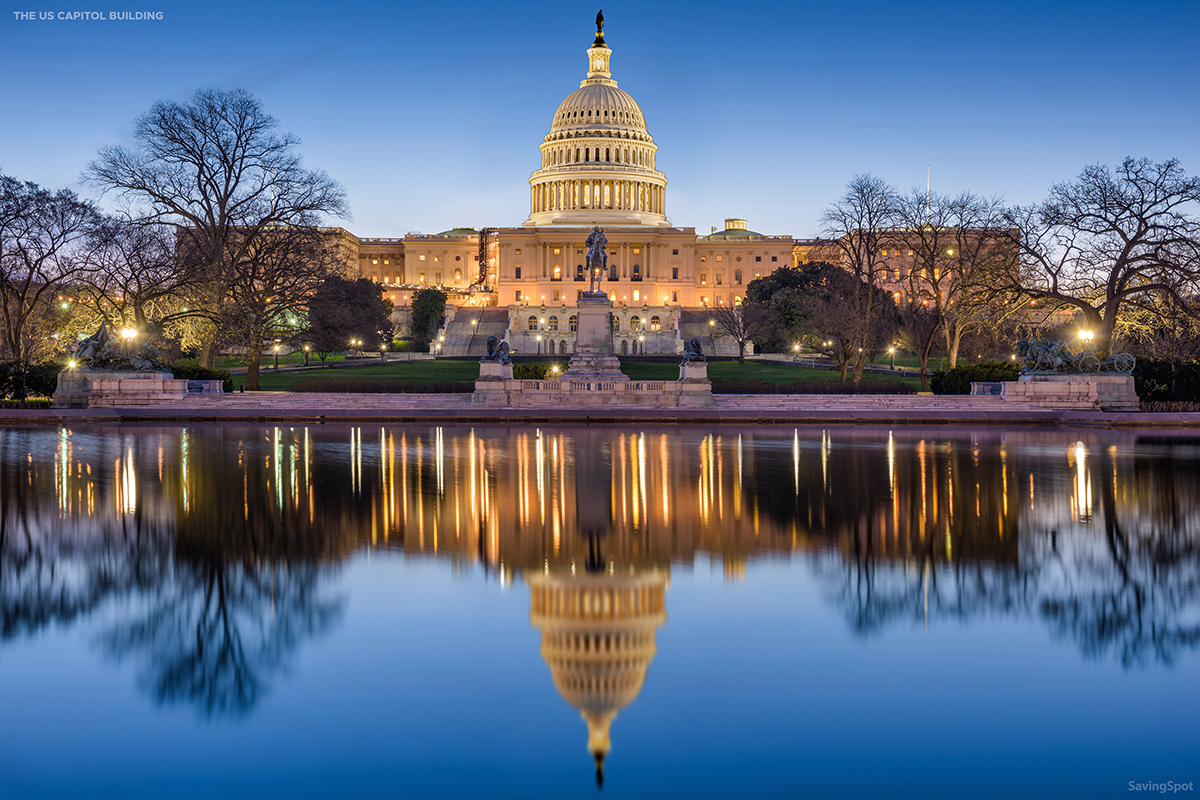 We dug up the best of the runners-up from the competition to design the US Capitol buildings and brought them to life in a series of new images showing how the Capitol could have looked.
1. William Thornton's first US Capitol design
William Thornton was not an architect by trade. But he was a well-known polymath with a flair for design and a progressive vision for America's future. He wrote about comets, invented a steam-powered gun, and campaigned for America's slaves to be freed and returned to Africa. For the Capitol project, he designed a Georgian mansion with a six-columned Portico at the entrance. This first design also featured a small dome on the roof, completing what Thornton described as "a grand outline, full of broad prominent lights and broad deep shadows."
Thornton delivered his design to Washington by hand. But while in town, he heard of the board's reservations about previous designs and discovered that the president now wanted the Capitol to include a presidential apartment and a dome. Thornton returned to the drawing board. He greatly increased the scale of his building and dome, adding a flavor of the Roman Pantheon so admired by Thomas Jefferson – who was Secretary of State at the time.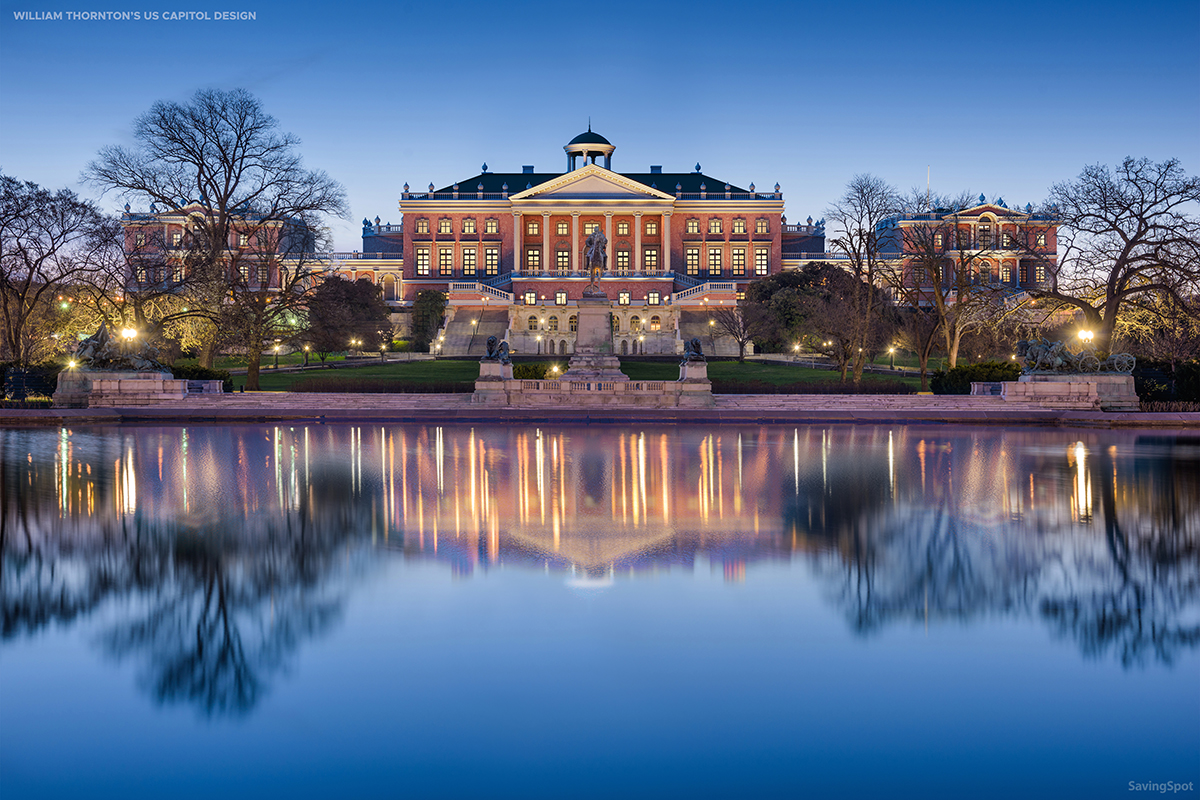 2. Stephen Hallet's US Capitol design
Étienne "Stephen" Sulpice Hallet was a French-born architect. His design for the Capitol was the front-runner until Thornton showed up. Hallet's Capitol became known as the "fancy piece" compared to his lackluster competitors. At the request of the commissioners, he reworked his neoclassical vision five times until Thornton displaced him. A sympathetic George Washington wrote that Hallet's feelings would need to be "saved and soothed to prepare him for the prospect that the doctor's plan will be preferred to his."
Hallet had missed some of the requirements of the brief, ignored the budget, and delivered a sketch that, in its fanciness, was a little "too French." But rather than boot him out altogether, the government appointed him superintendent of construction on the project and asked him to fix some of the shortcomings of Thornton's work. At this point, Hallet apparently pushed too hard for his own ideas and was ultimately fired. All the same, his name is marked on the Capitol's cornerstone.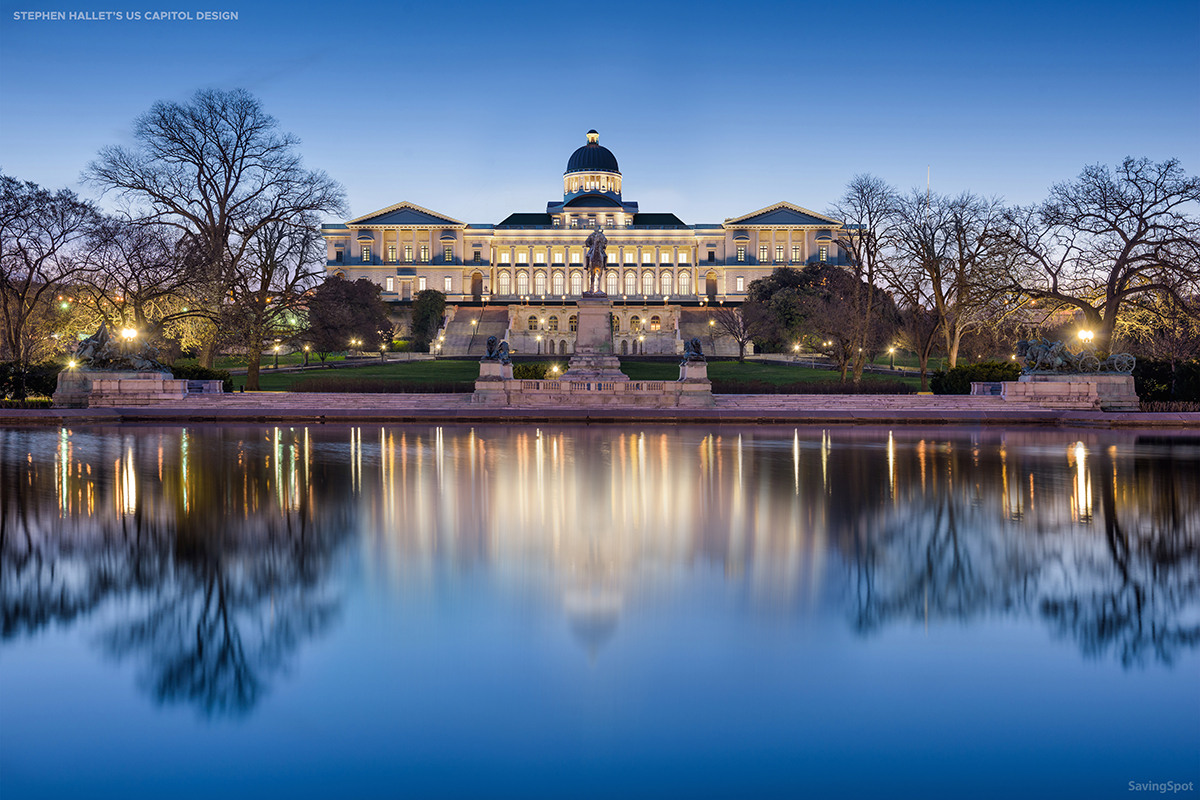 3. Andrew Mayfield Carshore's US Capitol design
Carshore was a British former-soldier and teacher. Like Thornton, Carshore was an amateur when he submitted his sketch. He bravely chose to draw his Capitol in perspective, which was unusual in architecture at the time, but unfortunately, the results looked clumsy.
Carshore's pre-Revolutionary style Capitol building was inspired by the three-story colonial houses he had seen in the port towns of New England. It had a courtyard, very simple windows, and a central pedimented pavilion and portico. It seems to have fallen into President Washington's "very dull" category as it resembled nothing fancier than a county courthouse.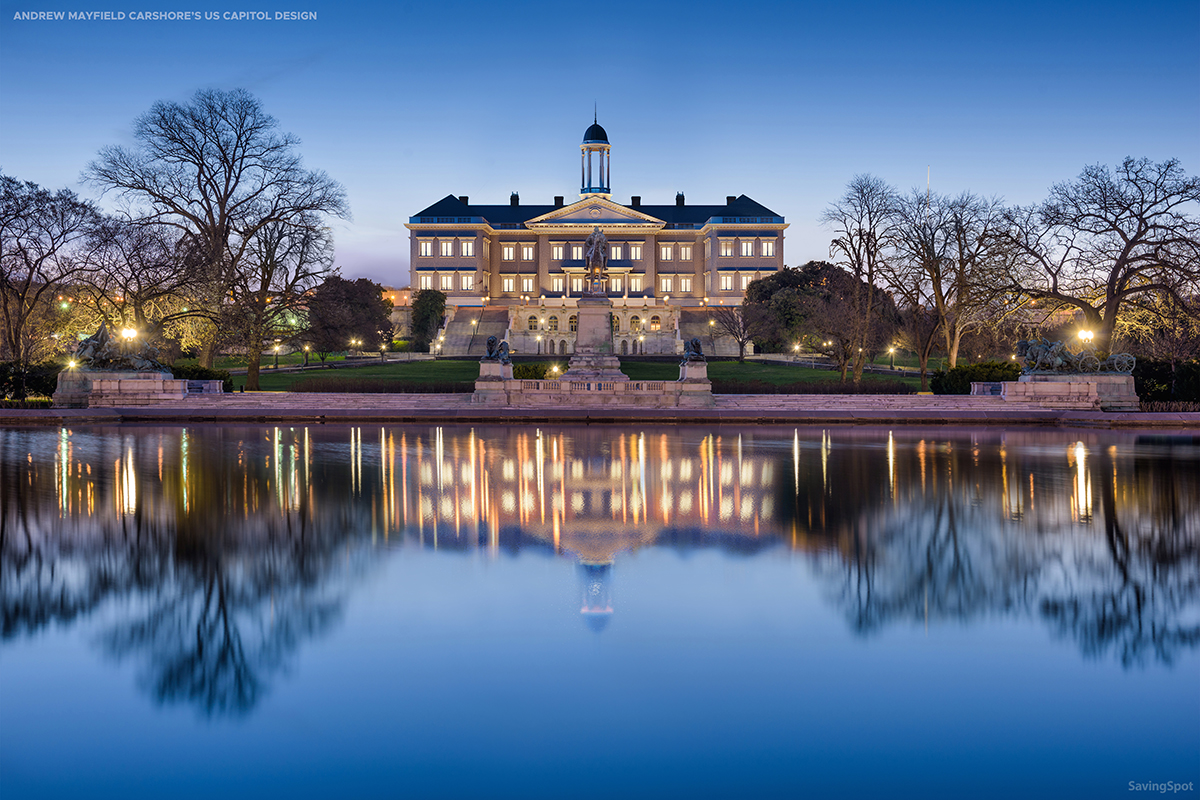 4. James Diamond's US Capitol design
James Diamond's Capitol building design was fairly solid. Born in Ireland, he was a practicing architect and brought inspiration from Dublin and English stately homes to his proposal for the Capitol.
His design included a Palladian window over an arched door, rows of windows set in arches and pediments, and an arcade along the ground level. Unfortunately, this design and the design he submitted for the White House were both rejected by judges.
5. Phillip Hart's US Capitol design
Not much is known about Phillip Hart, but he seems to have been another enthusiastic amateur. Hart's whimsical design demonstrated a knowledge of Renaissance architecture without an underlying understanding of how it worked.
As our recreation demonstrates, Hart's foreshortened top floor appears to be a premonition of the half-sized 7½th floor in the movie Being John Malkovich. The ramparts of Hart's Capitol are lined with a dozen statues of oddly posed children, who may represent the Twelve Labors of Hercules.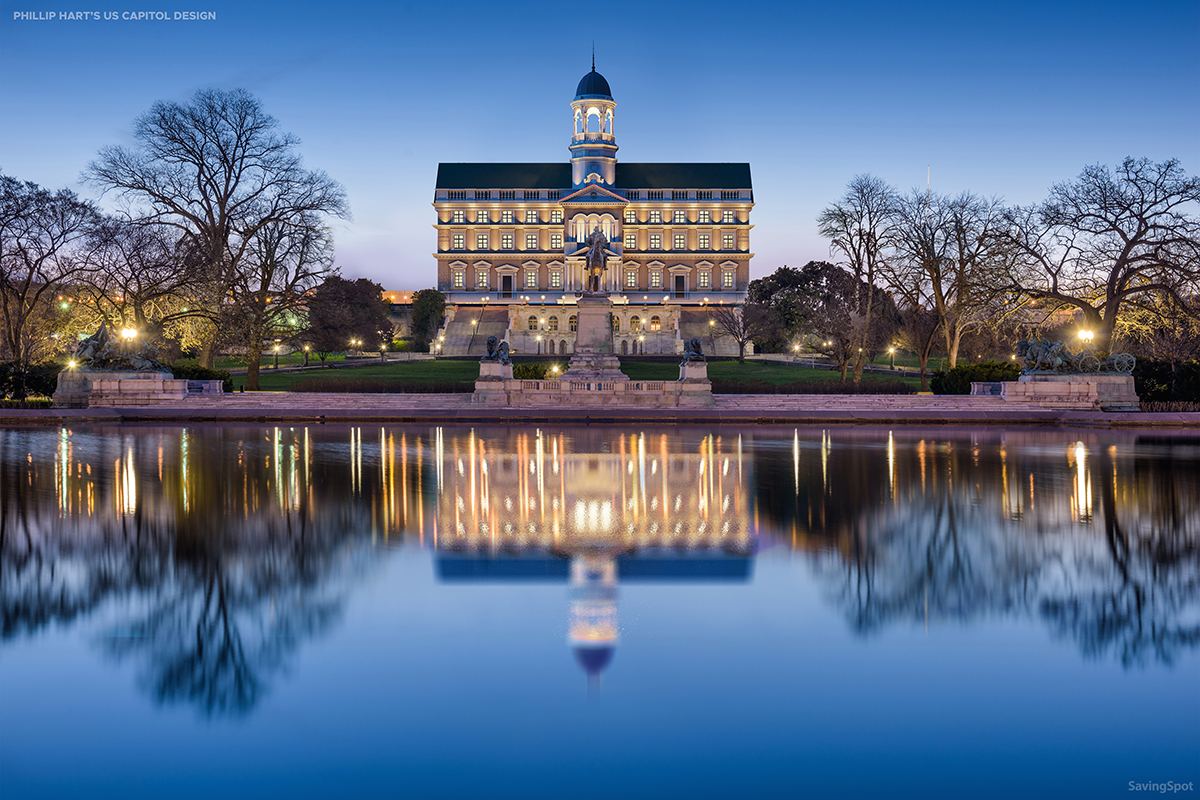 It is hard to imagine the US Capitol building any other way than it looks today. But now that you've seen these alternative visions for the Capitol, which do you prefer?
Methodology
Research for this project involved various historical sources about the design and construction of Washington DC, most notably Competition 1792: Designing A Nation's Capitol by Jeanne Folley Butler, which contained the available designs and information about the architects who took part in the competition. After sourcing all the submitted designs, we selected the most architecturally or visually interesting designs to recreate them.
SOURCES
Folley Butler, J. (1976). Competition 1792: Designing A Nation's Capitol. United States Capitol Historical Society
Bordewich, F. M. (2008). A Capitol Vision From a Self-Taught Architect. smithsonianmag.com
Architect of the Capitol. (2019). Dr William Thornton. aoc.gov
Moss, R. W., Tatman, S. L. (2019). Hallet, Stephen (a.k.a. Etienne Sulpice) (c. 1760 – 1825). philadelphiabuildings.org
Harris, C.M. (2015). William Thornton (1759-1828). loc.gov
Visit The Capitol. (2019). 1789-1815 – The Capitol. visitthecapitol.gov