World leaders, like everyone else, should not just be understood by the job they have now or the money they claim to have made along the way. Like everyone else, our leaders are shaped by where it all started – the roles they fought for and the ones they had to take to make ends meet.
A few months ago, we looked at what today's world leaders studied at college. But their first jobs can say just as much about the people they were and who they would become. So we've researched the first proper job of every national leader in the world: some started in the military, some were teachers, some even played sports professionally. Surprisingly few started in customer service – a shame, since customer-facing jobs help you learn to love the people who are yelling at you!
The map below shows the various industries that world leaders first jobs were in. Read on to see the interactive maps below that show the name of each country's leader and what they did in their first full-time position.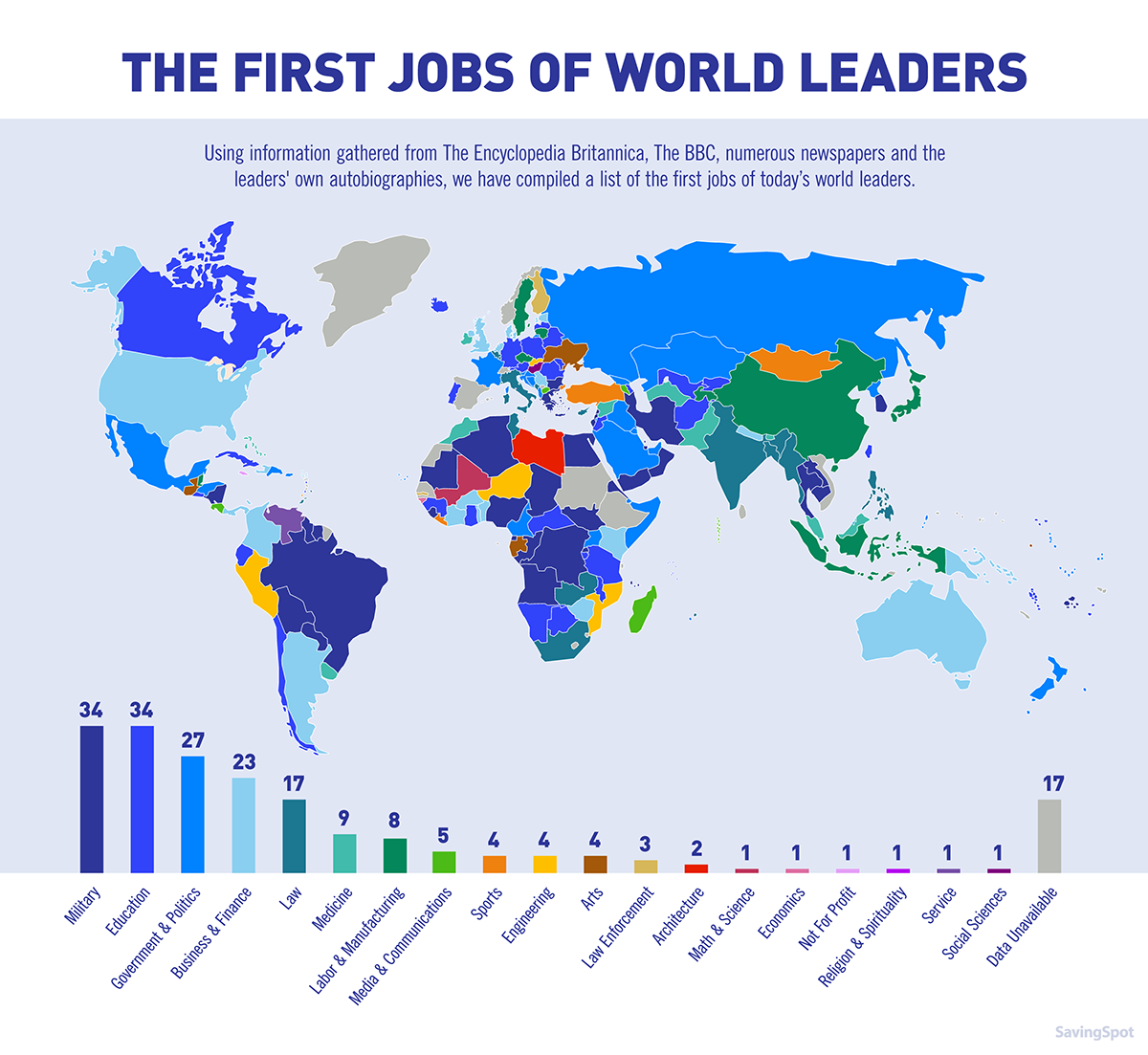 North America
The United States, of course, is run by America's most famous real estate agent. Although Donald Trump made his first pocket money by collecting bottles from his father's sites and later got experience of rent-collecting from the family's tenants, he was assured of a job in real estate from the outset thanks to a family fortune established in the hotel business.
Further north, Canada's Prime Minister Justin Trudeau was also helped along the way by family connections: his father was Prime Minister for 16 years from the end of the '60s. But Trudeau Jr. kept it a bit more real, working as a nightclub bouncer, snowboard instructor and radio host along the way. His first full time job was as a "highly valued, spirited and enthusiastic teacher" of math, according to his boss at West Point Grey Academy.
South America
It is in Venezuela that we find the world's only customer service-oriented world leader: Nicolás Maduro worked as a bus driver in Caracas, his country's capital city. While he no doubt learned a lot about real life and the wants and needs of the people in this role, he supplemented his development as an eventual world leader through extracurricular activities. At school and as a driver he was involved at the top of the respective unions, and he also played to adoring audiences as a rock musician.
Brazil, Bolivia and Paraguay are run by former soldiers, but Uruguay has the world's only oncologist-president, Tabaré Vázquez. The respected cancer physician is the nation's first left-wing premier and is currently enjoying his second period at the top.
Europe
Ukraine's new president, Volodymyr Zelensky, famously rose to power after having portrayed a fictional president on a TV sitcom (predecessor Petro Poroshenko was a Willy Wonka-style candy billionaire known as the "Chocolate King"). Like his teacher-turned-president character before him, it was Zelensky's inexperience and no-nonsense (and no-corruption) approach that voters found alluring. While Zelensky does have a law degree, he was a comedian from the start, transforming the comic troupe he established aged 17 into a production company and becoming a millionaire in the process. Julia Louis-Dreyfus for US president, anyone?
You might imagine that Lithuania's "Iron Lady," Dalia Grybauskaitė, earned her nickname for her industrial past: she worked in a factory while studying political economy. In fact, the country's first female president (elected with record-breaking numbers) earned the title through a combination of her black belt in karate and her no-nonsense speechmaking. To complete the jigsaw puzzle of her odd political development, she cites the disparate characters of original Iron Lady Margaret Thatcher and Mahatma Gandhi as her big influences.
Africa
Many of Africa's leaders started out in military or political positions, which seems indicative of the troubled recent past of states such as Congo and Chad. But the continent's most internationally famous 'president with a past' has to be Liberia's George Weah.
The former A.C. Milan footballer, who won three Serie A titles, three African Player of the Year awards, and a FIFA player of the year trophy, defeated his opponents by 13 counties to 2 to take the presidency and was sworn in at the start of 2018. "I have spent many years of my life in stadiums," Weah told the crowds, "but today is a feeling like no other."
Asia
Like Weah, Mongolia's President Battulga Khaltmaa started out in sports; and like Dalia Grybauskaitė, you wouldn't want to get into a fight with him. This judo master is also a former Sambo wrestling champion. He first tasted power as Chairman of the Mongolian Judo Federation, and during his reign the Mongolian judo team became Olympic Champions.
North Korea's 'supreme leader' Kim Jong-Un kept a low profile before succeeding his father as head of the government and military. But it is believed that he worked either for the Korean Workers' Party or the army's General Political Bureau, possibly in surveillance. He took further roles in defense and state security over the years, gaining the enviable title "Brilliant Comrade" in 2009.
Oceania
New Zealand's inspiring prime minister Jacinda Ardern has been in politics from the start, working as a researcher for the Labour Party straight out of college. But she had ample chance to develop empathy and a social conscience growing up in a poor and gang-riddled area among "children without shoes on their feet or anything to eat for lunch."
Baron Waqa, 14th President of the island country of Nauru, is the only leader on our map to have started out as a composer. Today, his son has taken over the family business – updating some of the president's traditional-sounding songs with modern pop beats.
The first jobs of our world leaders speak volumes about the choices they make today. How do you think your national leader's first job shaped them?
Methodology
To create these maps, we scoured articles, interviews and biographies of 197 leaders from all over the world. We then made sure all of our leaders were current leaders, as several countries have recently had elections. What we were looking for were the first jobs of our political leaders – not their first governmental job or their first gig for pocket-money – but their first real job as a young adult.
From there, we gathered all of the information – the country, the world leader's name, their first job and the source used to find their job – and organized it in a spreadsheet. After fact-checking all of our information, we moved on to sort these jobs into broader categories; things like "Politics & Government," "Military," and "Medicine."
Finally, we collected various maps online, first of the continents specifically, and then of the world at large. These were then modified and color-coded to illustrate the various job categories.
SOURCES: To see the various sources for all the information contained in this piece please visit http://bit.ly/FirstJobWorldLeaders