Did you hear about London's Marble Arch Mound – the £6m ($8.13m) fake hill that stunned tourists in the summer?
Reviewers called it "pitiful," "pointless," and London's "ugliest thing." It looked like a "computer model caught midway through rendering." Even the Mound's designers described it as "disappointing" and "underwhelming."
The best thing about the Mound was the entry fee. Adult tickets were just £4.50 ($6), and all tickets were refunded after the council decided to scrap the entry fee and later dismantle the attraction. Bargain!
However, even 'free' is too much when a visit is a waste of time. And even the most wonderful attractions can leave a sour taste once you've bought tickets, succumbed to overpriced snacks, and ransomed your kids out of the gift shop.
SavingSpot doesn't want you to waste your time, your money, or your wonder. So, we scoured Tripadvisor for the tourist attractions with the most mentions of the word "expensive" in their reviews and sorted them by US state, country, and continent.
Harry Potter Tour is World's Worst Value Tourist Attraction

With seven books, eight movies, and endless spin-offs and novelties, you might think Harry Potter's millions of fans get a good return on their emotional investment. Visitors to The Making of Harry Potter Studio Tour in London disagree. Tickets start at £47.95 ($65), and you're coaxed to buy a guidebook and priority parking for around £10 ($14) each.
But the real issue is that there's so much magic to buy into. A £76 ($103) wizarding cloak is cause for complaint in the gift shop, while one four-star review laments "a 30-second film of you flying on a broom, with a green screen behind you, £20 for the footage." And that's not all. "Pictures of you on the broom were expensive too," continues the review, "as was the butterbeer ice cream at a whopping £4.95 for a cone."
England's attractions seem to have a problem with value in general. Nine of the world's top 20 poor-value landmarks are in England. Four US sites make the top 20, with the top American entry being Universal Studios Florida, which also features a Harry Potter attraction.
The Most "Expensive" Reviewed Attraction in Every US State
It's "smaller and every bit as expensive" as another, unnamed, theme park in Orlando – and that's one reason why 3,189 reviewers have indicated that Universal Studios Florida is the worst value attraction in the US. Everything from the breakfast to the parking comes at a premium, with one parent sagely suggesting there "should be lower price for the accompanying adult who is not interested in the experience as such."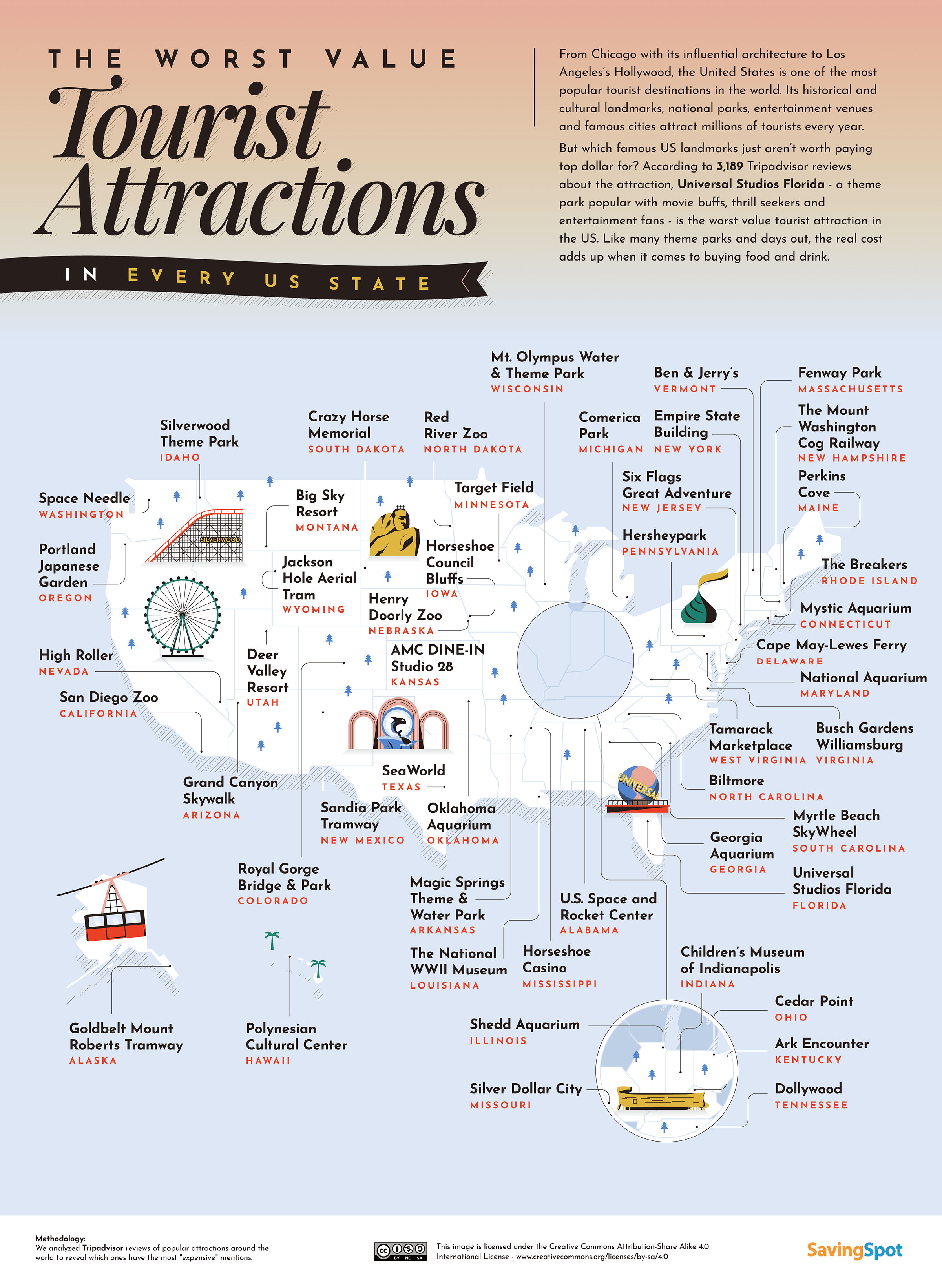 Click to see full size image
New York state's worst value attraction is the Empire State Building. Hot tip: figure out when it's quiet so you don't feel obliged to pay extra for an express ticket. Another? "DO NOT PAY EXTRA FOR 102nd FLOOR," warns one reviewer – "you'll get what you want on the 86th."
The Worst Value Tourist Attractions Worldwide, According to Visitors
Tourists line up to visit the most popular attractions in their quest to take in the culture, natural beauty, architecture or historical background of the place. After long waiting times and a hefty entry fee, it can be extremely disappointing to find out that the attraction didn't live up to the hype. That's why we have identified and mapped out the attractions around the world travelers have deemed 'too expensive' for what they offer.
Some of them may be good fun, but these are the worst value tourist attractions in the world.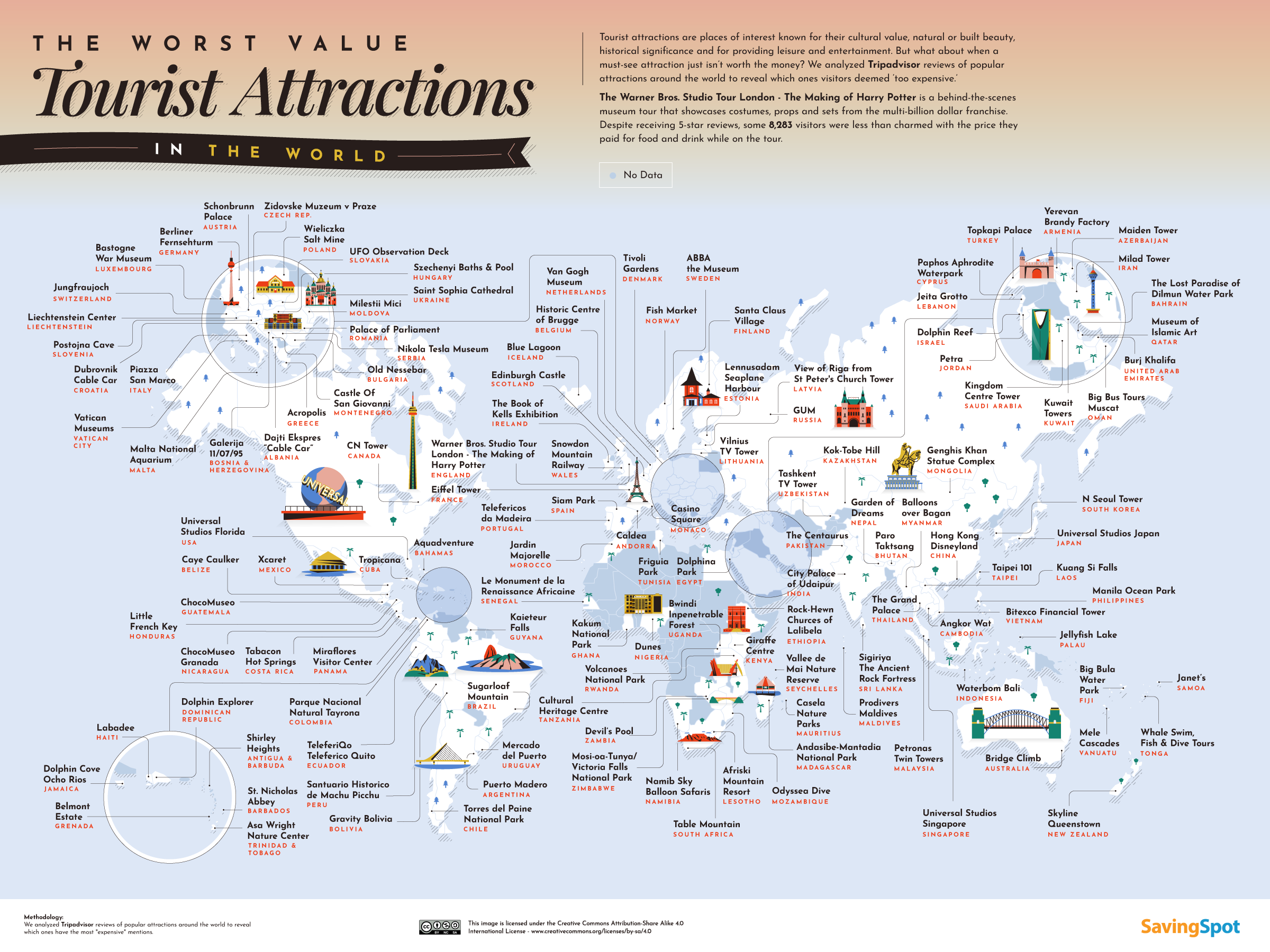 Click to see full size image
North America
If you've read Hitchhiker's Guide to the Galaxy, you'll believe that "mucking about in the water having a good time" is exactly what makes dolphins smarter than humans. If you've read Tripadvisor, you'll know that it's their ability to price up a tourist attraction that makes dolphins so smart. Jamaica's Dolphin Cove Ocho Rios is "very expensive to enter and the photo package is ridiculous at $70 per package."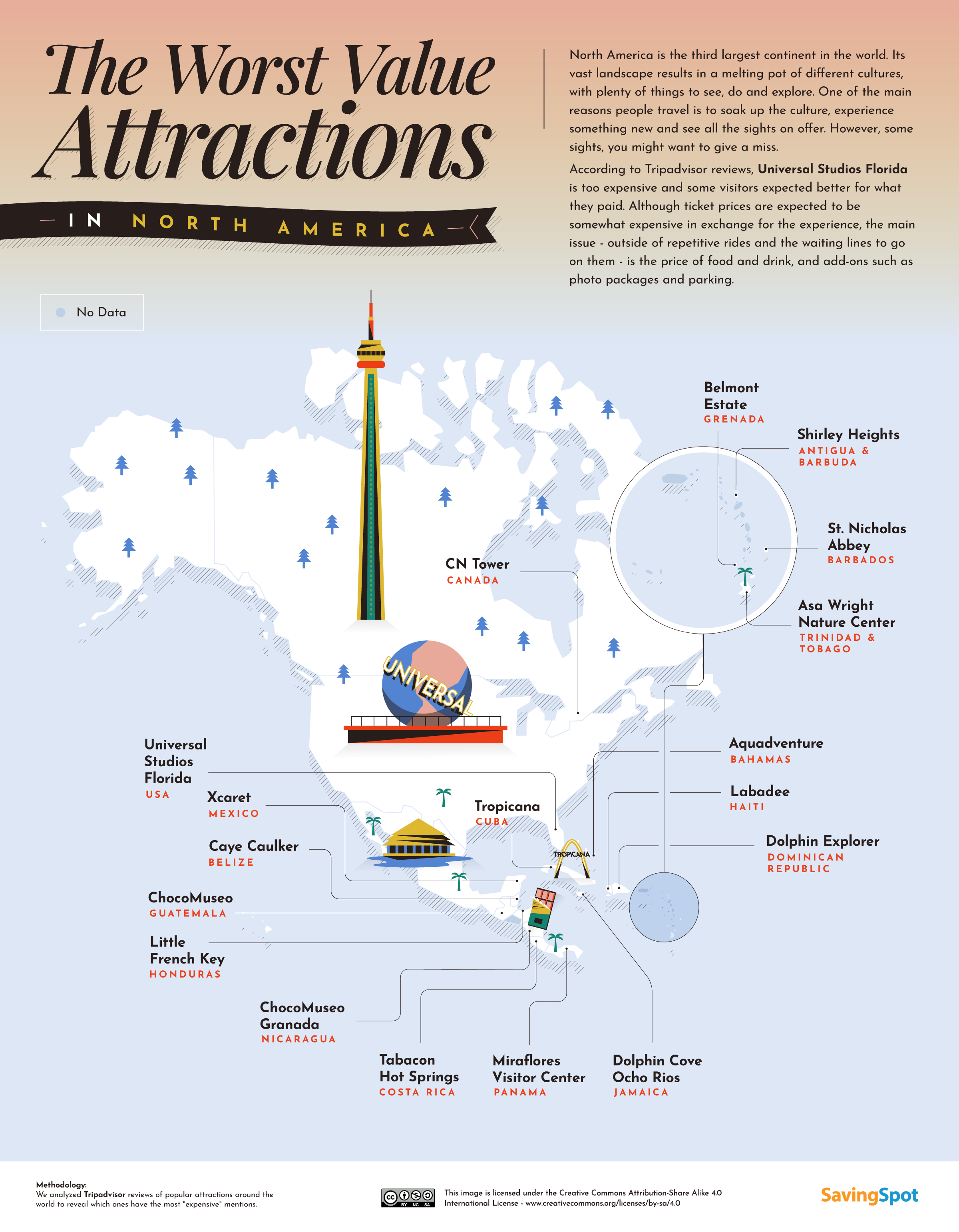 Click to see full size image
Meanwhile, one review of Dolphin Explorer in the Dominican Republic warns visitors to "be aware that this is not the 4-hour trip that they say and it will cost more than you think." Ominous! Dolphin Explorer and Jamaica's Dolphin Cove Ocho Rios are their respective countries' worst value attractions.
South America
Looking to pair a visit to the "ancient birthplace of the Incas" with "3000m+ (11,000 ft+) descents, glacier, jungle (in that order), outta this world and off the beaten path cultural experiences, scenery, and bragging rights"? It'll cost you! Gravity Bolivia's "rip-riding" cycling adventures are Bolivia's most "expensive" excursions, according to Tripadvisor reviews. However, reviewers are quick to point out that the bicycle quality and safety measures that Gravity provides are worth the premium, compared to other local bike tours.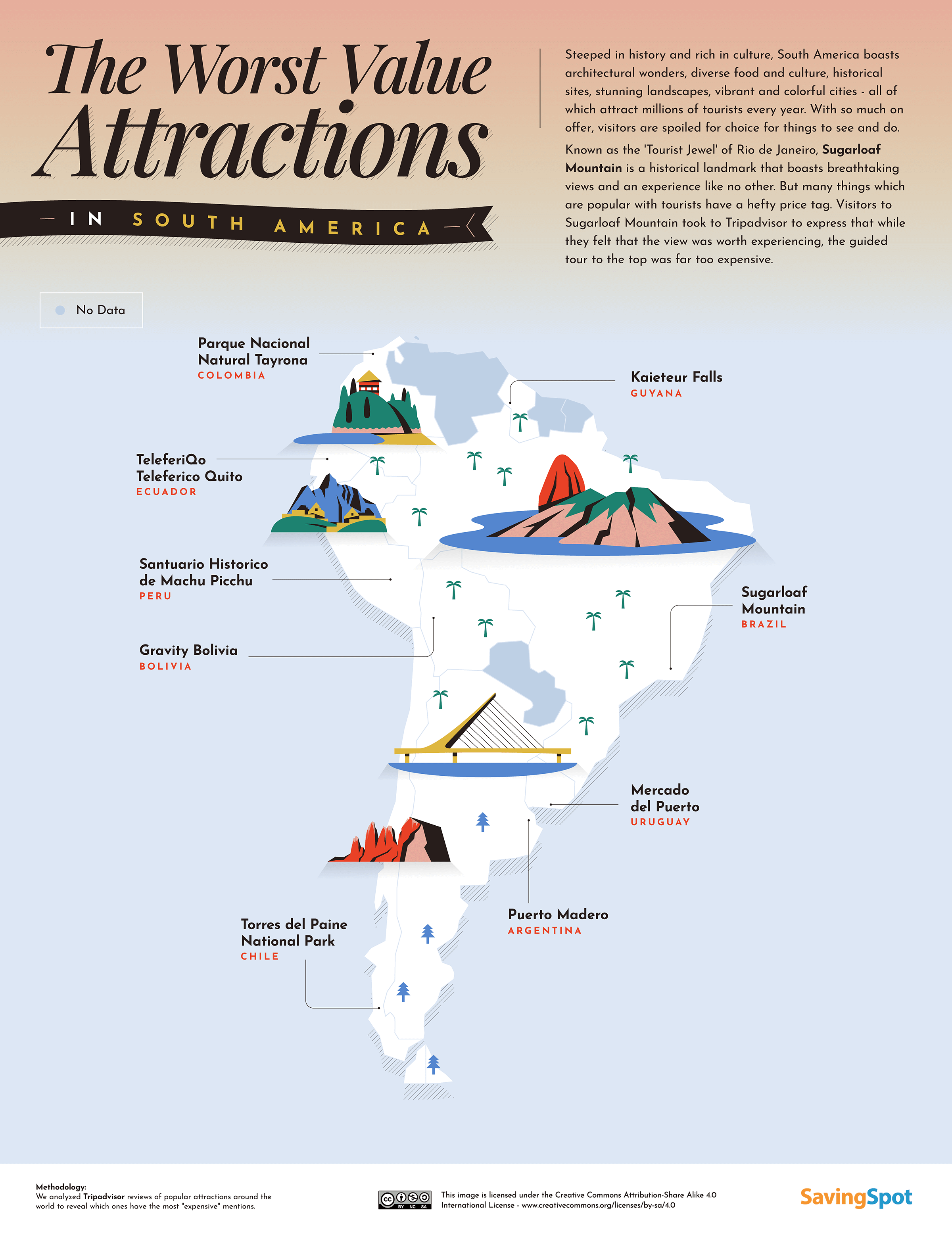 Click to see full size image
Nature is the best free attraction on Earth. But sometimes reaching nature costs – as with the "second most beautiful waterfall in the world," Kaieteur Falls, which can mainly be reached by plane. "Like most of Guyana's attractions," says one reviewer, "too expensive."
Europe
Europe, land of ancient castles, classical architecture, and… fish markets? Not much is cheap in Norway, but the worst value Norwegian attraction is also the 28th best thing to do in Bergen, gateway to the fjords. "First of all it is not a 'fish market' as I expect but rather a number of restaurants under one roof," argues one reviewer, "So nothing much to see, just a place for an expensive meal." However, another counters the negativity with a well-placed fishing metaphor, declaring the market to be a "tourist trap I was very happy to be caught in."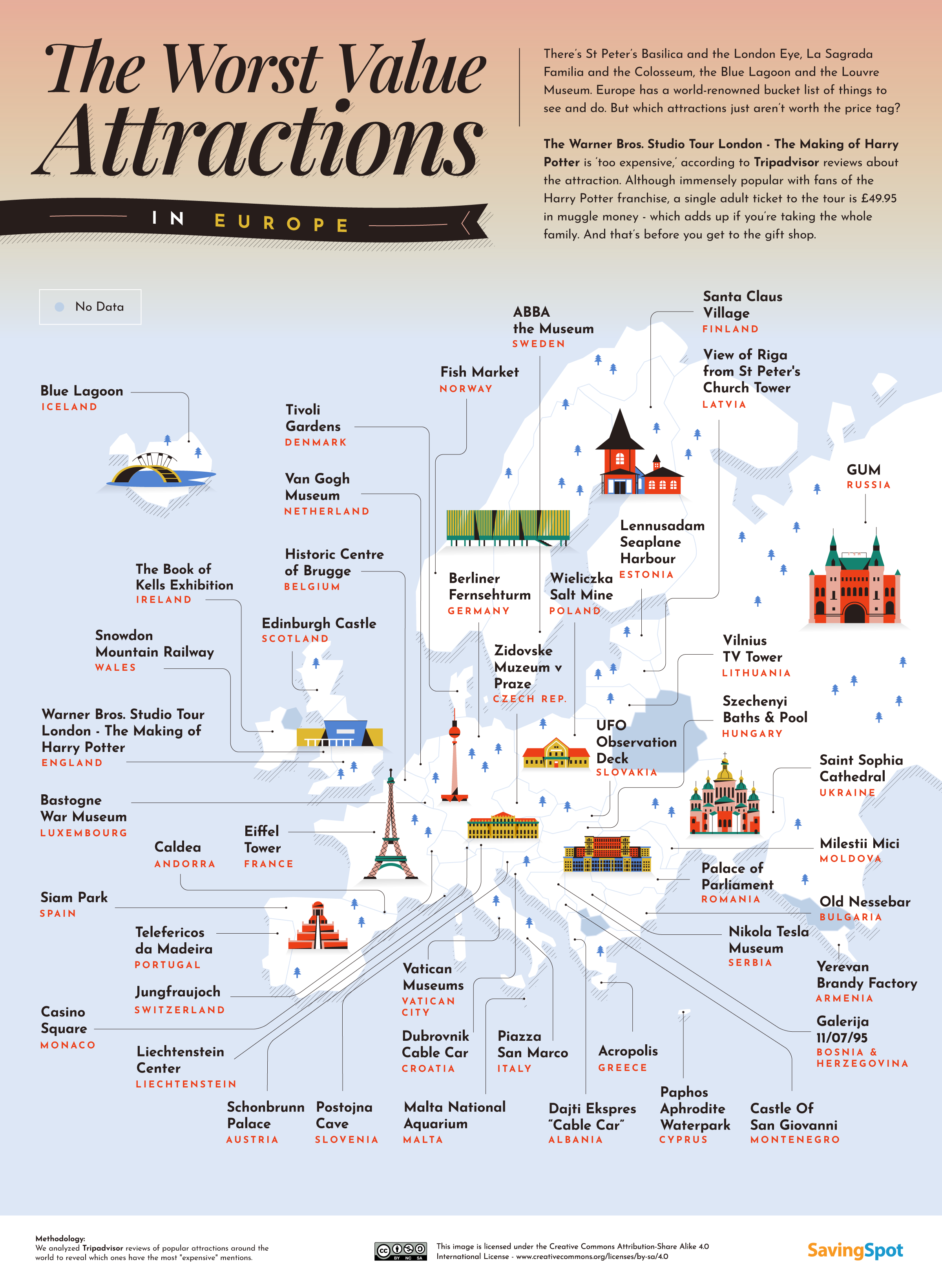 Click to see full size image
England's Harry Potter tour has the most mentions for expensiveness in Europe. Number two is a lagoon located in "a sprawling, 800-year-old lava field in the heart of the Reykjanes Peninsula." Like Norway, Iceland is expensive to start with – and its Blue Lagoon is such a 'must-see' for visitors the spa proprietors are able to charge top króna without providing the feel of something exclusive.
Middle East & Central Asia
The world's tallest building is also the most expensive to visit in this region. To be precise, Burj Khalifa's reviewers tell us there "are no cheap tickets, just expensive and more (and more) expensive." Plus, Burj Khalifa is, ultimately, just a building: despite the views, one visitor found it "very expensive to go up in an elevator" and was left unsure "if it was worth the 90 mins of my life."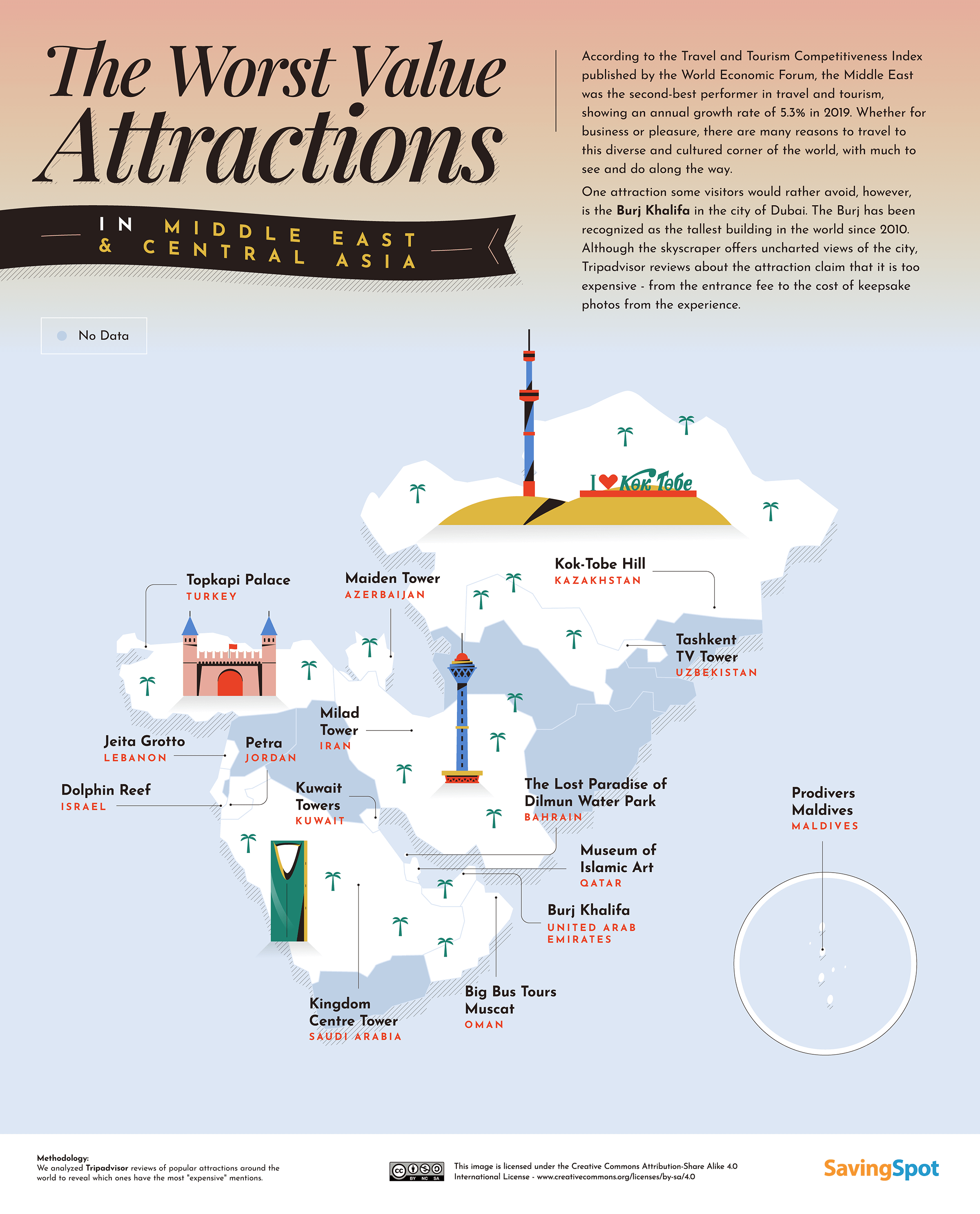 Click to see full size image
The Lost Paradise of Dilmun Water Park is a desert oasis, incorporating and reconstructing elements of the Dilmun ruins and the ancient history of Bahrain. Naturally, access is a little pricey. But it is the refreshments that make Bahrain's first water park its worst-value attraction, with reviewers claiming food and drink costs double or more the price outside of paradise.
Rest of Asia & Oceania
Universal Studios Florida earns its second mention in our results – but this time, it's the Singapore branch. While it claims to be Singapore's only movie-themed park, reviewers claim it to be an "utter clownshow" and that "your time and money word [sic] be better spent elsewhere." Other reviewers say that while the express ticket is "way too expensive," it's worth the premium to cut the queues.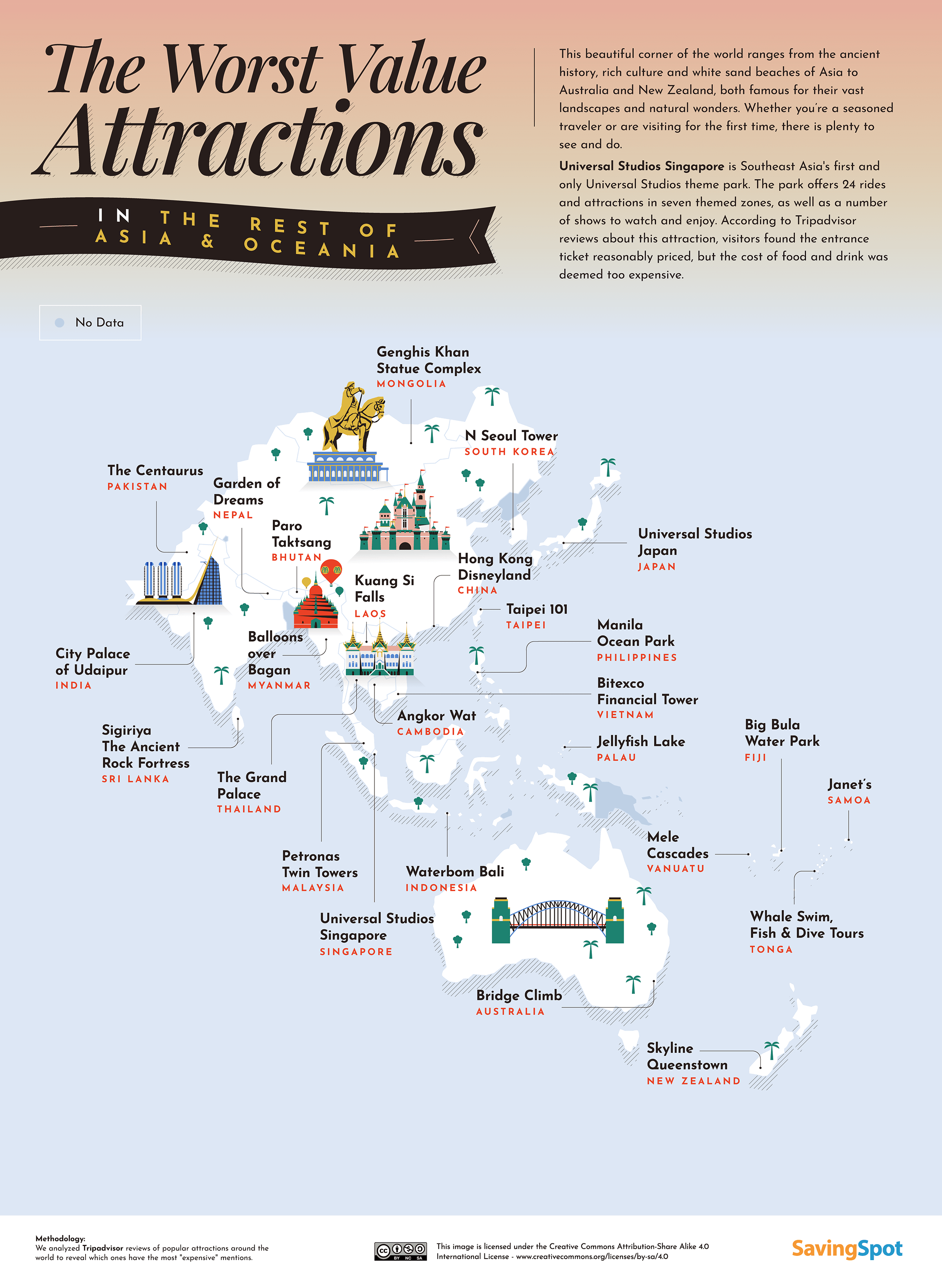 Click to see full size image
It may not sound expensive, but BridgeClimb is Australia's worst value attraction, offering a "stupidly expensive" opportunity to climb Sydney Harbor Bridge. But while the excess cash hasn't been put towards a more imaginative name for the attraction, the majority of reviewers feel that the pricing is understandable given the scale of the activity and requisite safety measures.
Africa
Jardin Majorelle "is just an average garden for an expensive price per person," according to a Tripadvisor reviewer – though the same visitor says it's a must-see, all the same. Morocco's worst-value attraction costs just 120 DH ($13), but you can "do" it in 10-30 minutes. As Fabio B puts it, this kind of garden is "something we have for free in so many european [sic] cities for free, [and] they are bigger and beautiful."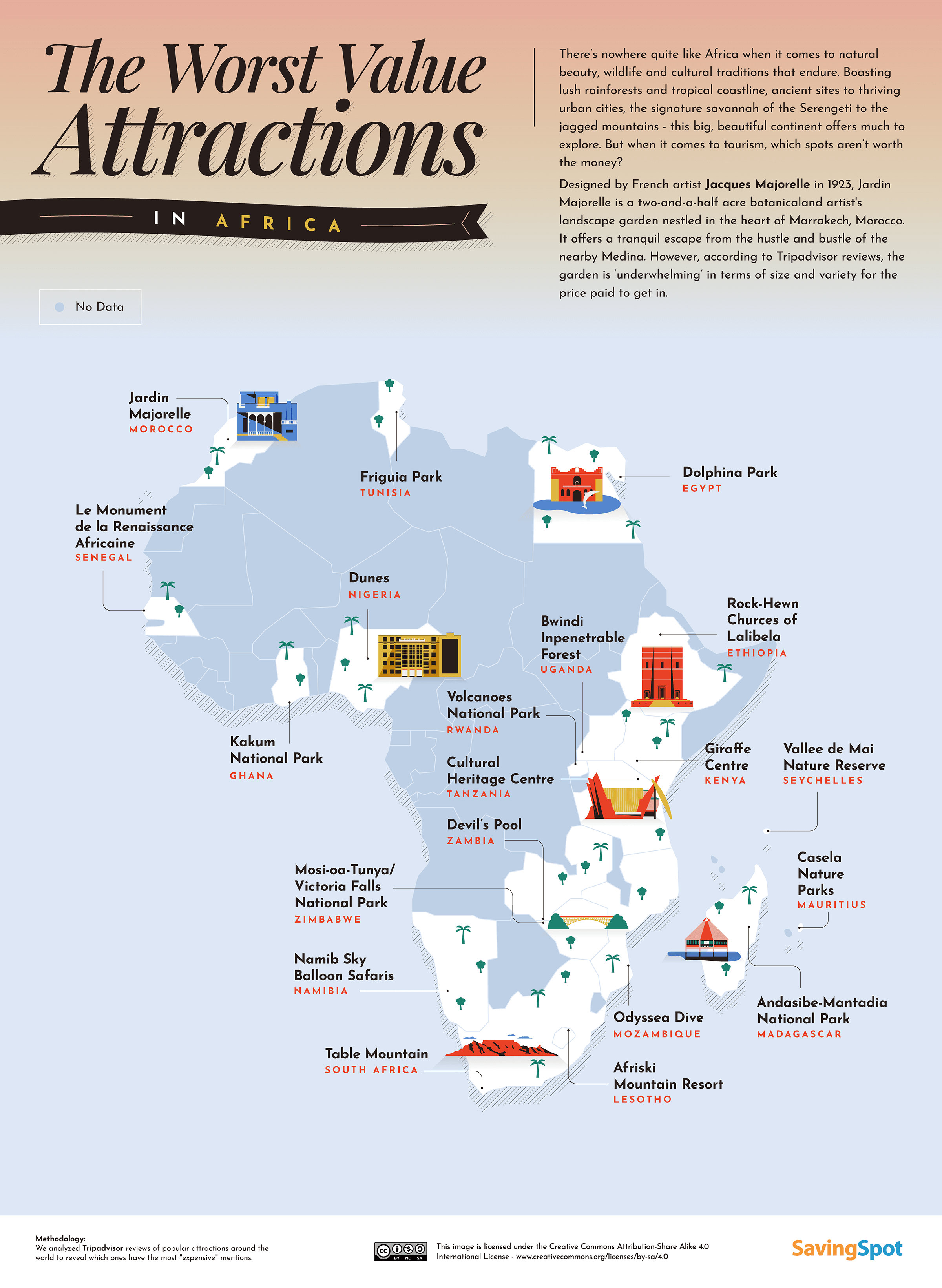 Click to see full size image
It's just a mountain that looks like a table. But visitors who aren't "reasonably fit" will need to take the cable car to reach the flat top of South Africa's Table Mountain, making it "one of the most expensive trips in Cape Town – the price of a nice dinner." On the table-top, you'll find an expensive café and an expensive gift shop.
Sandwiches Packed, Ready to Go
Big tourist attractions know that when you're on a day out, you'll pay extra for convenience and to have a magical time. But these extras are often disproportionate to the basic price of entry. With a bit of planning and imagination, you can squeeze more fun for less from your much-anticipated excursion.
To get better value from any day out:
Check online family forums (and Tripadvisor!) for tips on savings at a particular attraction.
Plan your route in advance to save fuel/fares traveling to multiple attractions.
Search for Instagram posts about your attraction of choice – some influencers get exclusive discount codes to share with followers.
Chat openly about money with your kids so they understand in advance that splashing on burgers means less for the gift shop.
Invest in a family rail discount card. You could recoup the initial outlay with your first journey.
Below, you'll find our full data on international tourist attractions that may cost more than they're worth. Do your research so you're only left with happy memories of your big day out.
METHODOLOGY
Filtering by country and US state, we analyzed the Tripadvisor reviews section of every attraction and recorded the number of mentions of the word "expensive". The attraction with the most mentions of the word "expensive" in each state/country was deemed the worst value attraction.
We split the attractions into different categories based on what they're listed as on Tripadvisor, creating nine final categories: Architectural Buildings, Art Galleries, Castles, Gardens, Historic Sites, Museums, Theme Parks and Water Parks, Sightseeing Tours and Zoos and Aquariums.
The data was collected in December 2021.