Not everyone has an NFT collection — but everyone has an NFT opinion.
Non-Fungible Tokens have become headline news (and Twitter fodder), and as a way to buy proof of ownership of digital art, they've shaken the art world. But they are firstly a social and economic phenomenon. And it is along these lines, rather than matters of aesthetics, that NFT opinions are so passionately divided.
For every NFT diehard who'll tell you they're disrupting capitalism, you'll find a pessimist declaring this is the End Times. For every story about an artist who can finally make a living thanks to NFTs, you'll find another who's been ripped off. (Well, probably more than one.)
"What we need to understand is that what is being traded is not the artwork, it's the participation," says Edmund Schuster, London School of Economics. "And why not? People can subjectively assign value to something, and that is not something that we can really argue against, even if NFTs have no objective value whatsoever."
Of course, it's hard not to get hyped by a get-rich-scheme where so many actually have gotten rich quick: with so much vapor changing hands for so much money, you can't spell NFT with FOMO. Add a distinct vein of tribalism, and you find everyone choosing sides – pro or anti-NFT, Ape or Axie.
Even those who offer balanced views can't help but use impassioned language, like "NFTs Aren't as Stupid as They Seem." So, to give you a clearer picture of the landscape, CashNetUSA's data experts used Google search volume and Twitter sentiment analysis tools to identify the countries with the most interest and most scorn towards NFTs and the most desired NFT collectibles.
Key Findings
Singapore searches for NFTs more than any other country, with 18,717 searches per million inhabitants per month.
Poland is the most anti-NFT country, with 227 of every 1,000 NFT-themed tweets found to be negative in sentiment.
Montenegro is the most pro-NFT country, with 862 out of 1000 tweets proving positive.
Axie Infinity is the most-searched community NFT in 112 countries, including the UK, more than any other NFT.
Singapore is Hungriest for NFTs
The Asian business hubs of Singapore and Hong Kong lead the way in NFT interest, and wealthy European and North American countries otherwise dominate the top ten. Singapore records 18,717 searches per month per million inhabitants, and even Singapore's Speaker of Parliament is in on the action, selling NFTs of his landscape photos to raise money for charity:
Click here to see the image in full size
"With all these new platforms, for every individual, the caveat is you really need to know what you're doing," says Tan Chuan-Jin. "If you're not comfortable with it, don't get near it. As you can see from cryptocurrency like Bitcoin, it is very volatile."
Eastern European Countries Most Passionate Lovers/Haters of NFTs
While NFT communities gather in the relatively safe spaces of Discord, Twitter has become the arena for some of the fiercest debates between the pro- and anti-NFT camps. CashNetUSA used Hugging Face sentiment analysis to find the countries that sway most passionately one way or the other. Montenegro is the most positive towards the phenomenon, with a recent collection of 777 landscape shots from over 70 artists pretty hard to hate.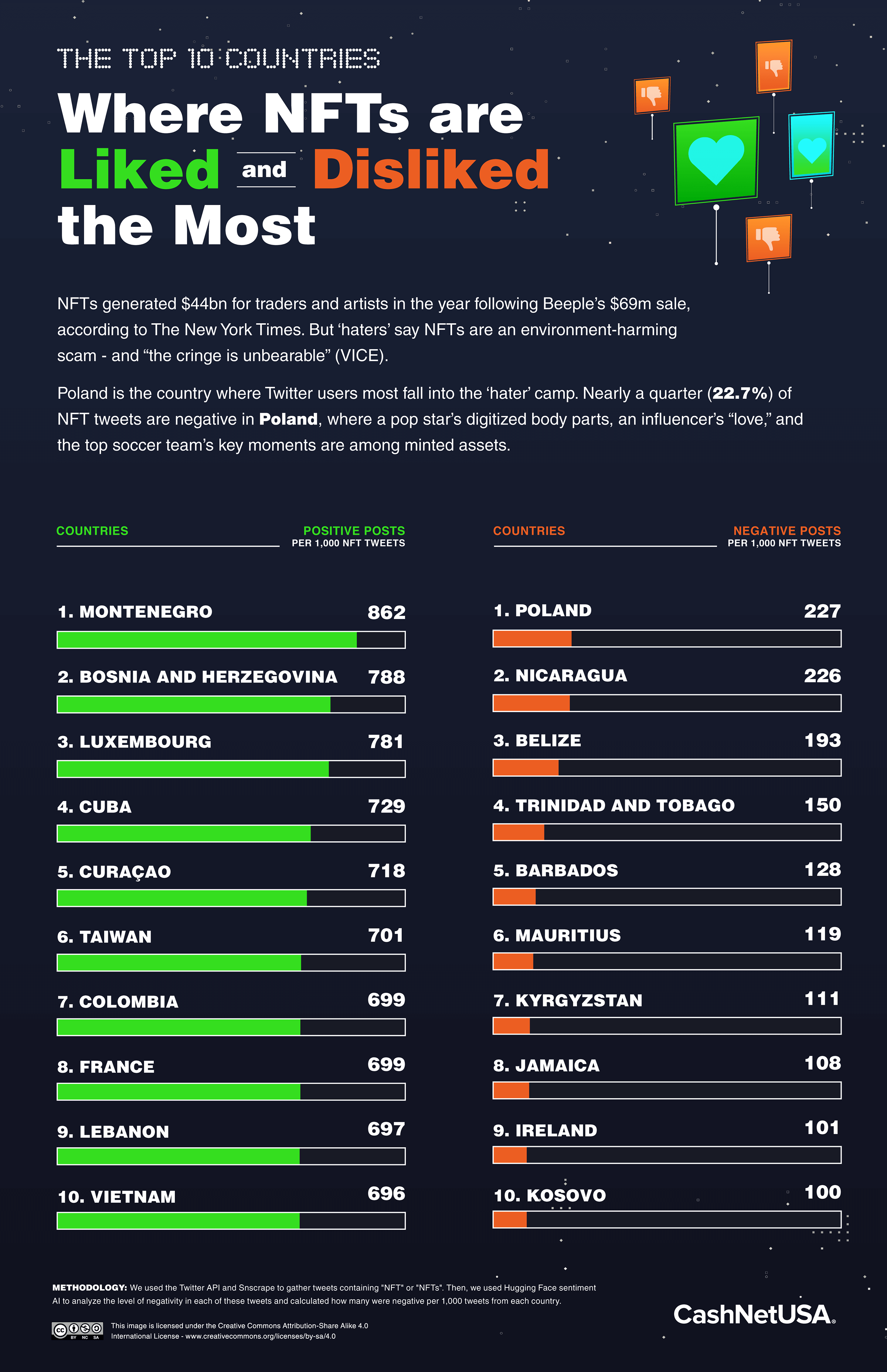 Click here to see the image in full size
Poland and Nicaragua are neck-and-neck for the country that most hates NFTs. Contentious NFT stories have flooded the news in Poland, such as the influencer Marta Rentel, who sold the "digital love" of her online persona "Marti Renti" for $250,000 (1 million Polish zloty).
"Nothing on the internet is physical, it's a part of my online persona," says Rentel. "For me, selling digital love is empowering for women because we can love without compromising our freedom and individuality. Digital love is transactional, but so is marrying a man just because he is wealthy and stable, right?"
Axie Infinity and Decentraland are World's Most-Searched NFT Collectibles
Much of the joy (and agony) of the NFT world is through collecting and sharing community NFT. Our next map shows the most-Googled collectibles in every country, continent-by-continent.
A game (Axie Infinity, top in 112 countries) and a 'virtual destination' prove the two most popular community NFTs, with Decentraland the most-searched in 43 countries. Plots of virtual land in this "surreal Second Life for crypto true believers" started at $20 but now fetch five-figure sums. The plots are sold as NFTs and can be populated with NFT images and gifs.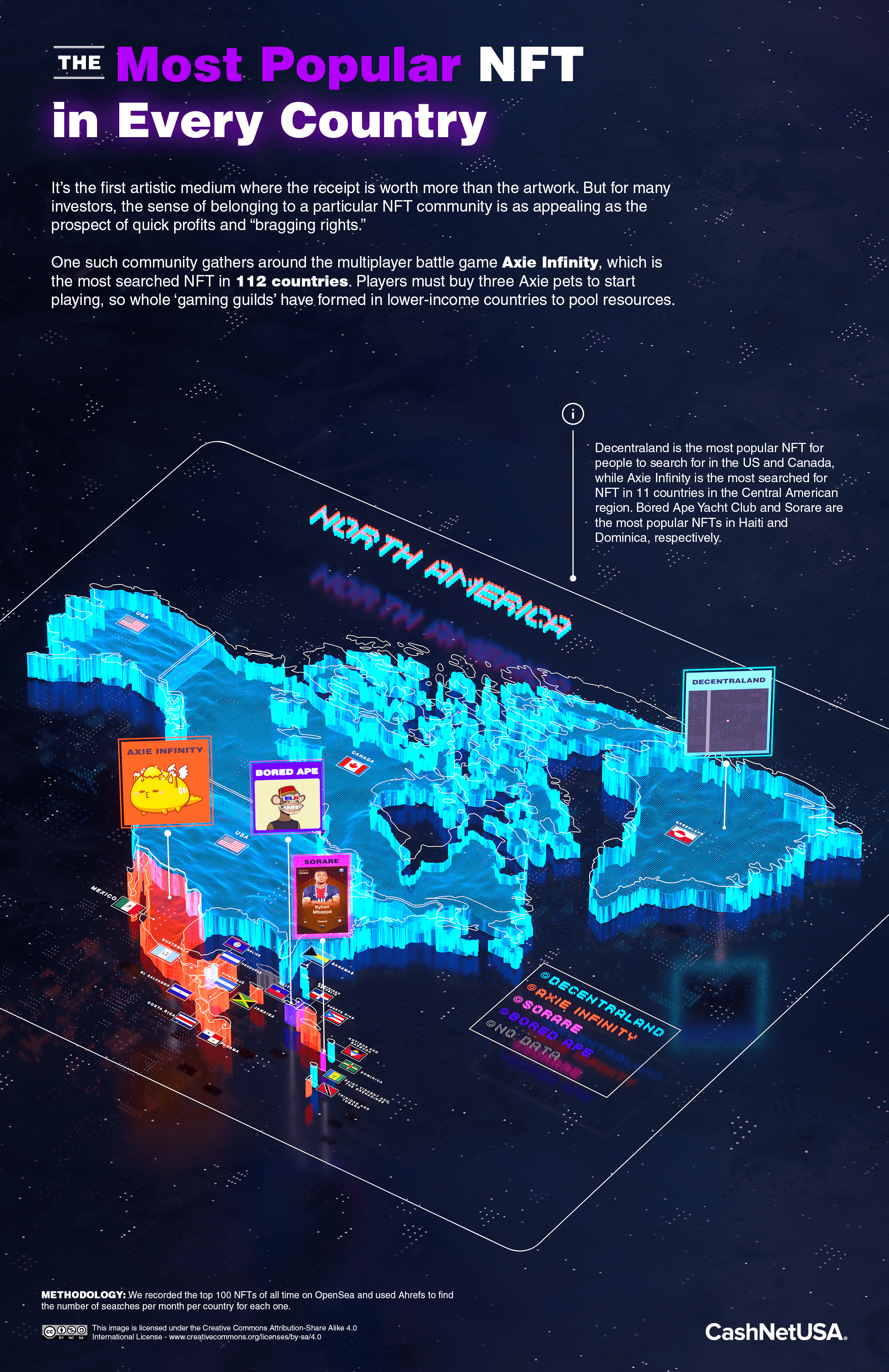 Click here to see the image in full size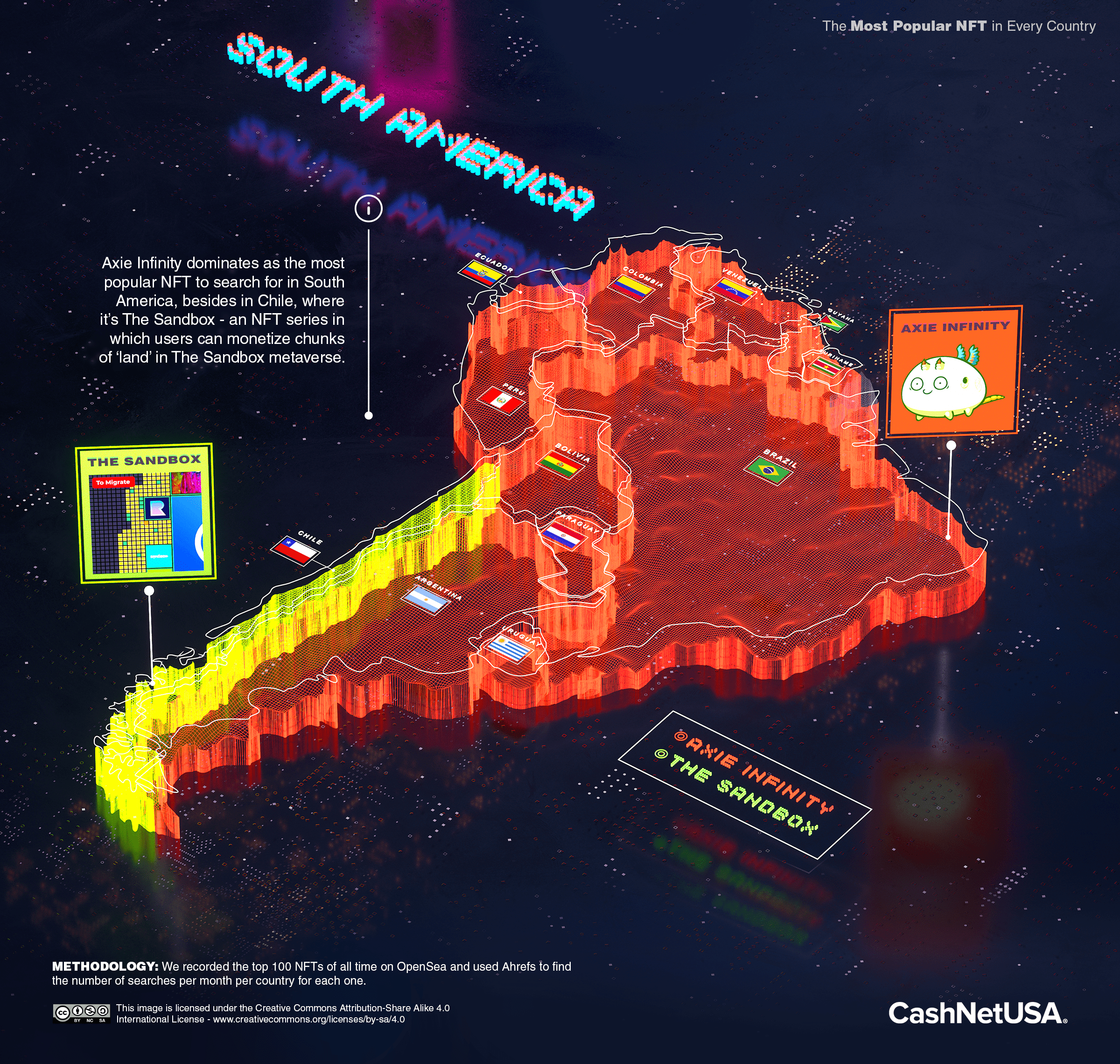 Click here to see the image in full size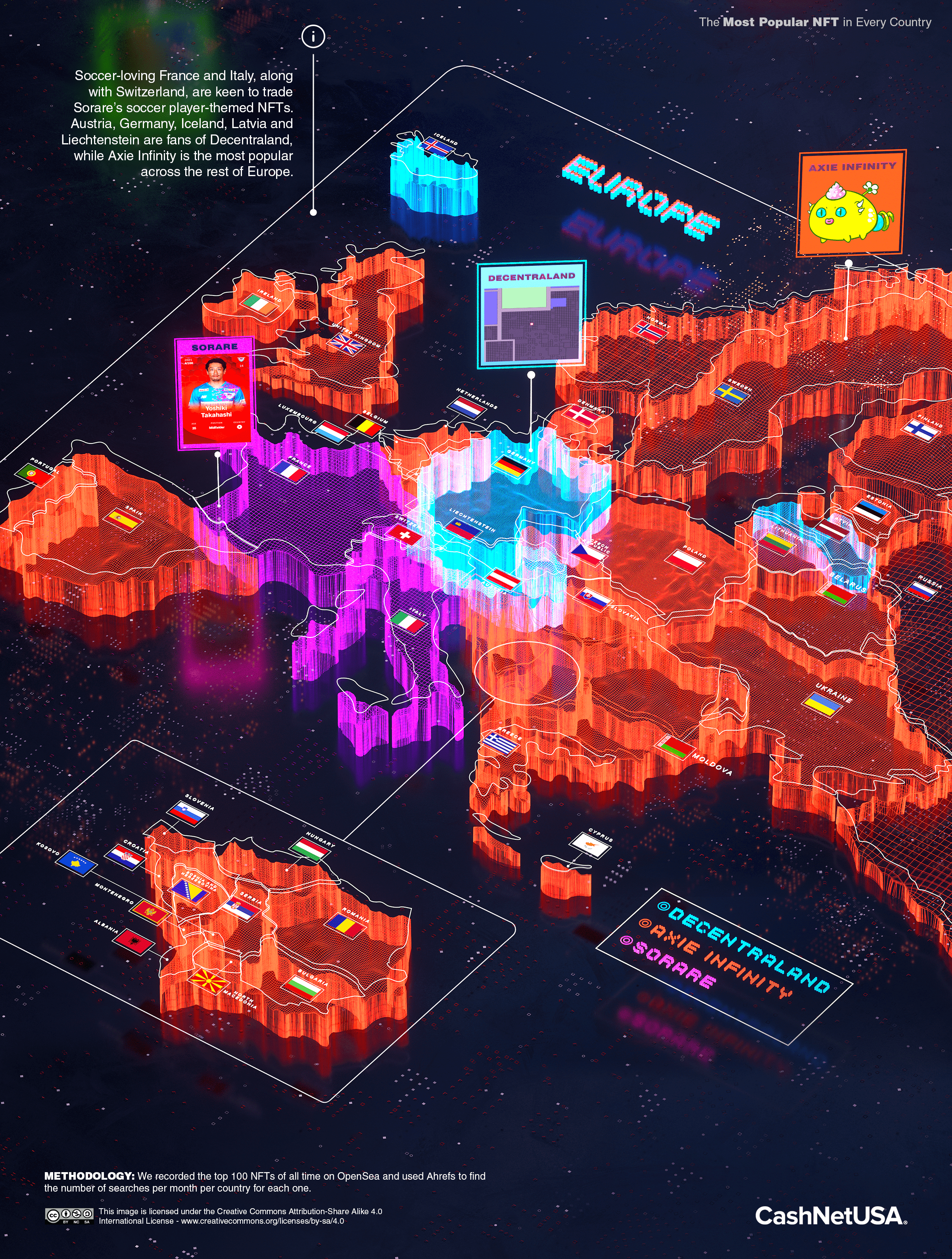 Click here to see the image in full size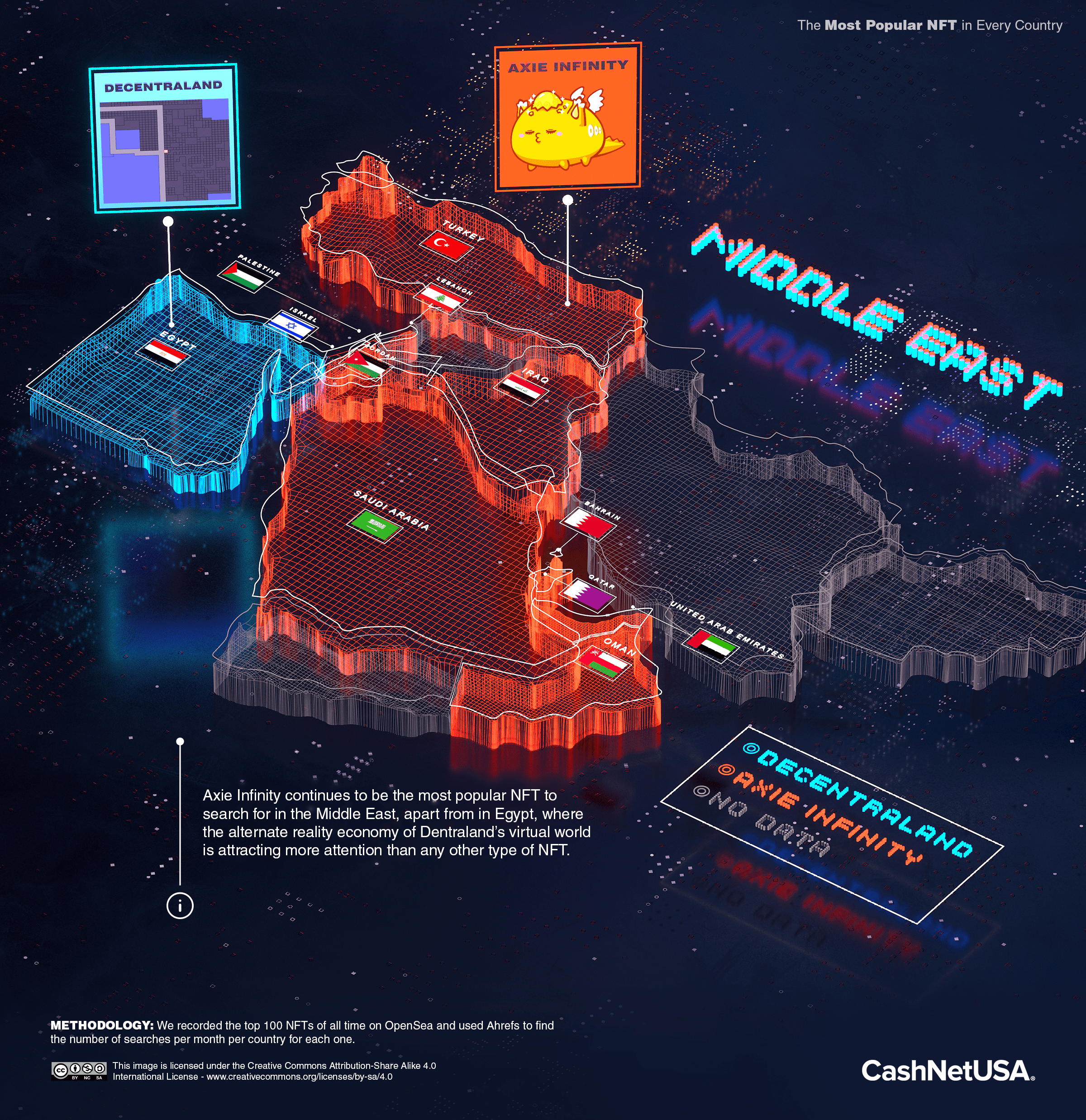 Click here to see the image in full size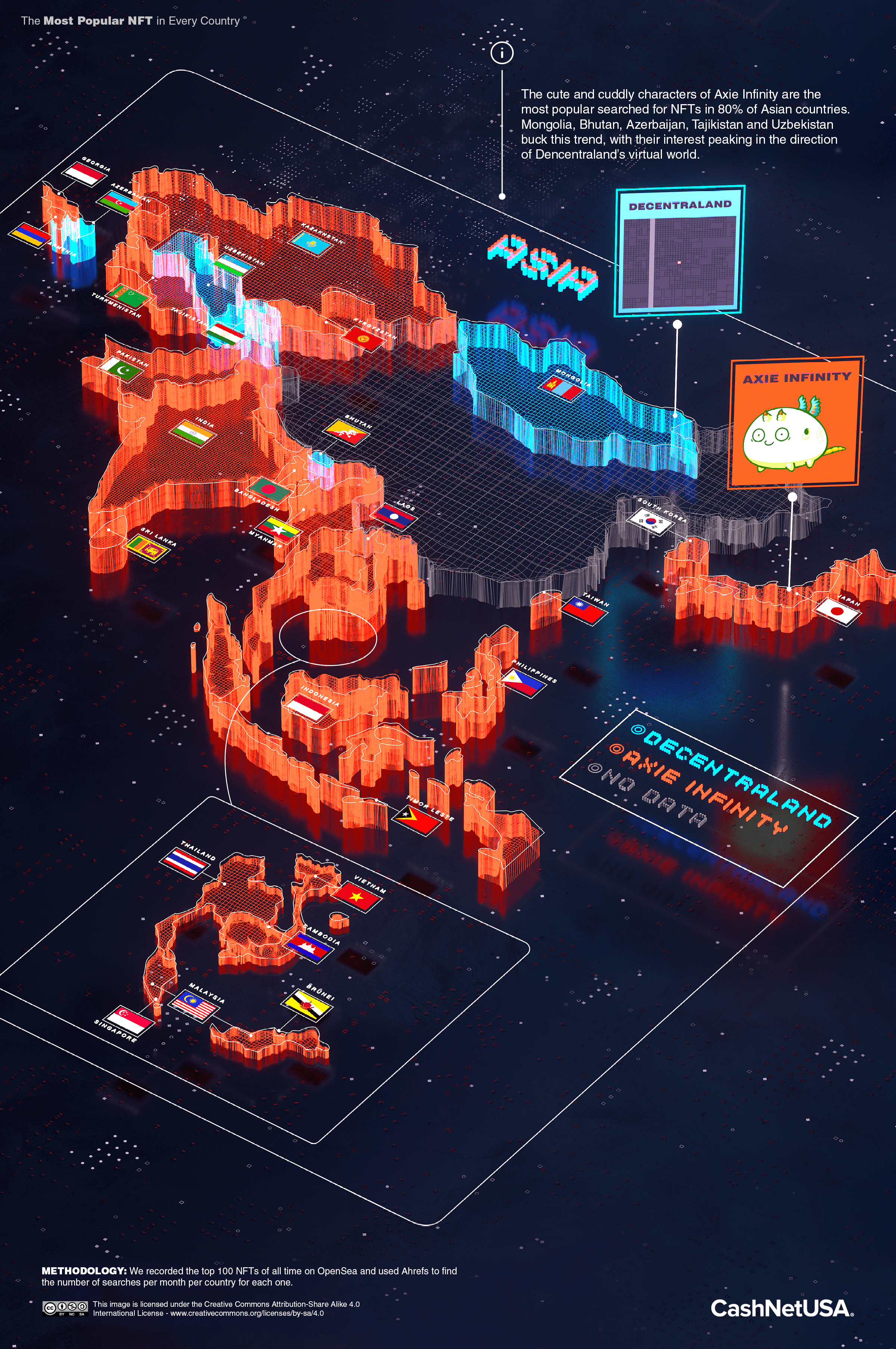 Click here to see the image in full size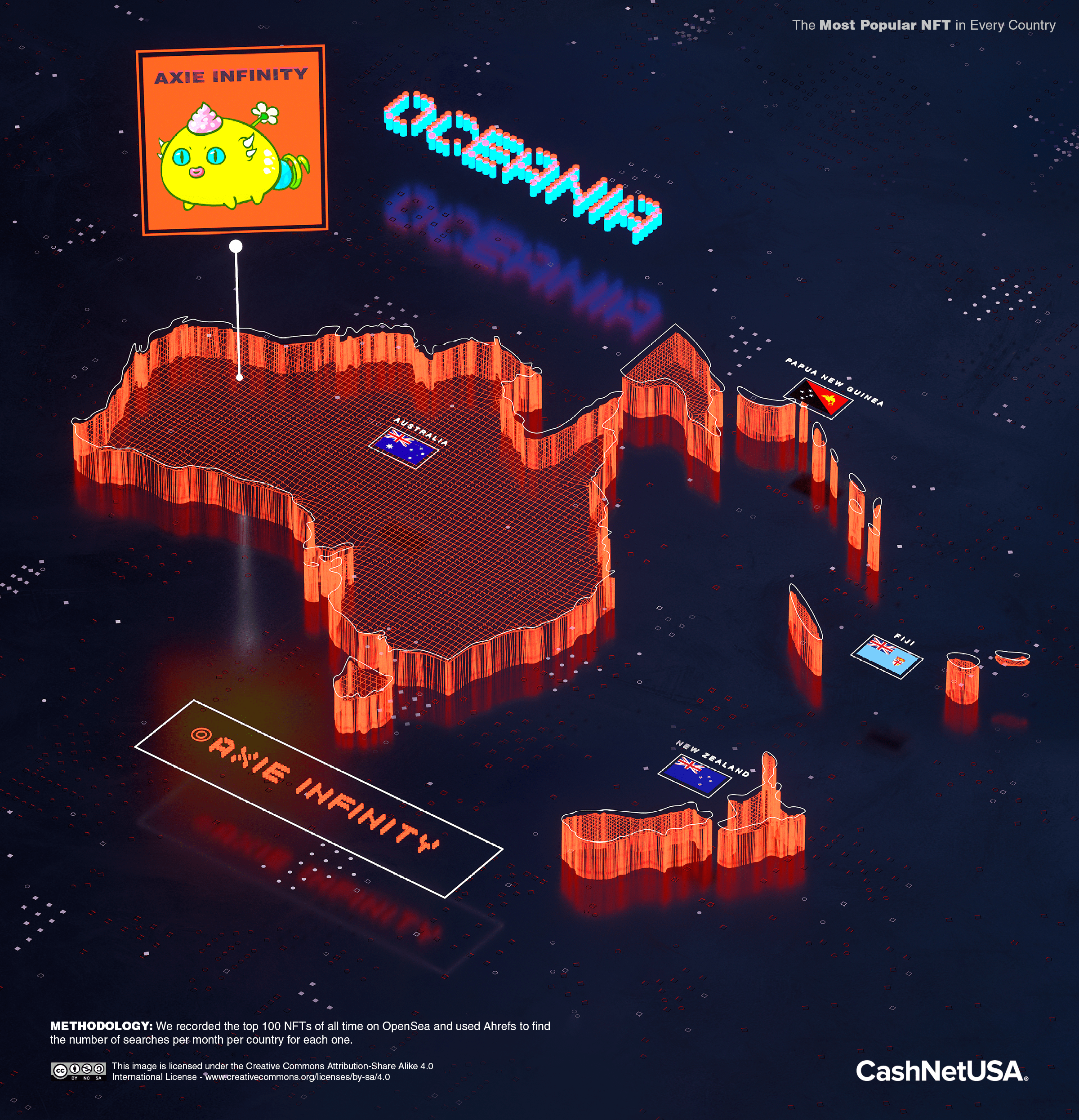 Click here to see the image in full size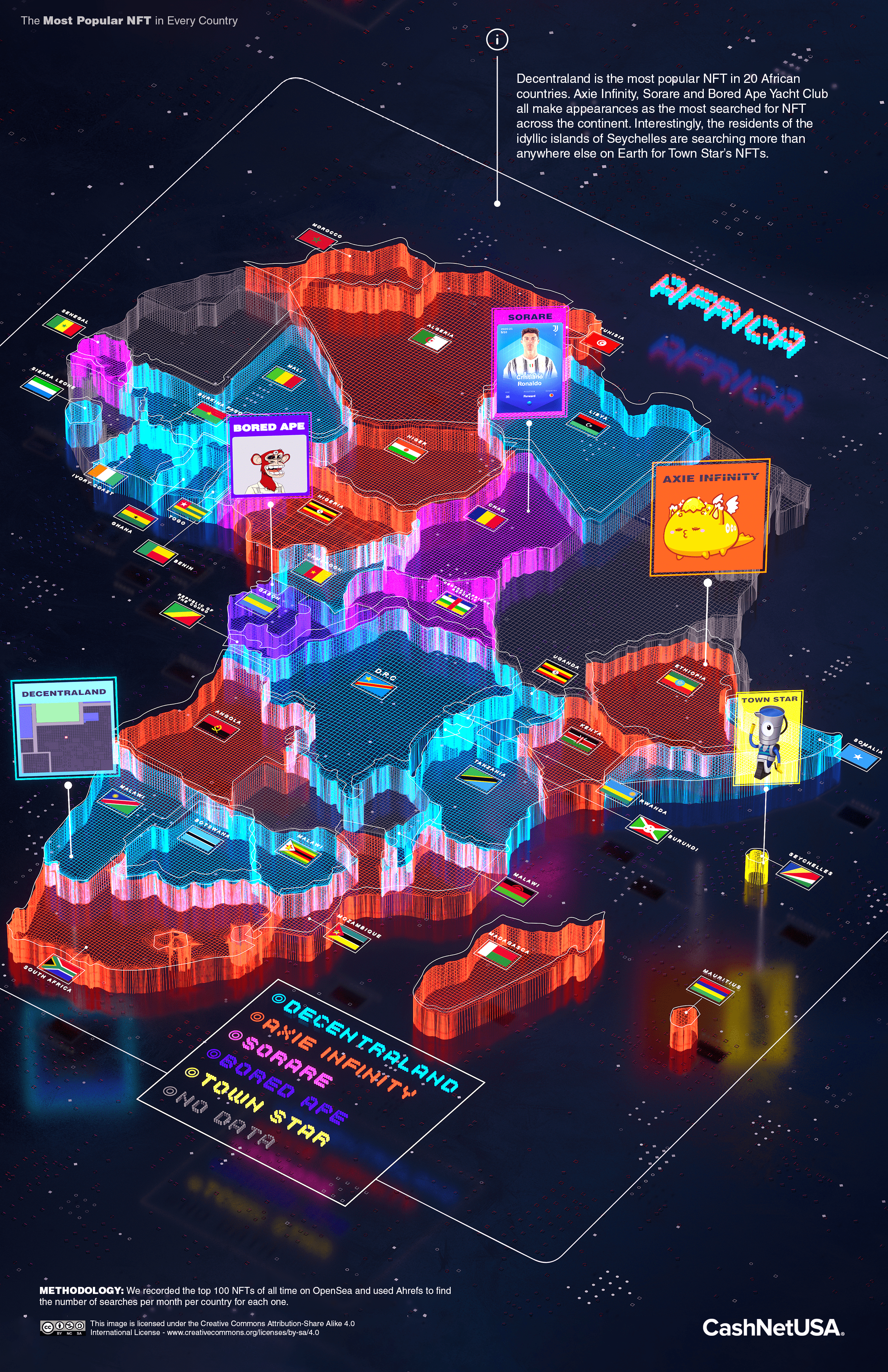 Click here to see the image in full size
Meanwhile, the famous Bored Ape Yacht Club collector cards are most popular in just six countries. As a limited-edition collection with a steep entry price, the Apes may be headline news — but they're not at the fingertips of the average NFT enthusiast when Googling for new acquisitions.
The Debate Rages On
With all the social, technical, and environmental weirdness involved, the NFT is a tailor-made controversy for this stage of the 21st century. To prepare yourself for the next big argument, be sure to check out our data in full below.
NFTs are regularly referred to as a modern "emperor's new clothes," and perhaps the most common reaction to NFT news outside of the NFT community is schadenfreude: amusement at another's misfortune.
Even the Guardian, a respected and sober UK newspaper, could barely hold a straight face with one recent, Onion-like headline: "Man who paid $2.9m for NFT of Jack Dorsey's first tweet set to lose almost $2.9m."
But accompanying the omnipresent commentary on the NFT phenomenon are more particular realities for the technology's future. On the one hand, art ownership represents just a fraction of the use potential of the tokens. On the other is the issue of crypto's impact on the environment, epitomized by the Ethereum currency's annual energy consumption comparing closely with that of the country of Ecuador. In one year, ten years, or fifty years, will we talk about NFTs in a different way — or forget them altogether?
METHODOLOGY AND SOURCES
To create these tables, we first used the Ahrefs tool. We searched for "NFT" in every country and then tallied the country search volume across all terms on the first page of the section "terms match." After that, we calculated the number of monthly searches per 1,000,000 population.
At the same time, using Twitter API and the Snscrape tool, we gathered the tweets matching the queries "NFT" and "NFTs." We ran sentiment analysis using the Hugging Face package and the model developed by Cardiff University. We labeled the tweets as "negative" if the probability of "negative" is higher than 0.5. To keep only firm results, we dropped the countries with fewer than 50 tweets. Finally, we calculated the hate rate as a proportion of negative tweets.
We also pulled the top 100 NFTs of all time from OpenSea, then using the same Ahrefs tool, we obtained the search volumes for each collection and detected the most searched one in every country.
The data was collected in March 2022.