Starbucks' intimidating mission statement is to "inspire and nurture the human spirit – one person, one cup and one neighborhood at a time."
And sure, a nod and a smile go a long way. But most of us just want that black gold. We want it hot in our hands as soon as possible. And we want it to taste exactly like the last Starbucks we had. Indeed, Starbucks' biggest existential threat is not that it will run out of human spirit, but that it's running low on the ingredients that loyal customers expect.
In just a quarter-century since opening its first international branch in Tokyo, Starbucks has spilled out into 80 countries. It now boasts over 32,000 stores worldwide. In the fast-food ranks, Starbucks is the second largest fast-food chain after McDonald's, and it depends on its store-to-store consistency even more.
But whether you buy a Tall Latte in a rare Indian Starbucks or one of the 600 new Chinese stores that Starbucks has planned this year, there is one major difference to expect: cost. Starbucks prices its menu differently from country to country, and even US state to US state. So, CashNetUSA trawled delivery apps in every Starbucks' territory to see how the cost of that Tall Latte differs – and highlight some other grande prices around the world.
All prices have been converted to US dollars.
Key Findings
Switzerland has the world's most expensive Starbucks, at $7.17 per Tall Latte.
The Swiss also have the world's most expensive Starbucks item of all, the $9.31 Iced Caramel Macchiato.
The US has the world's 16th most expensive Starbucks Tall Latte, at $3.26.
Turkey has the cheapest Starbucks, with a $1.31 Tall Latte.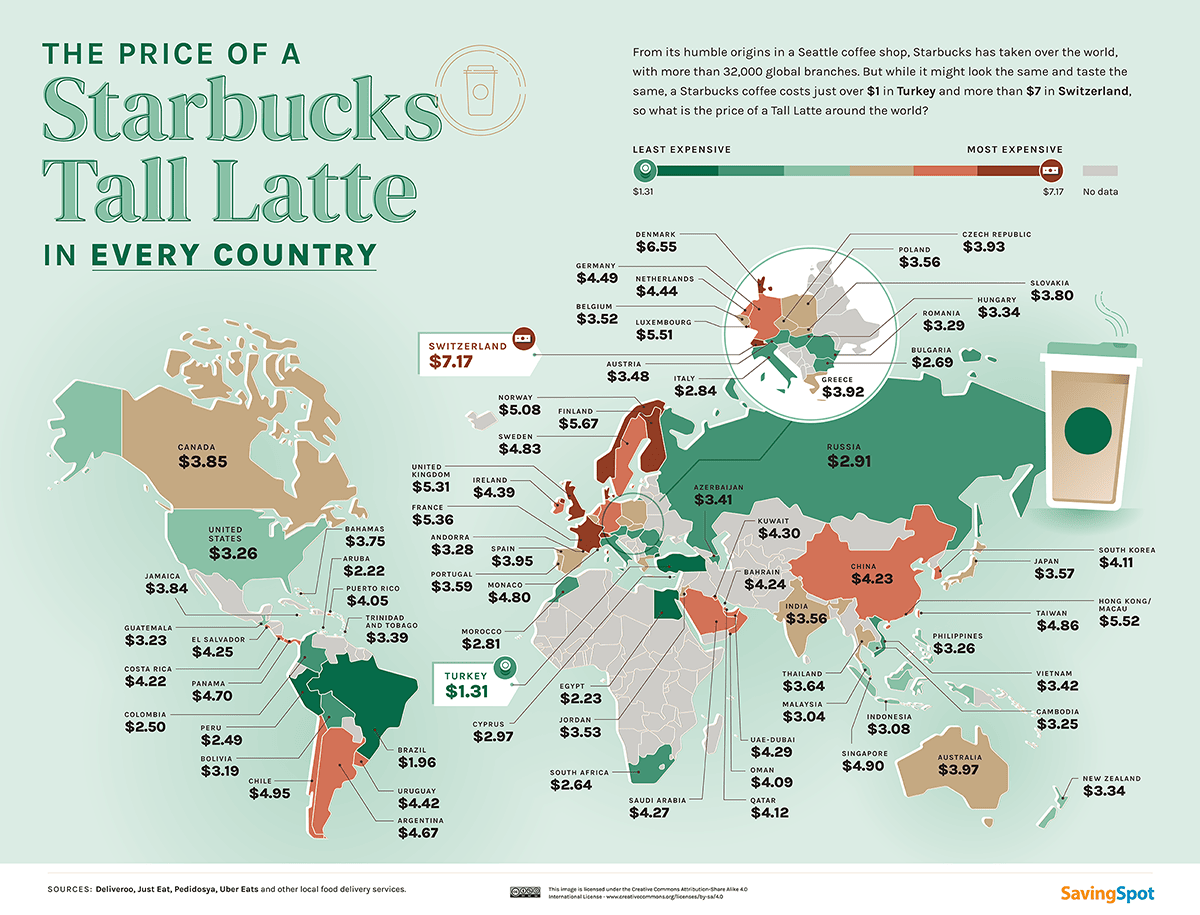 Scroll on for a continent-by-continent breakdown of the cost of a Starbucks Tall Latte in the countries near you.
The Most Expensive Starbucks Items in the World
"We combine our rich, full-bodied espresso with vanilla-flavored syrup, milk and ice, then top it off with a caramel drizzle for an oh-so-sweet finish," says Starbucks of their Iced Caramel Macchiato.
"Take our francs!" screams the Swiss, throwing $9.31-worth of local currency over the counter. The Zürich Central branch of Starbucks was the first to open in continental Europe – and with local GDP at $87,367, you can see what was on the fast-food corporation's mind.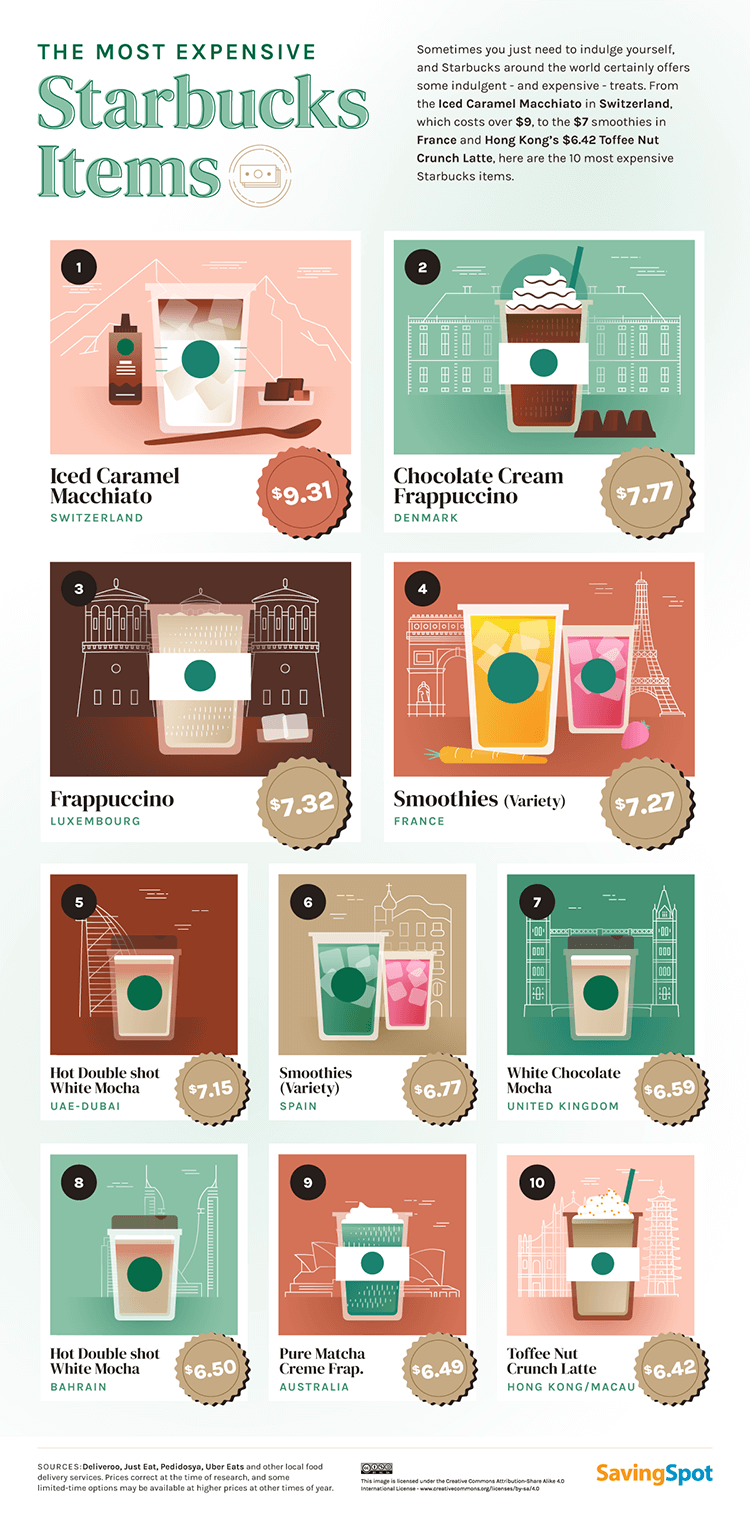 Indeed, Switzerland is the fastener on Europe's 'wealth belt,' with nearby Denmark, Luxembourg and France also offering frappuccinos and smoothies the wrong side of seven bucks. Spain and the UK make it six out of ten European countries in the top 10 for most expensive Starbucks items.
How the Price of Starbucks Compares to Global GDP
Affordability at Starbucks differs around the world, depending not just on prices but local earnings. The graph below pitches the two variables against each other. Hover over the dots for more information on each one.
Imagine a line running through the center of the dots. Countries with a dot higher than the imaginary midway line get relatively bad value at Starbucks, while those that are lower than the swarm can get more lattes with the average local paycheck.
For example, while Egypt may have one of the world's cheapest lattes, the African country also has one of the lowest GDPs. Denmark and Switzerland more than make up for their expensive coffees with world-leading incomes. But Argentina must cope with the worst of both worlds: GDP in the bottom third, against a latte that costs more than in the US, Germany or Qatar.
The American States with the Cheapest Starbucks
Mississippi ($2.89) and other southern states offer the cheapest Starbucks lattes in the US. Most of the states where you can get a Tall Latte for under three bucks are in the south – with the notable exception of South Dakota ($2.95).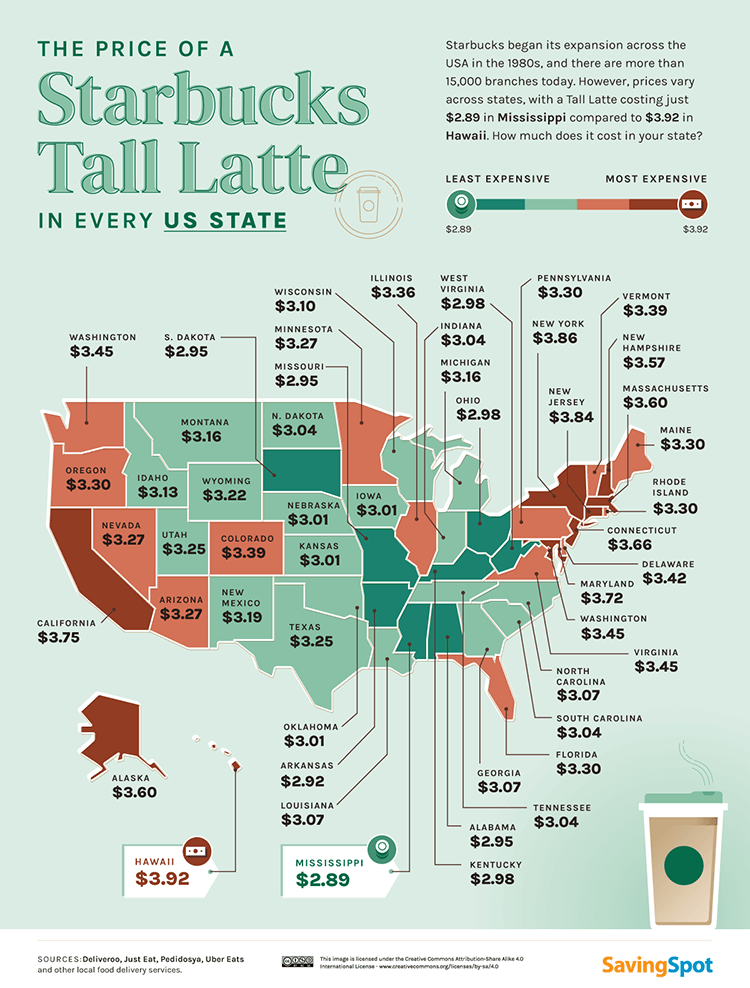 It is the more metropolitan states that serve more expensive coffee, and the overall number one is Hawaii – where it costs $3.92 for a Tall Latte. Washington State, where the first Starbucks opened (in Seattle, 1971), has the tenth most expensive Starbucks in America.
North America
Starbucks launched in Panama in 2020 as it furthered its reach into Latin America. But today, Panamanians pay the most in North America for their Tall Late – an eye-watering $4.70 against a GDP of just $12,373.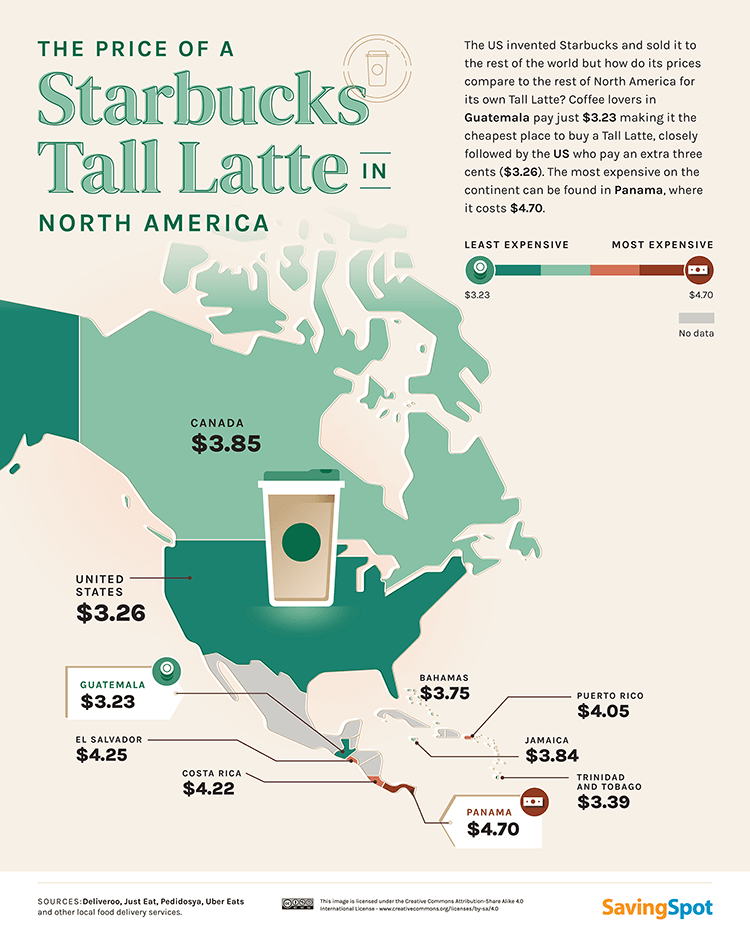 Guatemala gets the cheapest Tall Latte ($3.23) in North America. Canada and select Caribbean islands also get their buzz on for under four bucks.
South America
Chile ($4.95) and Argentina ($4.67) each boast a Tall Latte that costs more than in the United States. Chilean Starbucks, franchised by Mexico's Grupo Alsea, attracted controversy when the company froze the contracts of 90% of its employees at the start of the Covid-19 pandemic.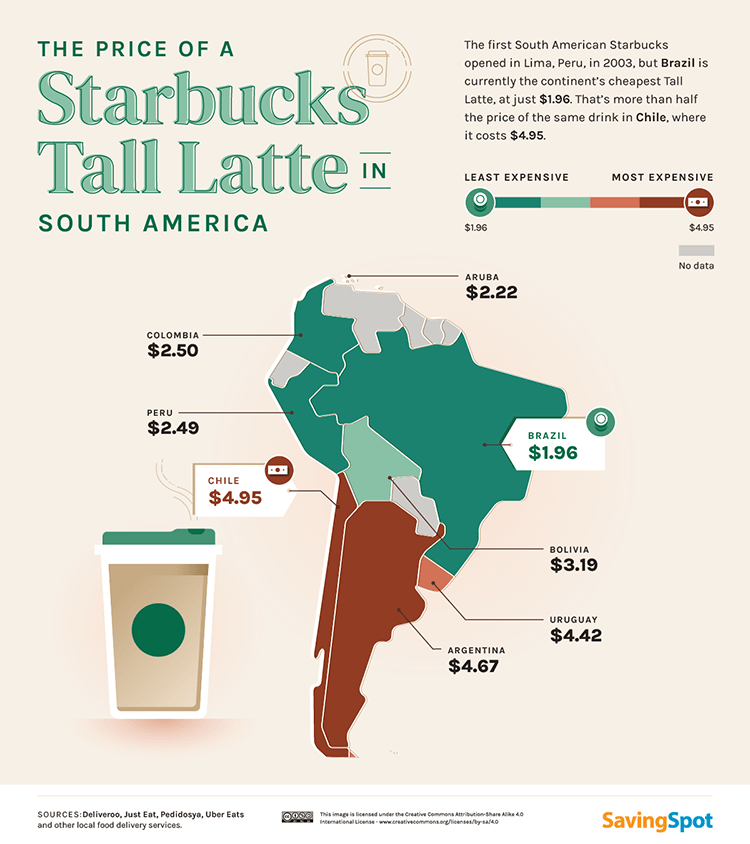 Meanwhile, Brazil is home to the world's second cheapest Starbucks Tall Latte at just $1.96. Starbucks is expanding in Brazil right now, capitalizing on local beans and other ingredients. One recent marketing stunt saw a São Paulo Starbucks converted into a registry office for trans people to legally change their names – resulting in seven times the usual daily legal name changes for the city.
Europe
Europe is home to the world's costliest Starbucks Tall Latte. And also the second and third costliest. Switzerland ($7.17) takes the crown, but the high-earners of Scandi-region Denmark ($6.55), Finland ($5.67) and Norway ($5.08) are not far behind. It's a little cheaper in Sweden ($4.83), where Starbucks has failed to make an impact – its large premises and unfashionably sugary drinks have alienated Swedes, leaving 15 stores to close and the brand's future in Sweden uncertain.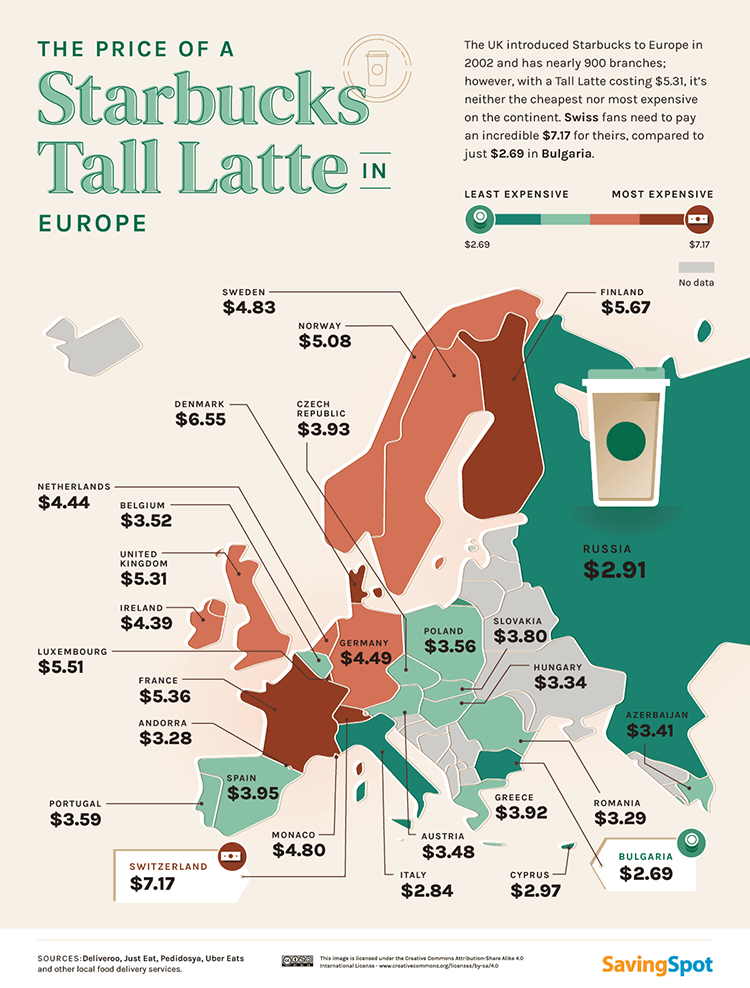 Only Belgium and Portugal offer a reasonable price in western Europe. Poland ($3.56), Hungary ($3.34) and Bulgaria ($2.69 – the continent's cheapest, if Turkey counts as Asia) are among several eastern countries with a bargain Starbucks. Italy, in the center-south of Europe, also has a super-cheap latte ($2.84) – but not by local standards. In fact, Starbucks didn't enter the Italian market until 2018, wary of the Italian's patriotic, meticulous, yet affordable café culture. Even its low prices dwarf those of local indies, leading an Italian consumer group to raise a complaint.
Middle East & Central Asia
There are two types of black gold in the Middle East. But despite their oil wealth, countries such as UAE ($4.29) and Saudi Arabia ($4.27) don't charge as much for their Starbucks coffee as Europe's expensive branches in Scandinavia.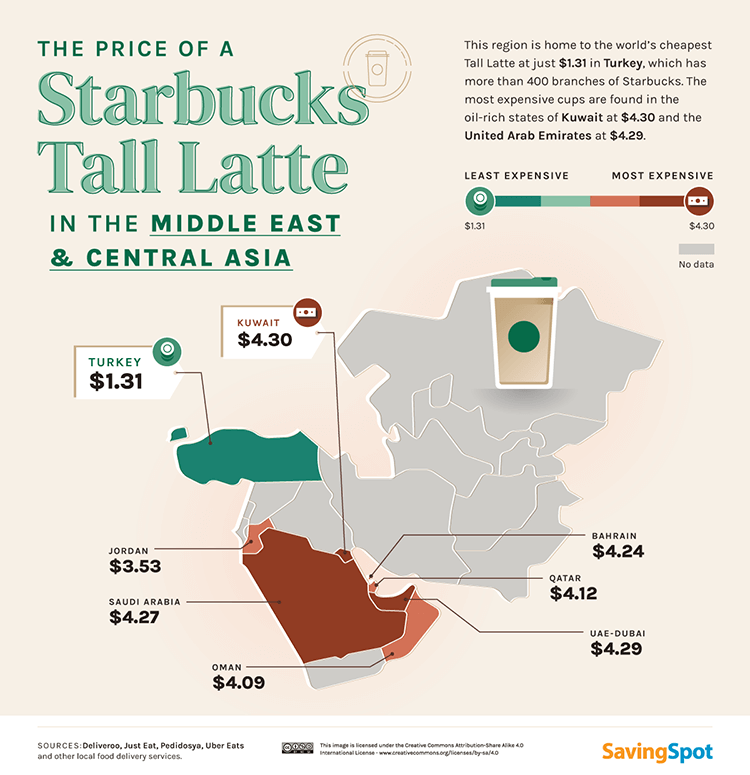 Turkey straddles Europe and Asia, and either way, it has the cheapest Tall Latte in the world. With over 500 stores, Turkey has the most Starbucks branches in the region – and yes, you can buy a traditional Turkish coffee there.
Rest of Asia & Oceania
Japan is home to Starbucks' first overseas store and its biggest coffee cup, which weighs in at 20.9lbs and $700. But the coffee itself is modest, with a Tall (but not that tall) Latte costing just $3.57. The heady business hubs of Hong Kong ($5.52) and Singapore ($4.90) come out on top.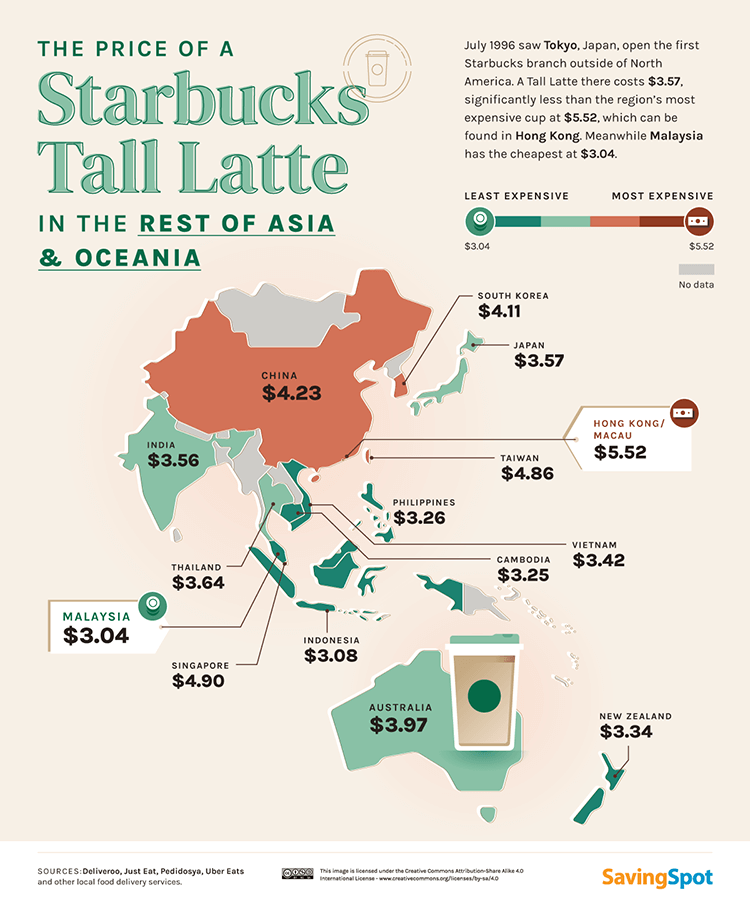 The region's cheapest is right next door to Singapore, in Malaysia ($3.04). Starbucks opened as early as 1998 in Malaysia and now boasts 320 stores and 3,000 employees.
Africa
Starbucks buys coffee from nine African countries (Rwanda, Uganda, Tanzania, Ethiopia, Kenya, Burundi, Zambia, Cameroon and the Democratic Republic of Congo) – but only sells it in three. Of these, Morocco ($2.81) is the most expensive and Egypt ($2.23) the least.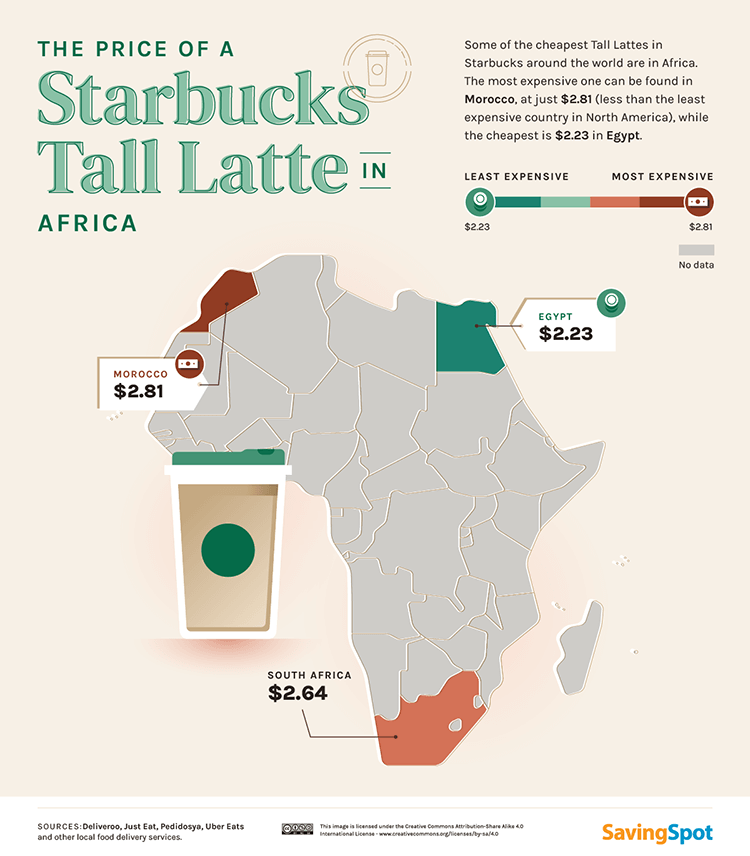 South Africa is nestled in the middle at $2.64. But Starbucks has problems in South Africa. Even that $2.64 outprices local competitors, and in tough economic conditions, the country's limited middle-class consumer base tends to go for the cheaper option. Expansion by the local franchisees was put on hold in 2019.
The Sweet Taste of Pricey Coffee
Would you like to pay less for your Starbucks coffee?
According to one market-researcher-turned-neuroscientist, you'd like to pay more.
"Everyone thinks that they've truly figured out how to sell a relatively inexpensive product for a lot of money," Kai-Markus Müller told Spiegel in 2013. "But the odd thing is that even this company doesn't understand it."
Sure, everyone knows a coffee shop coffee costs the same as a whole pack of coffee grains to brew at home. But when Müller scanned consumers' brains for activity at different speculative price points, he discovered they were most excited about the prospect of buying takeout coffee when it was priced a little above the official menu cost.
How far would you go to pay more for your coffee? Check out our full data below for some hints on where to start!
METHODOLOGY & SOURCES
To find the price of a Tall Latte in every country, we researched using delivery apps like Deliveroo, Just Eat, Pedidosya, Uber Eats or used local food delivery services.
For countries where a local app was not available, we used desk research and Google Reviews to find recent images of menus to determine the prices.