Big city equals big bucks, right? You want a major tech payday, you seek employment in San Francisco. You want to cash your MBA chips, you move to NYC. Right?
In absolute terms, yes. San Francisco has the highest average tech and cross-sector pay in the US. And one in three New Yorkers has a six-figure salary.
But in real terms, the answer is no. When you search for housing, shop for groceries, or file your taxes, you may find yourself wishing you'd looked past the digits on your job offer. Adjusted for cost of living, the average tech industry paycheck in San Francisco doesn't even rank among the top 30 cities in America.
CashNetUSA wants to give you a clear picture of what that starting salary really means. We grabbed city salary data from Payscale and adjusted it using cost-of-living data from the Bureau of Economic Analysis. We used the same method for a cross-sector survey and also for a detailed look at the tech, business, and banking industries.
Compare the Cost of Living-Adjusted Salaries for Any Two Cities
First up, use the tool below to compare adjusted salaries for two different metropolitan areas. You can choose a cross-sector analysis or use the tabs to switch between sectors. The unadjusted figure shows the average wage as written on the contract, while the adjusted salary illustrates how far it goes when you account for local cost of living.
For example, perhaps you're thinking about San Francisco for your tech career. In absolute terms, it is the best-paid destination with an average sector salary of $107,739. Compare it buck-for-buck with San Jose, where the average salary is $4.6k lower, and Frisco seems like a no-brainer. But when adjusted for cost of living, you'll actually end up with over one thousand more each year in your pocket in San Jose if you're on the average wage.
This is a relatively minor cost-of-living difference compared to some other anomalies in our findings – but it might just be enough to tip the balance for young talent searching for the first rung.
Wage Gap Between Largest & Smallest Cities More Than Halves When Adjusted for Cost of Living
This scatter graph demonstrates wage disparity when cost of living is factored in for cities of different sizes. It takes all sectors into account. The blue icons indicate the average salary in each city size, while the red icons show the figure adjusted for cost of living.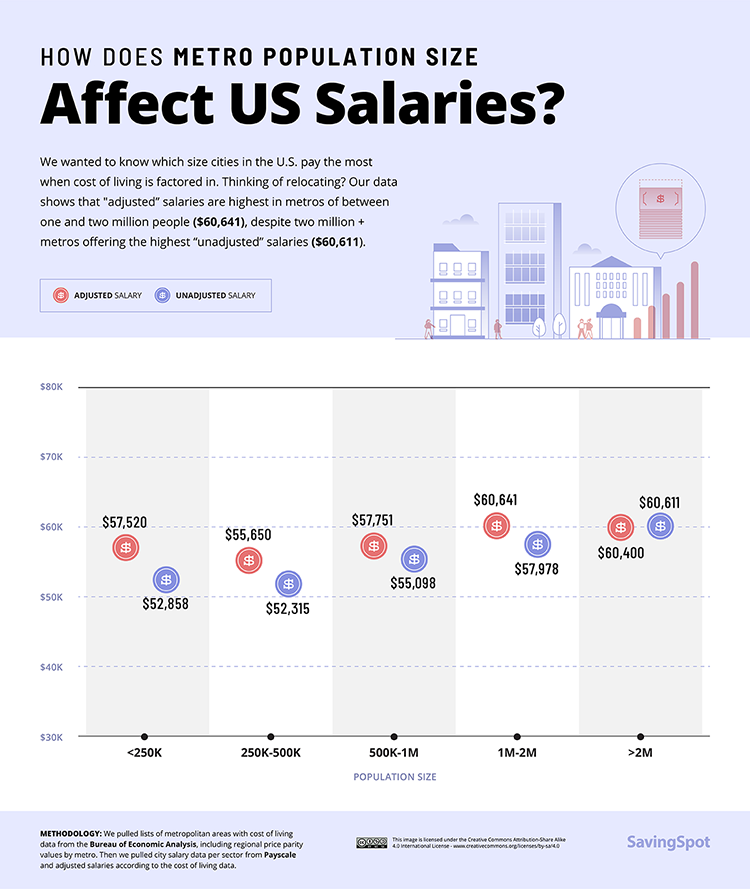 The cost of living rises in tandem with a city's population, so your money goes further in small cities. However, big cities usually have higher wages, partly to compensate for the additional costs. This chart shows how the average worker in a city with fewer than 250k inhabitants effectively earns a near $5,000 bonus when their living costs are factored in.
The gap gets smaller and smaller as the cities get bigger. In the biggest cities, the effective average wage is reduced by the high cost of living. As a result, the average adjusted salary in the smallest cities is only $3k less than that in the largest, as opposed to an $8k disparity using unadjusted figures.
Alexandria, VA Provides Best Value Salary – For Now
Alexandria, Virginia, is good value. The average unadjusted salary is the ninth highest in the land, so your dollar is strong wherever you travel. But stay at home and your salary (adjusted for local cost of living) goes much further. Alexandria has the highest adjusted cross-sector salary (and also the highest adjusted salary for the tech sector).
It's not good news for every Alexandrian, though: Virginia's minimum wage remains the lowest in the region. And, although the arrival of Amazon's new corporate headquarters will create jobs, locals fear it will also push up the cost of living.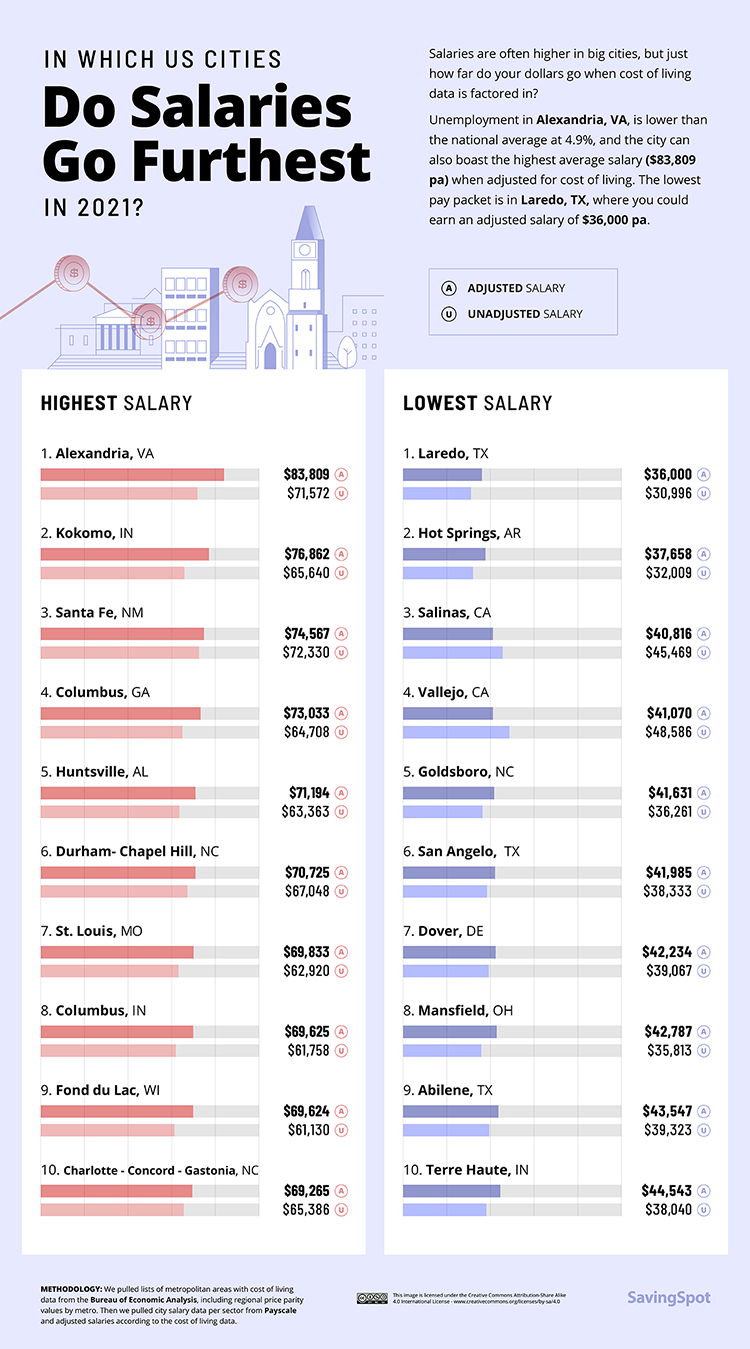 Laredo, Texas, has the lowest average income of any American city in our study. On the bright side, the $30,996 salary actually gains $5,000 in value when taking into account the low local cost of living – but it remains bottom of the table, regardless of whether you're looking at adjusted or unadjusted figures. Laredo's city managers rake in well over a quarter of a million each year while 261,000 residents struggle by on just $15,127.
Poughkeepsie Among Best-Earning Tech Regions Despite Cost of Living
An honorable mention goes to Kokomo, Indiana, where adjusting an already-generous average tech salary for cost of living bumps it up $14k to $96,057. This is the second-best tech salary after Alexandria, VA.
The Poughkeepsie metropolitan area takes a top five spot even though cost of living effectively reduces the local tech salary by nearly $17k. Poughkeepsie was among the cities with the highest number of low-income job losses due to Covid-19, and is now in receipt of $1bn in development money, but how much of this dribbles down to the most hard off remains to be seen.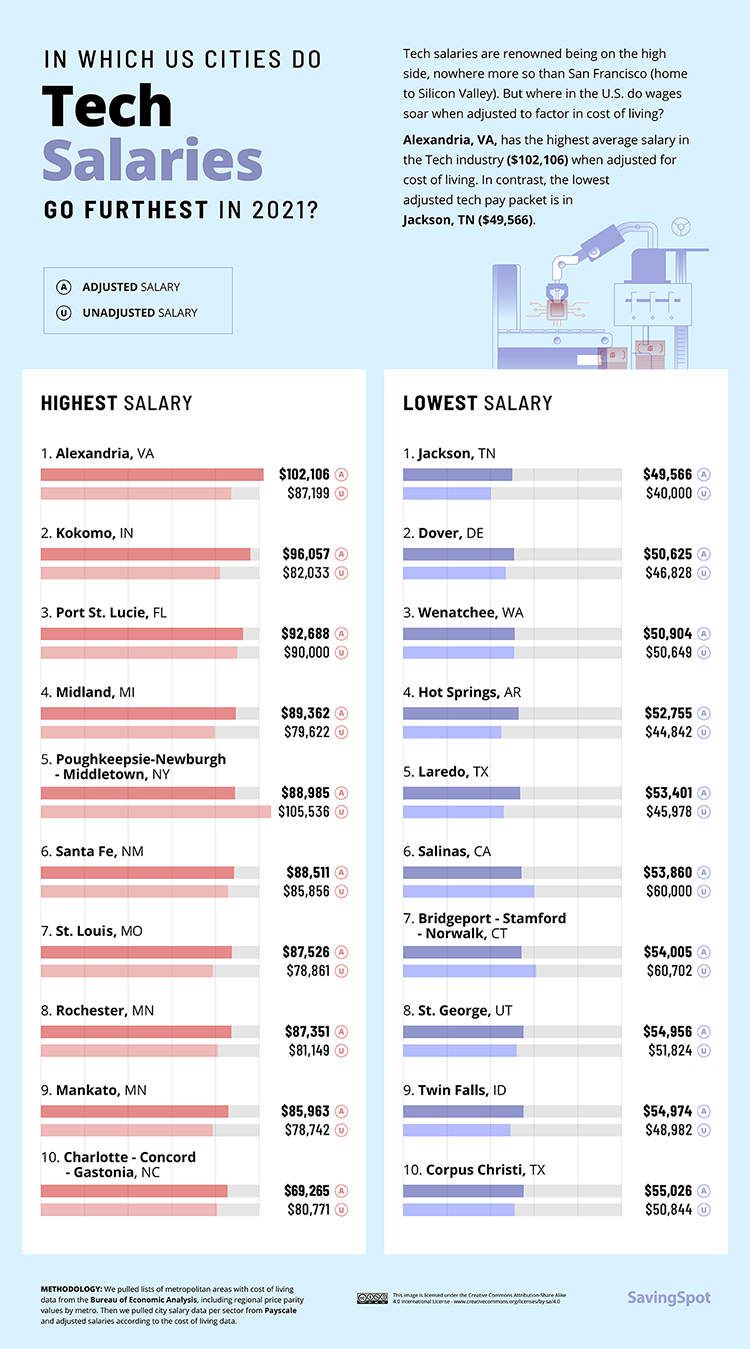 The low cost of living in Jackson, Tennessee, effectively boosts the average tech salary by 25% – but even this adjusted salary of $49,566 is not enough to lift it from the position of the worst-paid region for tech.
Housing Crisis Prevents Flagstaff, AZ, From Being Top Destination for Bankers
The overall cost of living in Kokomo, IN, is nearly 15% lower than the national average – and rent is 38.2% cheaper. This helps the city to leapfrog four others into first place as the best-paid city for banking professionals.
Before adjustment, Flagstaff, Arizona, holds the number one spot. But when factoring in the cost of living, Flagstaff drops five places. The housing crisis in Flagstaff has inflated rental prices to equal those of Brooklyn, although wages for most are much lower in the Arizona metro.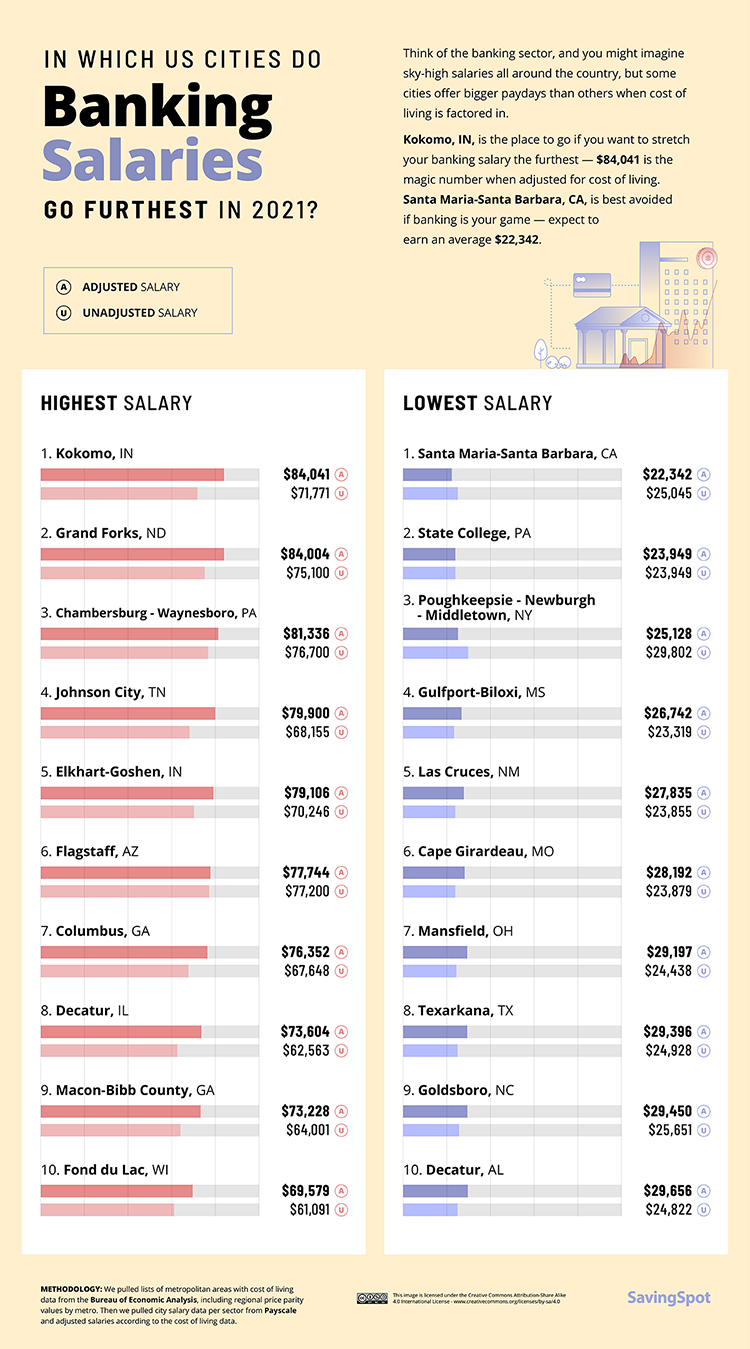 At the low end of the scale, a cost of living that's 12% above average pushes the Santa Maria-Santa Barbara, California, metro into bottom position for banker pay. Santa Barbara City Council faced controversy earlier this year after officials awarded themselves a 2.6% raise during the hardship of the pandemic.
Great Falls is Great Value for MBA Graduates, With or Without Adjusted Salary
San Francisco has the highest average unadjusted salary in the business sector – but with a $16k drop for cost of living, it doesn't even make the adjusted top 10. This means that the top spot goes to Great Falls, Montana, where the cost of living adds over $5k in value to the metro's unadjusted salary. City commissioners in Great Falls recognize the area's great business prospects but are alert to the infrastructural improvements needed to sustain growth.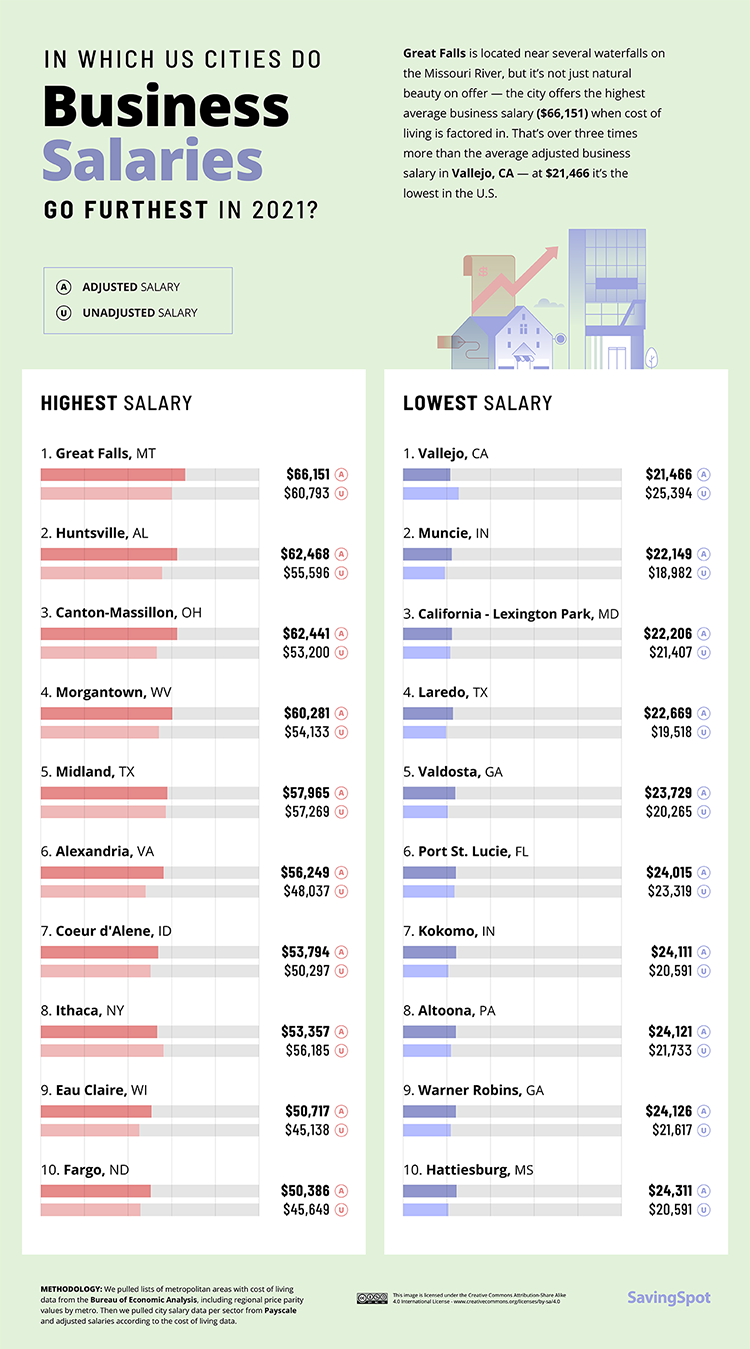 A cost of living that's 18.3% above the national average sees Vallejo, California, plummet from 35th-lowest paid business region (unadjusted) to America's worst city for business sector salaries (adjusted).
What You Earn vs. What You Spend
The minimum wage is a matter of perpetual debate – as are executive salaries. But in a volatile post-pandemic climate, where job titles and working conditions are evolving quickly, focusing on the fundamentals – the cost of living – may be a clearer way to suss out the best place to work, along with the regions that require intervention to create better parity.
As citizens of Berlin, Germany, sit on the brink of a historic victory against exploitative landlords, it's a clear sign that earning power isn't your only asset – consumer power can also help you create a better life.
To explore our adjusted and unadjusted city salary data in full, please check out the interactive table below.
METHODOLOGY & SOURCES
We pulled lists of metropolitan areas, along with cost of living data, from the Bureau of Economic Analysis, including regional price parity values by metro. Then we pulled city salary data per sector from Payscale and adjusted salaries according to the cost of living data.
​​For the sectors, we used salary data for the following jobs:
Tech
Artificial intelligence engineer, Data scientist, Information security analyst, Software engineer, Computer research scientist, Data analyst, IT manager, Database administrator, Web developer, Computer hardware engineer, DevOps engineer, Computer network architect, Java developer, Tech sales engineer, PHP developer, Python developer, Network and computer systems administrator, Mobile application developer, Web designer (UX/UI), Product manager, Database developer, Database developer, Machine learning engineer, Computer systems analyst, Software developer.
Crabtree, C.M. (2021). Best Tech Jobs 2021: The Most In-Demand Coding Jobs. careerkarma.com
Banking
Bank teller, Banker, Loan processor, Mortgage consultant, Investment representative, Credit analyst, Investment banker, Relationship manager, Financial advisor, Financial analyst, Asset manager, Underwriter, Internal auditor, Investment banking analyst, Loan officer.
Indeed. (2021). Types of Banking Jobs (With Salary Expectations). indeed.com
 Marketing
Account coordinator, Business development coordinator or specialist, Content creator or producer, Digital marketing coordinator or specialist, Event marketing coordinator or specialist, Event planner, Inbound marketing specialist, Marketing assistant, coordinator or specialist, Marketing research associate, coordinator, or specialist, Media assistant, Merchandising coordinator specialist, Public relations assistant, coordinator, or specialist, Social media coordinator or specialist, Sales associate, coordinator or representative, Telemarketer.
Management
Assistant administrator, Assistant manager, Management associate, Management trainee, Office manager, Program manager, Project coordinator or manager, Shift supervisor, Team leader/team lead.
Accounting
Accounting assistant, Accounts payables coordinator, Accounts receivables coordinator, Auditor, Billing specialist, Bookkeeper, Budget analyst, Payroll coordinator, Staff accountant.
Finance
Bank teller, Collections agent, Credit analyst, Financial analyst, Financial services representative, Loan officer, Loan processor or reviewer, Income tax preparer or advisor, Personal banker, Proof operator (bank environment).
Human resources
Benefits coordinator or specialist, Human resources assistant, Human resources coordinator or specialist, Leave administrator, Recruiter, Staff development coordinator or specialist, Trainer.
Gormandy White, M. (2021). Common Job Titles for Business Administration Degree Graduates | LoveToKnow. lovetoknow.com