Since launching in 2011, the platform, which allows users to stream live broadcasts of video gameplay and other live content, has become big business with over 2 million streamers broadcasting monthly. With viewership rising in tandem with the growing popularity of esports, Twitch now dominates the video game streaming industry and offers top gamers the chance to earn six-figure incomes.
Streamers, who can provide live audio commentary over their gameplay and interact with chats from viewers, can make money through a variety of sources on the platform, including advertisements, paid subscriptions, and small donations called Bits and Cheers. We wanted to know which streamers were the highest earners and where around the world they're based. We used TwitchTracker to calculate the annual subscription revenue of each user and TwitchStats to calculate their annual donation income (Bits and Cheers).
So, who are the highest-paid Twitch streamers in the world? Read on to find out.
Key Findings:  
xQcOW is the highest-earning Twitch streamer, with an estimated $1,984,001 in annual revenue.
Streamer DarksydePhil earns $35 in donations per subscriber — over $13 more than any other Twitch streamer.
Most of the top streamers are located in the United States, which is home to approximately one in five Twitch viewers.
The highest-earning Twitch users primarily stream Minecraft, Call of Duty, Grand Theft Auto V, Counter-Strike, and Fortnite.
Who are The Highest-Paid Twitch Streamers in the World?  
The bubble chart below plots out the 20 highest-earning Twitch streamers. As you can see, the share of revenue generated from each income source varies from streamer to streamer. While 12 of the 20 highest earning streamers earn at least 80% of their income from subscriptions, some earn more from ads and donations. User auronplay, for example, earns roughly half of his income from ads.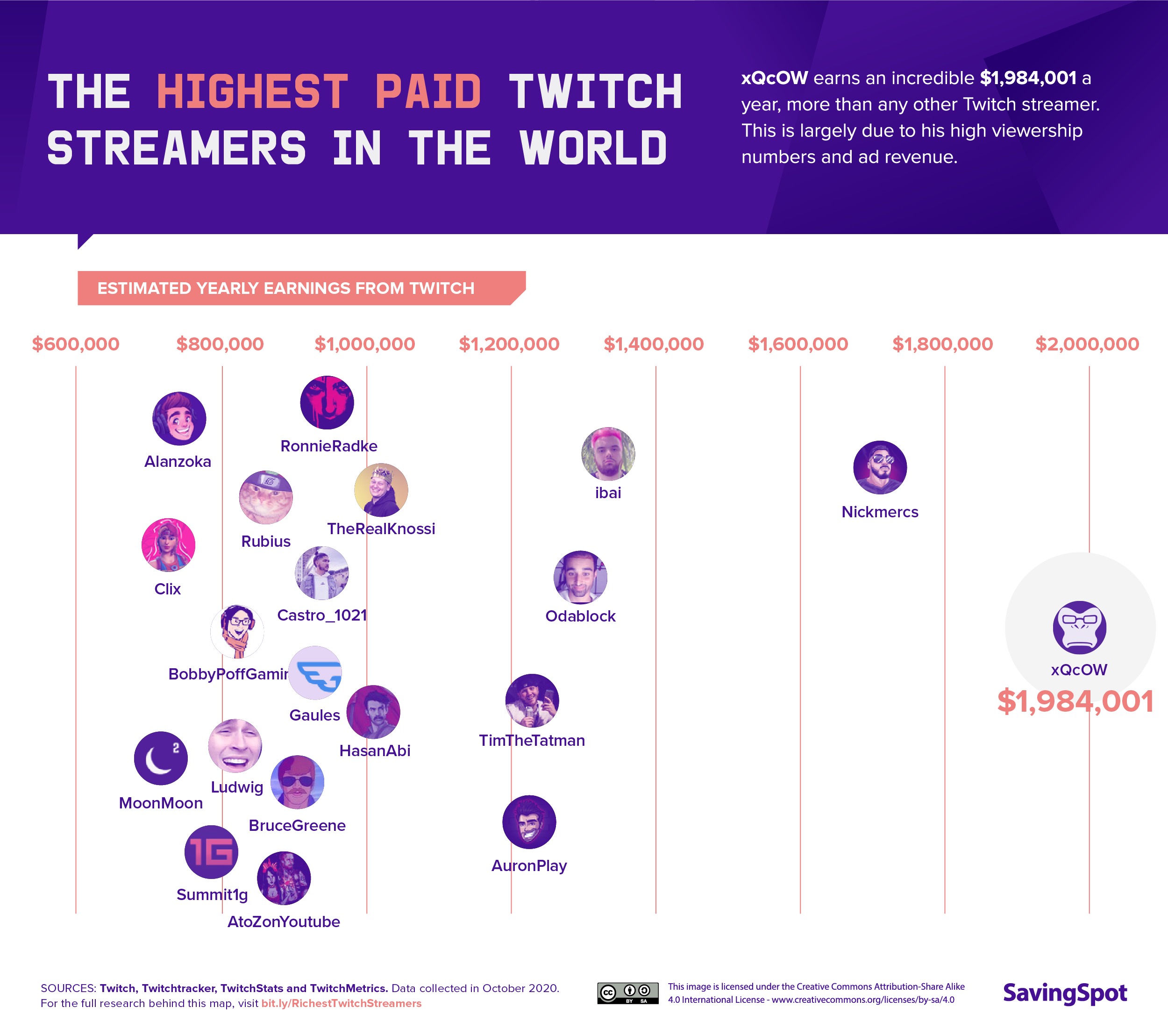 Odablock, the 4th highest-earning gamer on Twitch, earns 14% of his income from donations, the largest share amongst the top 20 streamers. On average for all streamers, 80% of their revenue comes from subscriptions, 16% comes from ads, and 4% comes from donations.
Where Around the World are the Highest-Paid Streamers Based?
Twitch allows its users to build a huge following from anywhere in the world with an internet connection. Some 14 of the top 20 highest-paid Twitch streamers are based in North America, while the rest are based in Europe and South America.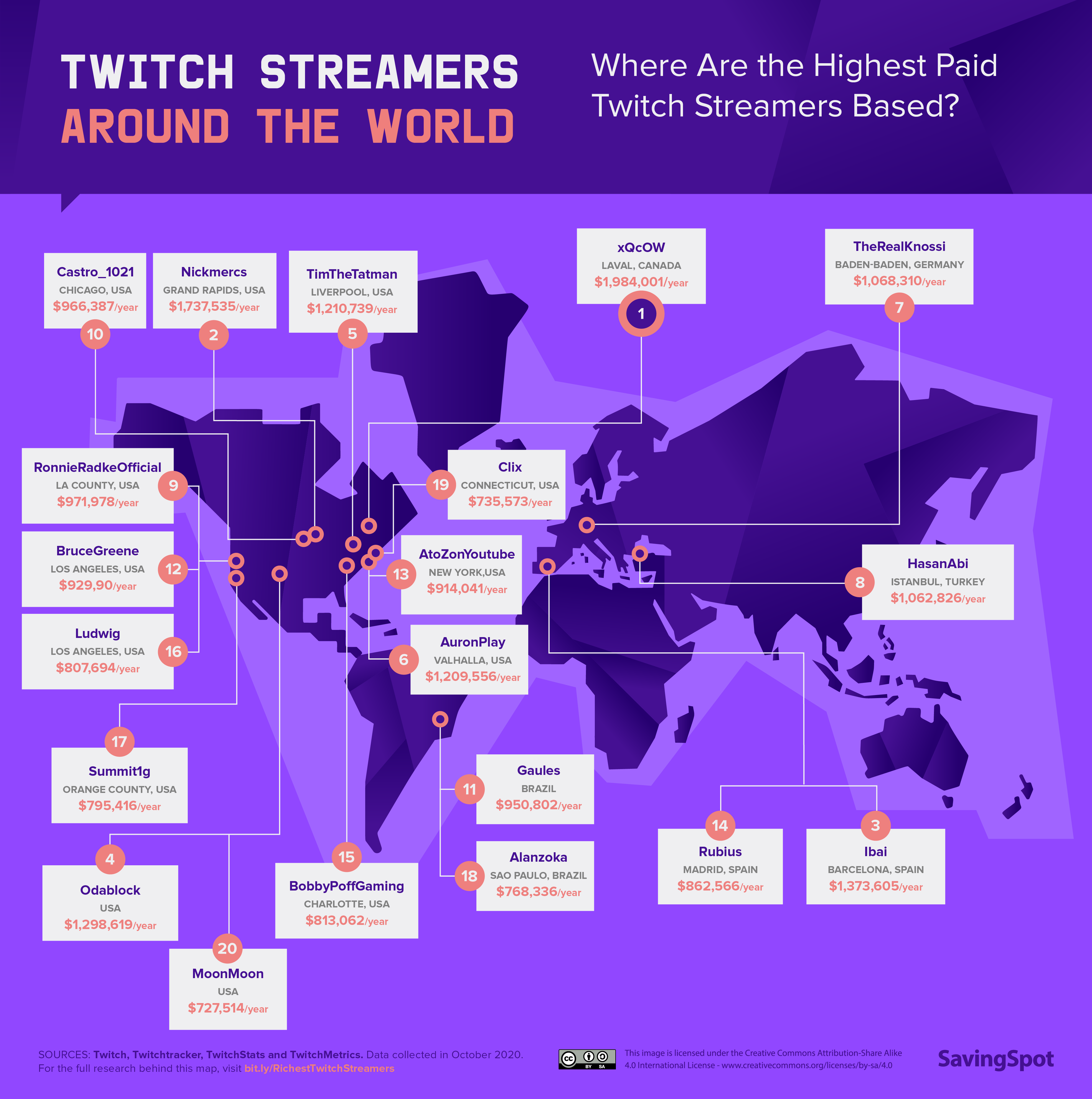 Germany, which has the second-largest Twitch viewership of any country after the United States, is home to two of the top 20 streamers: #7 MontanaBlack88 and #10 TheRealKnossi. And while Spain does not have a relatively large Twitch viewership, it is home to three of the top 20 streamers: #3 Rubius, #6 reborn_live, and #8 TheGrefg. The most remote streamer is buster, who is located in Russia and ranks as the 19th highest-earning Twitch user.
Who Are the Top Streamers for the Biggest Games?
VALORANT, League of Legends, Fortnite, Counter-Strike, Grand Theft Auto V and Call of Duty are the most streamed games on Twitch. VALORANT is one of several free-to-play first-person shooters to rank among the most-streamed games. The top streamer for VALORANT is summit1g, who is perhaps best known for his time playing Counter-Strike: Global Offensive.
Many of the top League of Legends channels stream tournaments and other competitions. The top individual League of Legends streamer is loltyler1, who was banned from the game temporarily from April 2016 to January 2018. The most-popular human streamer of Counter-Strike is gaules, a former player who provides commentary on tournaments and matches.
Who Are the Top Female Earners?
By far, the highest-earning female streamer is pokimane, who earns an estimated $550,060 a year. In addition to Twitch, pokimane has an active following on Youtube. After pokimane is amouranth, who earns an estimated $84,599 a year, and then lilypichu (who streams alongside pokimane on the YouTube channel, OfflineTV), who makes $339,354.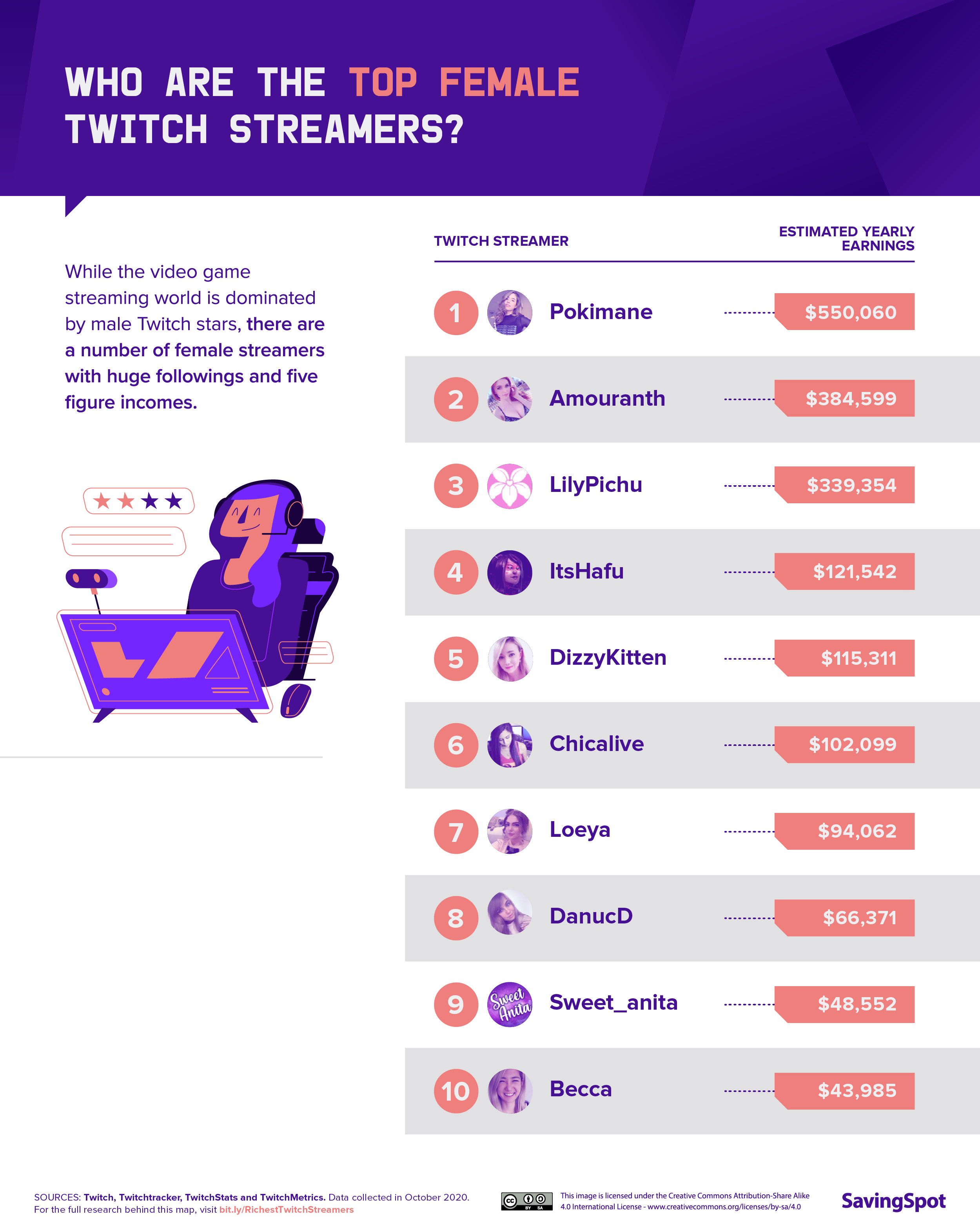 While the highest-earning streamers of any gender earn a majority of their revenue from ads, many of the top female streamers earn high incomes from subscriptions and donations. Among the top 10 female streamers, 70% of revenue comes from subscriptions, 23% from ads, and 8% from donations.
Which Streamers Earn the Most Subscription Revenue?
Streamer xQcOW can boast the highest earnings from subscriptions, with an estimated total of $1,595,167  a year from 55,246 subscribers. Not far behind is NICKMERCS with earnings of $1,373,397. The bulk of subscription revenue comes from $4.99 Tier 1 subscriptions. Some streamers, however, have outsized shares of revenue from more expensive Tier 2 and Tier 3 subscriptions.
Streamer ronnieradke for example, earns 4.1% of his subscription revenue from $24.99 Tier 3 subscriptions, more than three times the 1.3% average across the 10 streamers with the most subscription revenue. NICKMERCS earns 2.2% of his subscription revenue from $24.99 Tier 3 subscriptions, the second largest share of the top 10.
Which Streamers Earn the Most from Ads?
For most streamers, advertisements are a lucrative source of income on the Twitch platform.
Advertising revenue is directly tied to viewership, so streamers with the largest fan base tend to have the most ad revenue.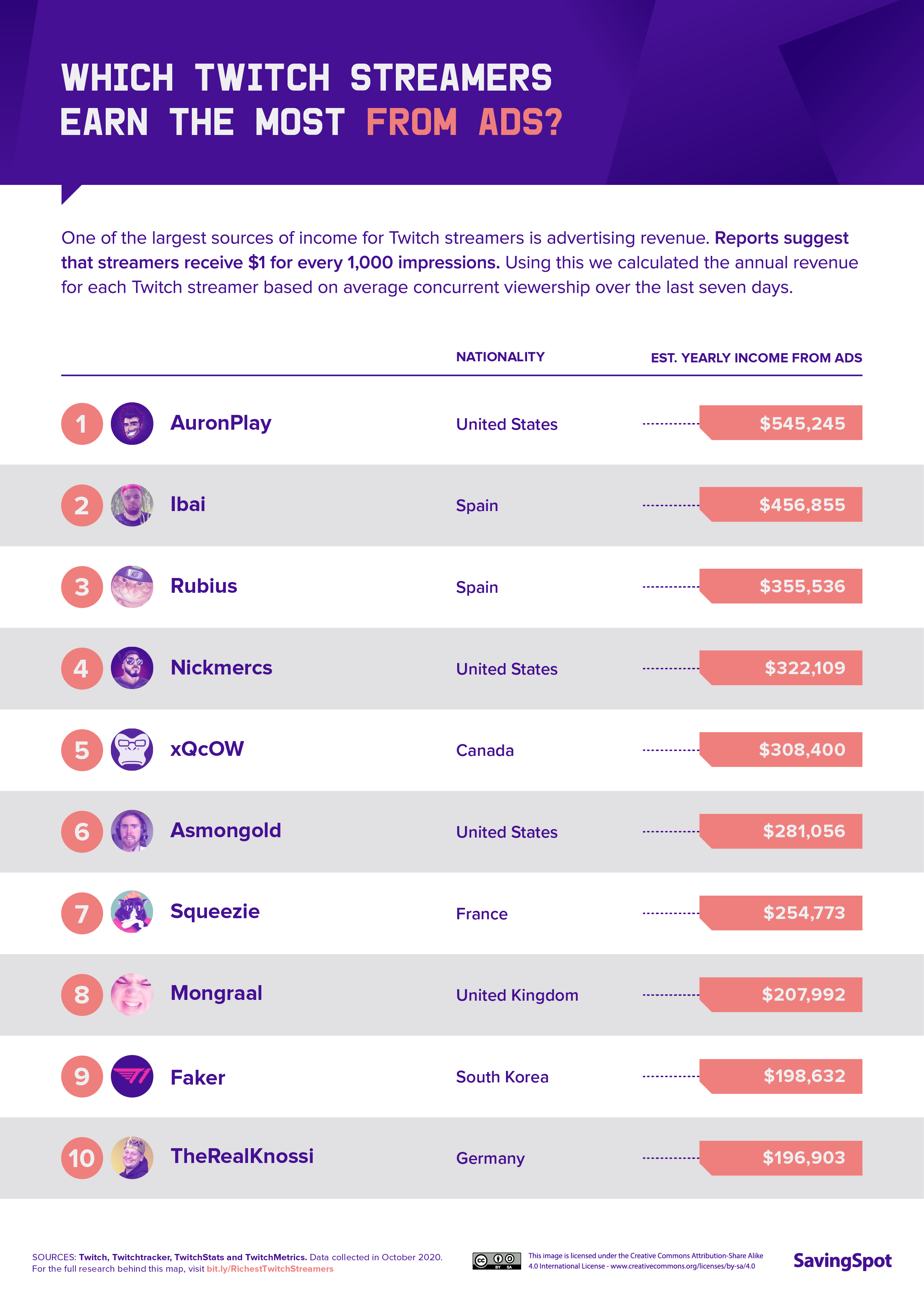 AuronPlay, who averages 87,379 viewers per stream, earns an estimated $545,245 in ad revenue a year — the most of any streamer.  Second place is Ibai, who averages 73,214 viewers per stream and earns an estimated $456,855 in advertising revenue a year.
Which Streamers Have the Most Donations From Bits and Cheers?
Bits and Cheers are virtual currencies that Twitch users can use to donate money to their favorite streamers. While donation income is the smallest source of revenue for most of the top streamers, there are several Twitch users who are able to earn over $100,000 a year from Bits and Cheers alone.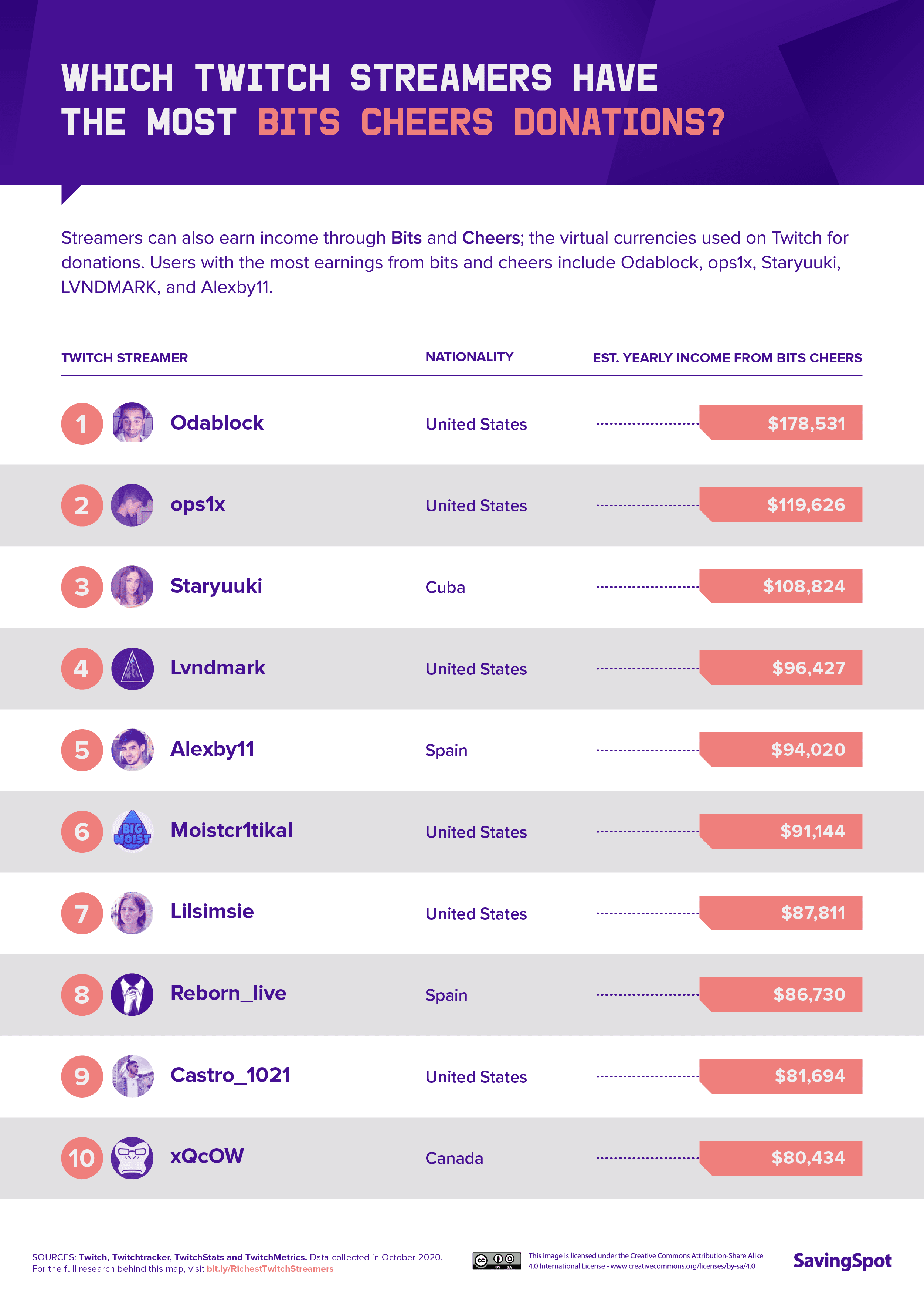 Top of the pile here is Odablock, whose donation income accounts for 14% of his total estimated Twitch revenue. Donation income accounts for 8% of estimated Twitch revenue for Castro_1021, the second largest share amongst the top 20 Twitch streamers overall.
Who Are the Most Invested Streamers?
Looking at donation income per subscriber, we can see which streamers have the most dedicated fans. While DarksydePhil doesn't rank within the top 100 highest-earning streamers, he earns $35 in Bits and Cheers per subscriber — by far the most of any streamer.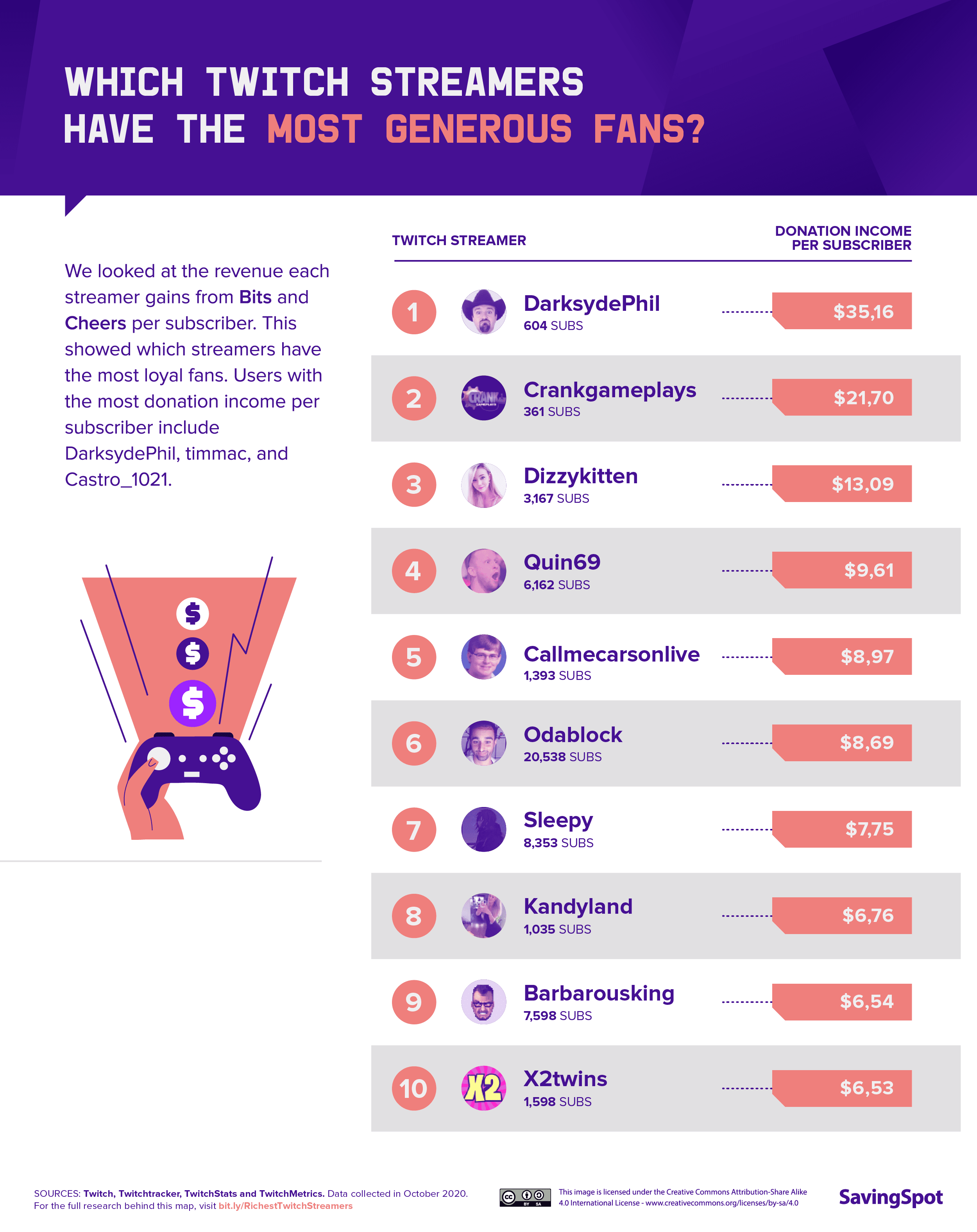 While male gamers dominate the list of the highest-earning Twitch streamers overall, two female streamers — DizzyKitten and Kandyland — rank among the top 10 streamers with the most invested subscribers.
Twitch offers gamers the potential to earn huge incomes through a variety of sources. Whether users cultivate a large viewership with tens of thousands of viewers per stream, or smaller, more dedicated fan bases that donate large sums through Bits and Cheers, the opportunity to earn over six figures is there.
And as Twitch continues to grow, the opportunities for gamers to gain fame, fortune, and legend status will only get larger.
Data on the number of current subscribers by subscription tier as of May 2020 was collected from TwitchTracker and used to calculate annual subscription revenue. Data on Cheers and Bits earnings for February, March, and April 2020 was collected from TwitchStats and was used to calculate annual donation income. Data on average concurrent viewership over the seven days ending June 2, 2020, was collected from TwitchMetrics and was used to estimate annual ad revenue, assuming a $1 effective cost per 1,000 impressions (eCPM). Subscription revenue, donation income, and estimated revenue were totaled to calculate total annual earnings.
Company accounts such as Blizzard, Nasa, and Rocket League were not included in our analysis. Instead, we focussed on independent Twitch accounts run by a single streamer. In our analysis of top streamed video games, the "Just Chatting" platform was excluded.
All data was collected in June 2020.  For the full research behind this map, visit bit.ly/RichestTwitchStreamers.