Travelers around the world are rediscovering the simple, affordable pleasures of a stay in a budget hotel.
Global interest in budget hotels is up 20%, according to a new report from Expedia, as "nearly a quarter of global travelers plan to be more frugal in 2023." The desire to escape the coop, post-pandemic, has coupled with the economic conditions that make a low-cost stay a smart way to get away.
And boosted by a generation of TikTok influencers accustomed to living life to the full on a modest budget, budget hotels aren't just popular right now — they're positively trendy. After all, "fewer stars don't equal lower standards," as Expedia emphasizes. "Many properties still offer excellent amenities, stylish interiors, and unique vibes…just at lower rates."
Of course, whatever the end of the scale you book, your hotel experience will depend on the condition, crew and clientele of the place where you stay. So, following our guide to the cheapest luxury hotel in every state, CashNetUSA has analyzed the TripAdvisor ratings for thousands of budget hotels in global capitals and major North American cities to reveal which ones offer the greatest pleasures of all.
What We Did
CashNetUSA identified the cost of a one-night, two-person stay on TripAdvisor for hotels in capital cities around the world and major U.S. and Canadian cities — using the same date of booking as a price reference point for each hotel.
We designated those in the bottom 10% for price to be budget hotels and ranked those with at least 50 reviews based on their percentage of five-star reviews.
Key Findings
The Holiday Inn Express Beijing Badaling in China is the world's highest-rated budget capital city hotel, with 98.20% of its reviews being five stars.
Hotel Hive in Washington, D.C., is the highest-rated budget hotel in the U.S. — nine out of 10 reviews are five stars.
The Victoria Inn Tbilisi is Europe's top capital city budget hotel, with 92.42% of reviews being five stars.
Premier Inn New Southgate Hotel is the best budget hotel in London, with 74.29% of reviews being five stars.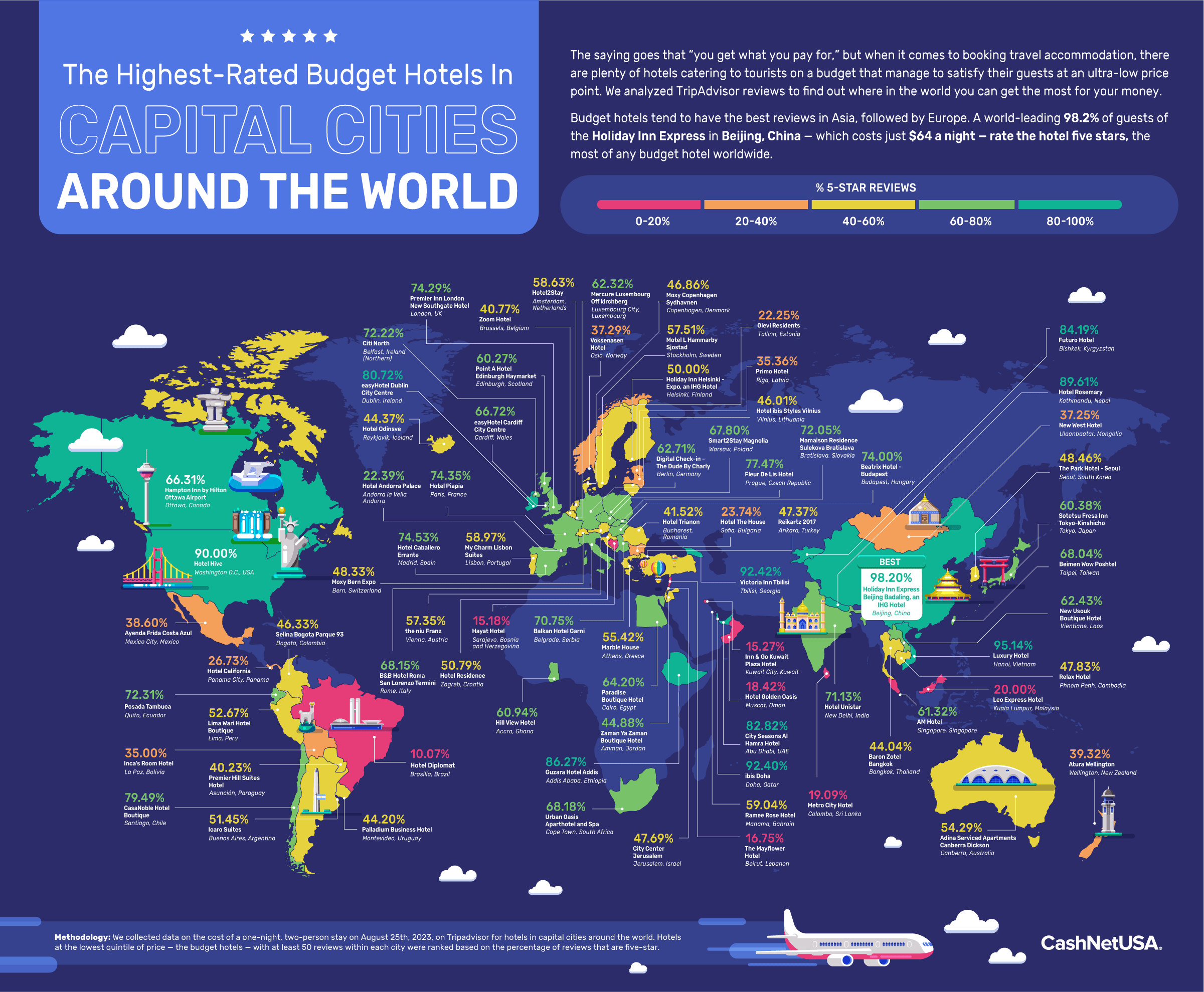 Click here to see the image in full size
Bee-Themed D.C. Hotel is America's Best Budget Spot
Nine out of 10 visitors to the Hotel Hive in D.C. rate it a perfect five. Inspired by the structure of the beehive (although each room is unique), the hotel's smart use of space allows them to pass savings on to the guests — while delivering chirpy perks, such as free accommodation for pets. "Cool, chic spaces in a convenient part of the city. Staff was all very friendly and attentive to any questions or needs we had," writes one reviewer. "Also nice that it was accommodating for our pup."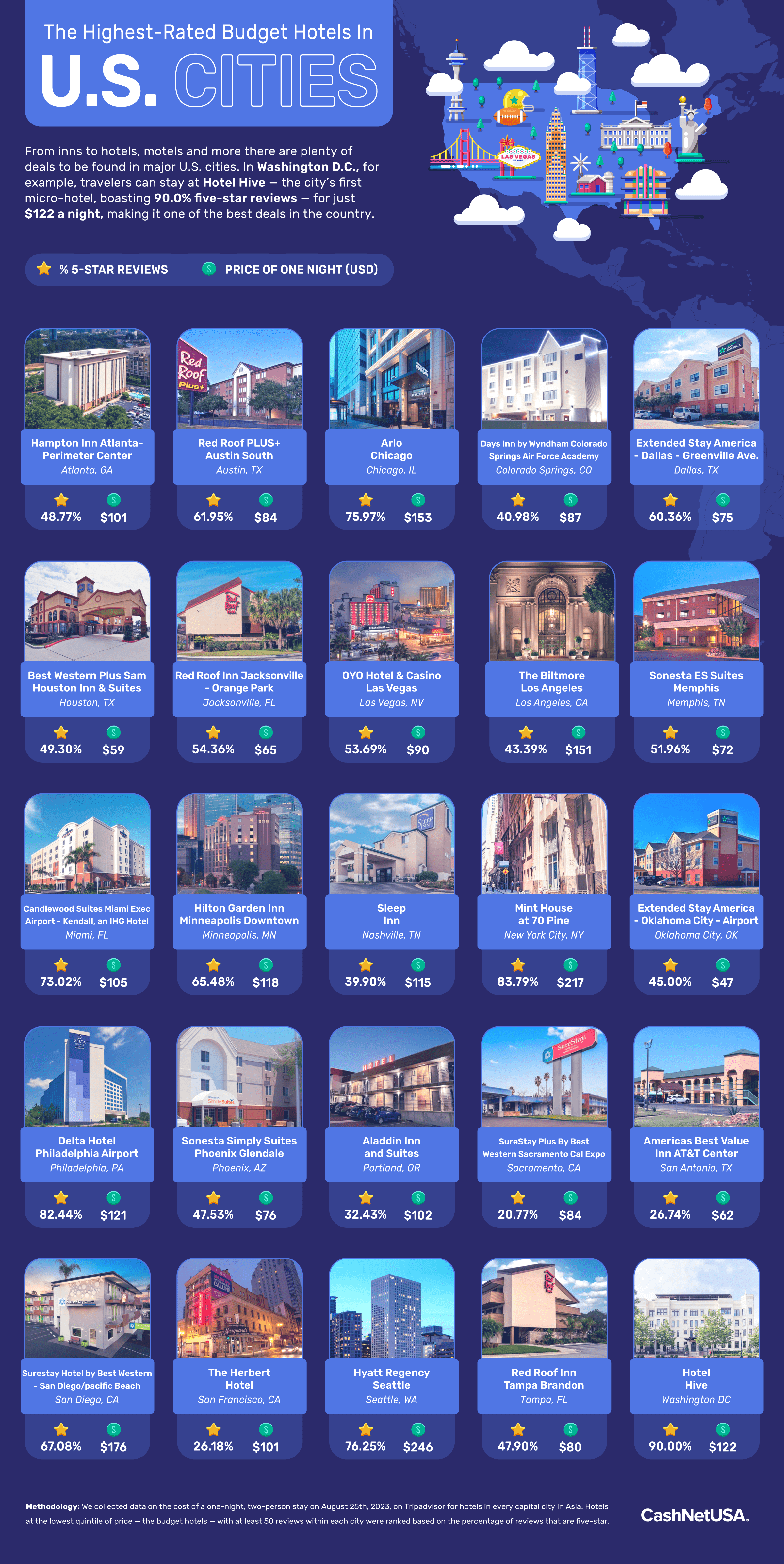 Click here to see the image in full size
New York City's best budget hotel is a little costlier than the Hive. But Mint House at 70 Pine offers Instagram-ready designer interiors, a third-wave coffee shop, a fast-casual scratch kitchen and a Michelin-starred restaurant in an art-deco era skyscraper in Lower Manhattan. A separate store in the basement offers a cheaper but no less convenient way to grab a bite on your budget stay.
Canadian Budget Hotels Get Lower Ratings
Canada's big city budget hotels don't fare as well with the reviews. Even Canada's top-rated hotel, Hampton Inn by Hilton Ottawa Airport, receives five stars from just two-thirds of visitors — although it has 4.5 stars overall. The written reviews back this up, testifying to a generally satisfying, rather than mind-blowing, experience: "Our stay was great, loved the setup of the room. Bed was very comfy. Room was very clean. Internet was good, fast. Breakfast was nice, have a good assortment of food," reads a typical write-up.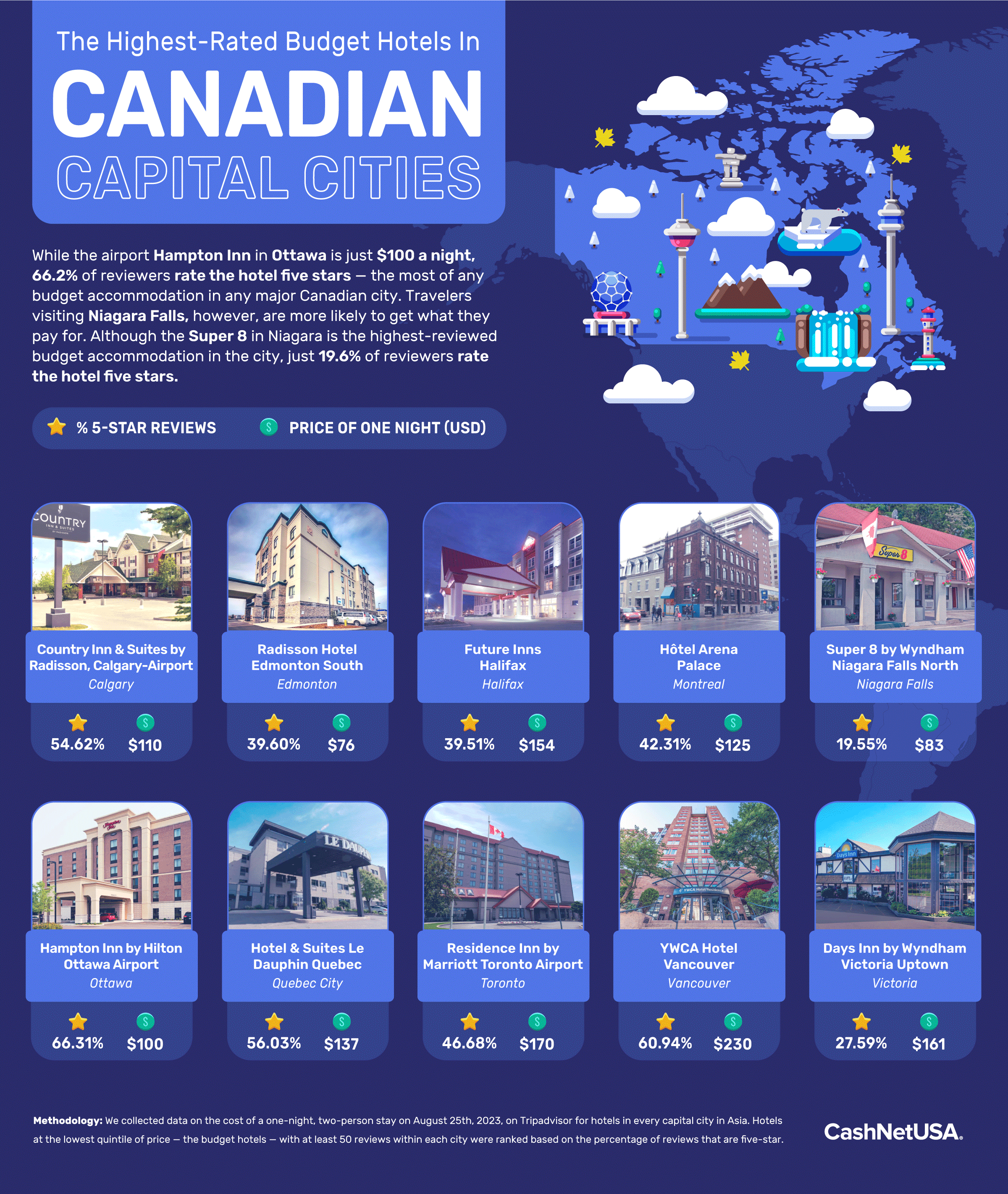 Click here to see the image in full size
Super 8 is the archetypal budget hotel brand, having been named for its original 1974 fixed room price of $8.88. Today, Super 8 maintains more premises than any other budget brand, and its Wyndham Niagara Falls North is the highest-rated in that city. "We upgraded to a room with a fireplace and a jacuzzi tub which both worked wonderfully and it made up for the old furnishings and dated room," writes Laurie B. "So if you are looking for great value and location and are not looking for luxury, this may be a good place for you."
Georgian Inn is Europe's Best Budget Hotel — and Costs Under $50
It costs just $43 for two people to stay in Europe's best budget hotel, situated on the outskirts of the beautiful Georgian capital, Tbilisi. The Victoria Inn is particularly suitable for families, writes one reviewer, "since they have an open kitchen where I was able to cook food for my daughters any time and the construction of the hotel is very well done because when my daughters were noisy during the night, none of the neighbors or other hotel guests were bothered." The Victoria Inn commands a five-star review from 92.42% of its guests.

Click here to see the image in full size
Revenues at Travelodge in the UK surged by 62.6% between 2021-22, reflecting the fact that half of all Brits intended to holiday locally under the present economic conditions. But a rival of Travelodge rules the roost in the capital. We found that around three-quarters of visitors to the Premier Inn New Southgate Hotel in the far north of London give it a perfect report. A "lovely, immaculately clean hotel with outstanding staff who cater to your every need with a smile," according to the punters. "Comfortable rooms and beds with a great breakfast and a good evening meal too." The parking and the food at the hotel are also reported to come at a good price for the location.
Personally Decorated Chilean Hotel is South America's Best Bet on a Budget
The CasaNoble Hotel Boutique in Santiago, Chile, is South America's top-rated capital city budget hotel. It is also "Santiago's Cutest Hotel Hideaway," according to travel writer Kay Rodriguez, who praises the "hotel's sleek design, gorgeous location in an old mansion, and pretty interior décor" — the owner, Rocio Valdes, is an architect and designer by trade. "The bed was super comfortable, the windows were big and bright, and I loved that the hotel toiletries came in bulk and NOT in tiny, single-use plastic containers," says Rodriguez.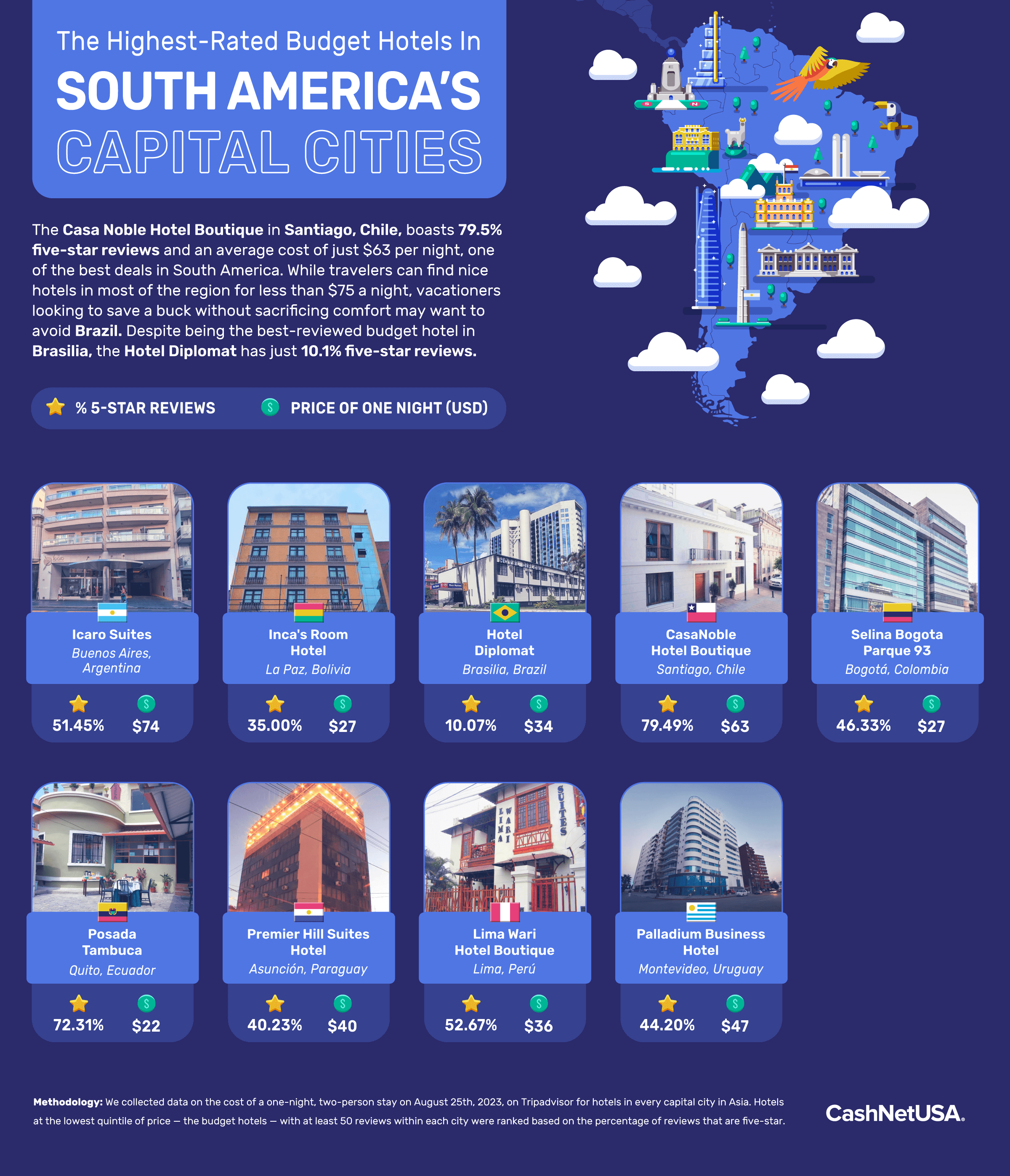 Click here to see the image in full size
Posada Tambuca in Quito, Ecuador, gives the CasaNoble a run for its money. It is the only other South American capital hotel to warrant more than 70% five-star reviews and costs just one-third of the price of its Chilean counterpart. "Definitely home away from home for me," writes one reviewer, referring to the hotel's motto. "The rooms are big, clean, comfortable. The whole family is so welcoming, they were very helpful and extremely nice."
Asian Budget Hotels Are Best of All
China's Holiday Inn Express Beijing Badaling is the top-rated budget hotel in any capital city in the world, with a near-perfect 98.20% of reviews scored at five stars. It appears to be just a very well-run regular Holiday Inn Express: "The front desk of this hotel is professional, the environment is comfortable and pleasant, the accommodation environment is clean and tidy, the breakfast is rich and delicious, the waiters are professional in operation, serious in attitude, responsible for their work, conscientious, hardworking, and hope to make persistent efforts!"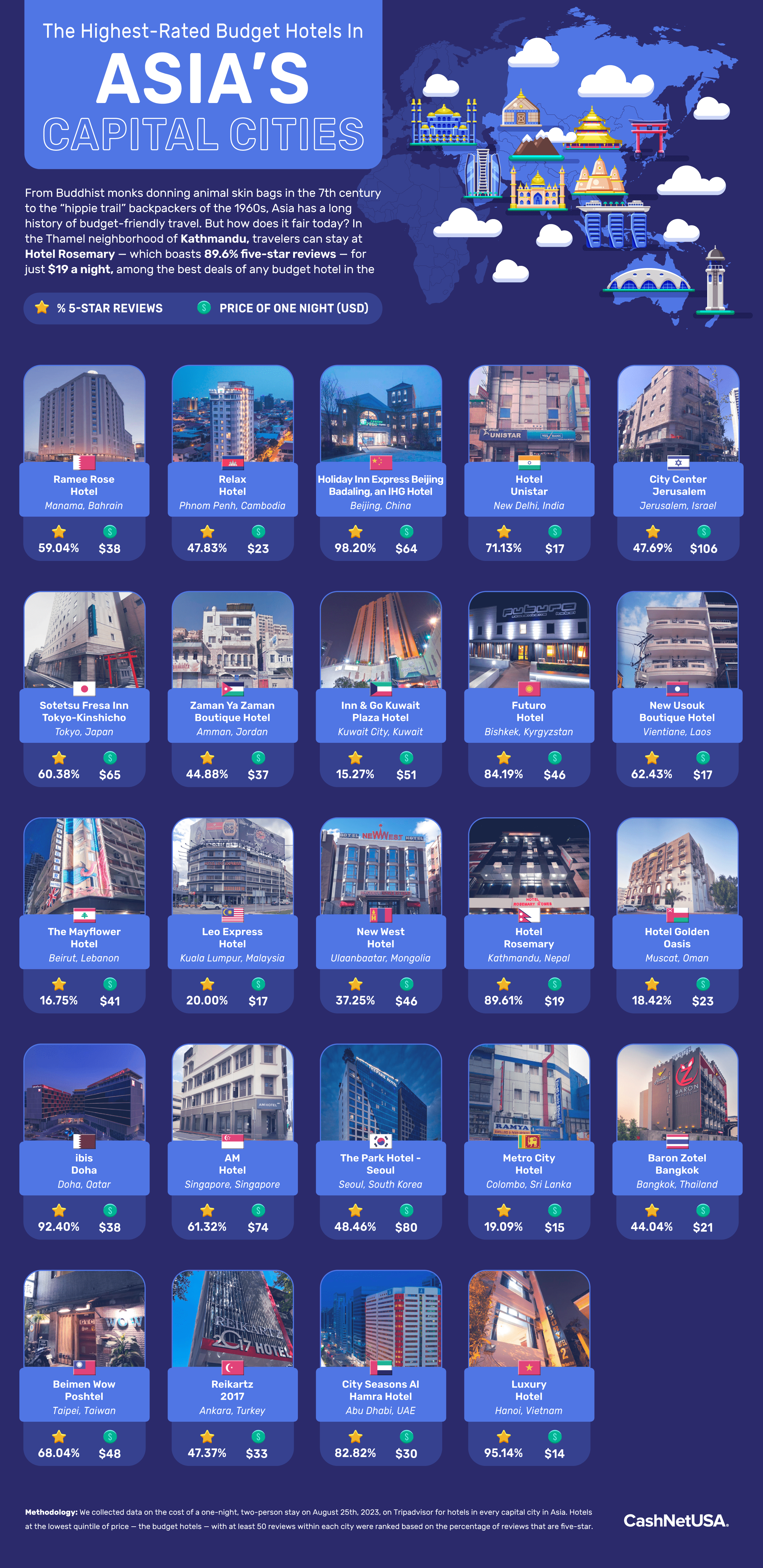 Click here to see the image in full size
Asia is home to six of the top 10 hotels in our study. The second-placed Luxury Hotel in Hanoi, Vietnam, does its best to live up to its name. "They have a great location, really nice rooms in a colonial style and a superb, friendly, helpful staff," writes a reviewer. "Located in the heart of the chaotic Old Quarter, it is a quick walk to the Lake and all the shopping, bars etc. The staff went out of their way to make sure I was taken care of." Free room upgrades are a common event.
Wide World of Low Costs
Travel needn't be expensive when the thrill of the trip and a healthy curiosity for local sights and sounds. There is always a balance to be found between the quality of the stay and how much you pay, but top-rated budget hotels such as these allow you to concentrate on seeking other qualities, such as location or the environmental outlook of the venue. With travel once again a big part of our lives, it's the perfect chance to rethink the way we book and budget our vacations going forward.
METHODOLOGY & SOURCES
To determine the highest-rated budget hotels in cities around the world, we reviewed data on price and guest ratings from TripAdvisor. In every city, we collected the hotels at the lowest quintile of price, booking two-person rooms for one night on August 25th, 2023. Hotels in the bottom 10% for price with at least 50 reviews within each city were ranked based on the percentage of guest reviews that are five stars. We included the capital cities for every country and the 25 most famous U.S. cities, defined as the percentage of people who have heard of a city, as measured by YouGov.
The data is accurate as of July 2023.