Most would agree that there's no such thing as a PC superfan. There are PC obsessives — in the most positive sense — yes. But superfan?
And folks swear by their trusty Samsung phones and TVs. But do they love the brand unconditionally?
Apple, on the other hand, has legions of fans waiting eagerly for each product announcement. It's a strategy that Apple first perfected with the iMac G3. The magic combination of design, apps and technology that made Apple the first $3 trillion company in 2022.
But all of that comes at a cost for consumers. And what many don't know is that if you live in the U.S., you're lucky. Premium Apple products on the whole are more expensive everywhere else in the world apart from Canada and Cambodia.
At CashNetUSA, we figured out where premium Apple products cost the most around the world. We looked at them individually and as a group, totaling the cost for "Apple superfans" with a suite of products including an iPhone, Apple Watch, MacBook Pro, iPad Pro, Apple TV and a pair of AirPods Max. Here's what we found.
What We Did
CashNetUSA calculated the cost of being an Apple superfan by researching the price of premium Apple products in each country and combining the total. We also created separate maps to illustrate the price of each individual product in every country. Finally, we compared the affordability of these premium Apple products by calculating each product's price and the combined national totals as a percentage of each country's national net income per capita.
We defined the Apple superfan suite to include the iPhone 14 Pro Max 1TB, Apple Watch Ultra, AirPods Max, MacBook Pro 16-inch M2 Max 1TB, iPad Pro 12.9-inch M2 Cellular 2TB and Apple TV 4K 128GB. Prices were sourced in their local currency's list price, including taxes before and converted to USD.
Key Findings
Argentina is the most expensive place to be an Apple superfan, with the price of an iPhone, Apple Watch, Airpods Max, MacBook Pro, iPad Pro and Apple TV totaling $24,117.
The U.S. is the third-cheapest place to be an Apple superfan, with the above products coming to $9,794 in total.
The U.S. is the number one most affordable place to be an Apple superfan: it would cost 18% of the average annual U.S. income to pay for the suite of products listed above.
Burundi is the least affordable country for Apple products, with the superfan suite costing 10,319% (more than 100x) of the average annual income.

Click here to see the image in full size
Argentina Has the Most Expensive Apple Devices, But They're Least Affordable in Africa
The price of a suite of premium Apple products differs by $14,623 between the cheapest market (Cambodia $9,494) and the most expensive (Argentina $24,117). But sticker price is not the only economic obstacle that superfans face. Indeed, when you take local incomes into account, Argentina does not even figure among the ten least affordable markets, which we've charted here:
Click here to see the image in full size
African countries account for five of the most expensive territories but all ten of the least affordable. Burundi suffers from both low incomes and high prices: the lowest national income per capita in the world on one hand and, on the other, the superfan suite only costs more in Argentina, Brazil and Nigeria.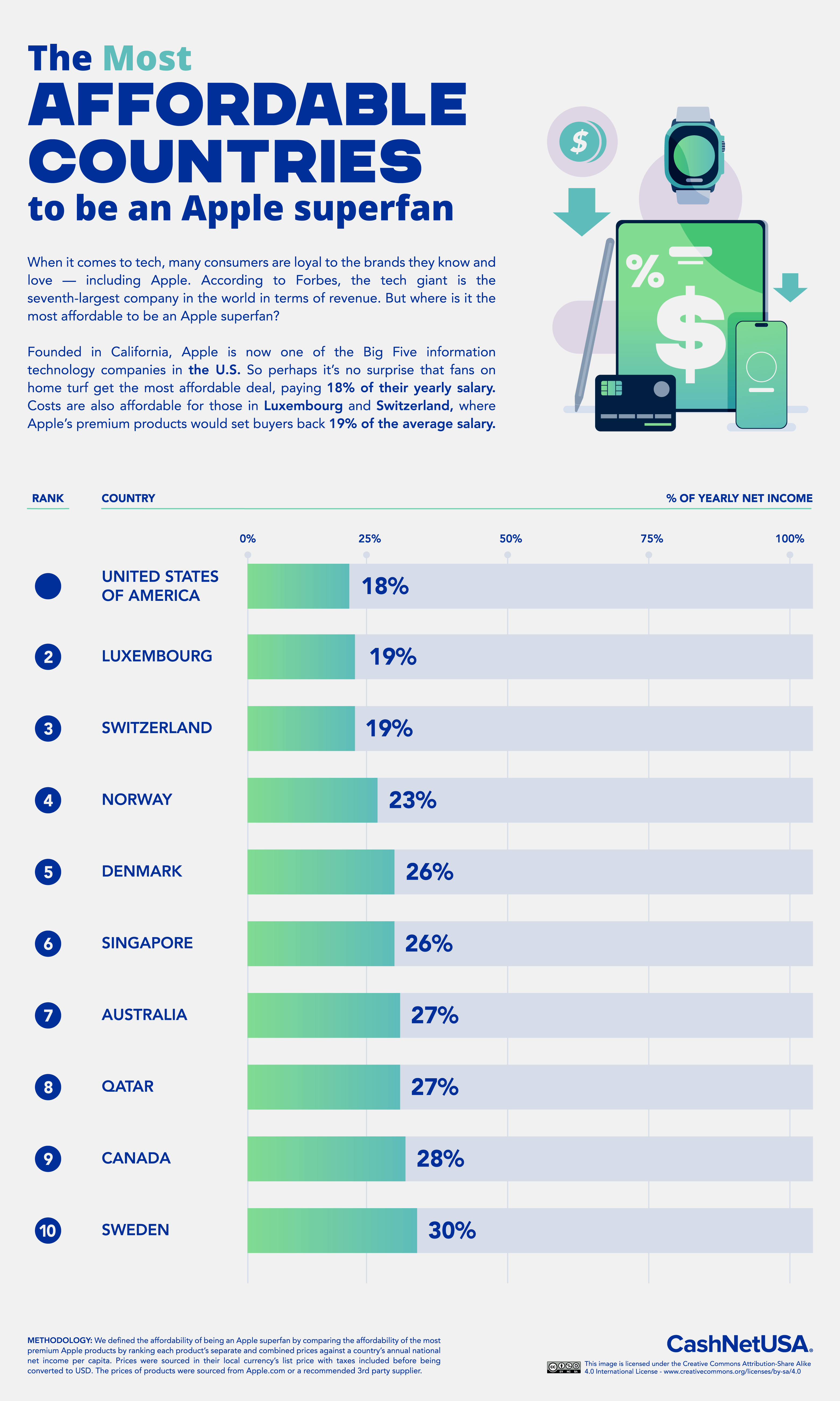 Click here to see the image in full size
Americans get the best break for Apple products, followed closely by a who's who of the world's highest-income nations. The U.S. also figures among the top five countries for adjusted net national income per capita but can mostly credit the affordability of its Apple products — particularly among those not among the 10% of Americans who "take home nearly half of all income" — to low local prices. Like many big firms, Apple bumps up the cost of its products abroad for a number of reasons, including currency hedging: allowing for fluctuations in a foreign market's currency when setting the price. Foreign taxes, including import taxes, further explain why U.S. prices look so low.
iPhone: Brits Tempted to Smuggle Cheaper U.S. Offer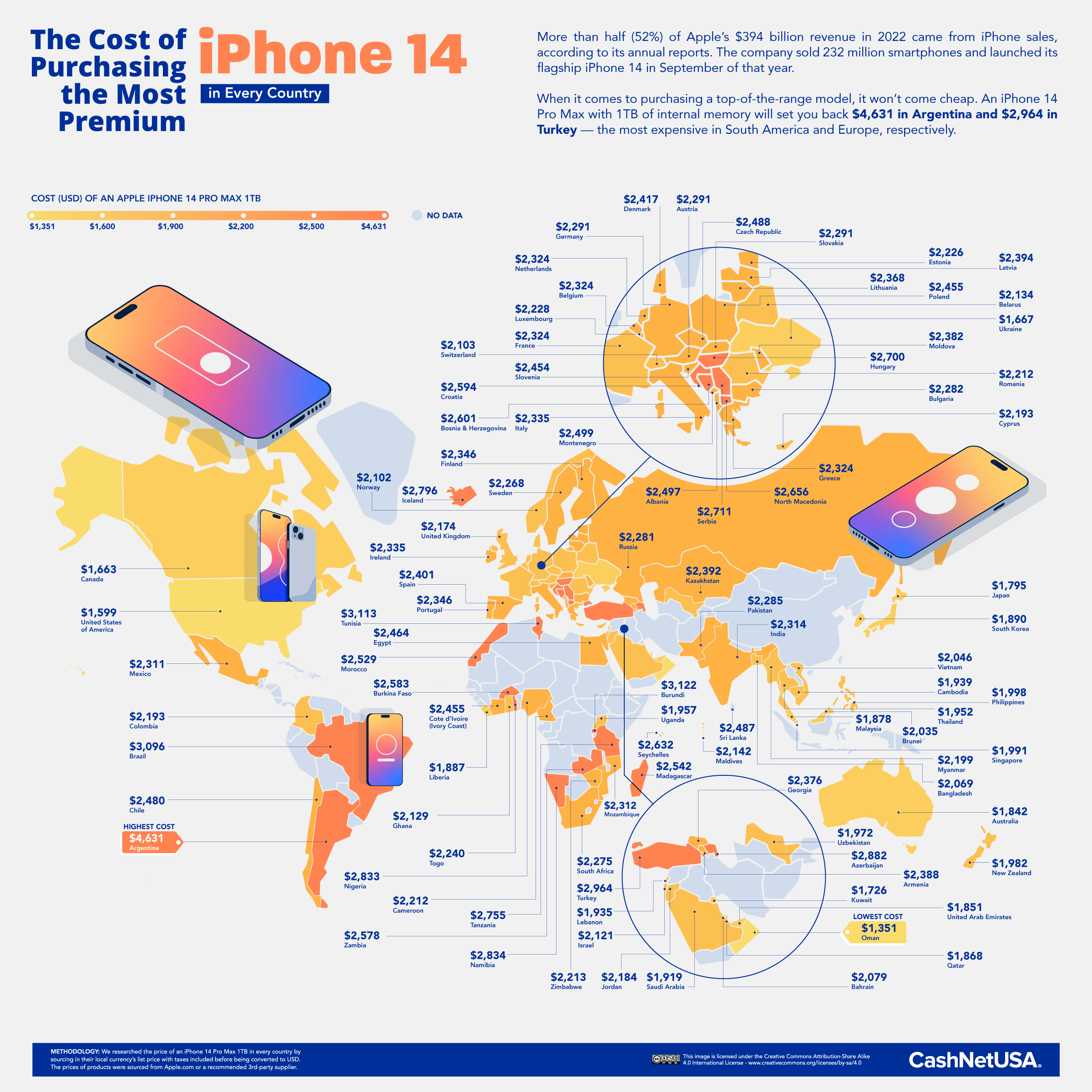 Click here to see the image in full size
"Flying to US to get an iPhone X is cheaper than buying in Europe," claimed the UK's Guardian newspaper on the launch of Apple's 10th-anniversary smartphone. "It's also illegal." The same stands today with the iPhone 14. It costs the equivalent of $2,174 in the U.K. but just $1,599 in the U.S. Sadly, while British Apple superfans might consider using the price difference as an excuse to pay for a trip to the States, they would either be hit by a hefty U.K. tax bill on their new device when bringing it back to the U.K. or find themselves guilty of smuggling.
Apple Watch: Costs 2.5x U.S. Price in Argentina and Brazil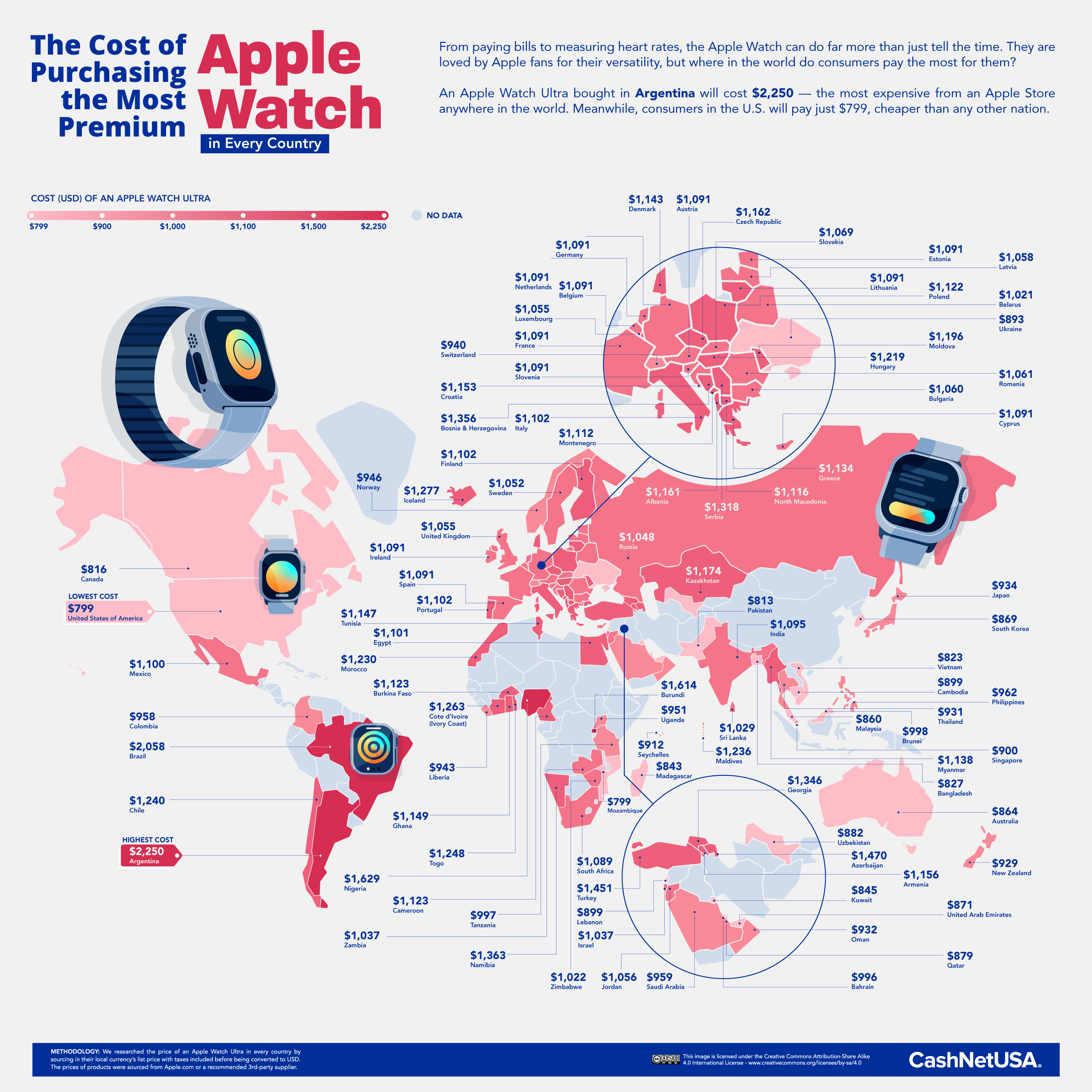 Click here to see the image in full size
In 2015, Apple followed up on its iPod and iPad double-whammy with its smartwatch, which they had to find a new name for since iWatch was already taken by companies at home and in the U.K. and China. Apple now dominates the smartwatch sector, and nearly one in three U.S. iPhone owners have one. The same cannot be said in Argentina or Brazil, where the watch costs two and a half times America's $799 price. Brazil sets particularly high taxes for electronic devices which were not produced in the country.
AirPods: Site of AirPods Xmas Commercial Prohibitively Expensive for Apple Fans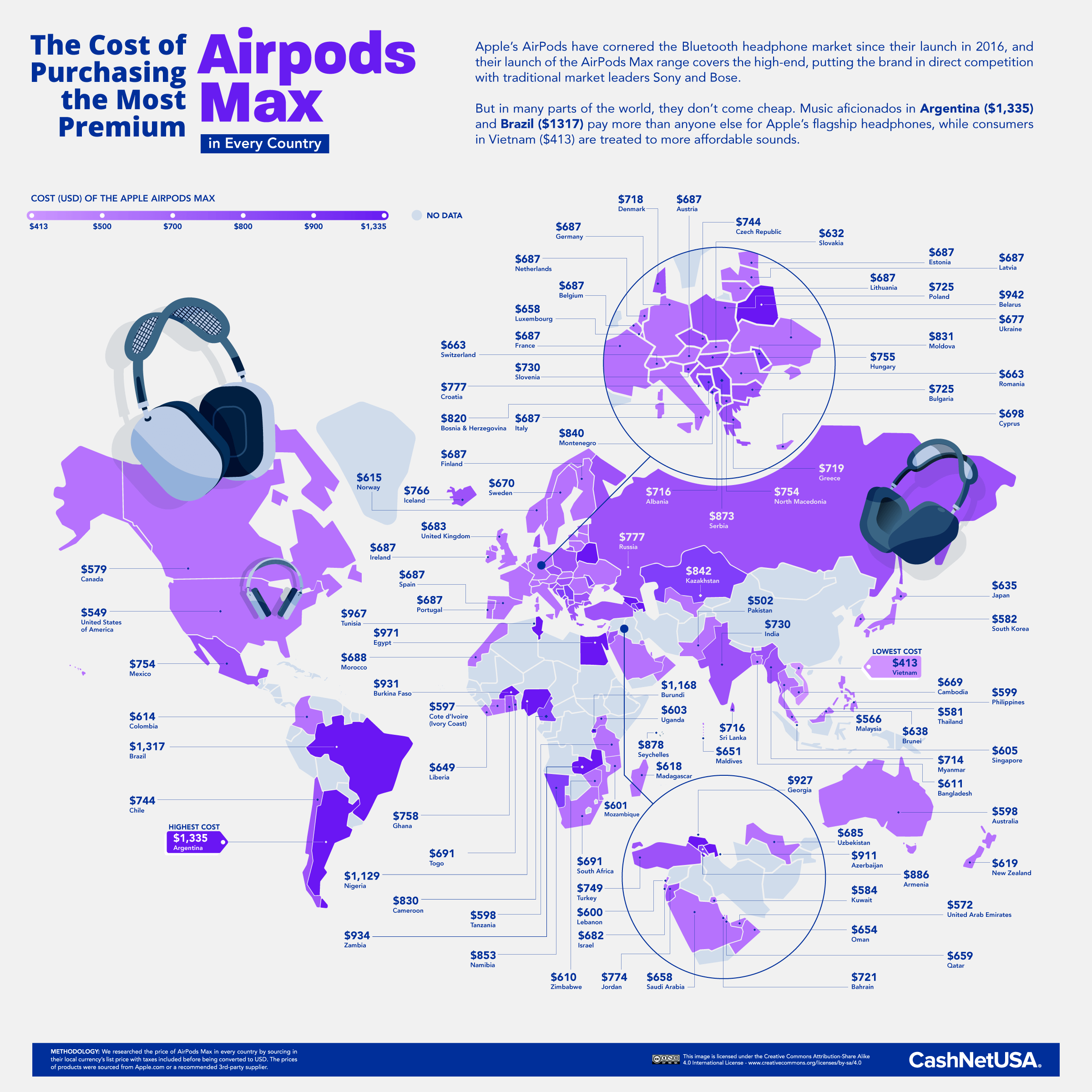 Click here to see the image in full size
Argentina has the most expensive Apple device in nearly every category and overall. This is unsurprising as imports of Apple products are restricted. Ironically, the latest Christmas commercial for Apple Airpods was filmed in Buenos Aires: the city transforms into snow around the hip young characters, which in reality is about as likely as finding affordable buds in a city where the list price (with taxes) for AirPods Max is a world-beating $1,335.
MacBook: Southeast Asia A Promising, Affordable Apple Territory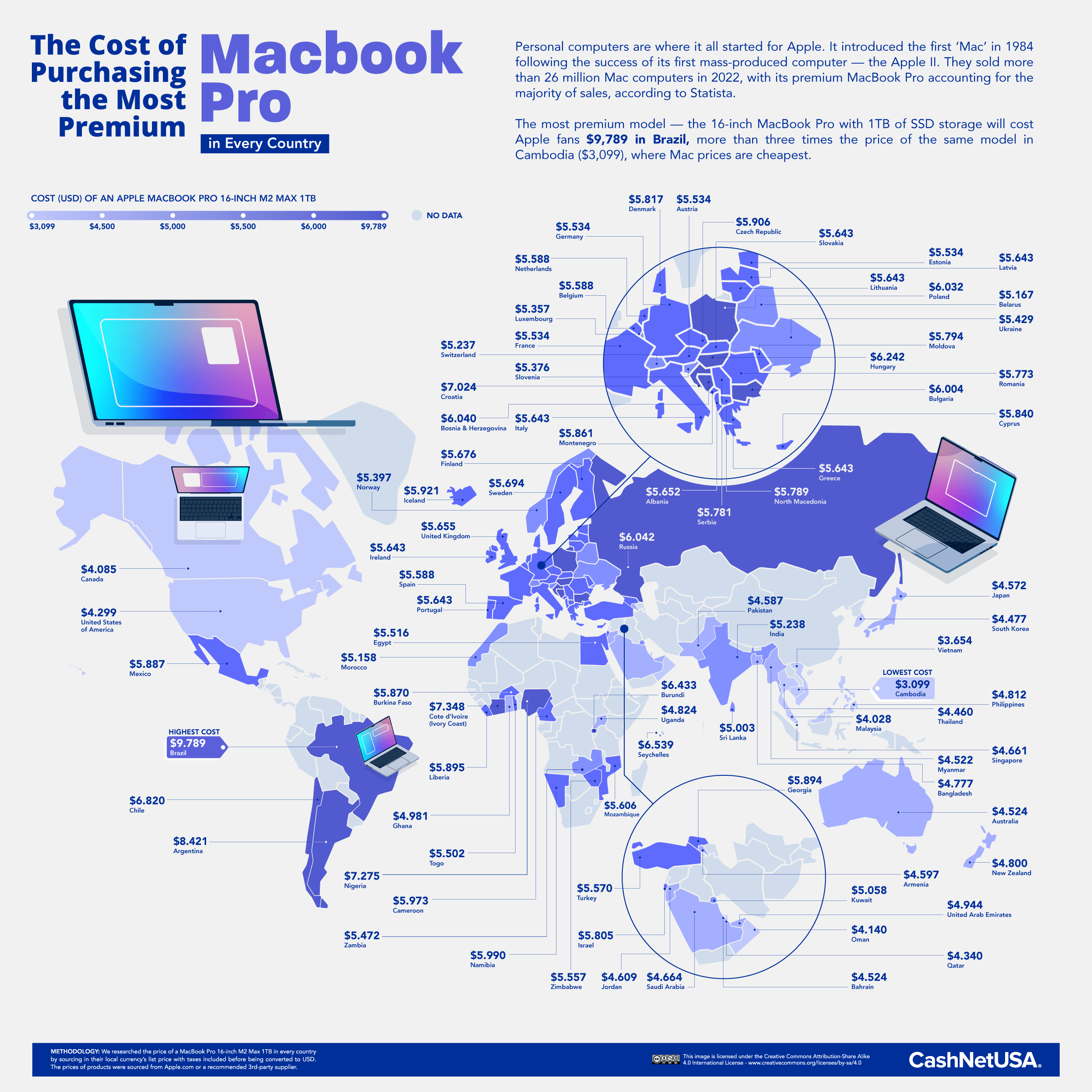 Click here to see the image in full size
The MacBook Pro is one item where U.S. prices are a little further from being world-beating: Oman, Canada, Malaysia, Vietnam and Cambodia all have a cheaper MacBook when shopping for the most premium. Apple is currently expanding its field of production in Southeast Asia in order to reduce its reliance on China. Plans to build MacBooks in Vietnam and Thailand are at varying degrees of progress, while Malaysia seems set to get its first official Apple store in the near future.
iPad: Hungarians Face Steep 'Torrent Tax' on Devices with Large Memory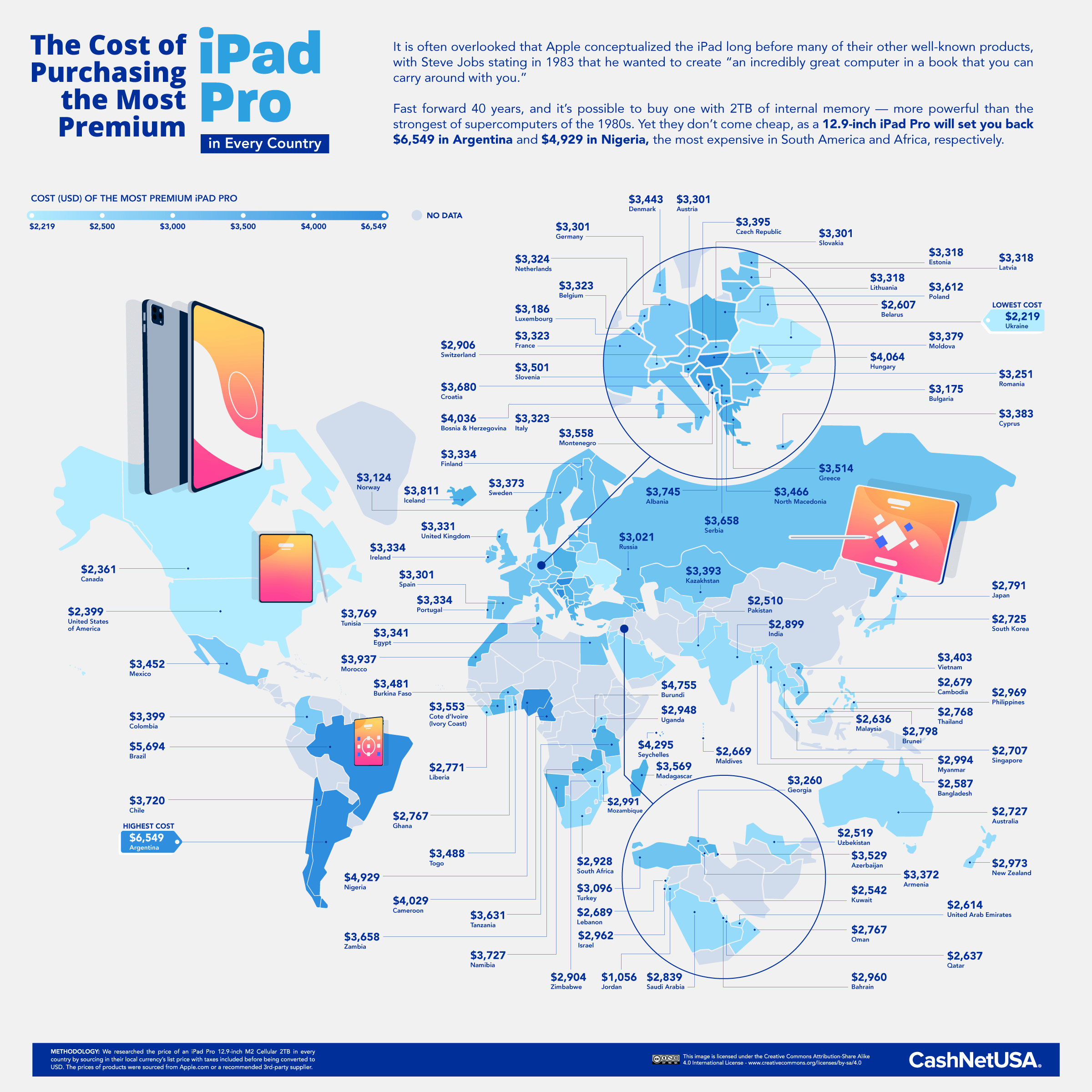 Click here to see the image in full size
The iPad quickly became hot property around the world when it blew the laptop vs. smartphone dichotomy out of the water on its 2010 release. But access has always been uneven: in China, where most iPads are made, a thriving black market soon developed to smuggle the devices back into the country: "You can pretty much determine when the first iPad arrives in China by monitoring the first flight out from the U.S. on launch day," said an Apple employee at the time. Hungary is the most expensive European country to buy an iPad today. As well as high VAT, Hungarians pay a so-called 'torrent tax' based on the storage capacity of electronics, with proceeds going to the Hungarian Bureau for the Protection of Authors' Rights.
Apple TV: Nearly 3x As Expensive in Seychelles, Nigeria and Togo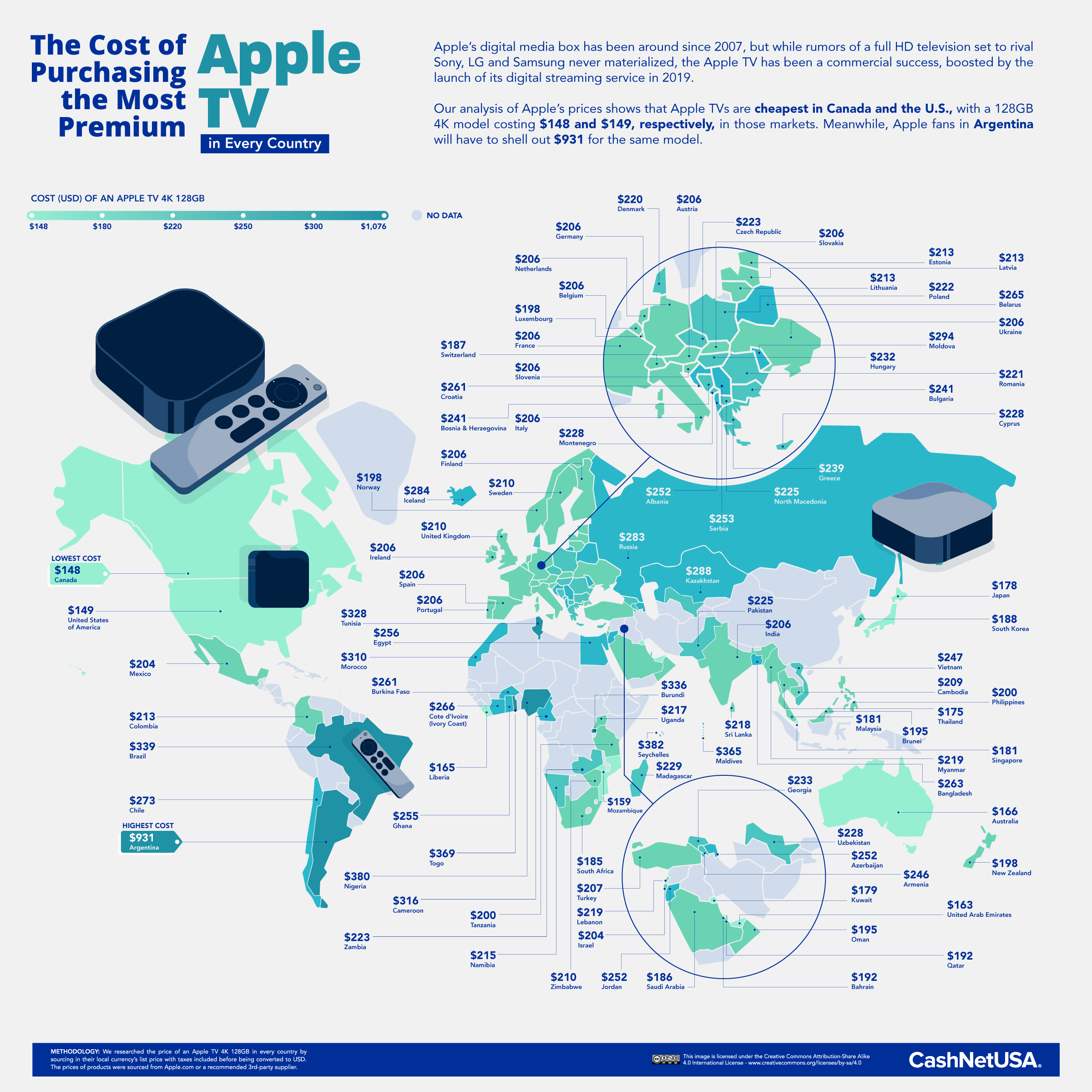 Click here to see the image in full size
When it comes to Apple TV, two African countries bump Brazil from its habitual position among the top three most expensive countries for Apple products. Both, Nigeria and Togo have a costlier Apple TV device, although nowhere near as expensive as Argentina, where it costs 2.43 times the price of second-placed Nigeria.
The Changing Market for Apples
There is one Apple device in use for every four people in the world — and as long as the company keeps developing attractive, groundbreaking products, there will be those who own more than their fair share of Apple gadgets.
However, with the shifting state of tech, changing international markets and Apple's desire to diversify its supply chain and assembly line, the affordability of Apple products in the future may not be as unevenly distributed as it is today. For now, however, you can check our full breakdown of international Apple prices and affordability in the interactive table below.
METHODOLOGY & SOURCES
We defined the cost of being an Apple superfan by researching the prices in every country of the most premium Apple products and combining them into one overall cost. The most premium products were defined as the iPhone 14 Pro Max 1TB, the Apple Watch Ultra, the AirPods Max, the MacBook Pro 16-inch M2 Max 1TB, the iPad Pro 12.9-inch M2 Cellular 2TB and the Apple TV 4K 128GB.
Prices were sourced and recorded in their local currency's list price with tax charges included before being converted to U.S. dollars. The prices of products were sourced from Apple.com or the local country suppliers thatApple's website recommends. For additional countries that lacked this information, we sourced prices from local consumer technology retailers or international marketplaces, such as Amazon.com, where international delivery charges are included.
For each country containing available pricing for each of the highest product specifications, we combined the cost into one overall price of being an 'Apple superfan.' We also compared the affordability of these products by ranking each product's separate and combined prices against a country's annual national net income per capita (source: WorldBank.org).
We omitted countries from our combined cost rankings if they did not have all six of the most premium products available to purchase. We omitted countries from our ranking of affordability that lacked information from the World Bank on annual national net income per capita.
Data is correct as of June 2023.
This is an independent publication and has not been authorized, sponsored, or otherwise approved by Apple Inc.
Apple, iPhone, Apple Watch, AirPods Max, Apple Store, MacBook Pro, Mac, Apple II, iPad, iPad Pro, and Apple TV are trademarks of Apple Inc.