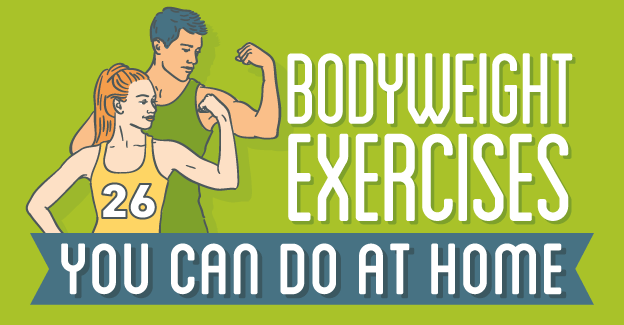 We all want to feel good about our bodies as well as enjoying the health benefits of exercise, but gyms can be expensive. Sometimes it's difficult to get out the front door to go for a run, particularly after a long day.
Here at CashNetUSA, we decided to team up with Alistair Mills, an expert personal trainer to help us develop some simple exercises you can do in your living room with absolutely no gym equipment needed. And, for every exercise, there's another exercise that will push you even further once you're feeling confident.
Only have 15 minutes? Here's an exercise routine that you can do any time of day, wherever you are!
"Getting fit at home is a fantastic alternative to gym training. Using a variety of bodyweight exercises is a great way to build your core strength and improve your fitness" –Alistair Mills
So let's get started! As Alistair says, "If you can complete 3 sets of the beginner's exercise easily, it's time to move onto the more advanced exercise."
Start With Heart: Two Cardio Exercises
We all know cardio is great for your entire body, but sometimes you don't quite feel like going for a run. The good news is that there are home alternatives that will raise your heartbeat.
"Starting with a cardio exercise will slowly lift your heart rate. Increasing your blood circulation and warming your muscles up is the perfect way to start your workout" – Alistair Mills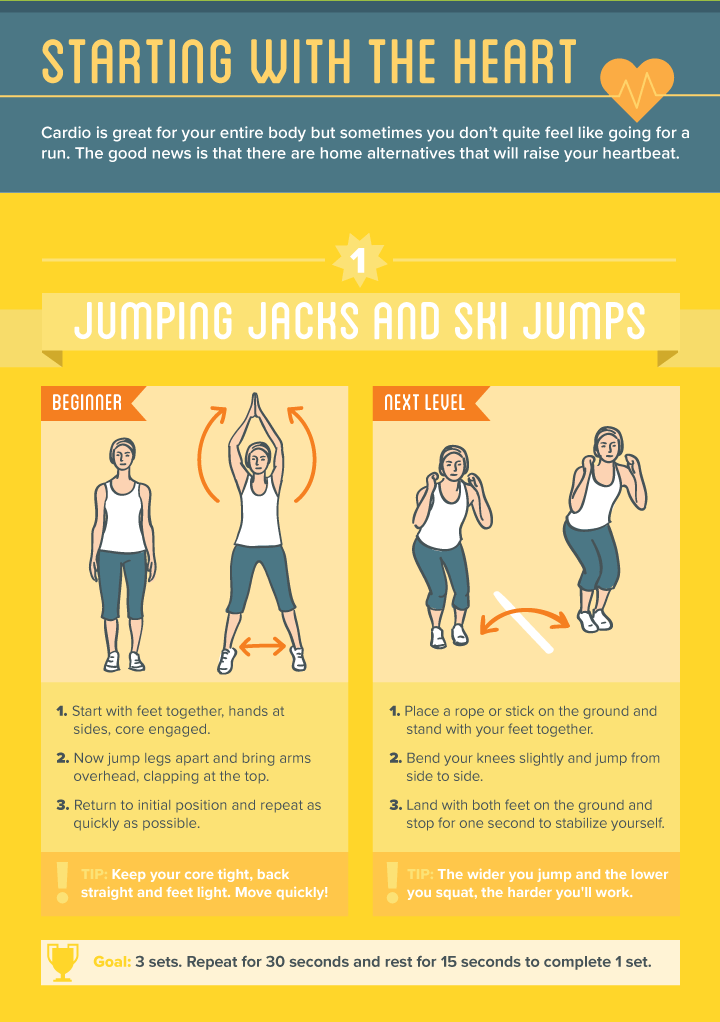 Working On Your Core At Home: Eight Core Workouts
Although sculpting a six-pack might not be at the top of the list, exercising your core is still important: it helps prevent injuries and back pain, enhances your balance and stability and improves your posture.
"Building a strong core is way to improve your posture. It's amazing how standing up straight with your shoulders back can transform your confidence and self-esteem." – Alistair Mills

Strengthening Your Upper Body: Eight Upper Body Exercises
Having toned arms and shoulders is always a nice bonus, but working on your upper body will also increase your ability to perform everyday activities such as reaching, pulling, pushing and lifting.
"These compound exercises will target your chest, shoulders, arms and back. Involving all these muscle groups will create a strong balanced physique with the added benefit of burning lots of calories" – Alistair Mills

Building Up Your Lower Body: Eight Lower Body Workouts
Concentrating only on your upper body when you work out is a mistake. Working your legs will tighten your midsection, spike up your metabolism and reverse the effects of a sedentary lifestyle.
"Make lower body training your priority and benefit from stronger, leaner, better looking legs. Building a strong foundation will help you reduce the risk of injury by giving your joints extra support"- Alistair Mills

How Did We Create This Piece?
We consulted with personal trainer Alistair Mills, asking him to curate a comprehensive set of exercises that anyone could do at home, and developed a step by step visual guide to help readers follow the exercises easily.
For the video, we asked Alistair to develop a simple routine that could be done in just 15 minutes and show us how to do the exercises correctly.
"The aim of our routine is to target all the muscle groups in one workout, this saves time and burns plenty of calories. We chose exercises that are easy to follow and produce quick results. Training 3-4 times per week will help to build an all-round, balanced physique"- Alistair Mills
Check out our comprehensive exercise guide in our infographic below:

Sources
Mills, A. 2016. Alistair Mills Fitness. Alistairmillsfitness.com
The Greatist Team. 2015. 33 Cardio-Based Bodyweight Exercises. Greatist.com
Harvard Medical School. 2012. The real-world benefits of strengthening your core. Health.harvard.edu
Bodybuilding. 2016. Bodybuilding Exercises Guide. Bodybuilding.com
McMorris Megan. 2015. The 20-Minute Workout. Realsimple.com
Buckingham, L. 2015. The baked-bean tin workout – and other cheap ways to get fit at home. theguardian.com
Embed This Image On Your Site (copy code below):