We all have to start somewhere in our careers, and an internship might just be the perfect route into your field of choice. They are an ideal opportunity to gain real-world experience and shadow people in the roles you would want to perform in the future. In fact, many large organizations hire the majority of their staff from internships.
With more than 1.3 million Americans employed in internships, competition for places can be tough. But if you manage to secure a spot and make the most of the opportunity, it is likely that a full-time role will follow. Seventy percent of people go on to earn a permanent job with their employers after completing their internship.
The global pandemic took its toll on the labor market, and internships became harder to attain. According to the National Survey of College Internships (NSCI), just 21.5% of college students reported taking an internship in 2021, down from a rate of 50-60% prior to COVID-19.
CashNetUSA analyzed more than 50,000 vacancies on Chegg Internships to reveal which industries offer the best-paid internships, which offer no payment at all, and how much you can earn in each state.
What We Did
CashNetUSA analyzed internship pay across all 50 U.S. states and more than 100 industries in the labor market. We sourced 50,702 roles from Chegg Internships, while internship pay data was sourced from Zippia. Only internships in a specific location were included, meaning fully remote positions were not analyzed.
Key Findings
Internships in the state of Washington pay more than anywhere else in America. Staff can expect to earn $20.92 on average, more than interns in California ($20.78 per hour) and Connecticut ($20.39 per hour).
With 33.5% of roles having no base pay, Delaware has the most unpaid internships of any U.S. state. The controversial practice is still widely used across the country.
Tech internships pay higher than any other industry, with an average of $19.77 per hour.
The finance sector has the most unpaid roles, with 30.7% offering no compensation at all.
Interns in Washington State Earn More than Anywhere in the U.S.
With some of the world's largest city economies concentrated in just a handful of U.S. states, you can expect that internship pay will be higher in certain places. Indeed data shows that the average base salary for an intern is $15.70 per hour, but some of Silicon Valley's tech giants pay astronomical sums to lure the brightest graduates. For example, intern at Meta, and you can expect to earn as much as $8,000 per month in some roles.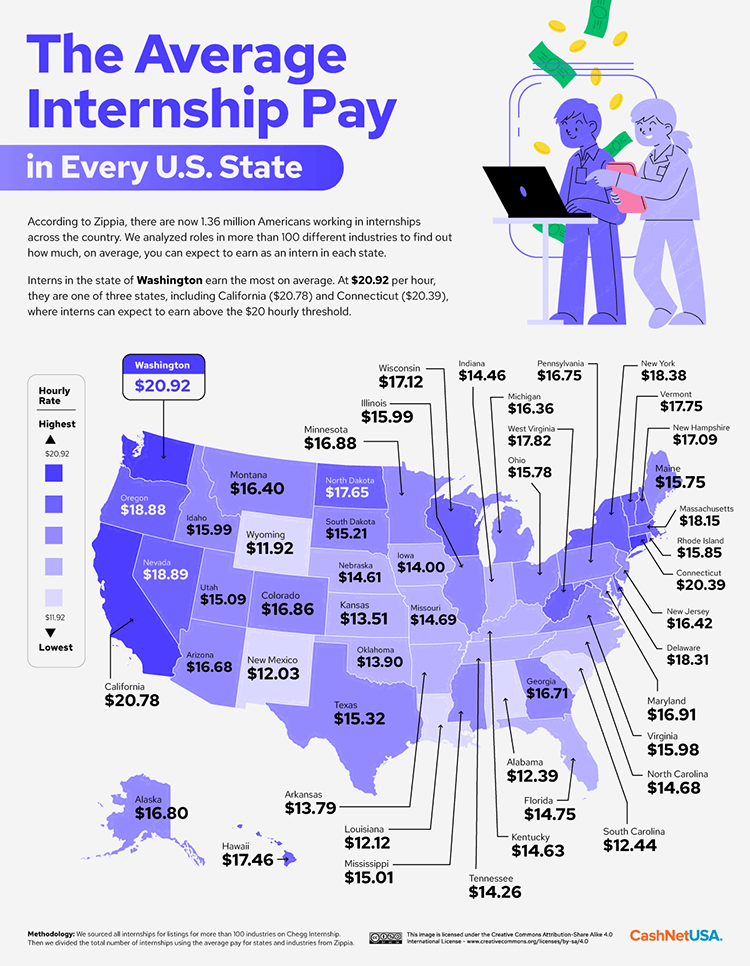 Click here to see the image in full size
With an average base pay of $20.92 per hour, we found that interns in Washington state earn the most in the country. Redmond-based Microsoft has one of the country's most lucrative internship programs, offering graduates a median of $7,100 per month, while interns at Amazon's Seattle HQ can earn as much as $6,400 per month.
Washington state also has the third-highest median salary in the U.S., at $50,450 per year. Our research found that interns in California ($20.78) and Connecticut ($20.39) both earn above the $20 hourly threshold, while Wyoming has the lowest base pay in the country — at just $11.92 per hour.
One-Third of Delaware Interns Are Unpaid
While unpaid internships are still tightly regulated, the practice remains controversial across the country, with many arguing that it disproportionately benefits wealthy students and creates hardship for those from lower-income backgrounds. Despite this, 43% of internships at for-profit companies are still unpaid.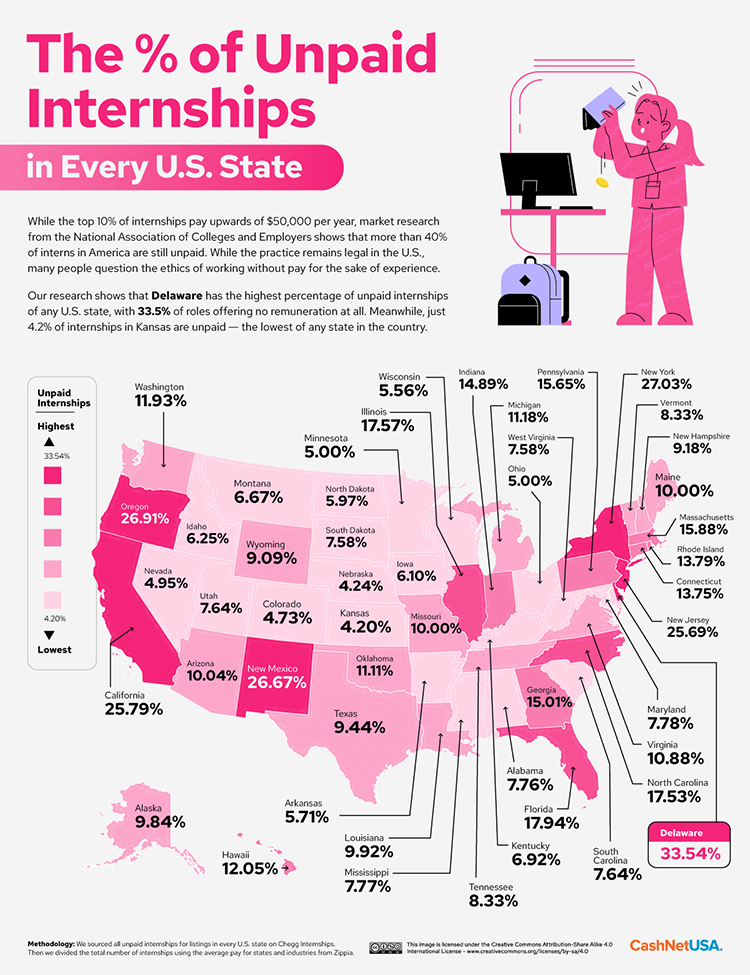 Click here to see the image in full size
Our research shows that Delaware has the highest proportion of internships in the country without a base pay. A third (33.5%) of roles available offer no compensation at all. Five other states — New York, Oregon, New Mexico, California and New Jersey have more than 25% unpaid internships.
Meanwhile, the outer Midwest states have some of the lowest unpaid internship rates of anywhere in the country. Kansas and neighboring Nebraska have just 4.2% of roles available without any pay. Only Illinois, home to the country's third-largest city Chicago, has more than 10% of internships available without a salary. Many graduates flock to the Windy City to start their careers, but some may be priced out because of relocation costs if the role is unpaid.
Tech and Finance Internships are America's Most Lucrative
With business booming in Silicon Valley and in tech clusters across America, it comes as no surprise that competition for talented graduates is high, and companies are willing to pay them handsomely. A Glassdoor report found that 17 of the 25 highest-paying internships in the country are in tech, with video game developer Roblox offering as much as $9,667 per month for graduates at its San Mateo, CA, office.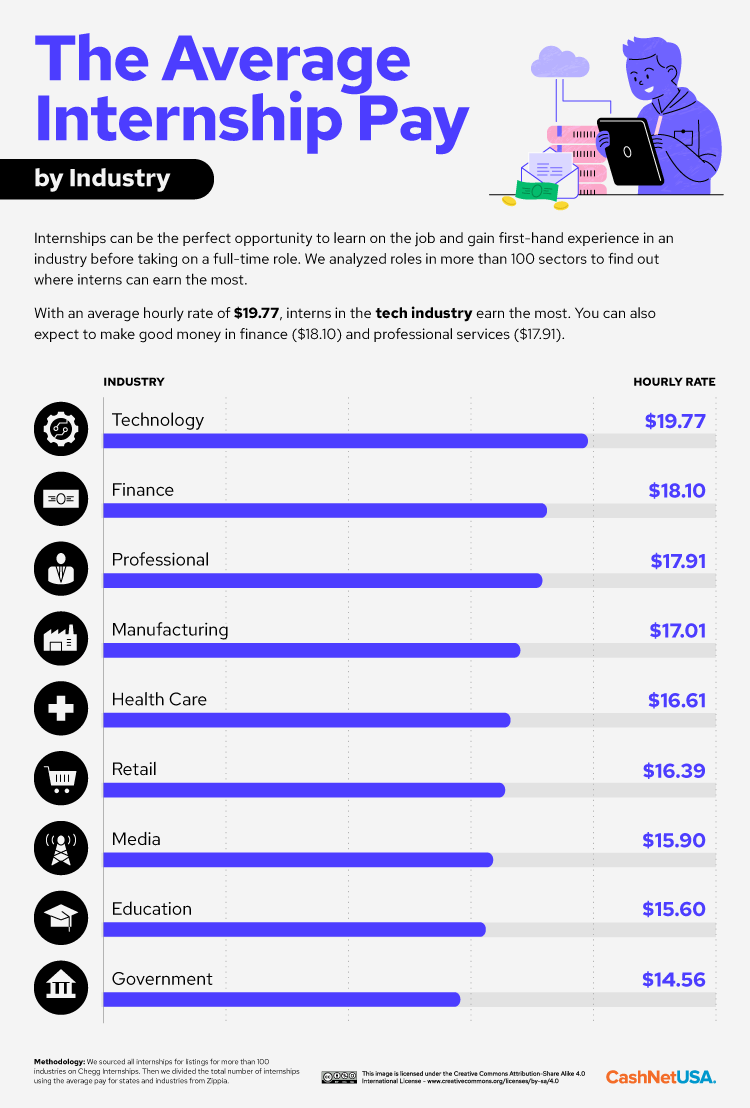 Click here to see the image in full size
With an average hourly rate of $19.77 per hour, we found that interns in the tech industry earn the most, with finance ($18.10 per hour) and professional services ($17.91 per hour). Wall Street is home to some of the country's most lucrative financial internships, with Capital One, Deutsche Bank and Blackrock all offering generous pay packets to talented graduates.
30% of Finance Internships are Unpaid — Despite Wall Street Talent Drive
While a competitive labor market creates a more competitive economy for internships, Wall Street placements are notoriously grueling, with reports of 98-hour weeks and regular burnout among interns at internships like Goldman Sachs. Record numbers of graduates continue to apply, and less than 2% of candidates are hired, but the rewards are great — with some interns earning over $10,000 per month.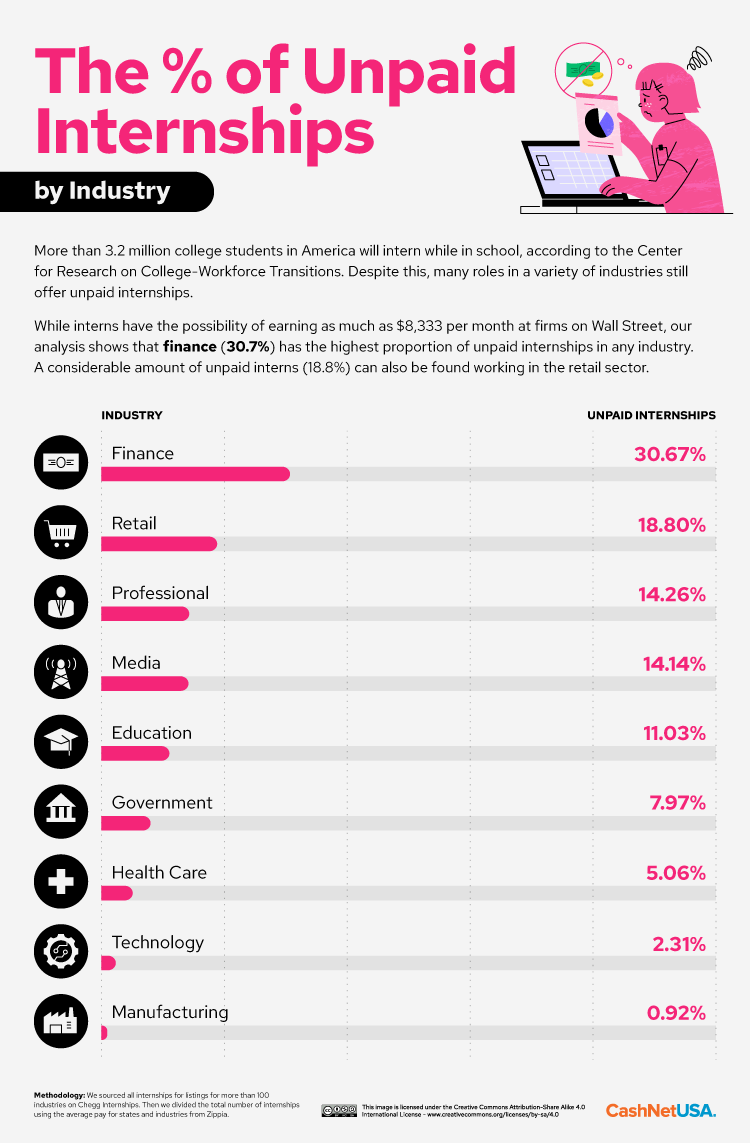 Click here to see the image in full size
Despite this, our research shows that as many as 30% of finance internships offer no remuneration, despite intense competition among major investment banks to attract the brightest graduates for their flagship intern programs. While they may be unpopular, a survey from the National Association of Colleges and Employers (NACE) found that 85% of students who took unpaid internships felt they were highly beneficial for their careers.
The retail sector also employs many unpaid interns, with our research finding that 18.8% of roles in this sector offer no salary. A survey in the U.K. found that most British unpaid internships could be found in retail, while major retail brands in the U.S., like Anthropologie, have been criticized for using college credit instead of a salary to pay interns.
Internships More Competitive Than Ever, But at What Cost?
Whether as a route to gain work experience during college or the first step to success in your career, internships can be an ideal entry point into the world of work. You can view our full dataset below, including how highly interns are paid on average in your state and your industry, along with the locations and sectors with the highest proportion of unpaid internships.
As the labor market emerges from the Covid-19 pandemic and America's elite colleges continue to churn out talented graduates, competition for internships is hotter than ever. As many as 236,000 graduates applied for Goldman Sachs' prestigious graduate program in 2022, with just 1.5% of applicants earning a place, according to CNBC. Silicon Valley and Wall Street continue to battle each other for the brightest talent, offering huge incentives to successful applicants for their internship schemes.
At the other end of the spectrum, unpaid internships continue to exacerbate inequalities between rich and poor, with many finding themselves forced into exploitative schemes for the sake of career progression. In 2021, the Biden administration passed an executive order to "promote" paid internships but stopped short of banning the practice altogether.
As the gap between internships and the wider labor market closes, it is more important than ever to properly consider whether an internship is right for your career development. A NACE survey found that 91% of hiring managers prefer candidates with experience, so choose carefully and research every avenue to give your career the best head start.
Methodology
We analyzed internship pay across all 50 states and more than 100 industries in the United States. We sourced all roles from listings on Chegg Internships, while average pay for states and industries comes from Zippia.
We compiled a list of all available paid and unpaid roles from Chegg Internships, excluding those that were fully remote and undisclosed roles where pay conditions were not specified.
To calculate the percentage of paid and unpaid internships in each state and by industry, the number of unpaid listings was divided by the sum of disclosed paid, unpaid and co-op listings.
The data was collected on 17th August 2022. All figures are in U.S. dollars.