There's something very science-fiction about a subterranean rail network. Even a century and a half after the world's first subway system opened in London, taking a trip underground can be a thrill.
Part of the mystery of traveling underground is that most of us don't really know where we are in relation to the surface when using the metro.
Back in 2017 Reddit users tried to solve this mystery by creating animations that contrasted subway maps with accurate geographical representations of subway lines. But it was still a stretch of the imagination to place the map onto the real world.
Luckily, planning theory and urban development researcher Martin Bangratz decided to solve the mystery by overlapping a realistic subway map on top of an aerial photograph of London. This image helped to accurately show where the London subway map really takes you.
Martin studied International Economics and Business Studies in Innsbruck, and later added an MSc in Sustainable Urbanism at UCL. He undertakes a variety of design projects, mainly illustration and data visualization, alongside his day job.
We decided to invite Martin to peel back the earth's surface and show just where six of the world's oldest metro systems are really taking you!
The Methodology section at the bottom of the page reveals more information about how we went about creating the images.
Tokyo Metro
You'd expect Tokyo's underground network to be chaos, right? After all, Japan is home to all but six of the 51 busiest train stations in the world, with Tokyo alone accounting for 13 billion passenger trips per year.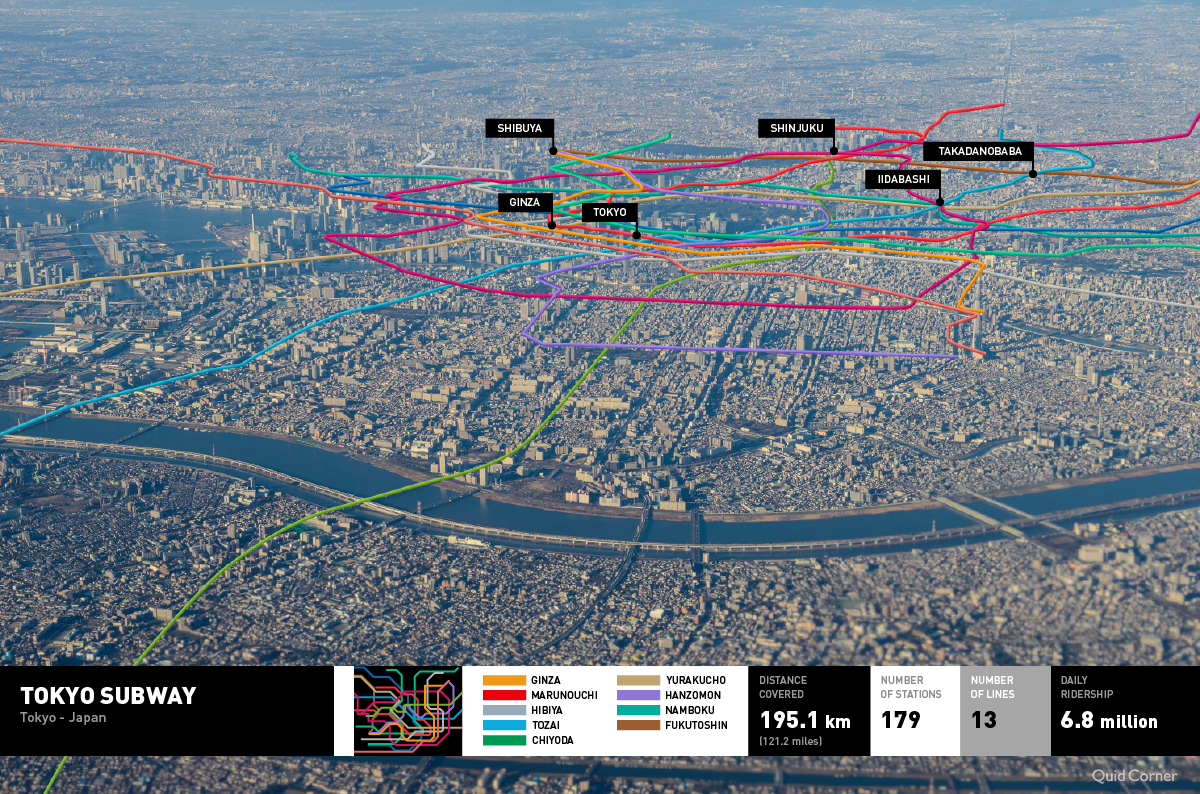 But Tokyo Metro stations can actually be a pleasant place to be – away from the bustle upstairs! Calming coloured LED panels, jolly alert signals (known as hassha melodies), and less friendly ultrasonic deterrents against anti-social behaviour keep everything ticking along nicely.
Berlin U Bahn
New York may have iconic yellow taxis, but Berlin's iconic yellow subway trains are pretty cool, too. The city's 'Untergrundbahn' (underground railway) opened in 1902 and is the largest of its type in Germany.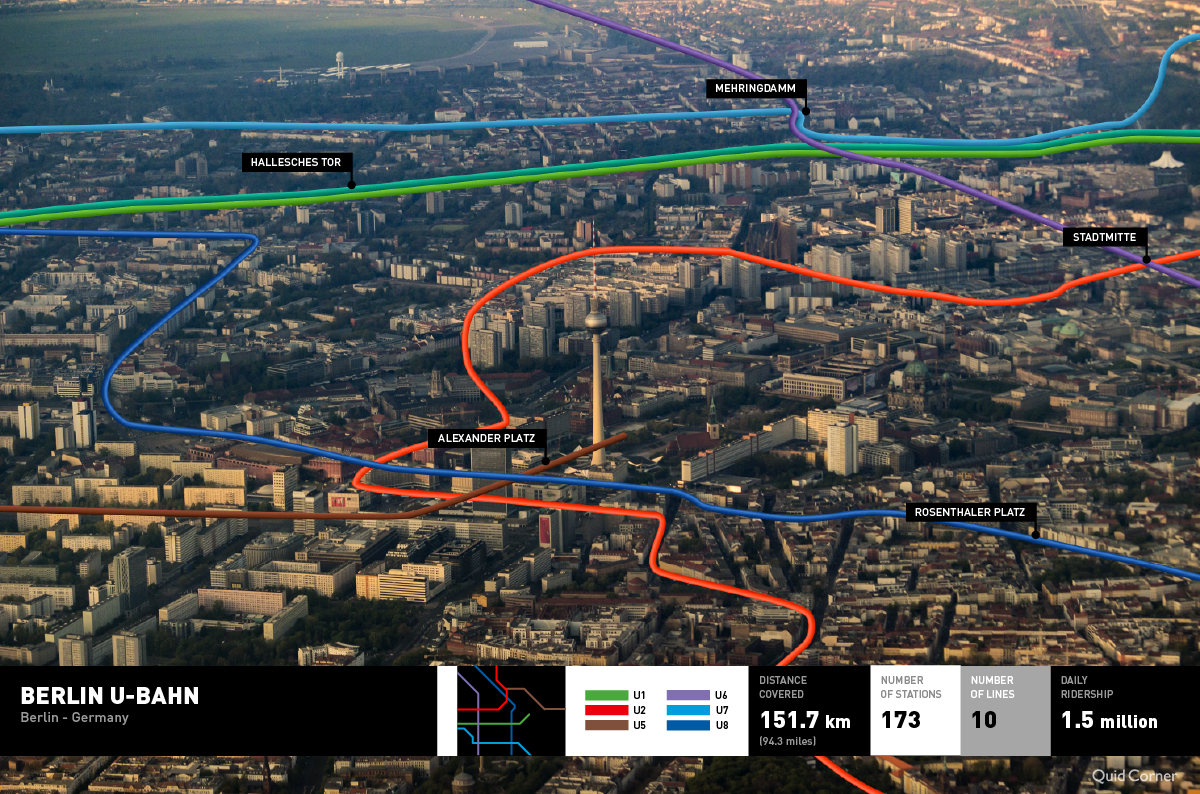 The system is notable for its honesty policy: there are no gates or inspectors at the stations, so you can just buy a ticket and get on board. But before you think about jumping your fare, remember that there are often ticket inspectors on the trains themselves – and over 7,000 repeat fare evaders end up in prison every year.
The Glasgow Subway
There are just 15 stations on the Glasgow underground, which opened in 1896. The system is known to locals as the 'Shoogly Train', from the slang verb 'to shoogle,' meaning to rattle and shake.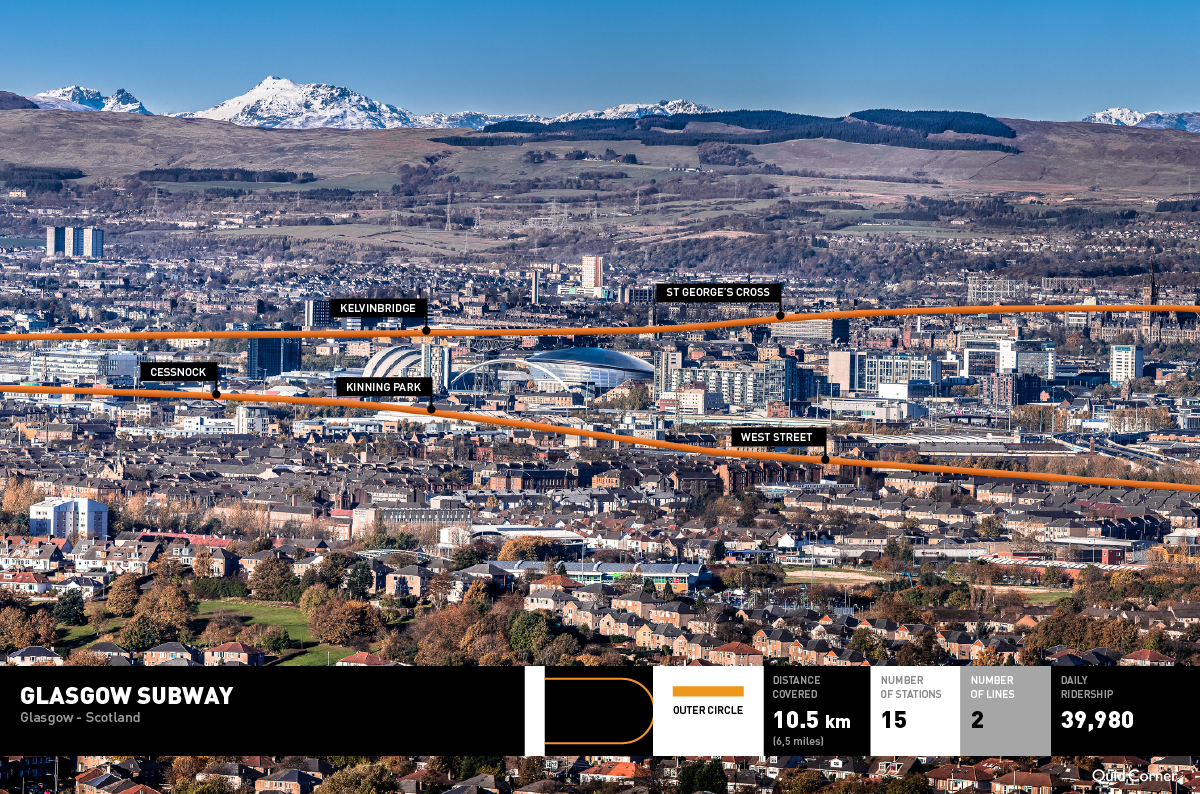 The Glasgow Subway was altogether less shoogly when the Queen re-opened it following an upgrade in the 1970s. But the network, which runs in a loop across the River Clyde, will probably always be shortened to the Shoogly by Glaswegians.
Boston MBTA
Boston's subway is pretty expansive – it reaches far away to other cities such as Cambridge, Newton, Revere, and Quincy. It was the first subway in the US, appearing a year after the Shoogly first pulled into Glasgow.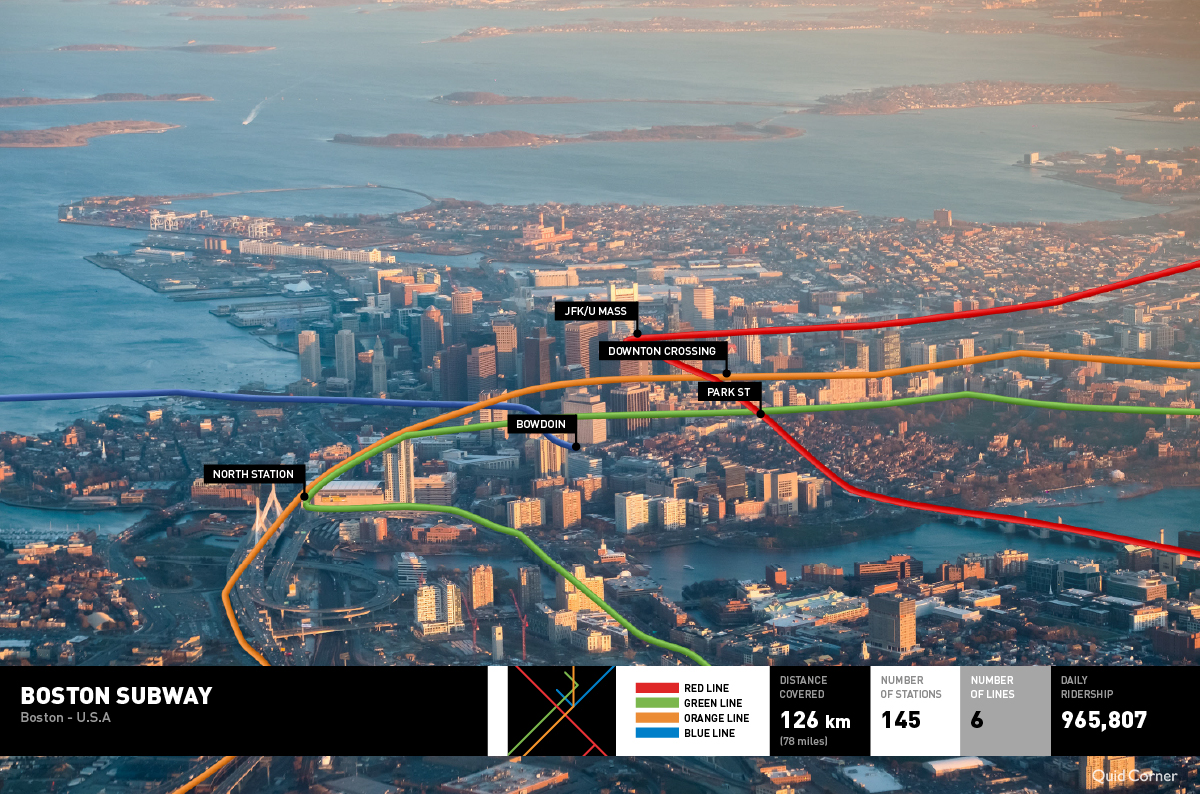 It might have been built earlier, but Americans were resistant to the idea of an underground steam train network like the one London had – the Tube was already notorious for being dark, dirty, and smelly. Up stepped New Yorker Frank Sprague, who developed an electric motor to make it possible for Bostonians to get around the city without being subjected to the awfulness of winter outside.
Moscow Metro
The city of Moscow is packed with historic buildings and sites of interest. But the subway down below is just as fascinating a slice through time, with references to what was going on 'upstairs' visible in the updates that have been made over the years.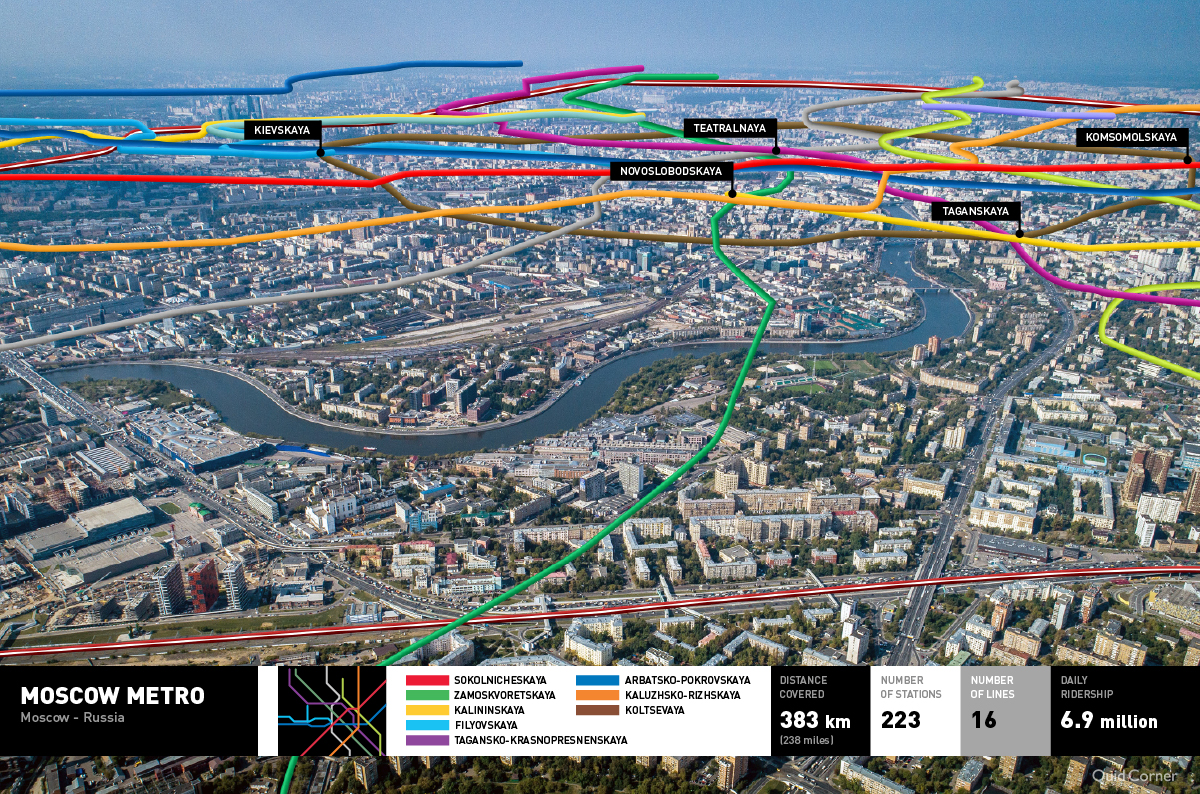 Before the underground opened in 1935, the first passenger train driver spent days practising driving around the city with a Stalin-shaped dummy on-board ahead of welcoming the Soviet leader on board as the metro's first official passenger. After Stalin's death in the 1950s, the décor was pared back to reflect the down-playing of his personality cult.
Mexico City Metro
Tracing your journey around the Mexico capital's subway system would take considerably more time (and cartography skill) today than when it opened in 1969: in the intervening half-century, the metro has expanded from a just a single line to twelve branches webbing together some 195 stations.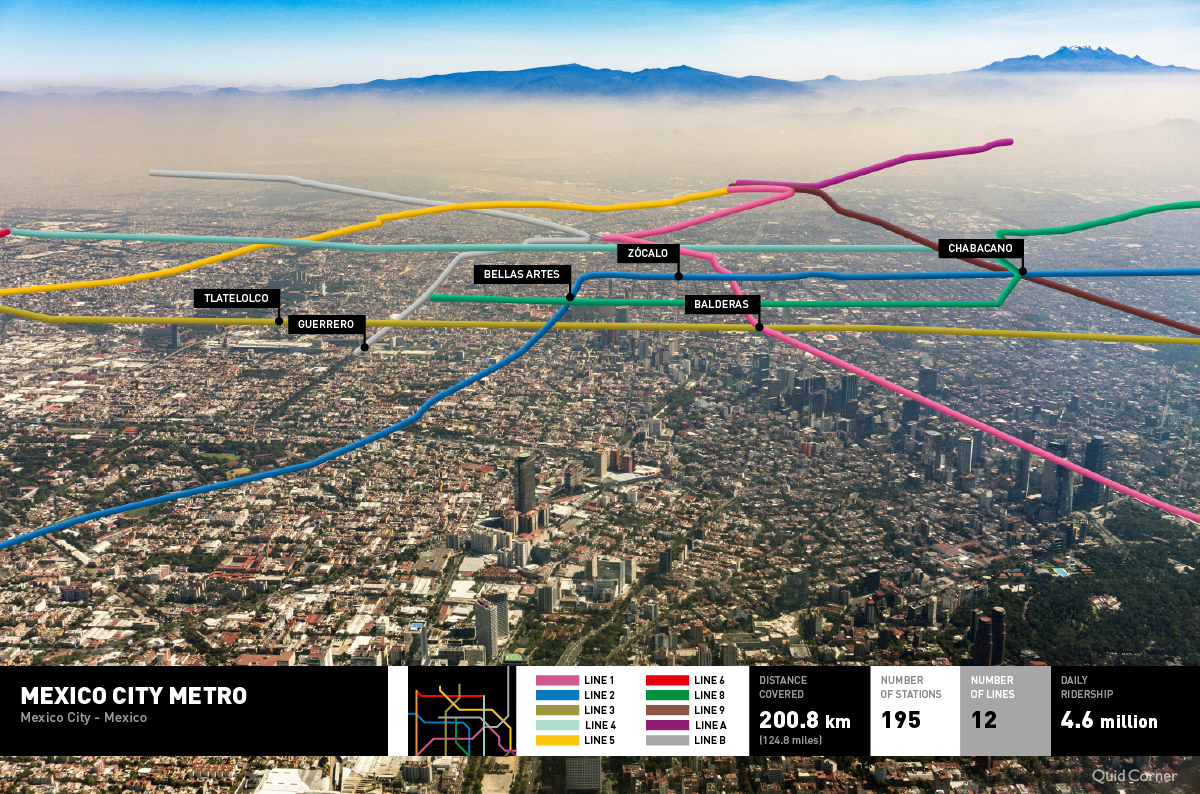 The trains themselves reflect concerns that are equally felt on the surface: many are rubber-tired to protect against earthquakes, and each train has a carriage for women and children only, to guard against pests. More positively, every station has a specially-designed identifying icon such as an elephant, a gourd, or a pile of apples – an arty hangover from the days when literacy levels were much lower.
With so much going on downstairs on the underground, will you remember where in the city you are?
Methodology
We conducted extensive research on old metro systems; gathering information and data on each one to give us a wide overview of information to use in the design process.
Our researchers sourced hi-res aerial images of each city; searching for the perfect image that provided the appropriate angle, the correct distance and covered an area that contained a significant amount of subway lines.
Our researchers then gathered official maps of the different metro lines and where possible, interactive maps of each city with the subway lines mapped onto them.
The project was then passed to Martin, who viewed each city with the Subway lines in 3D using Google Maps. He then used Overpass to download subway data from OpenStreetMaps.
For reference he created 2D and 3D views in an open source geographic information system called QGIS. Then traced the lines onto each photo in Adobe Illustrator using landmarks such as buildings, streets, parks and bodies of water as reference.
Once the additional information around each subway line was added, the process was complete.
Sources
SPT. (2018). Glasgow Subway. spt.co.uk
MBTA. (2018). MBTA.  mbta.com
BVG. (2018). Berlin U Bahn. bvg.de
Tokyo Metro. (2018). Tokyo Metro. tokyometro.jp
Moscow Metro. (2018). Moscow Metro. metro.ru
Mexico City Metro. (2018). Mexico City Metro. mexicometro.org