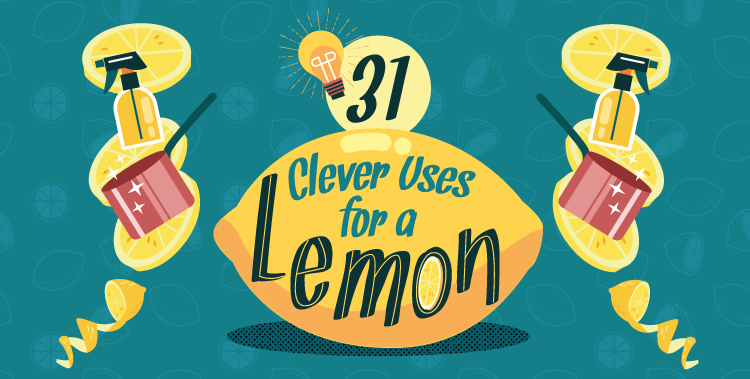 31 Clever Uses for a Lemon
The mighty lemon: A powerful little fruit that packs a real punch in sauces, drinks and sprinkled on food. It's full of vitamin C and countless other vitamins and minerals. Yet we always seem to end up buying too many to eat. What else can we do to put this citrus fruit to creative use?
The citric acid naturally present in a lemon makes it perfect for cleaning, without being too abrasive, and it can leave a wonderful scent. It has many beautifying elements and even a few surprise ones like invisible ink!
We've packed 31 of the best uses for a lemon into our new infographic. It took some work to narrow this list down, but we're sure you'll use plenty of these tips around your home.
Now that bowl full of lemons needn't go to waste. After reading our list, you may even want to head back to the shop and buy some more!

Sources
Berry, S. (2009). How to remove limescale. guardian.com
Safeguard. (2017). Getting Ride of Ants. safeguardpestcontrol.co.uk
Eykemans, G. (2015). How To Make an All-Purpose Kitchen Cleaner Using Citrus Peels. thekitchn.com
Velden, D. (2015). How To Clean Wooden Cutting Board with Lemon and Salt.thekitchn.com
Newton, L. (2012). How to Clean Copper Naturally With Just Lemon & Salt.apartmenttherapy.com
Cleanipedia. How to Remove Rust & Rust Stains. cleanipedia.com
Stewart, M. (2015). Natural Weed Killer.marthastewart.com
Poskin, A. (2015). How to Whiten Laundry Without Chlorine Bleach.aprtmenttherapy.com
Cats Away. Cat Repellent Recipes You Can Make Yourself.catsaway.org
Mercola, Dr. (2015). How to Keep Avocados Fresh For Days.mercola.com
NSTA. (2004). Spoilage Science. nsta.org
The Cleaner Home. (2016). 5 Ways To Get Rid Of Bad Refrigerator Odors.thecleanerhome.com
Prasertong, A. (2012). Soup Too Salty? 5 Tips for Fixing It & Making Sure It Doesn't Happen Again.thekitchn.com
Bold, C. (2015). 15 Foods You Should Freeze in an Ice Cube Tray. kitchn.com
Fruits and Veggies More Matters. About The Buzz: Use Lemons Instead Of Salt? fruitsandveggiesmorematters.org
Christensen, E. (2016). How To Clean Your Microwave Naturally with Just a Lemon.thekitchn.com
Walansky, A. (2014). 11 Beauty Uses for Lemons. womenshealthmag.com
Willford, T. (2016). 21 Things You Can Do With Lemons and Lemon Juice (That Don't Involve Food). aprtmenttherapy.com
Carter, C. (2014). Garlic breath? Eat an apple or drink lemon juice. telegraph.co.uk
Warts Information Center. Natural Wart Removeal.warts.org
E Medicine Health. Relieving A Cough.emedicinehealth.com
Beauty Haven. (20106). How-To: Make A Lemon Juice Foot Soak.beautyhaven.com
Huffstetler, E. (2016). How to Make Your Own Shoe Polish.thebalance.com
About Education. How To Make Invisible Ink – Lemon Juice.about.com
Smith, S. (2011). Forget Kindling: Start Fires With Orange Peels.apartmenttherapy.com
Mercola, Dr. (2015). The Things You Can Do with Lemon Peels and Juice. mercola.com
Embed This Image On Your Site (copy code below):