Online Loans in Texas
CAB installment loansup to $1,200*
Head to our Rates & Terms page to learn more.
In Texas, CashNetUSA operates as a Credit Access Business (CAB) to arrange a loan between you and a third-party lender. See consumer disclosure forms.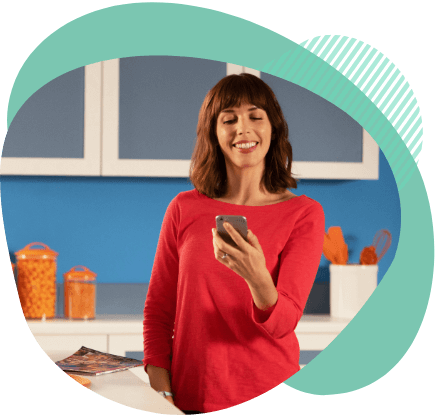 Same-Day Deposit Available
If approved before 1:30 p.m. CT Monday – Friday†
Instant Decision*
Receive an immediate decision

CashNetUSA arranges CAB online loans in Texas.
Online loans provide Texas residents with quick and easy access to funding. Because when you need fast cash, time is of the essence. With an online loan, you apply from your computer. (Some online lenders also accept applications by phone.) This allows you to submit an application anytime, anywhere.
At CashNetUSA, our alternative credit check and advanced technology allow us to offer an instant decision.* If approved before 1:30 p.m. CT Monday – Friday, you could receive your funds as soon as the same business day.†
What kind of online loan does CashNetUSA arrange in Texas?
CashNetUSA arranges an online CAB installment loan in Houston, San Antonio and throughout all of Texas. Funding amounts range from $300 to $2,500 for qualified borrowers. Most often, this type of online installment loan is used for unexpected costs such as car and home repairs.
CAB installment loans arranged by CashNetUSA in Texas can be repaid over the course of three or six months, if approved. If you pay off your loan early, we may rebate part of your CAB fee, reducing your cost of borrowing.
CashNetUSA's CAB Installment Loan vs. Online Texas Installment Loans
CashNetUSA's CAB installment loan
Funding amount
$300 – $2,500
APR
222% – 579%
Repayment
Paid in installments over three or six months
4-month Texas installment loan1
Funding amount
$500
APR
527%
Repayment
Paid in installments over four months
1Based on information from Pew Charitable Trusts. Actual loan terms may vary based on applicant's qualifications.

How do I apply for a CAB installment loan with CashNetUSA?
Apply online in minutes.

Receive an instant lending decision.* If more information is needed, you may need to send in additional documents like paystubs or other proof of income.

Apply early and receive funds as soon as the same business day,† if approved.

Repay over your scheduled loan term. You are free to repay early at any time with no penalty.
Requirements to apply for a CAB online loan with CashNetUSA.
You must meet the following requirements in order to be eligible for funding arranged by CashNetUSA.
18 or older

Verifiable, steady source of income
Active checking account
U.S. citizen or permanent resident
Learn more about online loans in Texas.
Payday loans
Online payday loans in Texas are a popular method for covering surprise expenses. They are called payday loans because they are most commonly repaid upon your next payday — typically within seven to 31 days. In Texas, there is no specified maximum loan amount for a payday loan. Some cities have adopted local regulations that cap payday loans at 20% of the borrower's gross monthly income.
Installment loans
Online installment loans provide a one-time, lump sum of cash. Funding amounts are typically the same or more than a payday loan. As the name of the loan suggests, you repay through scheduled installments — commonly over several months. Online installment loans can be good for covering larger expenses that may take a while to repay. This might include things such as home repairs, auto repairs or debt consolidation.
Lines of credit
An online line of credit is a form of credit that lets you borrow funds from an approved credit limit. Similar to a credit card, it's considered a form of "revolving credit" because your available funds replenish as you repay. In Texas, the home equity line of credit (HELOC) is more prevalent than a personal line of credit. HELOCs are considered to be "secured" funding, because the equity of your home serves as collateral. Because the funding is secured by collateral, it typically features lower interest rates than other types of personal loans.
Title loans
An online title loan is another form of secured funding. With a title loan, you use your vehicle as collateral for a personal loan. Online title loans can be helpful if you have an urgent financial need and don't qualify for other types of credit. However, if you default, the lender may take possession of your vehicle. In Texas, there is no limit on title loan amounts, but there is an interest rate cap of 10%.
If you're looking for a payday loan in Dallas, there's no need to drive to a physical location and fill out an application. CashNetUSA offers online CAB installment loans online. They are short-term loans that can provide amounts similar to a payday loan and a longer time to pay it back.
Payday loans in Houston can come from either a brick-and-mortar lender or an online lender like CashNetUSA. In Texas, CashNetUSA is a Credit Access Business (CAB) that arranges short-term CAB installment loans. CAB installment loans offer similar amounts as a payday loan, but they give the borrower a longer time to pay it back.
CashNetUSA operates as a "Credit Access Business" in Texas, which means we match borrowers with funding that comes from another lender. Although that lender provides the funds, CashNetUSA services the loan. So the processes of applying for, receiving and repaying your money are all done with CashNetUSA.
The Office of Consumer Credit Commissioner (OCCC) is a state agency that licenses and examines lenders in Texas. If you have questions or complaints about personal loans in Texas, you can contact the OCCC.
2601 North Lamar Boulevard
Austin, TX 78705
Phone: 800.538.1579
Fax: 512.936.7610
Website: occc.texas.gov
Email: consumer.complaints@occc@texas.gov