Texas Credit Access Business (CAB) Installment Loan
CashNetUSA will not be the lender for loans received at this site. CashNetUSA is a Credit Access Business. We will attempt to arrange a loan between you and an unaffiliated third-party lender and service that loan once it is issued. Any questions, service issues or complaints about your loan will be addressed by CashNetUSA and not the lender.
Loan Amount
$300 - $2,500
Maximum Loan Term
180 Days
Fees and Interest
A CAB fee of $.40 - $.80 per $100 borrowed per day, plus 10% interest on loan amount and CAB fees
Annual Percentage Rate
222% - 579%
Actual loan terms may vary based on applicant's qualifications.
You have the right to rescind your loan within three days of signing your loan contract. To access the cancellation forms, click here.

How It Works
Apply online in minutes.

Receive an instant lending decision.* Possible decisions include Approved, Need More Information and Declined. If more information is needed, you may need to send in additional documents like paystubs or other proof of income.

Apply early and receive funds as soon as the same business day,† if approved.

Repay over your scheduled loan term. You are free to repay early at any time with no penalty.
Fee Schedule and Annual Percentage Rate
The cost of your loan will include a CAB fee of $.40 - $.80 per $100 borrowed per day depending on loan amount, plus 10% interest on loan principal, which includes CAB fees. This translates to different annual percentage rates depending on your loan term. Click here to find fee schedules for five common loan amounts offered to our customers.
If you pay off your loan early, we may rebate a portion of your CAB fee. (See table below for an example.)
This is a representative example of a CAB Fee Rebate based on a loan in the amount of $800.00 with a CAB fee of $1,068.80 and a bi-weekly payment schedule entered into on February 15, 2020. Refer to your CAB Agreement for the CAB Fee Rebate Chart applicable to your loan.
Feb 15, 2020
through
Feb 28, 2020

---
Feb 29, 2020
through
Mar 13, 2020

---
Mar 14, 2020
through
Mar 27, 2020

---
Mar 28, 2020
through
Apr 10, 2020

---
Apr 11, 2020
through
Apr 24, 2020

---
Apr 25, 2020
through
May 08, 2020

---
May 09, 2020
through
May 22, 2020

---
May 23, 2020
through
Jun 05, 2020

---
Jun 06, 2020
through
Jun 19, 2020

---
Jun 20, 2020
through
Jul 03, 2020

---
Jul 04, 2020
through
Jul 17, 2020

---
Jul 18, 2020
through
Jul 31, 2020

$89.07


---

$178.14


---

$267.21


---

$356.28


---

$445.35


---

$534.42


---

$623.49


---

$712.56


---

$801.63


---

$890.70


---

$979.77


---

$1,068.80

$979.73


---

$890.66


---

$801.59


---

$712.52


---

$623.45


---

$534.38


---

$445.31


---

$356.24


---

$267.17


---

$178.10


---

$89.03


---

$0.00
If a payment is returned as unpaid, you agree to pay a $30 returned payment fee.
Consumer Disclosure Forms
These five links lead to cost disclosures, required by the state of Texas for all residents applying for a multi-payment CAB payday loan, which outline the total costs associated with some common examples of these types of loans.
Requirements to Apply for CashNetUSA Services
In order to be eligible for CashNetUSA services, you must meet our requirements:
18 or older
Verifiable, steady source of income
Active checking account
U.S. citizen or permanent resident

Consumer Credit Notice
This business is licensed and examined under Texas law by the Office of Consumer Credit Commissioner (OCCC), a state agency. If a complaint or question cannot be resolved by contacting the business, consumers can contact the OCCC to file a complaint or ask a general credit-related question.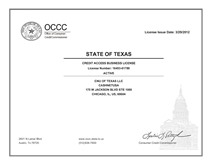 An advance of money obtained through a payday loan or auto title loan is not intended to meet long-term financial needs. A payday loan or auto title loan should only be used to meet immediate short-term cash needs. Refinancing the loan rather than paying the debt in full when due will require the payment of additional charges.
Terms Explained
Amount Disbursed
This is the amount that the customer will receive in their bank account if approved.
Example: Jane Smith is approved for a $1,200 loan. This $1,200 is the amount disbursed.
Loan Fee/Finance Charge
These terms refer to the dollar amount your loan will cost you, in addition to the amount disbursed. The loan fee/finance charge includes interest and CAB fees.
Example: Because she borrowed $1,200, Jane's loan fee/finance charge will be $1,682.66.
Total of Payments
This is the sum of the amount disbursed and the finance charge. It is the total amount you must repay.
Example: Adding together the amount disbursed and finance charge, Jane's total of payments comes to $2,882.66.
Term
This is the length of time over which your loan must be repaid. You may repay early with no penalty.
APR
APR (annual percentage rate) is a measure of the cost of credit, expressed as a yearly rate.