Payday Loans in San Antonio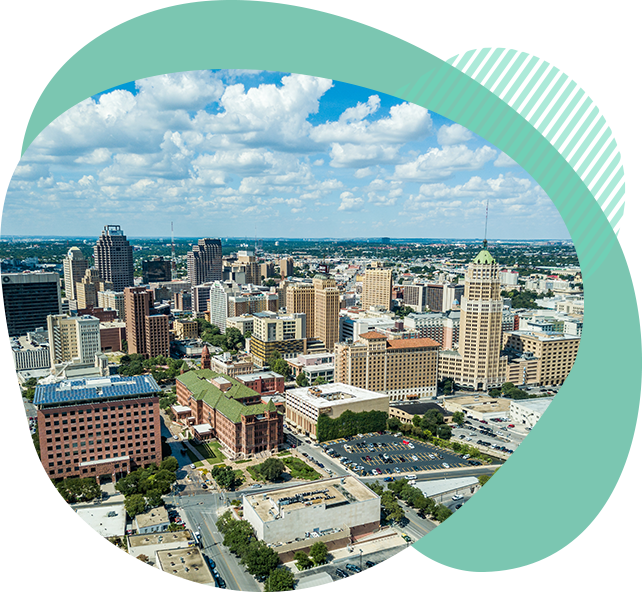 A CAB installment loan may be a better fit.
CashNetUSA offers CAB installment loansup to $1,200*
Head to our Rates & Terms page to learn more.
Same-Day Deposit Available
If approved before 1:30 p.m. CT Monday – Friday†
Instant Decision*
Receive an immediate decision
Can I get payday loans in San Antonio, Texas?
Payday loans in San Antonio are available through Credit Access Businesses (CABs). In 2013, the San Antonio City Council passed an ordinance to regulate CABs with physical locations in San Antonio. Some of the rules covered in the ordinance include:
Loans are limited to 20% of the borrower's gross monthly income.
Loans are limited to no more than four installments or three rollovers or renewals.
Proceeds from each installment or renewal must reduce the loan principal by 25%.
What payday loan alternatives are there in San Antonio?
Many different personal loans are available in San Antonio. Some of the most popular short-term payday loan alternatives include:
Title Loan
Title loans use the title of your automobile to secure your loan. That means if you're unable to repay, the lender can repossess the vehicle as collateral. These loans are often for smaller amounts of a few hundred dollars, similar to a payday loan.
Line of Credit
A line of credit is similar to a credit card in that you're approved for a credit limit from which you can borrow on a revolving basis. As you repay, the amount available is replenished. Lines of credit have limits ranging from a few hundred to a few thousand dollars.
Installment Loan
Installment loans are generally for larger amounts than a payday loan, and repaid (in "installments") over a longer period of time. The payments are generally fixed and scheduled once a month. You can also often repay sooner to save on interest.
What does CashNetUSA offer in San Antonio?
CashNetUSA is a credit access business in the state of Texas. That means that while we don't operate as a lender, we arrange and service loans online for customers.
For Texas residents, we arrange CAB installment loans between you and a third-party lender. We do not arrange CAB payday loans. Applying for extra cash through CashNetUSA is fast and simple. You can apply in minutes and receive an instant decision.* If approved before 1:30 p.m. CT Monday through Friday, you can receive your funds as soon as the same business day.†
Texas loans through CashNetUSA never carry a prepayment penalty. In fact, CashNetUSA may reward you for early repayment with a CAB fee rebate.
San Antonio CAB Payday Loans vs. CAB Installment Loans Through CashNetUSA
San Antonio CAB payday loan example1
Funding amount
Up to $500
APR
527%
Repayment
Repaid in terms of either 14 or 30 days
CAB installment loan through CashNetUSA*
Funding amount
Up to $1,200*
APR
222% - 579%
Repayment
Paid in installments over three or six months
1Based on information from Pew Charitable Trusts. Actual loan terms may vary based on applicant's qualifications.
Ready to apply for a CAB installment loan through CashNetUSA?
If you're looking for a hassle-free application process for fast cash, get started through CashNetUSA!
Learn more about payday loans in San Antonio.
When San Antonio residents need check cashing, a cash loan or a payday advance, there are a number of brick-and-mortar locations they can visit to address their financial needs. Some of those include:
Texas Car Title and Payday Loan Services, Inc.
4115 Fredericksburg Rd.
San Antonio, TX 78201
Power Finance Texas
5431 Blanco Rd.
San Antonio, TX 78216
LendNation
6710 Bandera Rd. Ste. A
San Antonio, TX 78238
El Dorado Loans
3030 Culebra Rd.
San Antonio, TX 78228
Advance America
13909 Nacogdoches Rd. #106
San Antonio, TX 78217
ACE Cash Express
8248 Marbach Rd. #2
San Antonio, TX 78227
CashNetUSA is not affiliated with any of these businesses and offers this information as a resource, not a recommendation. In Texas, CashNetUSA arranges CAB installment loans with a fast process to apply entirely online. There's no need to drive to a store, fill out a paper application and wait to find out whether or not you are approved.
Many lenders advertise no credit check loans to people with less-than-perfect credit or bad credit history. What "no credit check" generally means is that no hard credit pull is required. All legitimate lenders will do some kind of identity or income verification before extending an offer for credit.
The state of Texas does not regulate or specify how many payday loans a person can have at one time. However, it's generally not advisable to have more than one or two. Payday loans are an expensive form of credit, and if you're taking out too many cash advances at one time it can be very difficult to repay.
Rather than taking out another payday loan, look for financial solutions that are more manageable long term. You may also want to consider these financial education assistance programs offered through the City of San Antonio.
When you complete a loan application in San Antonio, or other Texas cities such as Dallas or Houston, you'll commonly need to meet the following requirements or provide the following information:
Active checking account.
Driver's license or State ID.
Social Security number.
Phone number.
Proof of income.