Payday Loans in Houston
CAB installment loansup to $1,200*
Head to our Rates & Terms page to learn more.
In Texas, CashNetUSA operates as a Credit Access Business (CAB) to arrange a loan between you and a third-party lender. See consumer disclosure forms.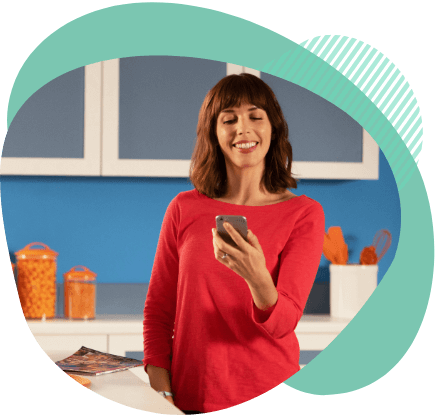 Same-Day Deposit Available
If approved before 1:30 p.m. CT Monday – Friday†
Instant Decision*
Receive an immediate decision

Houston payday loans.
Payday loans can provide quick cash for borrowers in Houston with less-than-perfect credit. They are designed to be repaid within a short period of time — generally within a month or less. At that time, the entire loan amount plus finance charges is due. Borrowers who cannot repay may have the option to extend the loan, though this increases the cost of borrowing.
In Houston, payday loans are regulated at the city level. Some limits include:
Payday loans may not exceed 20% of a borrower's monthly income.
A payday loan may not be rolled over more than three times.
Borrowers must wait a week to get a new payday loan if they've reached their rollover limit.
Payday loan alternatives in Houston, TX.
In Houston, CashNetUSA arranges a CAB installment loan for amounts similar to (or more than) what a payday loan can provide. Unlike a payday loan — which is generally repaid within a month — CashNetUSA's CAB installment loan has repayment terms of three or six months. This makes a CAB installment loan a useful payday loan alternative for people who need a little more money than a payday loan, or a little longer time to repay.
At CashNetUSA, you can apply for funds in minutes and receive an instant decision.* If approved before 1:30 p.m. CT Monday – Friday, you can receive your funds as soon as the same business day!†
One of the features of CashNetUSA's CAB installment loan is the CAB fee rebate. If you repay your loan early, we don't penalize you — and we may rebate a portion of your CAB fee depending on when you repay.
CashNetUSA's CAB Installment Loans vs. Houston CAB Payday Loans
CashNetUSA's CAB installment loan
Funding amount
$300 – $2,500
CAB fee
$.40 – $.80 per $100 borrowed per day, plus 10% interest on loan amount and CAB fees
Repayment
Paid in installments over three or six months
Houston CAB payday loan1
Funding amount
$500
CAB fee
$25 – $30 per $100 borrowed, plus 10% interest on loan amount and CAB fees
Repayment
Repaid in terms of either 14 or 30 days
1Based on information from Consumer Affairs. Actual loan terms may vary based on applicant's qualifications.

How do I apply for a CAB installment loan with CashNetUSA?
Apply online in minutes.

Receive an instant lending decision.* If more information is needed, you may need to send in additional documents like paystubs or other proof of income.

Apply early and receive funds as soon as the same business day,† if approved.

Repay over your scheduled loan term. You are free to repay early at any time with no penalty.
Requirements to apply for a CAB installment loan in Texas with CashNetUSA.
You must meet the following requirements in order to be eligible for funding arranged by CashNetUSA.
18 or older

Verifiable, steady source of income
Active checking account
U.S. citizen or permanent resident
Learn more about payday loans in Houston, TX.
Houston is home to dozens of brick-and-mortar payday lenders and title loan companies. Some of them include:
Your Loan Depot
7418 Airline Drive
Suite Y
Houston, TX 77076
Check 'n Go
8409 Hillcroft Street
Houston, TX 77096
Power Finance Texas
11811 North Freeway
Houston, TX 77060
With CashNetUSA, there's no need to visit a physical location. Our online process allows you to apply for the money you need to handle emergency expenses anytime, anywhere.
Online loans in Texas can come in many different forms. Funding amounts and repayment terms may differ from loans acquired through brick-and-mortar lenders in the city. This is because online loans are regulated by the state of Texas — Houston restrictions do not apply.
Payday loans
Online payday loans are one of the most common ways to borrow money fast. Payday loans are typically repaid upon your next payday — within seven to 31 days. Because Texas considers businesses who issue payday and title loans to be "Credit Access Businesses," these are also known as CAB payday loans in the Lone Star State.
Installment loans
Online installment loans can generally provide the same amount or more than a payday loan. You repay over a few scheduled installments — commonly over a term length of several months. Shorter-term installment loans can be issued by Credit Access Businesses as well, in the form of CAB installment loans.
Lines of credit
An online line of credit is a form of credit that lets you borrow funds from an approved credit limit. It's a form of "revolving credit" (like a credit card), which means the amount you can use replenishes as you repay. In Texas, the home equity line of credit (HELOC) is more common than a personal line of credit. HELOCs are a form of "secured" funding, because the equity of your home serves as collateral. Because the line of credit is secured, it can be less expensive than other types of personal loans.
Title loans
Online title loans are another form of secured funding. With a title loan, your vehicle serves as collateral. Online title loans can be a good option for people that have an urgent financial need and don't qualify for other forms of personal credit. If you can't repay the loan, however, the lender may take possession of your vehicle. In Texas, there is no limit on title loan amounts, but there is an interest rate cap of 10%.
Like all payday lenders and auto title loan companies in Houston, Dallas, San Antonio and across Texas, CashNetUSA is designated as a "Credit Access Business" (CAB). That means rather than lending to people directly, we arrange loans between a person and a lender. Our entirely online process makes it easy for customers to apply for, receive and repay the money they need all through our streamlined interface.