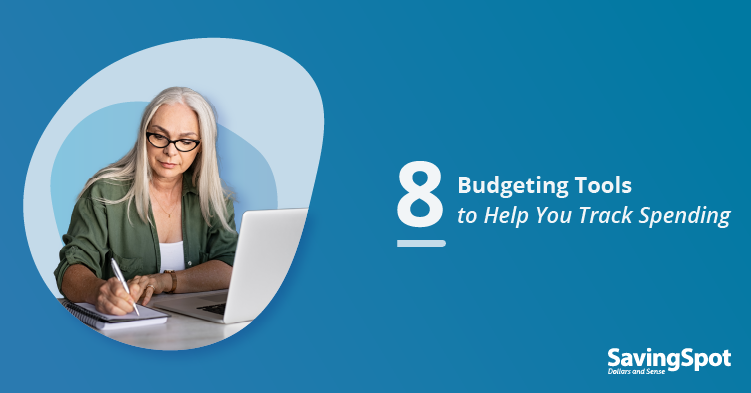 Tools to See How You Spend Your Paycheck
Sometimes, unplanned bills can leave us in need of fast cash when the emergency fund is low. Urgent expenses like home repairs, transportation and other nonnegotiable costs often can't wait until the next payday. However, there are ways to avoid the impact that these expenses have on your wallet when they arise later down the line.
One of the first steps in improving your finances is determining how you spend your money. Once you know exactly what you're dealing with, you can create a reliable plan to reduce spending and trim your budget. Read on for eight budgeting tools that can help you track spending, save money and budget better.
1. Your Bank's App
Many banks and credit unions offer their customers a feature-rich app or web-based account portal with integrated budgeting tools. While smaller banks and credit unions may not have their own native smart phone app, customers may still be able to connect their bank accounts or manually add expenses to other free budgeting tools included on this list.
Price: Free
2. Online Budget Calculator
This easy-to-use online budget calculator lets you separate monthly spending categories, track expenses and get a better idea of how your paycheck is spent. You can also print and save your budget, or use the category breakdown to view spending at a glance to determine whether spending has improved month to month.
Price: Free
3. Spreadsheet Budget Templates
If you want a more customizable approach, a downloadable Excel budget spreadsheet can give you extra room to list out all your expense categories and fine-tune your spending. If you get paid each week, this weekly budget template is another good option to track and plan expenses.
Price: Free
4. Personal Capital Financial Tools
Another helpful personal finance tool with real-time budget tracking and cash flow monitoring features is Personal Capital. The free online dashboard and smartphone app offers useful budget tracking features to help you manage your budget and reduce spending with automatic reporting. Users can also access retirement planning tools, a net worth calculator, investment resources and helpful saving strategies to reach financial goals.
Price: Free
5. Zeta Money Manager
Zeta Money Manager is a budget tracking tool designed for couples to help manage their spending together. Whether you decide to share your accounts or keep them separated, this online tool or smartphone app allows couples to track, manage and save money with ease.
Price: Free
6. Goodbudget
Goodbudget is another budget tracking app and/or web-based budgeting tool that gives a modern spin to the physical envelope budgeting method. The software allows users to track their spending by allocating money towards different budget categories or digital "envelopes." Users can also share and sync budgets with other members of their household.
Price: Free to use for up to 20 envelopes or $7 per month/$60 per year for unlimited envelopes
7. Mint
Mint is an app- or web-based budgeting tool with a variety of features to help you determine exactly how you spend your money. The app allows you to add expenses, bills and additional accounts like credit cards to determine where your money goes each month. Another feature, called Mintsights, tracks expenses like subscriptions to determine whether your spending has increased or how to save on things you buy every month.
Price: Free for the first 14 days, then $8 per month thereafter
8. You Need a Budget
Though this budget tracking tool is on the pricier side, You Need a Budget offers features beyond basic expense planning and tracking. In addition to spending and saving reports, this tool offers a more hands-on approach to setting financial goals, planning expenses and managing bigger one-time emergency expenses.
Price: Free for the first 34 days, then $11.99 per month or $84 per year thereafter