The Cost of Halloween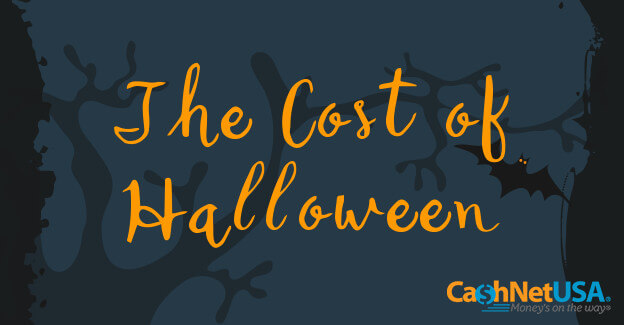 The celebration of Halloween has grown to be an American tradition unlike any other. If you celebrate this spooky holiday, how much do you spend compared to the average American? Below we break down the cost of Halloween. You might be shocked to learn just how big the holiday of Halloween has become!

How much do Americans spend on Halloween? The amount spent on costumes, candy, decorations and trick-or-treating is a boom for business!
The Cost of Costumes
In 2014, shoppers spent $2.8 billion on Halloween costumes!
• Child Costumes – $1.1 billion
• Adult Costumes – $1.4 billion
• Pet Costumes – $350 million
In 2015:
67.4% of Americans will purchase a Halloween costume
23 million people will dress their pets in costumes
Top Three Costumes for Children
1. Princess
2. Superhero
3. Fairy
Top Three Costumes for Adults
1. Pumpkin
2. Hot Dog
3. Cat
The Cost of Candy
Americans have spent roughly $2 billion on candy over each of the past three years! 2015 is expected to see $2.5 billion in sales.
Top 5 Favorite Candies
72% of all candy spending this Halloween will be on chocolate! Here are the top 5:
1. Reese's, $509.85 million
2. M&M's, $500.82 million
3. Snickers, $456.91 million
4. Hershey's, $324.63 million
5. Kit Kat, $306.51 million
The Cost of Decorations
$2 billion will be spent on Halloween decorations!
47% of people will decorate their homes for Halloween.
54 million people will throw or attend a Halloween party in 2015! Where do they get their decorations?
• ½ of all shoppers buy their Halloween items at discount stores.
• ¼ of shoppers will buy their Halloween supplies at grocery stores.
• ¼ of shoppers will buy their Halloween decorations at party supply stores.
1.1 billion pounds of pumpkins will be purchased!
Spooky Sales Total
• 162 million people are expected to celebrate Halloween this year!
• The average person will spend $77.52 on the holiday
• Americans will spend $350 million to purchase 21 million Halloween cards
• Total Halloween spending — which includes costumes, candy and decorations — will equate to $7.4 billion this year!
Embed This Image On Your Site (copy code below):