How to Pick the Best Loan Provider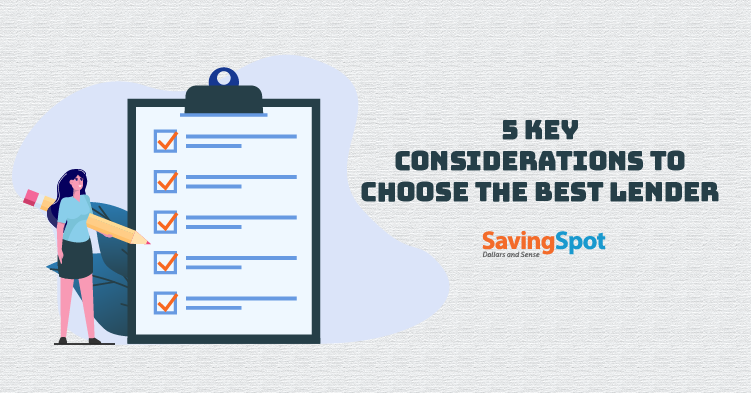 Are you in need of quick cash? Taking out a personal loan can be a big decision that impacts your financial health for years to come. Whether you're shopping around or want to apply as soon as possible, there are a few key areas to consider when looking for a loan provider. We'll walk you through five of the most important qualities to consider with our lender checklist.
1. Is the Lender Trustworthy?
Top lenders have a solid reputation, and are able to deliver on their promises. While you may not have personal experience with a specific company, here are a few ways to determine the trustworthiness of prospective creditors:
Positive customer reviews: Check out sites like TrustPilot to read recent company assessments from actual customers.
Well-established: A trustworthy lender typically has years of experience in the financial industry or is associated with a leading financial company.
Licensed and regulated: Any loan provider should be regulated and fully licensed to operate in your state.
Clear loan terms: Loan agreement terms should be well-defined and easy-to-understand, including your financial responsibility and payment due dates.
2. Is Your Data Secure?
When you apply for credit, you need to provide a variety of sensitive personal information to your lender. But how secure is your data, and how will it be stored? The best creditors are serious about security and your personal data:
Security safeguards: Look for a lender that takes additional steps to safeguard your data, such as using software like TrustedSite. Many safe websites proudly highlight their security partnerships — look for their logos on their website, often at the bottom of their homepage.
Online security: If the application process is online, is the website private? One indication of a secure connection is a lock symbol next to the URL address in your browser. Read our guide for more information about data security fitness.
3. Do They Provide Exceptional Customer Service?
If you need assistance with your account, can you easily reach a company representative? While you may never need to contact customer service, it's a good idea to make sure your loan provider is available when you need help:
Call, chat or email for assistance: Lenders that offer a variety of customer service contact methods make it easier for you to reach a representative when needed.
Loan accommodations: If your income changes during your loan term, would your lender help you find a solution? Some lenders may be willing to adjust your repayment schedule to suit your budget and accommodate your financial situation.
Financial resources and savings programs: Top lenders offer additional benefits that help you move forward financially, like a local resource finder tool, educational tools and helpful blog posts to learn more.
4. Is the Process Convenient?
How do you apply for a loan? Where can you access the credit application, and how long will it take to complete? Top lenders offer a variety of convenient features to help when you need it most:
Availability: Rather than driving to a physical location to apply for a loan, some lenders are available online, whenever you need access to money.
Quick application: An easy-to-complete loan application process makes for a stress-free experience.
Easy to access: A smart phone app can make it easier to view and manage the account while on-the-go.
5. How Long Will the Process Take?
The application process and funding timeline will vary widely from lender to lender. If you need emergency access to money, certain lenders may be a much better fit for your needs than other sources. Here are some ways that top lenders help speed up the process:
Quick application decision: Rather than waiting days or even weeks for a response, top lenders can provide an instant approval decision.
Fast funding: While traditional funding sources such as brick-and-mortar banks and credit unions may take longer to fund loans, alternative sources, like online lenders, can often fund loans on the same day, if approved.
The information in this article is provided for educational and informational purposes only, without any express or implied warranty of any kind, including warranties of accuracy, completeness or fitness for any particular purpose. The information in this article is not intended to be and does not constitute financial, legal or any other advice. The information in this article is general in nature and is not specific to you the user or anyone else.