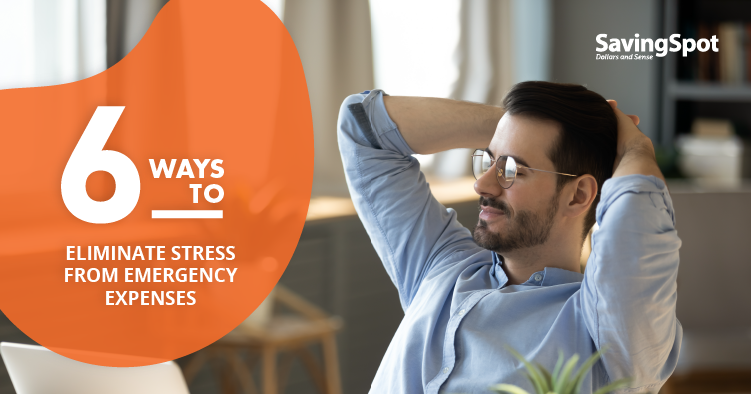 How to Eliminate Stress When You Need Cash Fast
Financial emergencies seem to happen when we least expect them — leaving little time to secure the cash needed to cover their often hefty price tags. In fact, a recent survey found that fewer than four out of ten U.S. adults could absorb the cost of a four-figure car repair or emergency room visit by tapping into savings.1
Though it's a good idea to plan for the unexpected, building a rainy-day fund isn't always realistic for everyone's budget. That being said, there's no need to worry about finding a lender every time you face an urgent expense. There can be many ways to access additional funds fast without having to constantly reapply for loans (depending on where you live). Here are just a few options for you to consider:
1. Credit Card
According to the same recent study, 18% of Americans surveyed would put a surprise expense on a credit card and pay it off over time.1 Given how popular this method is, a credit card seems like it could be a suitable alternative for an emergency fund. After all, credit cards make it possible to cover your costs quickly, and the process doesn't really involve a ton of legwork if you already have an account in good standing. Still, this payment method doesn't come without its risks.
Aside from the fact that funds from a credit card are borrowed money, sometimes with very costly interest rates, you can't always use credit cards for every kind of expense. As common as they are, a credit card might not be a valid form of payment for contractors and other tradesmen you may hire for home or car repairs. Even if a business does take credit cards, you'll need to make sure that your specific type of credit card is accepted before you can use it.
2. Charge Card
Similar to a credit card, a charge card is a type of electronic payment card that can also provide efficient access to credit for emergencies. However, with charge cards, you normally won't have interest fees, since most require you to repay the statement balance in full each due date.
Charge cards can offer some advantages over credit cards that may come in handy for emergency expenses, such as uncapped spending limits and reward benefits, depending on the issuer. Keep in mind that these cards do frequently charge steep annual fees, and you'll also want to watch out for high late fees or severe penalties on unpaid balances. It's important to know these potential downsides before you consider taking out a charge card.
3. Line of Credit
A line of credit is another source of funding that can reduce the stress of borrowing money for urgent needs. It also bears some similarities to a credit card, as it offers access to funds up to a preset credit limit, and you can keep using your available credit as you repay.
A line of credit can provide key benefits like allowing you to take out money without having to spend it all at once, and you'll only owe interest on the amount you draw. Plus, many lenders may be able to deposit funds directly into your checking account. That means you could have access to cash for emergency situations where credit cards are not accepted as payment.
Here's a tip for those interested in applying for a line of credit: Be mindful of whether it is secured or unsecured. Unsecured lines of credit don't require you to put up collateral, like a car or property title, but they may involve a credit check. If the line of credit is secured, you'll need to offer collateral as a guarantee of repayment.
4. Home Equity Line of Credit (HELOC)
When it comes to secured lines of credit, a home equity line of credit (HELOC) is one of the more widely known varieties. This type of financing may be available when you have equity in your home, which is the difference between your home's value and what you owe on your mortgage.
Homeowners may have the option to put equity toward securing a HELOC to get the emergency funds that a line of credit can provide. Before you go out and apply for a HELOC, you should be aware that you'll essentially have to use your home as collateral. That is a decision not to be taken lightly since you could face the risk of foreclosure if you're unable to make payments.
5. Overdraft Protection
Overdraft protection is a feature you'll see in some checking accounts that can clear a transaction when an account balance is too low to cover it — as is sometimes the case with surprise expenses. Normally, if you try to spend more than what's in your account, the transaction would be declined and you'd likely face penalties. While overdraft protection can serve as a safety net in these stressful situations, it does have its limitations as well.
As you might expect, overdraft protection comes at a price. You'll typically need to pay an overdraft fee in exchange for the added convenience of this service. It's worth noting that in certain scenarios, you may be able to avoid bank overdraft fees, which may make using this feature more practical.
6. "Buy Now, Pay Later" Apps
For situations involving an urgent purchase that you can make online, there are a growing number of "buy now, pay later" applications that may suit your purposes. You can typically access these services directly through your smartphone, allowing you to buy what you need and pay for it through installments, if approved.
Even though most of these apps don't offer the ability to cover emergencies that fall outside of the realm of consumer goods, they can be helpful in specific cases. For instance, if you or your family are critically low on essential household items, you may be able to use one of these services to pay for them and repay the borrowed funds over time.
As you can see, there may be a wide range of options available to help you stop stressing out over emergency expenses. No matter which route you take, we recommend weighing out the pros and cons of each before you decide what's best for your situation.
References
1Ostrowski, J. (2021). Survey: Fewer Than 4 in 10 Americans Could Pay a Surprise $1,000 Bill From Savings.