Do Bank Overdrafts Affect My Credit Score?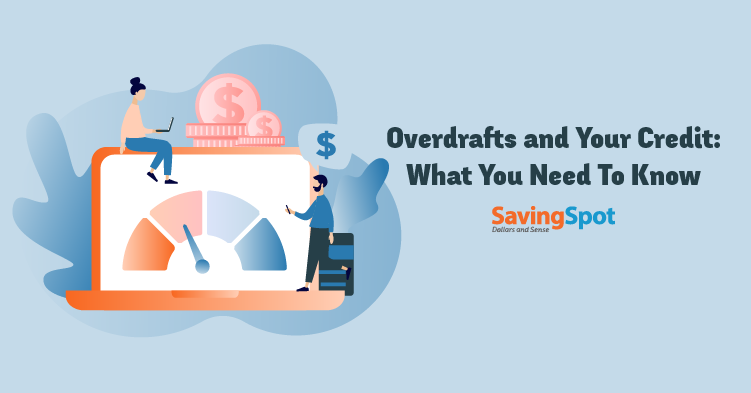 Unexpected expenses are one of the most frustrating challenges in life — they're inconvenient, stressful, and worst of all, strenuous on your budget. Even if it's just one expense, the cost of that refrigerator repair or a new tire can impact how you balance day-to-day expenses.
Many turn to bank overdrafts to pay their bills when faced with a tough financial decision. While it's a potential option to help make ends meet, overdrafts come at a cost. A recent study found Americans spent nearly $250 per year on overdraft and late payment fees.1  What other costs are associated with bank overdrafts? And how may those fees impact your overall financial health, like your credit score? Let's explore bank overdrafts and their full impact on your finances.
What Is a Bank Overdraft?
Depending on the bank and your specific account benefits, you may be eligible for a bank overdraft, or the ability to borrow money beyond what is currently in your account. It is an extension of credit from your bank for the amount overdrawn. Overdrafts allow a purchase to go through that would otherwise be rejected due to insufficient funds. As with most types of credit, there's a cost to use it — typically $30 – $35 per overdraft.1
Do Bank Overdrafts Affect My Credit Score?
Good news! Bank overdrafts do not directly impact your credit score. Your credit score is determined by several factors, including the history and current status of lines of credit, personal loans or other borrowed credit. A checking account is comprised of your own funds, not borrowed. Therefore, checking accounts, including specific transactions like overdrafts, are not included on your credit report.
However, if you do not pay back the balance owed and the associated fee, the overdraft may negatively impact your credit score. The bank may send the delinquency to a collection agency when the outstanding debt goes unpaid. When an account goes to collections, it is reflected on your credit report and remains there for seven years. Your credit score takes your payment history into account, so missed payments impact your score negatively.
What Are Some Alternatives To Bank Overdrafts?
If you'd prefer to avoid bank overdrafts altogether, there are a few alternatives. Your eligibility for these options may vary based on your credit score or the institution offering it. Consult with the lender directly to understand how these bank overdraft alternatives may benefit you.
Use an online loan to cover your emergency expenses or urgent bills. Short-term loans — like most forms of credit — come at a cost, but depending on the terms of the loan, it may cost less than a bank overdraft.
Credit cards, or a line of credit, can potentially help ease the stress caused by emergency expenses. Credit cards have more flexibility than a traditional loan because you can borrow funds as you need them and only pay interest on the outstanding balance.
1M. Leonhardt. (2020). Late fees, overdrafts and even fraud cost Americans an extra $577 annually.
The information in this article is provided for educational and informational purposes only, without any express or implied warranty of any kind, including warranties of accuracy, completeness or fitness for any particular purpose. The information in this article is not intended to be and does not constitute financial, legal or any other advice. The information in this article is general in nature and is not specific to you the user or anyone else.