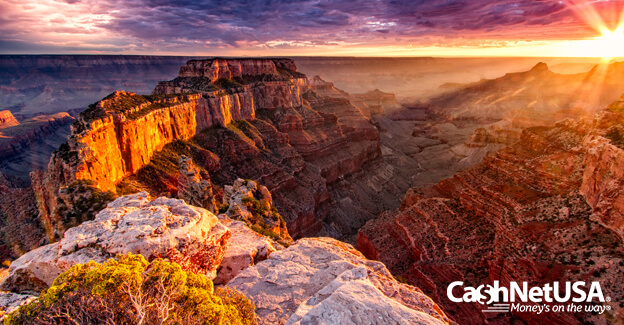 It doesn't matter what time of year it is, most people are always ready for a vacation. However, as anyone who has ever packed a suitcase and traveled via planes, trains and automobiles knows, planning a trip to the desired destination can be a tiring and time-consuming task — especially if you want to find places that are affordable and family-friendly.
Your next great American adventure can take you on a voyage to breathtaking views and historic landmarks — your first decision is which direction to travel first!
If you plan on heading north, there is no better place to go to than Niagara Falls. An estimated eight million people visit Niagara Falls State Park every year.1 There are hundreds of free events, attractions and activities throughout the year. Whenever you go, the image of 700,000 gallons of water pouring over the falls every second is truly a scenic sensation. If Niagara doesn't quench your thirst for beauty nothing will.
Another destination on our list is Washington, D.C. For anyone who loves history and viewing iconic landmarks, our nation's capital is the best place to be. D.C. is home to over a dozen Smithsonian Museums,2 the National Zoo and Capitol Hill, all of which are free. Of course, there are iconic monuments immortalizing American greats like President Abraham Lincoln and the Reverend Dr. Martin Luther King, Jr. In December, you can enjoy holiday decorations, ice-skating in the National Mall and free concerts. Your feet may get tired of walking as you track down all the of the city's treasures, but you'll never run out of things to see and do.
If you're interested in traveling south, then you're guaranteed to have a peachy time in Savannah. Nestled on the eastern coast of Georgia, Savannah is a quirky, eccentric town embraced by Hollywood in well-known movies like "Midnight in the Garden of Good and Evil" and the ever popular "Forrest Gump" with Tom Hanks.3 The Savannah College of Art & Design attracts a young, artsy demographic.3 And while movies and art are great, the major attraction is dining. The southern cuisine will have your stomach growling for fresh seafood, fried chicken, meatloaf and other tasty treats, prepared to make you feel like you're having Sunday dinner at Grandma's house.3
So far, we've been north, east and south — now it's time to venture west. Nothing says "Go West, young man" like the Grand Canyon. The Grand Canyon is magnificent, majestic and massive. Located in Arizona, the Grand Canyon measures 277 miles long, 18 miles wide and 1 mile deep.4 This is the perfect place for the adventurous person eager to reconnect with nature. Hikers can march along the rugged, isolated trails of the North Rim, or jump on a mule to ride along the Bright Angel Trail.4 You won't need a lot of money to experience all that the Grand Canyon has to offer, but you will need time.
These are just four of the places in which families can vacation on a budget. So whether your mission is to allow your eyes to drown in the image of Niagara Falls; explore the history of our country in Washington D.C.; digest tasty southern cuisine in Savannah; or hike along the peaks and valleys of the Grand Canyon, be sure to look for good deals and find free activities. You'll be sure to have a good, frugal time.
References
1 Plants, R. (2015, September 9). NF tourism numbers up: Visitors center perspective. Retrieved October 5, 2015, from http://www.wgrz.com/story/news/2015/09/09/niagara-falls-tourism-numbers/71970786/
2Washignton.org. Visiting the Smithsonian Museums. (n.d.). Retrieved October 5, 2015, from http://washington.org/DC-guide-to/visiting-smithsonian-museums
3U.S. New & World Report Travel. Savannah travel tips. (n.d.). Retrieved October 5, 2015, from http://travel.usnews.com/Savannah_GA/Travel_Tips/
4GC Tours. Interesting facts about Grand Canyon. (n.d.). Retrieved October 5, 2015, from http://gctours.net/interesting-facts-about-grand-canyon/
Comments