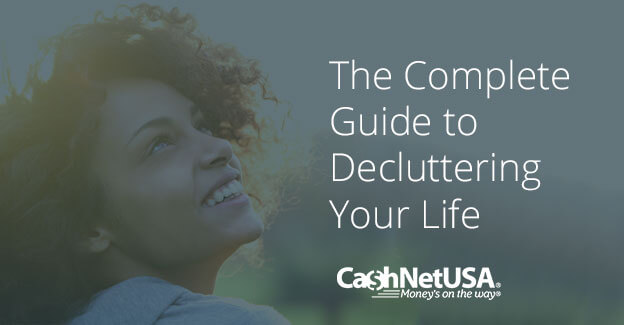 The Complete Guide to Decluttering Your Life
With winter drawing to a close, you may have the itch to return to the old tradition of spring cleaning. Home may be where the heart is, but the clutter of your life extends far beyond the threshold of your abode. It's time you think outside the four walls of your home and consider decluttering other areas of your day-to-day life. Click on the images below to get started.
It's time to spring into action and make positive changes to your life outside of traditional spring cleaning. Take the time to declutter the major areas of your life and find yourself less stressed, organized and more.
References 1 Beres, D. (November 30, 2015). Reading on a screen before bed might be killing you. Retrieved February 02, 2016, from http://www.huffingtonpost.com/2014/12/23/reading-before-bed_n_6372828.html 2 DiGangi, C. (August 03, 2015). 80% of Americans are in debt. Retrieved February 01, 2016, from http://blog.credit.com/2015/08/80-of-americans-are-in-debt-122255/ 3 Anderson, R. (August, 2012). You waste a lot of time at work infographic. Retrieved February 01, 2016, from https://www.atlassian.com/time-wasting-at-work-infographic 4 Multitasking: switching costs. (March 6, 2006). Retrieved February 01, 2016, from http://www.apa.org/research/action/multitask.aspx