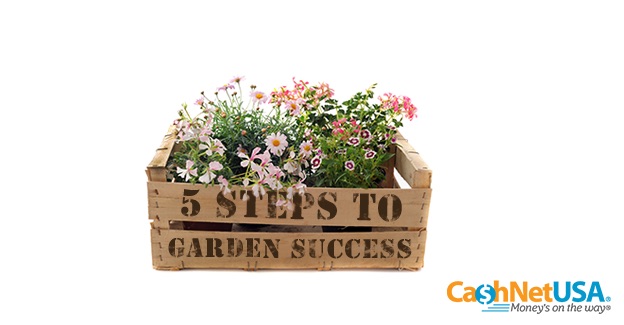 Growing a garden can be a very rewarding experience, but it'll take a bit of research and preparation before you can reap the fruits (and vegetables) of your labor. Follow these five steps as a basic primer to get you ready.
1. Plan
When it comes to gardening, placement is almost everything. You'll want to avoid planting too near a tree, which can steal nutrients and shade the garden. Also consider gardening close to your house, which will help to discourage wild animals from nibbling away your flowers or harvest.
To get started, study seed catalogs and decide which kind of vegetation you'd like to grow. Be sure to check frost dates in your area, and be aware of your local conditions.
One of the common beginner mistakes is planting too much too soon, which leads to growing way more than anybody could use. It's best to start small. Experienced gardeners will tell you it's better to be proud of a small garden than to be overwhelmed by a big one.
A good-sized beginner vegetable garden is about 16×10 feet, with crops that are easy to grow. In that size bed, your garden should ideally be eleven rows wide, with each row ten feet long. The rows should run north and south to take full advantage of the sun.1
2. Prep
Once you've determined where you'd like to grow your garden, you'll want to check the quality of the soil. If you are unsure of the quality of your soil, check with your local nursery or local cooperative extension office about free soil test kits. Even if your soil isn't great for growing, it can be improved. Mixing in buckets of organic matter such as well-rotted manure, compost or fertilizer can enrich most soil.
Ready to get your hands dirty? It's time to mark out the area we will use as the garden bed. Get the line right by laying out a hose in the shape of the bed, and marking the edges with sand or flour. Once you mark the line, get rid of the grass with a spade or sod cutter. Then dig it up! Till your garden area about a foot deep, removing any rocks, roots or other debris. If your soil needs improvement, now is the time to mix in the organic matter while you work the ground.
Next, you may want to set an edge to your garden to keep grass and weeds from invading. To do so, dig a trench about eight inches deep — or install an edging material around the perimeter. In addition, you'll want to set up some fencing material to keep animals out.
3. Plant
You should wait until two weeks after you've prepped the soil to plant.
You may want to start by "siting" your seeds or plants, simply by setting them down in the place where you intend to plant them. That way, you will know that every plant is properly spaced. Different seeds and plants require different amounts of space, so it will be important to do that research during the planning stage.
In some cases it's recommended that you begin growing certain plants indoors several weeks before the average last spring frost date if you are growing from seed instead of transplanting. Be sure to research each plant type so you'll know the best method of planting for each item in your garden.
4. Protect
Fruits and vegetables need a lot of water — at least one inch of water a week. For tomatoes and some other garden varieties, you may want to provide about two inches per week during the summer. The key is trying to keep the amount of water consistent.
Add mulch to your garden five weeks after transplanting to retain the moisture. To help plants through periods of drought, find some flat rocks and place them next to each plant. The rocks will help prevent water in the ground from evaporating into the atmosphere.
Two weeks prior to your first picking, fertilize the garden. Do so again two weeks after the first picking. Keep a frequent eye on the plants to monitor how they are doing, and see whether they are being threatened by any insects or animals.
5. Pick
The time it takes for your produce to develop will depend on the plant. Follow the techniques that are proper to harvest from each plant. Save the seeds from your fruits and vegetables to re-start the process next year. And be sure to share the wonder of your delicious homegrown fruits and veggies!
References
1 The Old Farmer's Almanac. (n.d.). Almanac.com. Retrieved February 24, 2015 from http://bit.ly/1gaM650
Comments