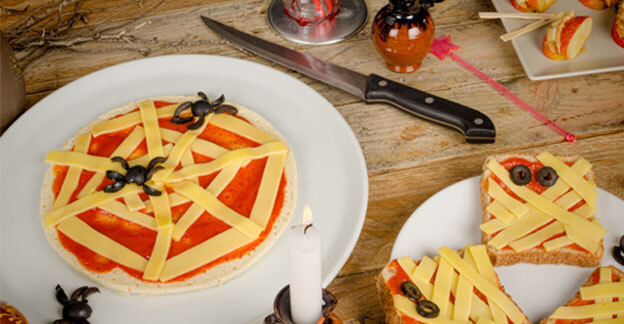 What better way to celebrate Halloween than with a hot slice of spooky Za! Watch the black-olive spiders come to life as they crawl up their string-cheese webs and into your mouth! Caution: this snack is scary-good.
Follow the below recipe for a spooky spin on the classic party staple!
Ingredients 
Pre-baked mini 8-inch pizza crusts
Pizza sauce
Mozzarella string cheese
Large pitted black olives
How to Prepare
Preheat oven to 450 degrees F.
Place pizza crusts on a baking sheet and top with pizza sauce.
Pull the cheese into strips and place on pizza in a spider web shape.
Bake pizza for 8 – 10 minutes until cheese is melted. Let the pizza cool for 3 minutes.
Cut off one end of an olive to use as spider head. Cut another olive in half length-wise. Cut one half into strips for legs and use the other half as the body. Put the spider together and place on pizza.
http://www.womansday.com/food-recipes/food-drinks/recipes/a10838/spiderweb-pizzas-recipe-122166/
Comments