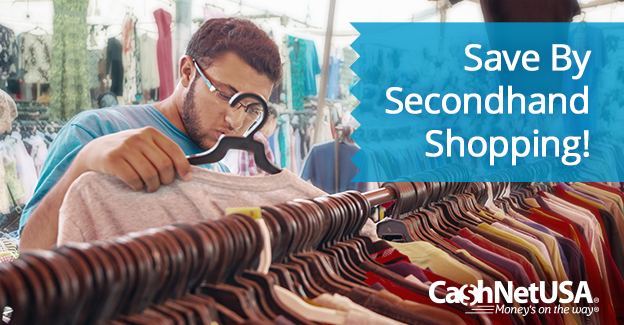 Saving money can be a full-time job. Between couponing, bargain hunting and dollar store adventures — it can get hectic. Shopping for clothes is no different! Now that your kids are back in school, they will likely be asking for new clothing items to keep up with the current hip styles. While new clothes are awesome, don't forget about secondhand stores!
To come up with a useful secondhand store game plan before locating some in your area, learn the difference between the many types of secondhand stores and how to find the best deals.
Types of Secondhand Stores
There are many different types of secondhand stores where you can find gently used or new clothing items from the past and present! Below are the four most popular types of secondhand stores.
Thrift Stores
Thrift stores sell donated and used goods for a fraction of their original price. These goods range from clothes and accessories to kitchen and home items! Some of the most popular thrift stores include Goodwill, Salvation Army, Value Village and Unique Thrift.
Consignment Stores
A consignment store operates much differently than a thrift store. They act as a middleman between the owner of items and a buyer. People bring in their items and when they sell, the store splits the proceeds with the owner. This type of store usually carries higher quality items (i.e. designer clothing) if that is what you're searching to buy.
Resale Stores
Resale stores are very similar to thrift stores, but are often much smaller. They also accept charitable donations, but they must be gently used or brand new. You'll likely pay a bit more than a thrift store, but the quality will likely be better.
Vintage Stores
Are your kids interested in retro clothing? Take them to a vintage store! These stores specialize in clothing from older time periods. While they may have a bit more wear, they are not any less wonderful!
Secondhand Shopping Tips
Now that you are well-versed in the variety of secondhand shops, you just have to make a list of the items you need and the stores you want to visit! Use the tips below to find the best deals:
Ask About the Return Policy
Many secondhand shops have strict exchange or return policies. Before purchasing your items, inquire with a sales associate if all sales are final.
Take Advantage of Sales
Just like regular retail stores, secondhand stores have sales too! To find out about these sales, head to the secondhand stores in your area and ask about their email list or mailing list. You'll never miss a sale again!
Inspect ALL Items
Because all sales are usually final, check out your items for tears, stains or anything defective before buying it. This is especially true if you're buying anything electronic — just ask a sales associate if you can try it out first!
Comments