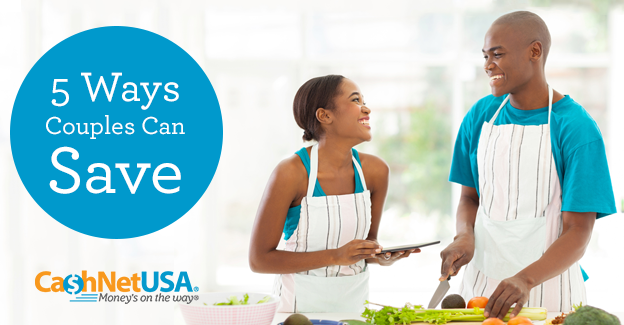 While being a part of a couple is no guarantee that you'll save more, there are a few ways that you can make your partnership work to your financial advantage. Take a look!
1. Talk About It
While we're here to talk about positives, it's important to understand that not talking about your finances could do a whole lot to harm your financial future. So having a conversation about money isn't just a way to improve your savings — it's a necessity for avoiding debt and setting yourselves up for success. And don't just focus on the specifics (bank account, investments, etc.), but spend some time on less tangible financial issues. Understand each other's weaknesses when it comes to spending, and help one another avoid mistakes you may have made in the past.
2. Set a Savings Goal
This can be a number you'd like to meet — $1,000 a month, for instance — but it may work even better to set a spending goal. I.e., what's a dream vacation you'd both like to take, and how much do you need to save to make that happen? The mere act of building a budget for your trip will get you excited to take one, which in turn will help you meet your savings goal.
3. Eat at Home More Often
Simple, but so important! While many of us are guilty of taking advantage of takeout restaurants, or simply going out anytime we're feeling lazy, this is a quick and easy way to spend more than you should. Try planning your meals in advance, and if you're not the world's best cook, make it an educational experience.
4. Use the Right Tools
Remember that you don't have to sort out every last detail of your financial lives on your own. Most banks or lenders offer online tools to help you plan and save better, and understanding how these resources can help will get you closer to your goals. And don't limit yourself to tools provided by your bank — go in search of useful apps for your phone that will allow you to set spending limits or find savings.
5. Know How Taxes Work
It's no secret that married couples enjoy certain tax benefits, but for those of you enjoying the bonds of matrimony, do you understand exactly where you're saving? Utilize resources like IRS.gov or other tax-focused sites and explore all the various ways that you can make your taxes work for the two of you, and not against you.
Comments