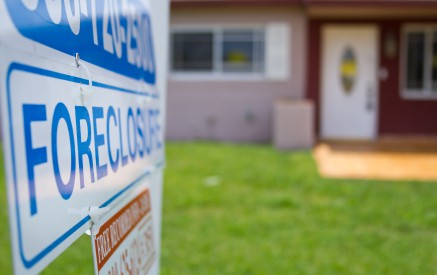 Whether you have recently experienced a job loss, or your financial situation has changed for the worse, foreclosure can often be viewed as a traumatic and devastating experience. However, in today's fragile economy, foreclosure may be your only option when faced with financial difficulties beyond your control.
Despite taking precautionary measures to ensure your home is not foreclosed upon, even homeowners with the best intentions are often faced with foreclosure. If foreclosure from your lender seems imminent, or if you're thinking about abandoning your mortgage, below are a few helpful tips you'll definitely want to attempt before you take your first steps in the foreclosure process.
Start communicating. Start making calls to your lenders. Acknowledge the notices you've been receiving and attempt to rectify late payments and discuss your options with creditors and lenders. Ignoring notices will not make them go away or disappear. If you are three to four payments late, your lender may be willing to work with you to get your payments back on track. To save yourself, act as soon as possible.
Learn your options. Many government programs, including HARP 2.0, and possibly in the future, HARP 3.0, are here to help you avoid foreclosure. Learn more about the many programs available to homeowners faced with foreclosure. The Department of Housing and Urban Development and the Federal Housing Authority provide a number of counseling and financial services, including refinancing of FHA-insured loans.
Attempt to refinance your home mortgage. Even though you may be late with a few mortgage payments and your home's value has dropped significantly, you may still be able to refinance your current mortgage. Depending on your type of mortgage, you have a number of options at your disposal. Refinancing can lower your monthly payments and give you some breathing room.
Consider short selling your home. A short sale can be a last-ditch effort to preserve your credit and avoid bankruptcy or foreclosure. With a short sale, all the proceeds from the sale of your house go to the lender, who may forgive you the difference in the sale price and the remainder of your mortgage. A short sale should be considered only after you talk to your lender about modifying the terms and payments of your mortgage. Your lender will have to approve the sale, so be honest and work with your loan officer to find a solution that works.
Contact an attorney. If foreclosure appears imminent, contacting an attorney to help you manage or stall the process can be very beneficial. A foreclosure attorney can help you plan a short-sell of your home or work with the bank to keep you in your home. An attorney will help you understand the documents you are signing and can help extend the foreclosure proceedings while you work out a plan to stay in the house.
Consider Renting Your Home. This step towards financial freedom requires careful planning. If you are not late on your current mortgage, but anticipate tough times ahead, renting your home may be the best available option to homeowners wanting, "out" of their current mortgage. Contact a local, knowledgeable Realtor in your area. Discuss your home's current value in the rental market. You may be surprised that your home's rental value is worth more than your current monthly mortgage payment. Renting your home, however, does require you to move; an added expense many homeowners simply can't afford. You may even be able to move in with relatives or family, allowing you to save money so you can get back on a financial track to success.
Ask for Help. Foreclosure can often be viewed as embarrassing and shameful. Admitting to family members and friends that you are facing foreclosure can often yield positive results. A friend may know of a helpful source of income or could point you to a good resource that may be able to assist you in paying for your home. Perhaps a neighbor, friend or relative may be willing to provide you with an emergency loan, at low-or-no interest. Keeping the problem to yourself only ensures you won't find the help you need.
You'll have to weigh the pros and cons of each of these steps carefully, but even if your bank does begin foreclosure proceedings, it will probably be at least a few months before you have to start packing your boxes. With the backlog of foreclosures, it can be easier to let your attorney deal with your bank while you work to rebuild your finances.
There may be no easy way to avoid foreclosure. However there are steps that can help you manage the situation. Avoiding foreclosure starts with taking action, most effectively by contacting and communicating with your lender. You can't always save yourself from experiencing foreclosure, but you can often prevent it by taking precautionary measures.
The information in this article is provided for education and informational purposes only, without any express or implied warranty of any kind, including warranties of accuracy, completeness or fitness for any particular purpose. The information in this article is not intended to be and does not constitute financial or any other advice. The information in this article is general in nature and is not specific to you the user or anyone else.
Comments