Payday lending has exploded in the past two decades. From having practically zero stores in 1990 (Elliehausen & Lawrence, 2001) to 2,000 in 1996 and 23,000 in 2005 (Department of Defense, 2006), the industry has grown tenfold in less than 10 years. And today, these short-term advances are still in high demand.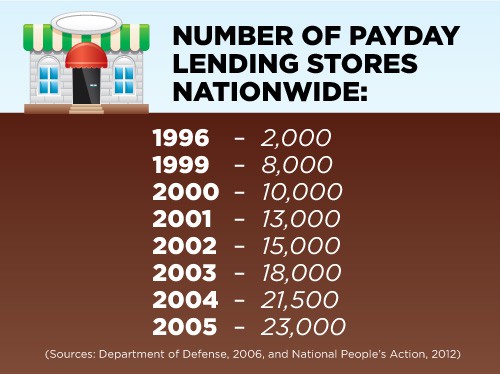 Nationwide there are more payday loan and check-cashing shops than McDonald's, Burger King, J. C. Penney, Sears and Target stores combined. When payday lending first emerged in the 1990s, it filled the void left by traditional lenders who had pulled out of the very-small-loan market. As it would turn out, millions of Americans turned to payday loans to cover their immediate financial needs, and the industry grew swiftly, exceeding 23,000 outlets in 2005 (Karger, 2005).
Over half of the U.S. population lives paycheck-to-paycheck (Karger, 2005). Short-term payday loans help these consumers pay for emergency expenses, often for less money than bouncing a check or incurring a late fee. About 5 percent of Americans have taken out at least one payday loan before (Stegman, 2007), and there is an estimated 19 million borrowers of payday loans nationwide (Logan & Weller, 2009). This is a business driven by immense consumer demand that just keeps on growing.
Today, over 100 million payday loans are issued every year. In 2010, U.S. consumers borrowed more than $29 billion in short-term loans (National People's Action, 2012). With such high usage across the country, it's clear that payday loans are a much-needed resource for when unexpected bills crop up. As long as there are consumers who cannot afford to build savings for the future, there will always be a need for payday loans. And as the need intensifies, the payday lending industry will continue to expand.
References
Department of Defense. (2006, August 9). Report on predatory lending practices directed at members of the armed forces and their dependents. Retrieved from https://defense.gov/pubs/pdfs/report_to_congress_final.pdf.
Elliehausen, G. & Lawrence, E. C. (2001, April). Payday advance credit in America: An analysis of customer demand. Credit Research Center. Retrieved from https://faculty.msb.edu/prog/CRC/pdf/Mono35.PDF.
Karger, H. (2005). Shortchanged: Life and debt in the fringe economy. San Francisco: Berrett-Koehler Publishers.
Logan, A. & Weller, C. E. (2009, March). Who borrows from payday lenders? An analysis of newly available data. Center for American Progress. Retrieved from https://americanprogress.org/issues/2009/03/pdf/payday_lending.pdf.
National People's Action. (2012, January). Profiting from poverty: How payday lenders strip wealth from the working-poor for record profits. Retrieved from https://npa-us.org/files/profiting_from_poverty_npa_payday_loan_report_jan_2012_0.pdf.
Stegman, M. A. (2007). Payday lending. Journal of Economic Perspectives, 21(1), 169-190. Retrieved from https://pubs.aeaweb.org/doi/pdfplus/10.1257/jep.21.1.169.
Comments