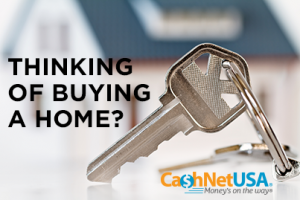 Home ownership is still part of the American dream. It's comforting to have a place you can call your own.
Now that home prices have stabilized, or even increased in some areas of the country, and with interest rates still being relatively low (only about 1 percent higher than their recent historic lows), buying a home may sound like a good idea.
But a better idea is to look before you leap. Here are four things to consider before buying a home:
1. Do you have at least 10 percent to put down?
A few years ago, when residential real estate was increasing in value every minute, even if you didn't put any money down, it would be worth more at the closing table than the price agreed upon 30 days earlier: instant equity.
While that is no reason to put zero money down on a home, it certainly doesn't work if the value of your home drops. As we've recently witnessed, home values don't always increase. Your down payment is the equity you have in your home, allowing the value of your home to drop without financially endangering you or the bank, as long as the value doesn't drop any greater than your down payment.
Additionally, saving for a down payment shows you're serious about home ownership and have the discipline to prepare.
2. Do you want to pay for home repairs?
Let's just face it: Things break. When you're renting an apartment and the dishwasher breaks, you call your landlord, who pays to have it fixed. If it's your home, guess who pays? You do. This is a big shock for new homeowners who have just stepped away from renting.
3. Do you plan to move in the next few years?
When you buy and sell a home, there are closing costs involved, even if you buy and sell your home yourself (which is not recommended — Realtors do this for a living and can be less expensive in the long run). In today's market, it takes a lot of time to earn back those closing costs, even if you aren't paying the Realtor's 6 percent commission.
Related to this, if your job situation isn't secure, you'll still be on the hook to make payments even if your income status changes. If you lose your job and are lucky enough to find another one, there's no guarantee it will be close to where you live. A new job may even require relocation, which may not be possible if you can't quickly sell your home.
4. How will your house payments compare to rent?
In some areas the residential market isn't exactly efficient, and you may be able to rent an apartment of similar size for much less than your mortgage payment. This should be a red flag not to buy.
Also consider the Rule of 15: Choose an apartment comparable to the home you're buying, annualize the rent (multiply the monthly rent by 12), and multiply the product by 15 (to represent years). If 15 years of rent payments are less than the value of the house, then you're better off renting.
No one should be discouraged from owning a home; however, in certain situations it may be better to rent.
The information in this article is provided for education and informational purposes only, without any express or implied warranty of any kind, including warranties of accuracy, completeness or fitness for any particular purpose. The information in this article is not intended to be and does not constitute financial or any other advice. The information in this article is general in nature and is not specific to you the user or anyone else.