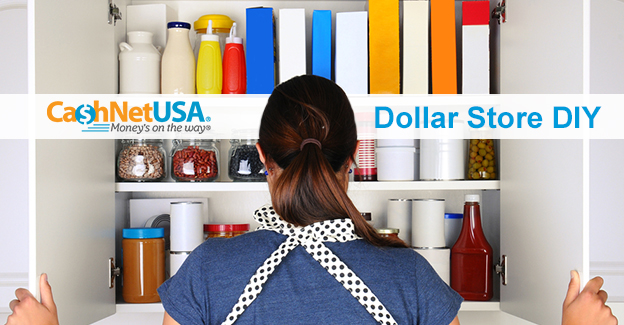 Have you ever been to a dollar store? It's a great place to shop for deals and has thousands of items for an assortment of DIY projects. Satisfy your shopping and crafting urge at the same time by trying out some of our favorite dollar store DIY projects! Check them out below.
Pantry Party
Is your pantry a mess? Don't be ashamed; most of ours are! With the help of a few dollar store glass containers, plastic bulk containers and plain stickers, your pantry will start to look like an organized grocery aisle.
Directions: All you need to do is purchase the items listed above and pour your pantry items (e.g. rice, cereal, sugar, etc.) into them. Afterward, label your contains using the plain stickers. Voila, easy organization that looks fancy!
Tiled Mirror
Every home needs a swanky tiled mirror. Ok, maybe not — but it would look awesome, right? To achieve this, purchase 9 framed mirrors (any color you want!) and super glue from the dollar store.
Directions: Once you get home, lay all of the mirrors on a flat surface and put the super glue on the edges. Press them together and let them set for about 30 minutes.
Emergency Car Kit 
If you're planning a road trip soon with family or friends, you should consider putting an emergency car kit together. All of the items you might need are available at the dollar store! Purchase a first aid kit, flashlight, wet wipes, microfiber cloth, batteries, bungee cords and some snacks.
Directions: Find a reusable bag and put all of the items in it. Store it in your car's trunk!
Night Light
Are your children afraid of the dark? Make them a night-light! Hunt down an old jar in your home, then purchase glass beads, tea lights and super glue at the dollar store.
Directions: First, super glue the glass beads around the entire jar. Second, glue the tea light on the inside of the lid. Lastly, turn on the tea light and flip the jar upside down. Done!
Tiered Tray
If you're hosting a party this summer, you will definitely need a party tray. Once you get to the dollar store, search for plastic plates in three different sizes and any color you prefer. After you have tracked those down, find two candlesticks and super glue. Now get to ready to wow your guests with your DIY abilities!
Directions: Put the largest plate on the bottom tier and stack a candlestick (that has superglue on the bottom) in the middle. Then, put super glue on the top of the candlestick and proceed to stack the middle-sized plate. Repeat this with the other candlestick and smallest plate. You're ready to serve snacks in style now!
Comments