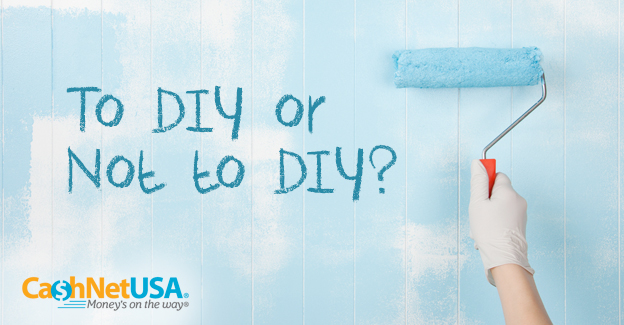 Taking the DIY route can save a lot of money, but there are certain occurrences when hiring someone is a better option for you and your wallet. Here are a few to DIY or not to DIY scenarios:
Cooking vs. Dining Out  
 Purchasing food is one of the biggest portions of a monthly budget for most people. Since food prices are constantly rising, ordering takeout or dining out definitely won't save you anything but time.
Ordering food to-go is a time-saver, especially when you have children, but cooking saves more money. When you go out to eat, much of the cost of the meal is not even the food; it is for the chefs to prepare it and the server to deliver it. So if you learn how to prepare your favorite meals at home, you can cut the costs by more than half.
Playing Handyman vs. Hiring Plumbers, Electricians or Mechanics
You have a leaky kitchen sink, an outlet that is broken and a car that needs an oil change. Professionals are available for hire to fix all these tricky tasks, and hiring one might just be your best option.
Sure, you may be able to learn how fix some of these simple issues from family members or handy friends. But there is a safety risk involved with attempting to fix plumbing and electricity issues on your own. Also, you might temporarily solve those household issues and end up either making it worse or having to hire someone in the future to fix it when it breaks again.
Booking a Vacation Online vs. Using a Travel Agent
Saving money is difficult. So if you and your family finally get to take the vacation you have been hoping to embark on, plan it yourself.
We live in an extremely efficient world, and some of the best travel deals available can be found online. By skipping out on hiring a travel agent, you might even be able to stay an extra night at your destination or participate in a fun activity with your family or friends!
Doing it yourself and hiring someone are both viable options. In regards to saving money, if you can DIY then you should definitely try!
Comments