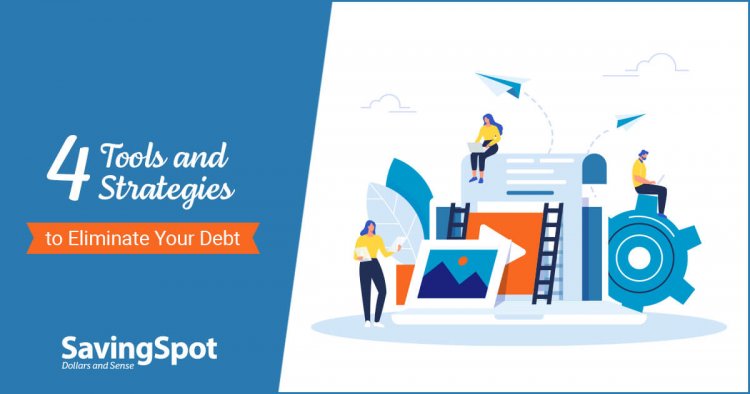 If you have outstanding debt but aren't making any headway on your balance, it might feel like financial freedom is a far cry away. Depending on how much debt you carry, making the minimum payments towards your balances may not actually help you move forward.
But if you really want to get out of the red and save for the future, eliminating your outstanding debt is a solid first step. While there's no fast and easy way to adjust your lifestyle or relationship with money, making a few changes now will help you become debt-free sooner. Read on for more debt repayment tips and strategies to improve your financial situation.

Paying off debts can take a while and require hard work; look for a strategy that helps to motivate you. These four popular debt repayment methods are great places to start.
1. Snowball Method
Sometimes, the emotional connection that we have to outstanding debts can make paying them off more difficult. If you're more motivated by seeing real results, this strategy can work well for your situation. The snowball method can help tackle the anxiety of juggling several payments by prioritizing and paying the most money towards your lowest balance first. While you'll still need to make minimum payments on your other debts, you'll see results faster with this method. Once you completely pay off the smallest debt, you'll apply that amount you were paying towards that debt to the next lowest debt, and so on until you have no outstanding balances. For example, if you have three outstanding debts, you'd prioritize making the largest payment you could afford in the following order.
Example Snowball Method
2. Avalanche Method
On the other hand, the debt avalanche method prioritizes your highest interest debts first, which can help save you more money over time. Like the snowball method, you'll still have to make minimum payments on all your other debts, but your most aggressive payment will be towards the debt that's costing you the most in interest. With the same three outstanding debts used in the first example, we'll take at what you'd prioritize paying the most amount towards with the debt avalanche method below.
Example Avalanche Method
3. Balance Transfer
If you've gotten behind on credit card payments, the balance transfer repayment method applies to this type of debt. You may qualify for a balance transfer credit card with an introductory or promo period with 0 percent APR. If so, you can combine your other credit card debts to that new account and pay it off during the promotional period. However, you'll likely need a decent credit score in order to qualify for these offers. Additionally, you'd need to make sure you could pay off your balance in the short period, otherwise you'll continue to accrue interest on any outstanding balance.
4. Debt Consolidation
Debt consolidation is another repayment strategy that involves taking out a loan for your total outstanding debts, paying them off completely and then making one monthly payment to the new loan until completion. The advantages of this method may be a lower interest rate, lower monthly payment and/or simply to have only one monthly payment to handle.
With a debt repayment strategy in mind, these tools can help you solidify and strengthen your financial future.
1. SMART Goals
Research suggests that people who write down their goals have a better chance of meeting them. This is called the goal-setting theory.1 While a broad, generalized goal may seem like it's more attainable, you should actually do the opposite. Specific, measurable goals, referred to as SMART goals, can help you establish a real benchmark for your successes while they also motivate you to succeed.
2. Your Budget
It's much harder to live within your means if you have no idea what you can realistically afford. Even if you've made a budget previously, it's helpful to revisit your allocations from time to time. While your unique financial situation will vary, budgeting experts suggest reverse budgeting or the 50-30-20 are reasonable to aim for. If you have room to save money or limit your expenses, tighten your budget in order to eliminate debt faster.
3. Personal Finance Apps
With the newest personal finance tools and apps, you don't really have to do much in order to reap their benefits. While some apps like Mint are free, others like Monefy offer both a free and premium version. Specific apps will vary, but most function via direct integration from your banking app and allow you to set budgets, track spending and manage savings goals.
4. Your Credit Score
If you're keeping track of your credit score throughout debt repayment, you may notice that your score has strengthened. Your credit score is an important financial health indicator that stays with you throughout your adult life. Regardless of your debts, it's a good idea to regularly review your report for accuracy, and dispute any incorrect items as soon as you notice them.
References
1Redmond, B. F. (October 2, 2016). 6. Goal setting theory – PSYCH 484: Work attitudes and job motivation. Retrieved December 18, 2019, from https://wikispaces.psu.edu/display/PSYCH484/6.+Goal+Setting+Theory
Comments