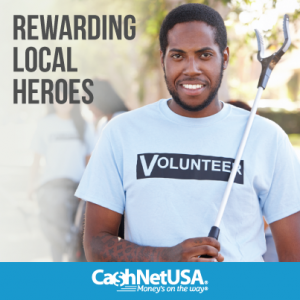 Community Contest Rewards Local Heroes
We all have heroes. Often they're family members or important figures from our past. Sometimes they're teachers or mentors. Sometimes they're the last person you would expect. But no matter where they come from, heroes are important because they make the rest of us strive to be better.
This is why CashNetUSA has decided to spotlight a hero with our Do-Gooder Giveback contest. CashNetUSA fans and followers have been asked to submit a local do-gooder for consideration as a community hero, and from January 21 to February 4, CashNetUSA will evaluate submissions on the impact the nominee has had within their local community, in addition to the clarity of expression and quality of writing exemplified in the submission. Ideally, this will lead to more attention for these heroes and the work they're doing.
In 2012, CashNetUSA held a similar contest called Holiday Heroes. The initial motivation for this was to promote a worthy cause that would benefit customers for having a positive effect on the world. In the end, the winners of the Holiday Heroes Contest were Elizabeth S. and her friend and nominator, Virginia F., for the non-profit Ashraya Initiative, benefitting homeless children in India. While the winners of last year's contest are undoubtedly heroes, the hardest part for us was leaving out all of the other heroes who are making lives better in their communities.
This is the reason we're once again asking CashNetUSA fans and followers to submit their local heroes to the Do-Gooder Giveback Contest. We want another chance to see first hand the great work being done in the world by people who just want to help, and another chance to reward one hard-working individual for making their mark on the world a positive one.
To enter for a chance to win, customers must 'Like' CashNetUSA on Facebook between January 21 and February 4, and submit their 'Do-Gooder' essay to CashNetUSA's contest page.
Comments