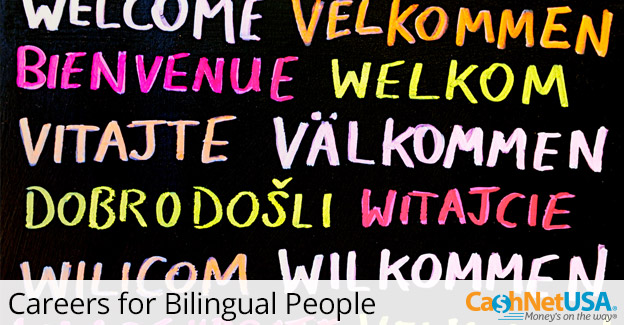 In the current job market, it can be difficult to set yourself apart. However, just because it is difficult, doesn't mean it is impossible. Certain abilities can help make your resume stand out to employers from the thousands of other applicants. Apart from being a well-rounded applicant, one of those skills is being bilingual.
Top Occupations for Bilingual People1
As the number of minorities increases, most companies are trying to keep up with the demand to serve their many multicultural customers. If you are already bilingual or are in the process of learning a second language, here are the six top careers for you to consider:
1. Bank Teller
Handling transactions, exchanging currency and educating customers about finance are the primary responsibilities of a bank teller.
2. Customer Service Representative
These representatives provide information and help customers solve problems. Being bilingual will help the company serve a larger group of customers.
3. Marketing Manager
Marketing managers develop strategies to market and advertise to specific demographics. This will bring a different perspective to any company and reach more people from different cultures.
4. Police Officer
These individuals perform a variety of tasks surrounding public safety. Being able to help and communicate may help to increase safety across multicultural communities.
5. Human Resources Specialist
Otherwise known as HR or Recruiters, companies employ these specialists to help hire qualified candidates. These individuals can help match people from all cultures with great job opportunities.
Advantages of Speaking Multiple Languages
Beyond helping you further your career, learning a second or third language has other benefits. Learning a foreign language will help connect you to a different culture and new customs. Maybe you will even learn the native language of your extended family and be able to communicate better with them. Speaking more than one language will also be a great asset when traveling abroad for business or pleasure!
References
1 Auerbach, D. (2013, January 30). 6 jobs for bilingual workers. Retrieved August 8, 2014, from http://www.careerbuilder.com/article/cb-3268-job-info-trends-6-jobs-for-bilingual-workers/
Do you speak multiple languages? Visit Pound Place – The Surprising Career Opportunities of a Second Language Speaker
Comments