In order to get the summer off to a good start, it's important to save money now any way you can. While considering drastic moves to save a great deal of money (such as refinancing your mortgage) may be wise, there are plenty of simpler, smaller ways you can reduce your expenses. By focusing on your monthly bills, you could save as much as several hundred dollars every month.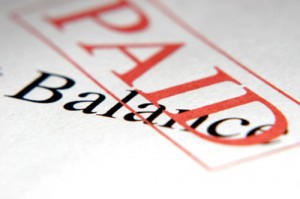 1. Look for Hidden Fees
All businesses were hit hard by the recession, and one way they've tried to recoup lost revenues is to institute new monthly fees. Review all of your recent monthly statements to see if you can spot any new charges. If so, call the company to find out what you can do to get them eliminated.
2. Reduce Plans
Do you have an unlimited talk, text, and cell phone data plan? Chances are that you may be able to get by with a cheaper plan. Now consider your cable TV package — do you honestly utilize those 500 channels and multiple paid movie services? Reduce your channels package or eliminate it altogether for a cheaper online service, such as Netflix, Hulu, or Amazon Prime.
3. Eliminate Home Telephone Service
If you have a cell phone and a solid Internet connection, you can take a significant chunk out of your monthly bills by simply eliminating your home telephone service. Consider a device made by magicJack, which connects to your computer and then to a traditional landline phone. The cost of the device and one year of service is what you'd pay for roughly two months of traditional home telephone service.
4. Bundle Services
Another possible way to cut costs is to bundle your services. Most communications companies now offer Internet, cable TV, and cellphone packages. This can save you money and cut down on the amount of bills you receive. You may even be able to negotiate a lower price than what is publicly offered.
5. Shop the Competition
For all your monthly services, check out the competition and see if you can find a better rate. Competition is fierce, so you may very well be able to find a cheaper price. Also, do what you can to avoid signing a long-term contract for any service. By doing so, it makes it a lot easier and less expensive to switch.
Final Thoughts
Remember, it can be very difficult to seriously impact your monthly bills if your finances aren't organized. Therefore, consider arranging your statements into a basic home filing system. That way, you'll have the information you need when it comes to looking at other providers, and it will also make it easier if you have to research something, such as a price spike in a water or power bill.
What other ways can you suggest to save money on monthly bills?
Comments