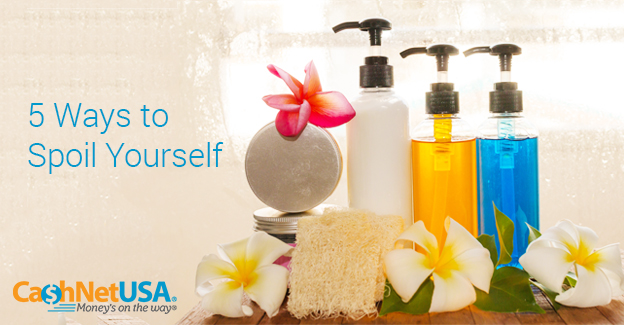 We know you're very busy. Between work, family, friends and activities, it is difficult to find a moment to relax and indulge in some "you" time. But every now and again, we should spoil ourselves rotten. Here are five very simple ways to spoil yourself at home lavishly, but inexpensively.*
1. DIY Bath
Do you love baths? Who doesn't! Spoil yourself with these bath melts:
Lavender & Chamomile Bath Melts
Ingredients: 
5 oz. Shea Butter
5 oz. Organic Cocoa Butter
2 Drops Lavender Essential Oil
1 tsp. Dried Lavender Flowers
1 tsp. Organic Chamomile Tea
Directions:
Grate your cocoa butter into a glass bowl. Add shea butter.
Place bowl on top of a pan of hot water. Stir until melted.
Sprinkle chamomile tea into the mix, then add dried lavender.
Pour the mix into silicone molds of your choice (or use ice cube trays).
Add oil to the top of the molds.
Put your melt into the fridge for one hour.
Pop them out and they're ready for use!
2. Create Your Own Shaving Cream
Shaving can be a hassle, but it can also feel incredible if done right. Create your own unique shaving cream soon:
Rosemary Mint Shaving Cream
Ingredients:
1/3 cup Shea Butter
1/3 cup Coconut Oil
¼ cup Sweet Almond Oil
10 Drops Rosemary Essential Oil
3 – 5 Drops Peppermint Essential Oil
Directions:
In a saucepan, combine the shea butter, coconut oil and sweet almond oil over low heat. Transfer to a heat-safe bowl and add the essential oils. Place the bowl in the refrigerator and chill until solid.
Remove from the refrigerator and whip using a mixer, until light and fluffy. Spoon into a jar and keep in a cool, dry place.
3. Prepare Your Own Herb & Spice Blends
Does cooking relax you? Spoil yourself with this special blend of spices for your next meal:
Lovely Lemon Pepper Seasoning
Ingredients:
½ cup Lemon Zest, Pre-Dried
6 tbsp. Ground Black Pepper
5 tbsp. Sea Salt
Directions:
Mix all the ingredients with a food processor until well mixed. Store in an airtight jar.
4. Make Your Own Sugar Body Scrub
Coconut oil is fragrant and feels awesome on your skin. Make this moisturizer that you can also eat right here: 
Vanilla Coconut Brown Sugar Scrub
Ingredients:
½ cup Coconut Oil
½ cup Brown Sugar
½ tsp. Vanilla
Directions:
Mix all the ingredients together in a bowl and store in an airtight jar.
5. Bake Your Favorite Treat
Does baking relax you? Take a break from your normal diet and eat dessert first! Buy all the ingredients to your favorite treats and prepare them at home. Plant yourself on the couch, relax with a TV marathon and enjoy some sweet time off your feet.
For more DIY suggestions on spoiling yourself, visit QuidCorner – How to Create a Spa Day at Home
References
1 Natural Living Ideas. (2013 October 30) 10 fun diy bath recipes. Retrieved February 2015 from http://www.naturallivingideas.com/10-fun-diy-bath-recipes/
2 Katie. (2012). 14 homemade spice blends. Retrieved February 16, 2015 from http://wellnessmama.com/4430/homemade-spice-blends/
3 Breyer, M. (2012 October 12). 8 homemade salt and sugar body scrubs. Retrieved February 16, 2015 from http://www.treehugger.com/organic-beauty/8-homemade-salt-and-sugar-body-scrubs.html
*The information in this article is provided for education and informational purposes only, without any express or implied warranty of any kind, including warranties of accuracy, completeness or fitness for any particular purpose.  SOME PEOPLE MAY HAVE ALLERGIC REACTIONS TO SOME OF THE INGREDIENTS IN THE ABOVE RECIPES. USE AT YOUR OWN RISK. DO NOT USE IF YOU EVEN THINK THAT YOU MAY BE ALLERGIC TO ANY INGREDIENT.*
Comments