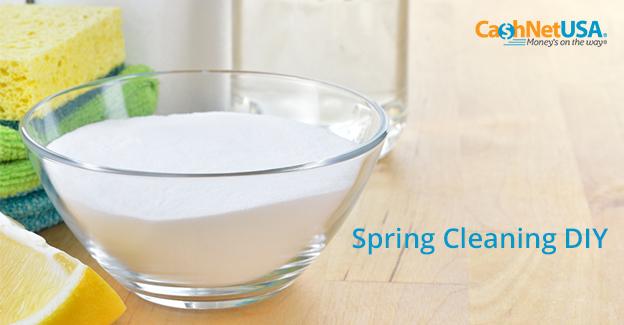 Conventional cleaning products can contain unsafe chemicals, but fortunately they're not the only option to brighten your home this spring. You can make a variety of household cleaners with non-toxic natural ingredients that are safer and cheaper to use — and they clean just as well. These recipes will allow you to keep your house clean (and green!) during any season.
1. All-Purpose Cleaner
For a cleaner you can safely use on a multitude of surfaces, mix the following items together in a spray bottle:1
1 cup white vinegar
2 cups water
1 tablespoon dish soap (optional)
30 drops essential oil
Shake well. Use liberally. For tougher jobs, spray on surface area and let it sit for a few minutes. You can also add baking soda for a little extra cleaning power.
2. Bathroom Cleaner
For porcelain, tile and silver surfaces, combine the following ingredients in a mixing bowl:2
½ cup laundry detergent
½ cup baking soda
Keep adding baking soda until mixture has the consistency of cake frosting. If necessary, add water to achieve the right consistency. Transfer the mixture into a container. If the mixture begins to dry, just add water and stir.
3. Furniture Polish
Mix a blend of half olive oil and half white vinegar into a spray bottle.3 You can also add lemon juice for some added strength and scent. Apply to furniture and polish with a soft cloth.
4. Glass Cleaner
Combine the following ingredients in a spray bottle for streak-free glass:4
¼ cup white vinegar (apple cider vinegar will work as well)
¼ cup rubbing alcohol
1 tablespoon cornstarch
 2 cups water
8–10 drops essential oil of choice (optional)
5. Floor Cleaner
For linoleum and no-wax floors, mix the following items together in a bucket:3
¼ cup washing soda
1 tablespoon liquid soap
6 tablespoons cornstarch
¼ cup white vinegar
2 gallons hot water
For wood floors, just combine ½ cup of white vinegar and 1 teaspoon vegetable oil in a bucket of hot water.
Do you know of any other DIY home-cleaning recipes? If you've tried any, what do you find works? Leave your reply in the comments section!
The information in this article is provided for education and informational purposes only, without any express or implied warranty of any kind, including warranties of accuracy, completeness or fitness for any particular purpose.  THE DIY CLEANING PRODUCTS MAY CAUSE DAMAGE TO YOURSELF OR YOUR PROPERTY.  USE AT YOUR OWN RISK.
References
1 Frugal Granola. (n.d). Simple homemade 3-in-1 household cleaner. Retrieved February 27, 2015 from http://frugalgranola.com/2012/01/simple-homemade-3-in-1-household-cleaner/
2 Kaufman, S. (2011). Better, cheaper, safer 4-way soft-scrubber. Retrieved February 27, 2015 from http://www.keeperofthehome.org/2011/03/better-cheaper-safer-4-way-soft-scrubber.html
3 Healthy Child Healthy World. (2013 April 1). Green spring cleaning: 9 DIY recipes for natural cleaners. Retrieved February 25, 2015 from http://healthychild.org/easy-steps/green-spring-cleaning-9-diy-recipes-for-natural-cleaners/
4 Whole New Mom. (n.d). No-streak homemade window cleaner. Retrieved February 27, 2015 from http://wholenewmom.com/whole-new-budget/homemade-glass-cleaner-glass-cleaner-recipe
Comments