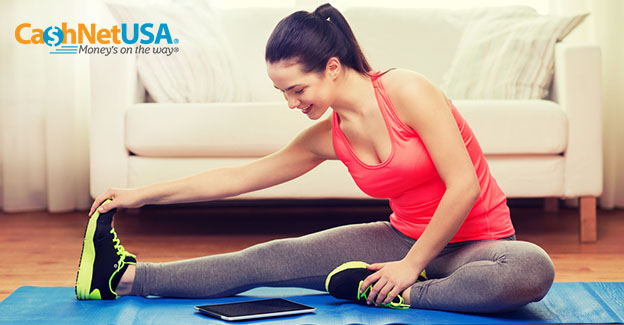 Take your fitness and wellness into your own hands this spring with these 5 free smartphone apps designed to help you work out outside of a gym. No excuses — just sweat it out!
Nike+ Training Club
iOS and Android
Do you want to train like an athlete? The Nike+ Training Club app gives you the ability to train whenever, wherever.1 This app has over 100 workouts that have been created by trainers and athletes. You can log your efforts, earn points, unlock workouts and challenge your family and friends.
FitStar Personal Trainer
iOS
Whether you want to get flexible, strong or lean or just move more — FitStar gives you the control to get yourself in the shape you want.2 This app is a personal trainer at your fingertips and allows you to workout on your own schedule. The best part of FitStar? The workouts can be displayed on your TV!
WOD Deck of Cards
iOS and Android
Are you interested in CrossFit? The WOD Deck of Cards app is definitely for you, especially if you're prepared to start lifting heavy weights! WOD stands for "Workout of the day" in the CrossFit world and this app allows you to track and log your custom workouts.3 You can even share your results on Facebook, Twitter and email!
Seven
iOS, Android and Windows Phone
Are you only able to workout for seven minutes a day? There's an app for that! Seven is an app that offers 7-minute, high intensity interval training challenges.4 Do you not have gym equipment? There's no workout equipment necessary! These challenges have visual and spoken cues to let you know when and where to move. Challenge: Try these 7-minute workouts for 7 months!
Sworkit
iOS and Android
No gym membership? No problem! Sworkit was created for busy people who want to do high-intensity bodyweight workouts that can be short as five minutes or as long as hour, anytime and anywhere.5 If you're looking for cardio, strength, yoga or stretching — Sworkit has it all. It even allows you to create personalized workouts when you're feeling creative!
References
1Nike. (2015). Nike+ training club. Retrieved May 7, 2015 from http://www.nike.com/us/en_us/c/womens-training/apps/nike-training-club
2FitStar. (2015). FitStar. Retrieved May 7, 2015 from http://fitstar.com/
3LetsWOD. (2015). WOD deck of cards. Retrieved May 7, 2015 from http://letswod.com/
4Perigee. (2015). Seven. Retrieved May 7, 2015 from http://www.perigee.se/seven.php
5Sworkit. (2014). The perfect workout for you. Retrieved May 7, 2015 from http://sworkit.com/
Comments