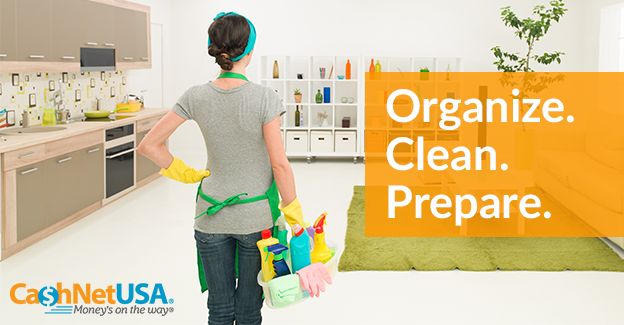 Summer is winding down, and chances are the season has taken a toll on your home — especially if you have kids running around.
With Labor Day just around the corner, is it too late to get the house in order before school arrives?
Absolutely not! Here's how you can tidy up your home in three simple steps.
Organize
Let's pretend you're on a reality TV show and you have to give the interior of your home a fast makeover. What will be the best use of your time? What tough decisions will you have to make?
Decide how you want your home to look, and then set aside a half day and make it happen!
Enlist the whole family—kids too! As a reward, take everyone out to their favorite restaurant at the end of the day.
• Organization tip 1: Don't be afraid to give or throw things away!
• Organization tip 2: Contain your stuff! If things tend to pile up on the floor in certain spots — such as near the door or in closets — then buy containers to keep things orderly.
• Organization tip 3: Think up! If you're running out of space, try vertical storage solutions to maximize the space you have.
Clean
Now that you've pared down your possessions and everything's in its proper place, it's time to clean, and quickly. But don't forget about thoroughly and cheaply!
Set aside another half day, or spend an hour on a few consecutive days, and follow these tips to get your home sparkling:
• Cleaning tip 1: Make a schedule! Write down everything you plan to clean and how long you expect it to take.
• Cleaning tip 2: Throw on some old clothes, and don't be afraid to get dirty!
• Cleaning tip 3: Get the right supplies — don't try to get any more mileage out of that old scouring pad that turned soft long ago!
• Cleaning tip 4: Make some DIY cleaning solution to save!
• Cleaning tip 5: If there are particular stains you need to address, do an online search for cleaning solutions to match!
Prepare
As the school year gets underway, all the organizing and cleaning you've done can be erased very quickly. Before you know it, your home could wind up just as cluttered as it was before!
That's why it pays to prepare.
• Prep tip 1: Start getting on a school schedule a week in advance, because easing into change will help you maintain the cleaning and organization habits you've built. This way, when your kids trudge home from the bus after school, they'll remember that their muddy boots belong in the tray by the door, not on the living room floor!
• Prep tip 2: Put a one-hour cleaning session on the family calendar once per week to keep things tidy!
• Prep tip 3: Make sure everyone's on the same page. It's a lot easier to keep an organized home if everyone works together!
Comments