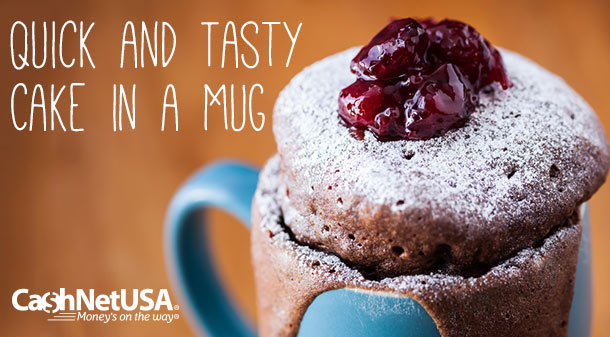 Are you in the mood for cake but don't have time to bake? Sounds like it's time for a mug cake! While there is nothing as delicious as a cake fresh out of the oven, mug cakes are tasty in a more convenient way.
To make a mug cake, follow these four easy steps:
Grease the inside of a mug with cooking spray.

Measure and pour the ingredients into the mug, and mix together.

Microwave on high for one to three minutes and watch the mug cake rise!

DEVOUR IT!
Now that you've got the basics, try these delicious July-inspired mug cake recipes:
National Ice Cream Day1
July 20
• 4 Tbsp. ice cream
• 2 Tbsp. cake flour
• 1/8 tsp. baking powder
Microwave for 1 minute.
National Junk Food Day Funfetti2
July 21

• 8 Tbsp. Funfetti cake mix
• 1 egg, beaten
• 1 tsp. oil
• 3 Tbsp. water
Microwave for 1 minute, 30 seconds.
National Cheesecake Day3
July 30

Crust:
• 4 Tbsp. graham cracker crumbs
• 1 Tbsp. melted butter
Cake:
• 4 Tbsp. cream cheese
• 2 Tbsp. plain Greek yogurt
• 2-½ Tbsp. granulated sugar
• 1 egg
• ¼ tsp. vanilla
Microwave for 2 minutes.
References
1http://kirbiecravings.com/2013/08/3-ingredient-chocolate-ice-cream-mug-cake.html
2http://tastykitchen.com/recipes/desserts/funfetti-mug-cake/
3http://kirbiecravings.com/2013/10/10-minute-microwave-cheesecake-mug-cake.html