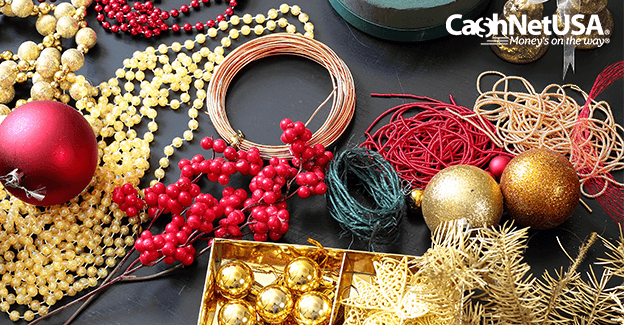 Love to decorate your home for the holidays but hate to spend all your money doing so? Why not get some inspiration at your local dollar store and make this your most affordably decorative holiday yet! Get your creative juices flowing and read below for some fun and frugal craft ideas.
Candy Cane Vase
The holidays are the perfect time to showcase a fresh bouquet of flowers. To show off this year's poinsettias, gather 24 candy canes and bundle them together with a red bow. Make some room in the middle for your flowers and you've got yourself a sweet and festive vase for the holidays!
Floating Candle Centerpiece
Before you can sit down to your holiday meal, you'll need to decide on your centerpiece! For a beautiful and simple version, pour water into a glass bowl, add a few old Christmas ornaments, some floating candles and voila: you have a floating candle centerpiece, sure to add warmth and cheer to the room!
Glass Hurricane
While you're in a centerpiece-making mood, why not add extra beauty to the table with homemade glass hurricanes. Grab a decorative glass from the China cabinet, fill the bottom with pinecones or holly, add a votive candle and blow your guest away!
Plate Stand
Candles are great for lighting the dining room table, but a beautiful plate stand lets you put the icing on the cake. All you need is two plates, one smaller than the other, and a candleholder with a flat bottom and top. Use a small amount of glue and attach the holder to the plates to create a stand. Suddenly, you have a beautiful and elegant way to display your desserts without overspending!
Snowflake Table Runner
To add even more festivity to your dining table, get crafty and make a snowflake table runner! Start with any table runner you might have laying around the house and that you don't mind sprucing up a bit. Then, stitch on a few snowflakes using white or red yarn and watch your table transform to a wintery wonderland!
Framed Ornaments
Nothing says it's the holidays quite like ornaments! Why not frame your favorite ornaments in a picturesque way for an extra festive decoration. Spray paint an old frame and use decorative ribbons to tie bows. Hang them throughout your home for a fun and frugal way to display your holiday memories.
Holiday Coasters
Coasters are always in season and are ideal during the holidays when cocktails need a place to be set! A pack of six can be found at the dollar store and while you're there, grab a can of metallic paint and spray them for a merry and bright touch.
Holiday Hand Sanitizer
For an interesting and cleanly spin on holiday décor, try decorating hand sanitizers! Find some snowflake or Christmas tree cutouts at the dollar store and simply glue those to the sanitizer bottles. Wash your hands from naughty to nice with your new "Santa-tizers"!
Ornamental Garland
Now that the tables have been decorated, it's time to deck the halls — and mantles! Instead of using your old ornaments on the Christmas tree, string them together with a ribbon and decorate above the fireplace or doorways.
Snowflake Wreath
Let it snow! Let it snow! Let it snow! Once the inside of the house is all decorated, don't forget about the outside! Decorate your front door by making a cute snowflake wreath. Snowflake patterns can be found in most dollar stores and all you'll need to do is hot glue the flakes to the wreath. Find an old ribbon to tie a bow, and you're ready to hang it up and display your festivity to visitors!
References
Better Homes and Gardens. (n.d). Christmas crafts. Retrieved November 12, 2015 from http://www.bhg.com/christmas/crafts
Sokol, H. (n.d). 20 festive dollar store projects for gorgeous home décor. Retrieved November 12, 2015 from http://www.babble.com/crafts-activities/20-festive-dollar-store-projects-for-gorgeous-home-decor/
Comments