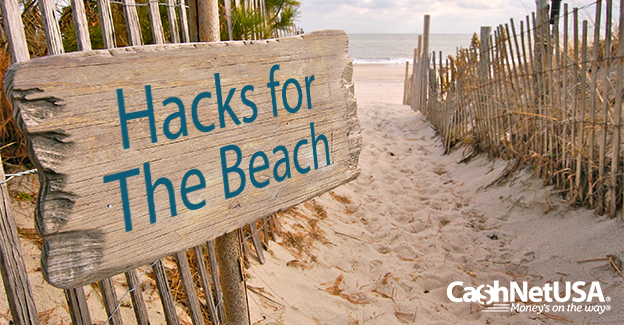 Planning a beach trip with your family or friends this summer? Use these 10 beach hacks to enjoy the sand between your toes and to keep your personal items like your backpack, smartphone and keys safe!
1. Backwards Backpack
When you go to the beach, you get sand on everything. There's not much you can do about your feet, but you can do something about your backpack! In order to keep sand out of the inside of your backpack, flip it inside out. That will make it easier to clean and much simpler to reuse right after.
2. Smartphone Sandwich Bag
Do you have a smartphone? As you know, it was likely expensive and the combination of sand and and water can be very unforgiving. To avoid any mishaps, put your smartphone in a sandwich bag! You'll still be able to receive calls and read your text messages, without the threat of damage.
3. Beach Towel Pockets
If you're crafty at all, you should try sewing some pockets in your beach towels. Along the perimeter, try sewing four water bottle-sized pouches to hold your smartphone, sunscreen, keys and even a book or magazine!
4. Fitted Sheet Fort
When you head out for a beach day, you probably bring a couple coolers and stacks of towels. Did you know you could use those items along with a fitted sheet to make a pseudo fort? All you need to do is stretch the sheet out completely and place the coolers and stack of towels in the four corners. This creates a fort that keeps the fun inside and the sand outside!
5. Key Holder
There's not really anything worse than losing your car or house keys. Except for maybe losing them in the sand at the beach! To avoid this annoyance, clean out an old bottle of lotion, sunscreen or shampoo and hide your keys inside of it.
6. Baby Powder
Baby powder serves a multitude of purposes. But did you know that it could also help you get sand off your body? When you rinse off after a long day by the water, rub some baby powder on the areas that are extremely sand stricken. Watch how fast the sand comes off!
7. Cool Aloe
Sunburns are irritating. They also hurt a whole lot! To cool the heat and prepare for some tender skin, put some aloe in ice cube trays at home and freeze them. When you return, put the cubes on the burned areas.
8. Towel Trench
It can get really windy by the water. That means your towel might fly away! To avoid chasing your terrycloth down the beach instead of sunbathing, make a towel trench. All you need to do is lay the towel flat and dig a hole around the perimeter. There's no way it will fly away now!
9. Snack Attack
You can't do a beach day without snacks. But you're also not going to want to eat them if they're covered in sand and water! This might be an obvious hack, but definitely one worth mentioning; wrap all of your snacks in sandwich bags or plastic wrap before putting them in the cooler. Easy, right?
10. Smartphone Speaker
We don't know about you, but we love to listen to music while we sunbathe. But we don't enjoy ruining our smartphone speakers! The simple solution involves an empty roll of toilet paper or paper towels and Q-tips! Cut a slit in the cardboard large enough for your smartphone and four more slits for the Q-tips (these will act as legs). Now press play!
Comments