Baton Rouge Payday Loans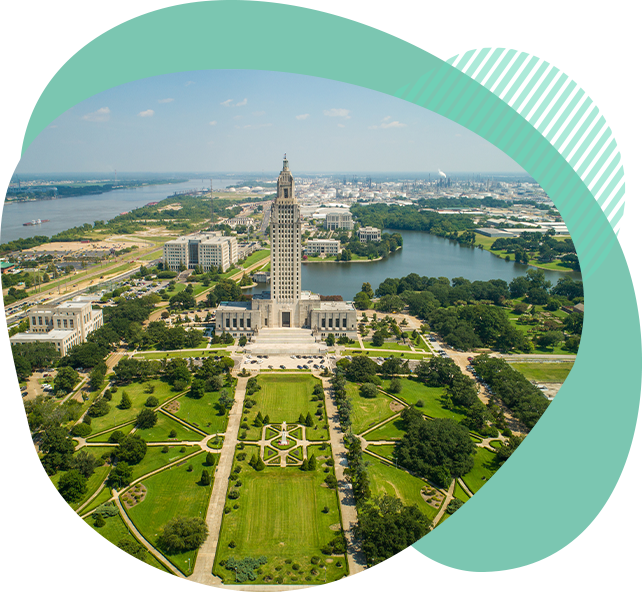 A line of credit may be a better choice.
CashNetUSA offers lines of creditup to $1,500*
Head to our Rates & Terms page to learn more.
Same-Day Deposit Available
If approved before 1:30 p.m. CT Monday – Friday†
Instant Decision*
Receive an immediate decision

Breaking down payday loans in Baton Rouge.
Payday loans are a type of short-term loan that can offer borrowers fast cash in emergencies. In Baton Rouge, you can get up to $350. You can apply for these types of loans online and in-store. These types of loans will need to be paid back in full within 30 days — the state of Louisiana does not allow rollovers unless the borrower pays back 25% of the loan plus fees.
Better Baton Rouge borrowing options.
If you need a personal loan to cover urgent financial needs, there are alternative types of loans available to Louisiana residents. A line of credit functions similarly to a credit card in that it gives borrowers access to funds up to a certain credit limit. You can borrow the full amount or just a portion. Interest will only be charged on the portion that you borrow. As you repay the funds will become available to borrow again and again. You don't have to reapply and as long as you haven't reached your credit limit, you'll have a cushion to fall back on.
Baton Rouge Payday Loan vs. CashNetUSA's Line of Credit
Baton Rouge payday loan1
Funding amount
Up to $350
APR
Average of 405%
Repayment
Pay in full within 30 days
Additional funding
Reapply to borrow more
CashNetUSA's line of credit*
Funding amount
Up to $1,500*
APR
229% - 299%
Repayment
Option to make minimum payments over time or repay in full
Additional funding
Draw from available credit without reapplying
1Based on information from Pew Charitable Trusts. Actual loan terms may vary based on applicant's qualifications.
Why payday loans are considered a risky borrowing choice.
Payday loans come with high interest rates and short term lengths. This combination makes payday loans an expensive form of borrowing. Borrowers may find it difficult to cover the full amount they owe on the due date.
Before taking on any high interest loan, borrowers should consider all of their options.
Here's why Louisiana residents choose CashNetUSA.
See what Candice did to take control of her finances.
They really help their customers out… you can definitely rely on this company to come through for you and to help you if you're struggling. At one point I had switched jobs and I was like, 'Oh my God, I won't even get paid the day that it is due'… so I called them up and explained my situation, and I was relieved how the representative was very helpful and understanding and was able to push it back to my actual new pay period.
Why Candice chose CashNetUSA.
Lightning-fast response rate
Great customer service
Learn more about payday loans in Baton Rouge, LA.
Louisiana state law sets the maximum borrowing limit for payday loans at $350. Lenders charge an average interest rate of 405%. These loans must be paid in full at the end of the term — typically less than 30 days — and borrowers are unable to rollover the loan unless they've paid off 25% of the balance and any fees.
ACE Cash Express
4065 Florida Blvd #3
Baton Rouge, LA 70806
Cash Cow
4886 Airline Hwy
Baton Rouge, LA 70805
Top Cash Advance
6554 Siegen Ln
Baton Rouge, LA 70809
Advance America
3045 Government St
Baton Rouge, LA 70806
Keep in mind, CashNetUSA is not affiliated with any of these businesses and offers this information as a resource, not a recommendation. CashNetUSA does not provide payday loans in Baton Rouge. We offer an different form of credit - an online line of credit.
Yes, there are online loan options available for borrowers with a less-than-perfect credit score in Baton Rouge and other cities like New Orleans and Shreveport. These types of loans will typically have high interest rates, but they can be a life saver in emergencies. Just be sure to consider all of your options before deciding if borrowing money is the right choice for you.
Online loans can offer quick cash and often have a hassle-free application process. Many online lenders don't run traditional credit checks and often have less stringent requirements than banks or credit unions — which can help boost your chances of getting approved.
Installment loans. Personal installment loans provide borrowers with a lump sum of cash. Borrowers repay the loan in smaller payments spread over a period of time. They can provide you with higher loan amounts and they can make repayment easier.
Title loans. A title loan is a secured loan. Your car will act as collateral — meaning the lender can seize your car if you fail to repay the loan. Title loans typically must be repaid in full and have short term lengths (usually about 30 days).
Pawn shop loans. Pawn shop loans are cash loans — meaning you don't need a bank account to qualify. Instead, you'll give a pawn shop an item of value to hold. They will loan you a percentage of the value of the item. If you don't return to pay the shop back, they will sell your item to recoup their losses.
In order to be eligible to receive a payday loan in Baton Rouge, you'll need to meet some basic requirements. Some lenders may need some additional information beyond what's listed below.
Proof of your identity. When you apply for a payday loan you should have your driver's license or another form of identification ready. Payday lenders will need to ensure that you are who you say you are and that you're of legal age.
Proof of income. Lenders will also want to verify that you're able to repay the loan. They may ask for pay stubs or bank account statements.
Valid checking account. In order to get a payday loan, you'll need to provide the lender with your bank account information.
Payday lenders typically don't report to the credit bureaus and they usually don't run a traditional credit check when you apply. This means payday loans won't appear in your credit history and won't impact your scores.
You should still be aware of defaulting on your loan, not only can lenders charge more interest but they can send your loan to collections which can have a negative impact on your credit score.